Community Engagement in Health Services Research (S&A PHM 703)
Dr. Abraham received a course development grant from the UW-Madison Morgridge Center for Public Service to develop a course that prepares graduate-level students for community-engaged health services research. The goal of this graduate level course is to prepare our MS/PhD students in community-engaged scholarship. Students are trained to develop meaningful research partnerships with relevant community stakeholders throughout the continuum of their research. Students are introduced to key principles of community engagement and team science which enable them to work respectfully with community partners to identify research questions, develop community-engaged grant proposals, and appropriate methods of recruitment, data collection, and analysis. In summary, this new course is designed to increase awareness, understanding, and knowledge about the importance of community engagement in conducting health services research.
Learn more about the Community Engagement in Health Services Research Course.
Learn more about the Health Services Research in Pharmacy (HSRP) graduate program.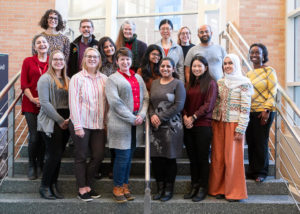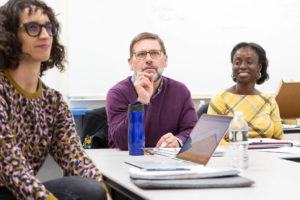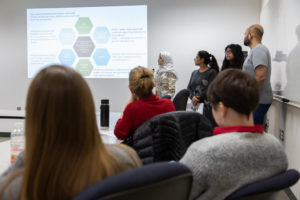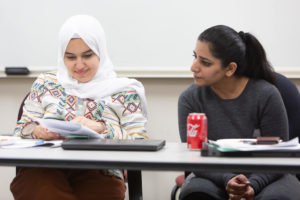 Social and Behavioral Aspects of Pharmacy Practice (S&A PHM 414)
The goals of this course are to introduce students to psychosocial and behavioral aspects of pharmacy practice and patient care, including:
The pharmacist's role in patient care and public health;
Patient perspectives and factors related to health and medication use;
Patient-pharmacist interaction and communication and
Principles of personnel management in pharmacy practice.
Dr. Abraham coordinates the unit on personnel management in pharmacy practice. This aspect of the course covers topics such as leadership essentials and self-management for pharmacists, models for collaborative and transformational leadership, creation of desirable workplaces, team-based health care, management concepts and principles, effective performance management, successful recruitment and hiring practices, prevention of occupational burnout and fatigue and promoting professional wellbeing in pharmacy practice.