Our research team is dedicated to understanding the connections between families, healthcare teams, and technology (particularly serious games) in improving medication use, health outcomes, and overall wellbeing for vulnerable and under-served populations, with a predominant focus on adolescents and young adults.
Core 1: Medication Safety
We apply an interdisciplinary approach to investigating key issues on medication safety and family health. Our current projects focus on creating innovative methods for use in schools, homes, and clinics to educate youth and parents about prescription opioid safety.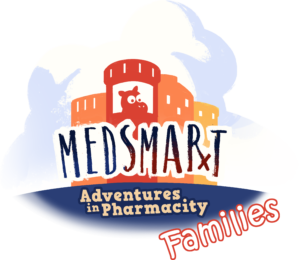 MEDSMA℞T Families is a novel family-based intervention that utilizes a game-based participatory approach to facilitate parent-teen communication about medication safety in the homes, schools, and other relevant community settings where medication misuse might occur. Our MEDSMA℞T Families intervention also incorporates the co-creation of a personalized family medication safety plan by parents and their teens to proactively foster family conversations about safe and responsible management of medications. Click here to learn more.
Core 2: Game-Based Learning
Our team focuses on creating effective, engaging, and interactive serious game interventions that promote safe medication use, improved health outcomes, and positive health behavior change.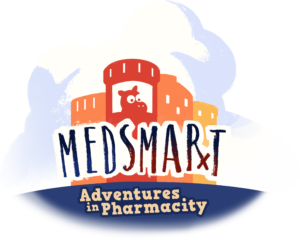 MEDSMA℞T: Adventures in PharmaCity is a serious game designed to convey information and teach skills about appropriate and responsible use of medications. The current prototype focuses on prescription opioid safety among adolescents and young adults. Our team is working closes with schools and clinics to inform the development of our digital intervention. Click here to learn more.
OutSMA℞T Cancer is a theoretically driven game-based intervention created to educate adolescents and parents/guardians about evidence-based strategies for cancer prevention such as HPV vaccination. Using a participatory design approach, we are developing a serious game intervention (OutSMA℞T Cancer) to increase youth and their families awareness about cancer prevention strategies. OutSMA℞T Cancer provides developmentally-appropriate cancer prevention education.

Core 3: Cancer Education and Literacy
In order to reduce cancer health disparities, it is imperative that youth understand cancer etiology, risk factors, and health behaviors that can be modified to reduce lifetime cancer risks. Using participatory design techniques and involving adolescents as community stakeholders, we directly engage diverse youth from urban and rural communities to develop interactive and effective approaches for increasing awareness about cancer and cancer prevention.
Core 4: Cystic Fibrosis and Medication Management
The role of the pharmacist is key to optimizing the health outcomes for people living with cystic fibrosis (CF). Our current project focuses on applying a human factors approach to investigating the role of pharmacists and team-based care in improving medication management for people living with CF.