Congratulations to Dr. Tanvee Thakur who successfully defended her dissertation and started a new job as a Health Outcomes Scientist at RTI-Health Solutions!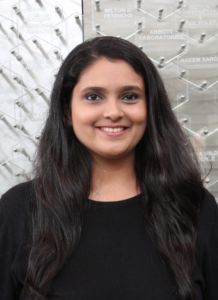 Tanvee Thakur
Ph.D. Heath Services Research in Pharmacy | M.S. Social and Administrative Pharmacy, Creighton University | B.Pharm.
Tanvee Thakur is a pharmacist by training and earned her Masters of Science in Social and Administrative Pharmacy from Creighton University. She is now a PhD candidate in Heath Services Research in Pharmacy at UW-Madison. Her doctoral research focuses on exploring and enhancing patient-pharmacist communication about opioid medication risks and safety. She is interested in improving medication safety education for all. Within the CRoME lab, she has worked primarily on helping in developing and assessing a serious game to educate adolescents about opioid risks and safety. She is also a Principal Investigator on her independent research grants and has been involved in teaching Doctors of Pharmacy students for the past four years. You can read more about her research and teaching at: https://apps.pharmacy.wisc.edu/sopdir/tanvee_thakur/index.php.