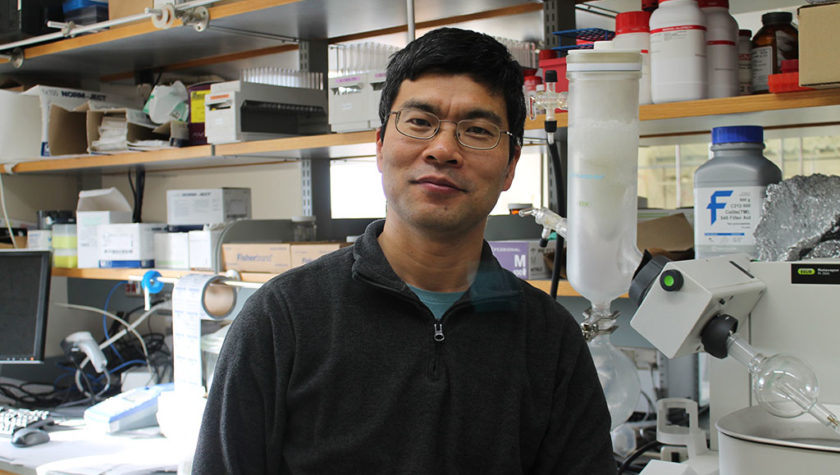 7
September
When it comes to scientific research, high risk often means high reward. That's the basic principle behind the National Institutes of Health's prestigious Exploratory/Developmental Research Grant (R21). Unlike many competitive grants, this particular R21 (PAR-17-046) doesn't allow any preliminary results to support a proposal—in these cases, the NIH is purely seeking fresh, promising ideas that can lead to new research directions altogether.
"They just want ideas," says Weiping Tang, professor in the University of Wisconsin–Madison School of Pharmacy's Pharmaceutical Sciences Division and director of the Medicinal Chemistry Center. "And we have lots of ideas."
The NIH is interested in Tang's latest idea for a new method in carbohydrate synthesis. Because carbohydrates are ubiquitous in all living systems and involved in every major human disease, understanding and synthesizing carbohydrate structures holds the potential for applications ranging from cancer research to heart disease.
Tang's research is looking to pioneer a new, universal method for synthesizing and accessing challenging glycosides—specifically oligosaccharides with 1,2-cis-alpha-glycosidic linkages. For this, Tang was awarded a two-year Exploratory Research for Technology Development grant from the NIH's National Institute of General Medical Sciences.
There are two major obstacles in carbohydrate synthesis: how to access their monosaccharide building blocks (such as differentially protected glucose for human glycans and many rare sugars for bacterial glycans), and how to couple them with each other. An earlier U01 grant from the NIH funded Tang's research into how to access and synthesize the building blocks of carbohydrates, and he has recently developed a new mild glycosylation method for synthesis.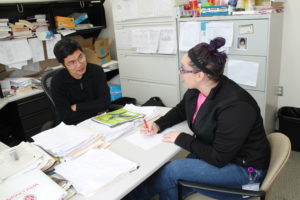 With this R21 grant, he'll create a new approach for joining those building blocks together more efficiently and streamline the process of carbohydrate synthesis.
"This will be a new direction to develop a different type of chemistry," says Tang. "It's pretty high-risk, but that's exactly what they want, because it could be very high-impact."
Oligosaccharides containing 1,2-cis-alpha-glycosidic linkages, an exceptionally challenging but common glyosidic bond that connects a carbohydrate molecule with another molecule, are going to be Tang's primary target in developing stereoselective methods for carbohydrate synthesis.
Carbohydrates are just as important as other macromolecules, such as protein and DNA, in biological events, Tang says, but they are more complex and lack many universal and efficient methods to access them. Being able to obtain carbohydrates with defined structures will enable many non-experts to study their biological functions and develop relevant therapeutics.
If this new method is developed, it will provide new chemical tools for researchers to access and study those structures and the functions of biomedically relevant carbohydrates in many living systems.
"[Dr. Tang's] daring foray into the field of carbohydrate or sugar chemistry will leave an indelible mark on the complex world of translational research, medicinal chemistry, and drug discovery." –Richard Hsung
"Dr. Tang has established a nationally and internationally recognized research program in his 11 years here at the UW–Madison School of Pharmacy," says Richard Hsung, professor in the Pharmaceutical Sciences Division, Kremers Distinguished Chair, and internationally recognized researcher. "He has been highly creative and wildly successful at developing new synthetic methods that are readily amenable for making complex organic molecules, and his daring foray into the field of carbohydrate or sugar chemistry will leave an indelible mark on the complex world of translational research, medicinal chemistry, and drug discovery."
Importantly, Tang's new strategy is compatible with the current platform for the synthesis of 1,2-trans-beta-glycosidic linkages, opening the door to a unified platform for both types of glycosides and a more systematic and general strategy.
Read more about Dr. Tang's research and recent mild glycosylation method of carbohydrate synthesis.