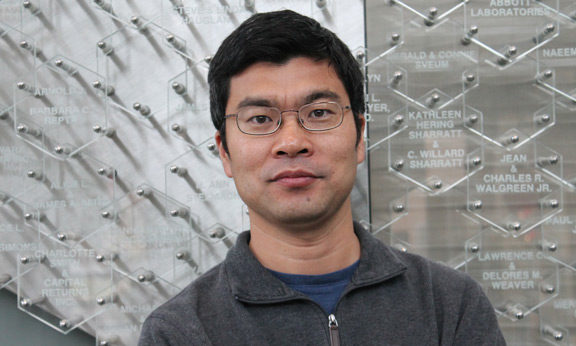 14
August
Weiping Tang, professor in the Pharmaceutical Sciences Division, is the principal investigator of a new U01 grant from the National Institutes of Health that will study the development of new methods to synthesize carbohydrates. Tang's research group is one of six teams nationwide to receive a U01 award supported by NIH Common Fund on carbohydrate synthesis this year. The U01 award will fund Tang's team a total of over $2 million across four years.
Carbohydrates are ubiquitous and play a vital role in many important biological events. The development of efficient and selective chemical methods for the synthesis of carbohydrates and their analogues is necessary for the understanding of the specific roles of carbohydrates and for therapeutic development. Research in carbohydrate synthesis is lagging far behind the current status of other biological macromolecules such as proteins and nucleic acids.
The two most essential issues in carbohydrate synthesis are stereoselective glycosidic bond formation and differentiation of hydroxyl groups. In this proposal, "Develop Catalytic Methods to Streamline the Assembly of Oligosaccharides," Tang's group will develop efficient methods to address both issues and streamline the assembly of oligosaccharides, with help from computational chemist and Co-Investigator of the U01 award, assistant professor Peng Liu from the University of Pittsburgh. The team will research the successful development of proposed methods to place the oligosaccharide synthesis close to the modern status of oligopeptide and oligonucleotide synthesis. This work is potentially transformative as it may yield readily available tools for non-experts to study carbohydrate structures and functions.
Tang's research interests include various aspects of drug discovery including synthetic organic chemistry, medicinal chemistry, assay development, and chemical biology. His current focus is the development of new therapeutics for metabolic disorders and cancers.