Welcome to Quiet Coaching
We would like to welcome you to this series of Quiet Coaching modules. Our team is excited to support your efforts to ensure strong team functioning within your organization.
The purpose of these modules is to help you guide your team to success. They will provide you and your team with information and tools so you can address barriers and gain the skills you need to effectively implement changes.
Principles of Quiet Coaching
Why do evidence-based practice (EBP) implementations fail? Frequently they fail even when they are implemented with high fidelity, coaching support, and technical assistance designed to ensure an effective implementation process. But why?
EBP + Continuous Quality Improvement = Implementation Success
This simple equation would seem to get the job done, but frequently it is unsuccessful.
It has been our experience that many times the critical missing ingredient for successful implementation is effective teamwork.
We find ourselves frustrated watching many implementations falter even after an effective EBP training and implementation process because the team members do not trust each other, they do not listen to each other, or they neglect to collaborate effectively when using data and process tools.
The result is the training and initial implementation end up like water poured into sand – they disappear without an effective vessel of teamwork to hold them in place.
Quiet Coaching is designed to be that vessel. Effective coaching can engage, energize, and align a team to ensure strong results. We call it "quiet" coaching to underscore the value of a thoughtful and deliberate process of a team building toward success. Loud coaches may be successful, but it is not because they are loud but rather because they engage in a thoughtful and planful effort across time to build a successful team.
Mat Roosa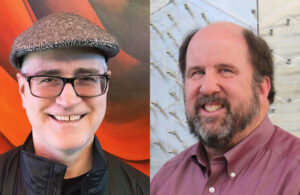 Mat Roosa is a coach and consultant who has worked with individuals, organizations, and systems to implement change in health care settings across the United States. His experience includes a range of regional, state, and national research studies and quality/ process improvement leadership. He developed the Quiet Coaching content based on his coaching experiences. In addition, Mr. Roosa has also worked as a human service agency administrator, a government planner, and as a psychotherapist in both agency and private practice settings.
Jay Ford
Dr. Jay Ford is an Associate Professor in the School of Pharmacy at the University of Wisconsin-Madison. Dr. Ford is a process improvement coach with expertise in health systems engineering. He has worked with individuals, providers, and state governments across multiple health care settings (acute care, behavioral health and community health) in the United States.
Below are 5 categories containing a total of 10 modules. While the 10 modules were created to be reviewed in a sequence you may want to start with a module that is of interest to you. We recommend that you start with the introductory Module 1: Definitions and that you also complete any of the two-part modules in sequence (2–3, 5–6, 8–9). Module 10 includes summary overview material and is best completed last.
How Much Time is Involved
The total time to watch all videos = 3 hours
7/10 modules have activities associated with them and there are a total of 12 activities in this course.  It will take about 60 minutes to complete each activity. The total time to complete all activities in this course = 12 hours.
The total time to complete the course = 15 hours (including watching all videos and completing all activities)
To get started, click on the picture below with the module(s) you want to complete. Each module includes a video and activities (if applicable) for your team to use.
You can access all the Quiet Coaching activities by clicking on the Tools and Resources picture. When you open the link, you will see all activities organized by module. They are downloadable in both Word and PDF versions. Resources mentioned during the modules are also listed.