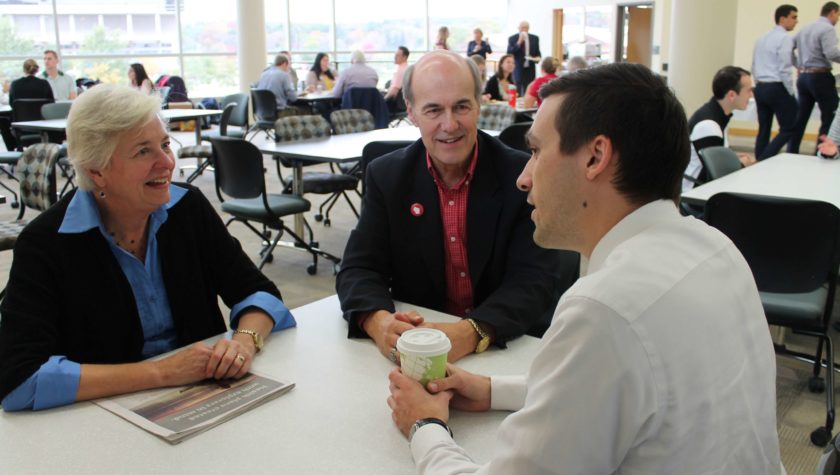 3
March
Alumnus honored for contributions to pharmacy and society
By Katie Ginder-Vogel
Duane Kirking (BS '74) always wanted to make an impact in his life. So when the American Pharmacists Association (APhA) honored him with its 2020 Hugo H. Schaefer Award, it felt like the culmination of his life's work.
"It's what I feel like my life has been—a broad focus and broad contributions," he says. "I've been fortunate to lead that kind of life. This award is the capstone of my career."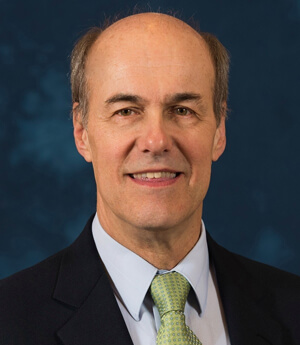 Kirking is Professor Emeritus of Social and Administrative Sciences at the University of Michigan College of Pharmacy and Research Scientist Emeritus at the University of Michigan School of Public Health. In addition, he currently serves as a member of the UW–Madison School of Pharmacy's Board of Visitors and the Executive Committee of the School's Sonderegger Research Center for Improved Medication Outcomes. 
Established in 1964 to honor longtime APhA Treasurer Hugo H. Schaefer for his contributions to the profession of pharmacy and APhA, the Schaefer award recognizes individuals for their outstanding voluntary contributions to society, the profession of pharmacy, and APhA.
Kirking's long history of APhA involvement includes serving on its Board of Trustees, as president of its Academy of Pharmaceutical Research and Science, and in various other offices and committees. He was inducted as a fellow of the APhA Academy of Pharmaceutical Research and Science and received the APhA Research Achievement Award in Pharmaceutical Sciences in 2003. 
"There are always more people to help, so there's always that opportunity to build upon your pharmacy and healthcare experience to enrich your life and the lives of others." —Duane Kirking
As a volunteer with the United States Pharmacopoeia (USP) since 1990, Kirking has had a wide variety of experiences, including 10 years on its Board of Trustees, five as chairman.
"During those 10 years, USP developed into a truly international organization with facilities around the world.  While I was not responsible for this growth, I had influence on it, and now, I can see and feel good about what's being done," he said. "In addition to drugs, USP has expanded its standards to foods and dietary supplements in my 30 years of volunteering."
One USP project Kirking is especially pleased with, because he was able to build upon his own research and knowledge of the healthcare system, was to help USP develop the drug classification system used in the Medicare drug program, Medicare Part D, in 1994.  "Working with great people on the development committee and having an impact on healthcare systems and this government program," he says, "was particularly rewarding."
Kirking has been active in the American Association of Colleges of Pharmacy (AACP); has served various government agencies; and is currently the Treasurer and on the Board of Directors of the Commission on Accreditation for Health Informatics and Information Management Education (CAHIIM).
"Informatics, like drug data, is important to leverage in pharmacy," he says. "It's a growing area." 
Kirking's personal volunteer work includes humanitarian work in Costa Rica, Belize, India, and on Native American reservations in the U.S.
"There are always more people to help, so there's always that opportunity to build upon your pharmacy and healthcare experience to enrich your life and the lives of others," Kirking says. "Interacting with and learning from others has brought me a great deal of satisfaction."
An education in pharmacy with a broad focus
Growing up in Lodi, Wis., Kirking had his eyes on UW–Madison at an early age. Kirking's grandmother graduated from UW in 1912, and six other family members also graduated from the university. Despite spending his entire academic career at the University of Michigan, he says he's still a Badger, through and through. He received a Citation of Merit from UW–Madison in 2008 and has served on the School of Pharmacy's Board of Visitors since 2007.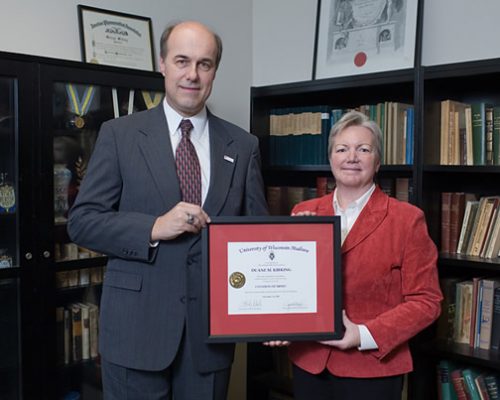 As an undergraduate, Kirking knew he liked biology but wasn't sure which major to pick.
"I had no idea what I wanted to do and was talking one evening with a pharmacy student on my floor of Ogg Hall, and he asked, 'Have you ever considered going into pharmacy?'"
Kirking hadn't, but a spark of curiosity had been ignited, and he began talking with faculty members at the School of Pharmacy, like William S. Blockstein, who was a national leader in the early development of pharmacy continuing education. 
"I ended up going to pharmacy school," says Kirking. "My life was ever changed by my interaction with that student, Ron Sorkness (today a professor of pharmacy practice at the School of Pharmacy). I wouldn't have become a pharmacist if not for Ron." 
"Success is when you can impact others, and that can happen in so many ways." —Duane Kirking
As a UW–Madison pharmacy student, Kirking wondered how he might augment his curriculum to take on a broader focus.
"Social and Administrative Sciences was really critical to me, in terms of learning how the healthcare system worked," Kirking says. "Social studies of pharmacy really developed at UW. Bill Blockstein taught an intro course that brought in the Wisconsin Idea of going out beyond campus with our work, and he shared ideas about how I could expand my focus." 
As clinical pharmacy was emerging as a practice, Kirking could see its potential and decided to pursue his curiosity. 
"I was interested in ambulatory care, and I went to Kentucky to go somewhere new," he says. "I thought, 'here's something interesting, beyond traditional practice.'"
Kirking completed his residency and PharmD at the University of Kentucky, graduating in 1977. Still focused on making a broad impact on the field of pharmacy in his career, Kirking sought out a PhD program that aligned with his interests.
He earned an MA in Public Administration, followed by a PhD in Administrative and Social Sciences at The Ohio State University in 1980. He joined the faculties of both the College of Pharmacy and School of Public Health at the University of Michigan. In addition to being a professor, Kirking served as the chair of the Department of Social and Administrative Pharmacy as well as co-founder and director of the College's Center for Medication Use, Policy, and Economics. His research focused on appropriate medication use and cost-effective medication therapy
Making impact by training pharmacists and scientists and giving back
"My entire career was at Michigan—I went there to help develop a Social and Administrative Pharmacy program," says Kirking. "I saw an opportunity at a great university and school to create something new."
Kirking was able to hire new faculty for the program, get to know every PharmD student, and guide graduate students as they developed their research careers.  
"I've gotten to see several generations of students become professionals, graduate students, and faculty," he says.
"I define my life in three phases: education, pharmacy professional career, major volunteer career," says Kirking. "Success is when you can impact others, and that can happen in so many ways."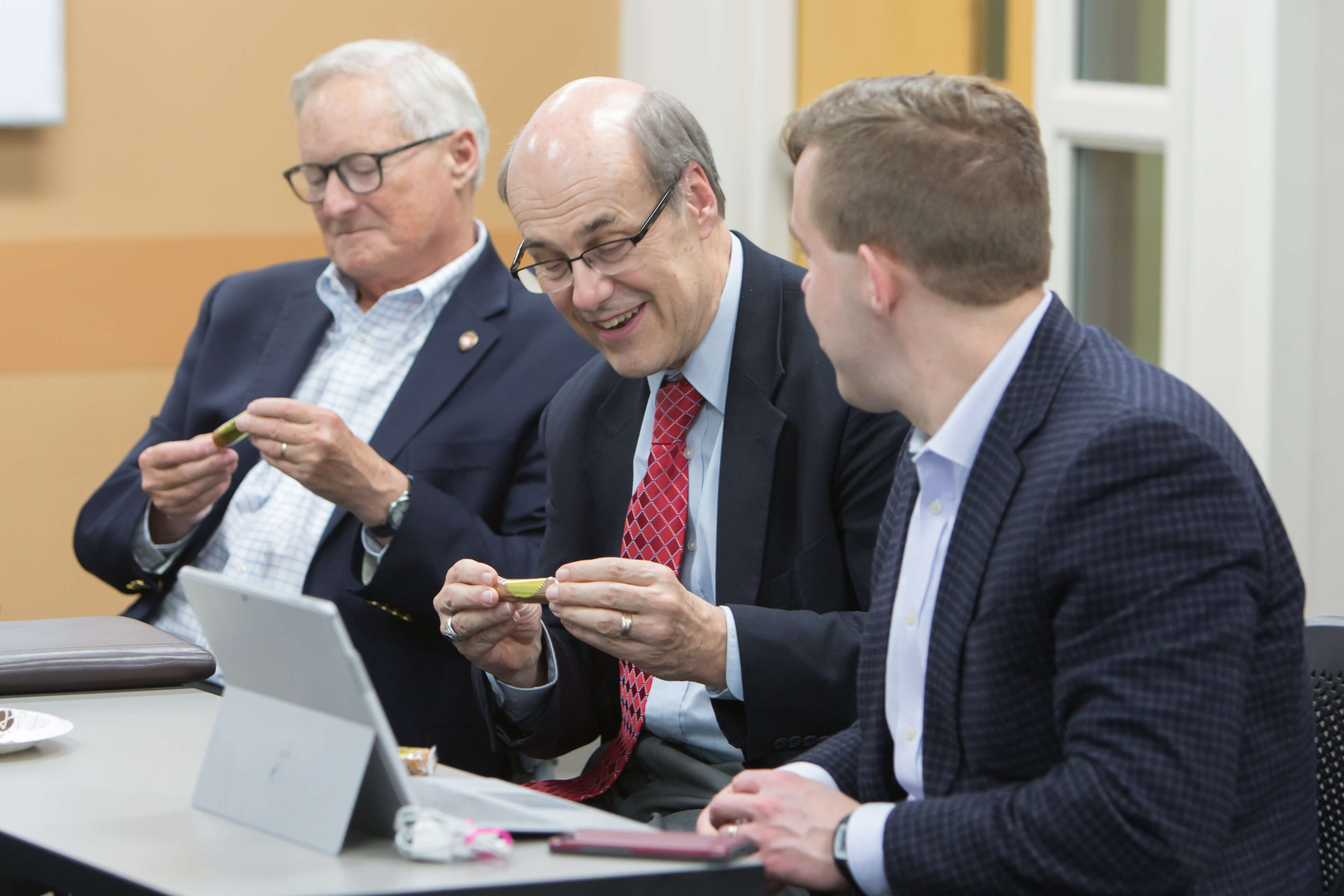 Kirking and his wife Marilyn, who was a pharmacist for the University of Michigan Health System, implemented their plan to retire fairly young, to expand their professional and personal volunteer activities and to care for their parents in Lodi and Kentucky. As an emeritus professor, Kirking was able to scale back his workload and remain involved with the College of Pharmacy at Michigan part-time for about 10 years after his official retirement. 
The Kirkings are generous contributors to School of Pharmacy projects, fellowships, and travel awards for international APPEs (clinical rotation clerkships) and appreciate getting to spend time with pharmacy students and award winners like Eric Friestrom in the School's PharmD program.
"International experience is a great way to learn about the world further," Kirking says. "Someone like Eric likely would have pursued international experience without Marilyn and me, but the next person Eric convinces to have a similar experience has an impact."
Kirking views the Hugo H. Schafer award as a recognition of the School of Pharmacy and its alumni. 
"I'm honored and humbled by it," he says. "I've had the privilege of knowing a lot of the winners and their accomplishments."
Kirking appreciates that the Schafer award recognizes his contribution to pharmacy, the profession, and society. 
I'm really pleased," he says. "It's an amazing thing."