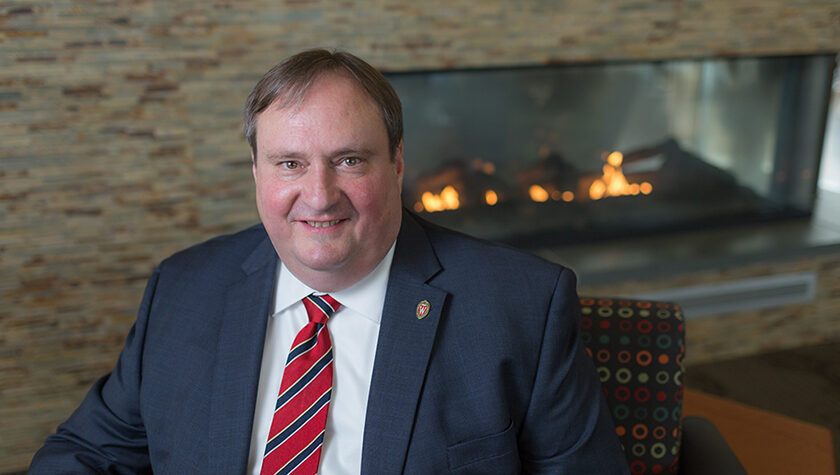 17
January
It's the beginning of a new year and a good time to reflect on our school's recent accomplishments and the challenges that lie ahead. As usual, our school is one of the top-ranked schools in the country: Out of 142 schools or colleges of pharmacy in the nation, our school is ranked seventh by the U.S. News and World Report. About 91 percent of our grads passed the NAPLEX on their first attempt and 96 percent landed a job within six months of graduation. Our school continues to be a major world center for research in pharmacy and pharmaceutical sciences, and we are currently ranked 13th in the nation in federal funding, with over $15 million in research grants.
Students on a national stage
Our professional students have been doing an impressive job competing at the national level. Last fall, PharmD students Emily LaMonte, Deanna Jacobs and Nick Ruark made it to the "Elite Eight" of the Clinical Pharmacy Challenge hosted by the American College of Clinical Pharmacy (ACCP) at their annual meeting in San Francisco. This "quiz-bowl" type competition has three parts: trivia-lightning, clinical case, and Jeopardy-style items. Each section has challenges that are authored and reviewed by an expert panel of ACCP members. Congratulations also to Associate Professor John Dopp and teaching faculty Kate Rotzenberg, who served as faculty advisors to these outstanding students.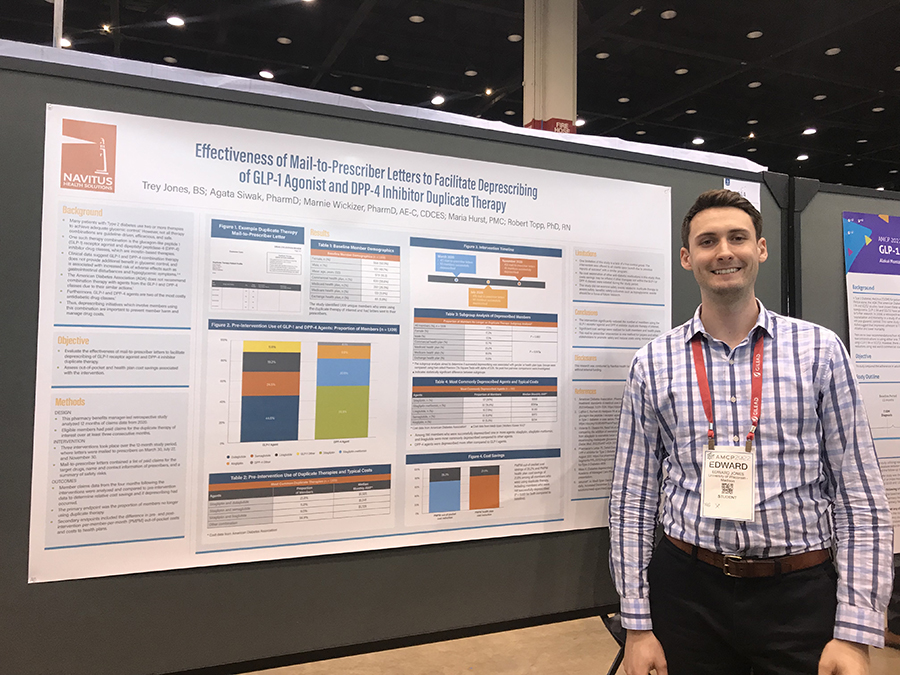 Trey Jones won the Best Student Poster Award at the 2022 Academy of Managed Care Pharmacy's annual meeting in Chicago, for research done during his internship with preceptors Marnie Wickizer (PharmD '03) and Agata Siwak at Navitus Health Solutions here in Madison. The project was an evidence-based deprescribing initiative identifying health plan members using duplicative antidiabetic therapies. The agents targeted were GLP-1 receptor agonists and DPP-4 inhibitors, which can be unsafe when used together and are very expensive. The award speaks to the high quality of our students as well as our preceptors: Wickizer, a UW–Madison School of Pharmacy alum, was named winner of the 2018 Academy of Managed Care Pharmacy Award for Managed Care Pharmacy Residency Director/Preceptor.
Our graduate students have also been very successful recently. Cynthia Siena Choi of affiliate Professor Jamey Weichert's lab received third place for the best presentation at the Contrast Media Research meeting held in Annapolis, Md. Cynthia's presentation, which focused on novel agents for tumor imaging and therapy, was among over 60 presentations, including many by senior investigators in the contrast media field.
Ashley Phetsanthad of Professor Lingjun Li's research group also earned a Predoctoral National Research Service Award from the National Institutes of Health for her project that employs mass spectrometry approaches to study biochemical responses of neural peptides to hypoxic stress.
Faculty honors
Our faculty have also distinguished themselves this past year, including our assistant professors. Quanyin Hu joined our Pharmaceutical Sciences Division faculty after a postdoctoral fellowship at MIT under world renowned researcher and entrepreneur Bob Langer. Moderna, which developed one of the COVID-19 vaccines, is one of many companies co-founded by Professor (and billionaire) Langer. At the School, Hu leads a lab that engineers cells and cell derivatives for the delivery of molecules, proteins, and antibodies for the treatment of various diseases. In the past few months alone, Hu has earned numerous awards, including being named one of Clarivate's Highly Cited Researchers for 2022, which features scientists who have multiple highly cited papers over the last decade and rank in the top 1% worldwide for citations in the Web of Science.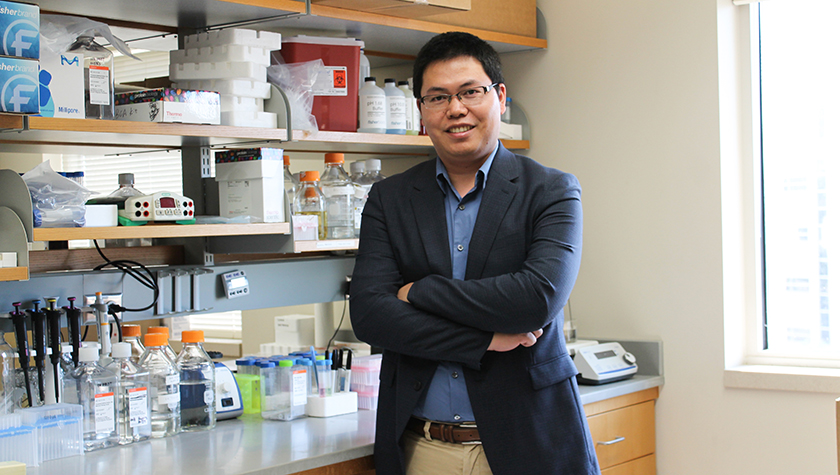 Last fall, Assistant Professor Ed Portillo of our Pharmacy Practice and Translational Research Division was awarded one of the American Society of Health-System Pharmacists Best Practice Awards for his implementation of a COPD transitions of care service integrating clinical pharmacists as prescribers within the patient-centered medical home. A maximum of only six pharmacy programs are recognized each year. Portillo is also an energetic and engaging teacher, who has won the Student Senate Teacher of the Year Award and was instrumental in developing our new Pharmacy Operations and Technology Program in collaboration with the UW School of Business.
These are just some of the highlights from a typical year here at the School. We truly are one of the finest schools of pharmacy in the world, as judged by the many accomplishments of our students, faculty, and alumni.
Overcoming challenges
While the quality of our people and programs remains at the vanguard of the academy, an alarming decline in the number of applications to pharmacy school across the nation threatens our profession. There were 18 percent fewer pharmacy school applicants for the current first-year class than the class that started pharmacy school back in 2004. Over the same period, the number of pharmacy schools has increased by 60 percent, from 89 in 2004 to 142 today. That means that there is fierce competition among schools for a dwindling pool of applicants, which has led some schools to lower their bar for admissions. During the 2003-04 pharmacy school application cycle, 66 percent of applicants were rejected by all schools or colleges of pharmacy. In stark contrast, only 14 percent of applicants were rejected this past application cycle.
The University of Wisconsin–Madison will never lower its bar for admissions. The number of students in our PharmD program decreased about 12 percent over the last five years. To assure that the State of Wisconsin continues to see an adequate number of outstanding pharmacy graduates, we are developing a new campaign to raise funds for scholarships that will help us compete for top talent from across the state and the country. Look for a formal announcement of the campaign this spring.
In the meantime, I wish you a happy, healthy, and prosperous 2023.
On, Wisconsin!
Steve