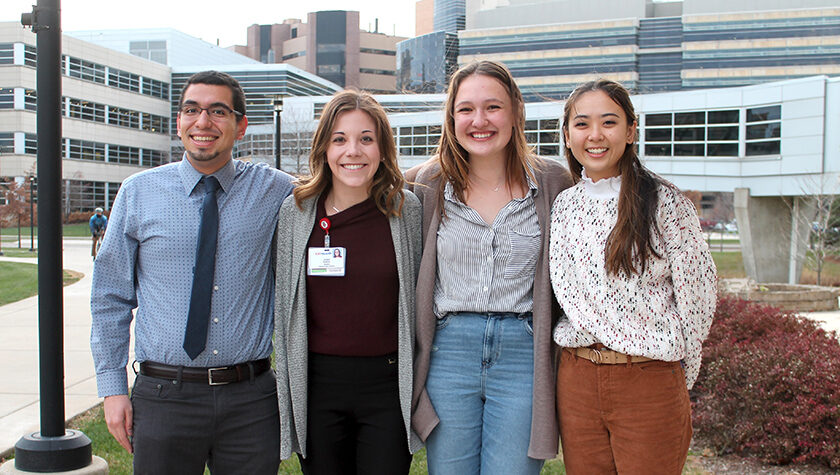 6
December
Developed by Assistant Professor Ed Portillo, COPD CARE leverages pharmacists to reduce exacerbations
By Katie Gerhards
COPD (chronic obstructive pulmonary disease) exacerbations are a leading cause of hospital readmission in the United States. COPD is the third leading cause of death globally, causing one death every four minutes in the United States, and disproportionately impacts our nation's veteran population.
"The data tells us that up to 50 percent of patients die within five years after a COPD exacerbation," says Ed Portillo (PharmD '14), clinical pharmacist practitioner (CPP) at the William S. Middleton Veterans Memorial Hospital and assistant professor in the University of Wisconsin–Madison School of Pharmacy's Pharmacy Practice Division.
During COPD exacerbations, which can last weeks, patients might suddenly find themselves short of breath, coughing severely, shaking, or even feverish.
"This is an award that's shared with 500 clinicians all over the country who are doing this work every day. It's another confirmation that what we are doing is making a difference for our veterans."
—Ed Portillo
"These are huge, life-changing terrible events that can alter someone's ability to breathe forever," Portillo says. "Someone's lungs after a COPD exacerbation are not the same as they were before, even if they recover."
That's why Portillo developed a primary care service that identifies patients being discharged from the hospital following a COPD exacerbation and provides them with comprehensive disease state management to reduce the risk of future COPD flares.
His service, COPD CARE (Coordinated Access to Reduce Exacerbations), has reduced hospital/emergency department readmissions from 18 percent to just 8 percent and increased the proportion of patients receiving a timely follow-up visit from 49 percent to 92 percent.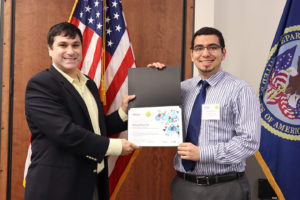 For its tremendous patient impact and utilization of pharmacists' expertise to improve outcomes, COPD CARE is being honored with a 2021 Best Practice Award by the American Society of Health-System Pharmacists.
"We know that pharmacists are doing incredible things all around the country with innovative service models, so for COPD CARE to be recognized as an ASHP Best Practice is exciting. This award provides an opportunity for us as a team to reflect on why this program is working so well," Portillo says. "It helps to fuel our innovation."
In 2018, Portillo's service was also selected as a Gold Status Practice by the Veterans Health Administration (VHA) Diffusion of Excellence program, which provided support to Portillo and his team to train hundreds of clinicians and implement the service at 20 medical centers around the nation.
"This is an award that's shared with 500 clinicians all over the country who are doing this work every day," says Portillo. "It's another confirmation that what we are doing is making a difference for our veterans."
Expanding COPD CARE nationwide
Through the COPD CARE program, first trialed at the William S. Middleton Memorial Veterans Hospital, patients who are being discharged from the hospital following a COPD exacerbation meet with a pharmacist and a nurse. The pharmacist provides COPD disease state management, including prescribing therapy, ordering labs, and placing referrals. Registered nurses, respiratory therapists, and other members of the healthcare team educate the patient on a written COPD Action Plan that provides patients instruction on what to do to prevent a hospitalization when COPD symptoms flare up.
"COPD CARE specifically emphasizes the role of the clinical pharmacy practitioner," says Shawn McFarland, national clinical pharmacy practice program manager in the VA Central Office Pharmacy Benefits Management Clinical Pharmacy Practice Office (CPPO). CPPs in the VHA health system have a global scope of practice, which includes the ability to prescribe medications to ensure veterans are on the right medications for their care.
"We already know best practices that have been proven to help patients breathe easier and even improve their ability to do the things they want to do in their lives," says Portillo. "What COPD CARE is doing is bundling all of these evidence-based practices into a service and integrating pharmacists as key clinicians who are driving and delivering positive change. Pharmacists in this service work alongside respiratory therapists, nurses, pulmonologists, physicians, and other members of the healthcare team."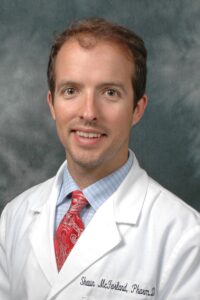 Through the VHA Gold Status Project designation, Portillo and his team received support to create materials to help VA health centers around the nation implement the service — as far away as Texas, California, and Virginia.
"The Gold Status program helped us to be very intentional about how we package and implement our program with fidelity," says Portillo.
In addition to the dissemination and implementation expertise available to him through the VHA program, Portillo has also been working closely with the UW Institute for Clinical and Translational Research and the D&I Launchpad to ensure the service is adaptable to different health center environments while still producing patient results first seen in Madison.
The training program they developed is called COPD CARE Academy, and it's a five-week, one hour per week commitment to get the service up and running.
At each site, an implementation lead is charged with getting the tools and resources integrated to launch COPD CARE, and a clinician leads developed clinical training to discuss COPD clinical content and learn together. Each site also receives templates, developed by VA clinical applications coordinator Nelda Owens, to build into their electronic health record allowing for efficient documentation of patient education and referrals. Sites also receive access to a national referral dashboard, designed by VA pharmacists Christopher Sedgwick and Chad Kay, to track when patients are discharged and how quickly they are seen in a clinic.
Student interns from UW–Madison continue to play an integral role in coordinating the national expansion of COPD CARE, coordinated in part by Molly Lehmann, a clinical pharmacy specialist who spent her two-year residency at the Madison VA working to expand the service.
"Our COPD CARE interns provide the new energy and creative ideas that has allowed our team to rapidly serve our veterans," says Lehmann.
Jordyn Kettner, a fourth-year PharmD student at the UW–Madison School of Pharmacy, helped to develop and evaluate the COPD CARE Academy, a training curriculum to guide VA Medical Centers as they implement the service locally, including workbooks, instructional videos, and synchronous weekly sessions. She also supported the development of a national COPD CARE Community Working Group, co-leading meetings, coordinating guest speakers, and giving national presentations on COPD management.
"Through my experiences with the COPD CARE service, I have witnessed first-hand the impact of pharmacists as vital members of the patient care team and that when given the opportunity, pharmacists can significantly improve patient outcomes and access to care," says Kettner.
"Through my experiences with the COPD CARE service, I have witnessed first-hand the impact of pharmacists as vital members of the patient care team and that when given the opportunity, pharmacists can significantly improve patient outcomes and access to care."
—Jordyn Kettner
She says that her two years as a COPD CARE intern have helped her identify her strengths as a practitioner and have guided her future career toward clinical pharmacy administration and service innovation.
"COPD CARE has completely changed my plans for my career, as I have developed a passion for clinical pharmacy service development, innovation, and project management," she says. "Through this internship, I have developed a passion for enhancing the role of pharmacists within ambulatory care and transitions of care settings as well as the care delivered to patients."
Fellow intern Ziting Zhang, a third-year PharmD student, helps coordinate the Community Working Groups and COPD CARE Spotlight series to recognize the work of clinicians nationwide.
"COPD CARE allowed me to see the impact pharmacists can make in patient care management," she says. "My future goal is to advocate for the pharmacy profession to not only increase pharmacist interventions and involvement but also increase patients' access to care."
Impact in practice
In 2020, the Tomah VA Medical Center became one of the first sites to complete COPD CARE Academy and to adopt the service, led by Courtney Putz (PharmD '16), Tomah VAMC chief of pharmacy.
"Implementing the COPD CARE program has led to a great opportunity for clinical pharmacy practitioners to bridge care between primary care clinics and specialty care clinics to improve education, disease state optimization, and pharmacological management," says Putz.
The Tomah VAMC implemented COPD CARE during the initial wave of COVID-19, which led Putz and her team to modify the structure to accommodate limited staff and virtual appointments. Pharmacists conduct the initial appointment alone, and then nurses managed follow-up visits afterward.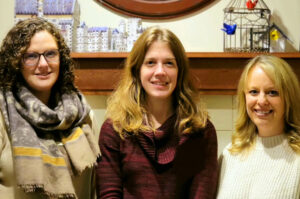 "The biggest opportunity that I've seen is that people aren't using their inhalers correctly, and we can easily provide education for that," says Leiha Lutz (PharmD '10), clinical pharmacist at the Tomah VAMC.
As compared with "treatment as usual," patients receiving COPD CARE are 12 times more likely to receive inhaler technique correction, and 24 times more likely to receive inhaler dosing frequency correction.
"As pharmacists, having the background information on how inhalers are different in their mechanisms as well as the logistics of the inhale technique put us in a good position to educate patients," says clinical pharmacist Kirstin Arndt (PharmD '05).
During the COVID-19 pandemic, which has particularly severe consequences for those with compromised respiratory systems, the service has been especially important.
"Not only has this been helpful for trying to get people's breathing optimized, but it has also sparked a lot of good conversations about immunizations as well, such as flu or pneumonia vaccines," says Arndt.
The Tomah VAMC team continues to stay in touch with Portillo about twice each month, either for specific questions or ongoing COPD education.
"Having Ed as a resource has been critical and has expanded my knowledge around COPD," says Lutz. "I don't always feel 100 percent confident, but I know my resources and who to reach out to, which I think is the best part of this team approach."
Continued growth
As Lutz noted, even after facilities implement COPD CARE, Portillo and his team stay involved to ensure the service's success.
His team connects with every facility during biweekly team meetings. COPD CARE interns also meet with each facility six months after they've completed the COPD CARE Academy training to discuss what they've done to make the program work in their unique environment and where they're having a hard time. Practitioners from the 20 facilities currently trained to deliver the service also meet every two weeks in cohorts to discuss their experiences and questions.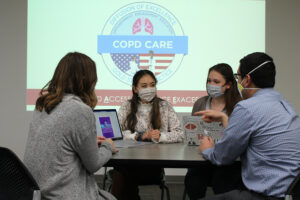 "Their feedback will help us to inform future expansion efforts and see how we can make this service even better," says Portillo. "At the core of COPD CARE is community and building a community around improving COPD for our veterans."
Currently, the team is working on writing a manuscript describing their process, results, and learning points from implementing COPD CARE Academy, led by third-year PharmD student Kelly Thomas, a COPD CARE intern.
"This experience has made pharmacy feel even more influential and innovative," says Thomas. "It is incredibly exciting to see how many sites across the country have successfully implemented our program with the help of our team."
In February of 2022, Portillo's team plans to implement the service in 14 more medical centers and begin training two additional cohorts of clinicians at each location, facilitated by the COPD CARE interns.
"It's hard to believe compared with where the team started to where we are now," says McFarland.
On the tails of the ASHP Best Practice award, the VHA's Diffusion of Excellence program coordinated by director Blake Henderson chose to channel more funds into COPD CARE to accelerate dissemination. Portillo will collaborate with Michelle Chui, professor and chair of the School of Pharmacy's Social and Administrative Sciences Division, to coordinate research efforts. With the new funds, the team wants to increase evaluation opportunities and actively collect outcomes data, while expanding the bandwidth of the team to bring sites on as quickly as possible.
"Seeing all the small pieces that are starting to come together regarding the program and the notoriety that it's achieving, I couldn't be more excited about where we are and what the future is going to look like," says McFarland.