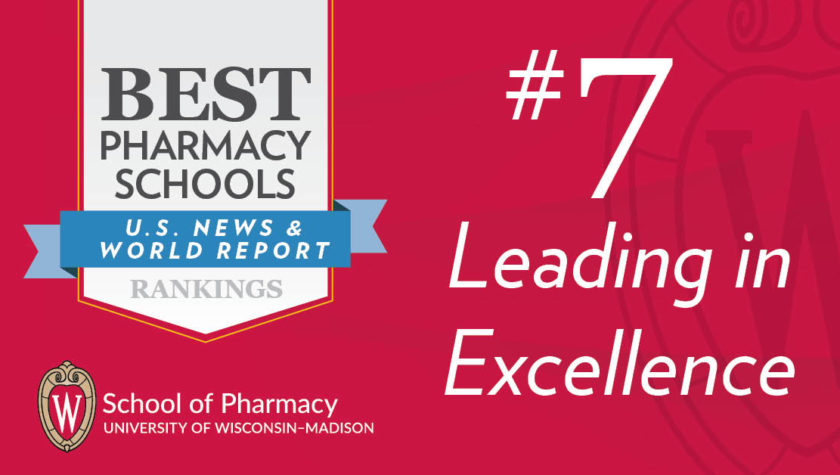 17
March
7th in the Nation in Best Pharmacy Schools Rankings
UW–Madison School of Pharmacy and it's Doctor of Pharmacy (PharmD) program are once again ranked among the nation's best in the 2021 edition of U.S. News & World Report's "Best Pharmacy Schools" as part of its "Best Graduate Schools" rankings.
The School of Pharmacy ranks seventh in the nation, rising two spots from previous rankings done in 2016. The publication ranked 134 accredited pharmacy schools.
"The UW–Madison School of Pharmacy is known for outstanding student outcomes, innovation in teaching, and research excellence with more than $13 million in grants, and it's exciting to be nationally recognized as one of the best pharmacy schools in the country," said Steven M. Swanson, dean and professor. "We're proud that our Doctor of Pharmacy program produces pharmacy leaders who are changing lives and improving patient health in Wisconsin and around the world."
The School's PharmD program has a strong track record of student success. In the 2019 North American Pharmacist Licensure Exam (NAPLEX), the School had one of the highest first-time pass rates in the country, placing in the top 10 percent of accredited pharmacy schools. The School is fourth in the nation for most ASHP residency matches in 2019, which is a significant achievement given the very competitive nature of pharmacy residencies.
Within the state, the UW–Madison School of Pharmacy remains the top-ranked pharmacy school. Concordia University is ranked 108th, and the Medical College of Wisconsin is unranked since its accreditation is pending.
U.S. News & World Report publishes pharmacy school rankings every four years. The 2021 edition includes Health Specialties, which ranked seven disciplines: pharmacy, audiology, clinical psychology, physical therapy, occupational therapy, speech-language pathology, and nursing midwifery.