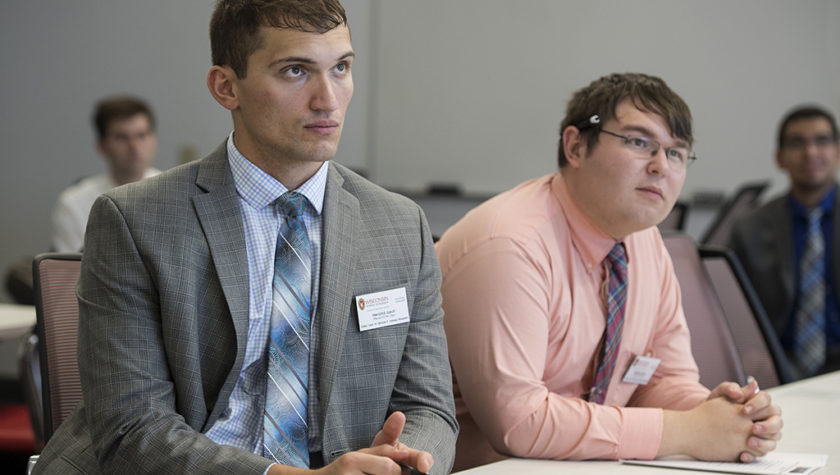 8
November
Partnering with the Wisconsin School of Business, the new Pharmacy Operations and Technology Management option is the first of its kind
Photos by Paul L. Newby II
Herolind Jusufi grew up in a business-focused environment, with small-business owners as parents.
"My parents have owned a restaurant since my formative years, and I have always been a part of the business by waiting tables, busing, hosting—whatever it takes to make the business prosper," he says.
Instead of becoming a restaurateur like his parents, Jusufi wanted to pursue pharmacy, but incorporate business management in his career. Now a third-year student in the PharmD program at the University of Wisconsin–Madison School of Pharmacy, he was ecstatic to learn that the School was introducing a new program in partnership with one of the top public business programs in the country—the Wisconsin School of Business—to accelerate that dream.
"I was thrilled when the School announced the new Pharmacy Operations and Technology Management concentration, and I just had to jump at the opportunity and apply," he says.
The School of Pharmacy's current PharmD curriculum offers classes that delve into pharmacy management and economic principles, and now the new partnership will give School of Pharmacy's student pharmacists access to MBA-level courses taken alongside UW–Madison business students.
"This is really a one-of-a-kind, career-defining program for students."
–Ed Portillo
"We are very excited to provide our students this opportunity to combine their extensive health care knowledge with MBA-level coursework. This is really a one-of-a-kind, career-defining program for students," says Assistant Professor Ed Portillo in the School's Pharmacy Practice Division, who is leading the new program with Mel de Villiers, professor in the Pharmacy Practice Division and associate dean for Academic Affairs.
"With so many pharmacy career paths that require business skills and the growing interest in entrepreneurship, our PharmD students will have the opportunity to access essential business training without adding additional time to their degree, still graduating in four years in the PharmD program," explains Portillo.
"This new business concentration in the PharmD program will make our students yet more competitive," says Barry Gidal, professor and chair of the Pharmacy Practice Division. "Our student pharmacists will receive training from the Wisconsin School of Business—a nationally ranked business school—and gain new avenues to distinguish themselves."
Preparing for the future of pharmacy
The new Pharmacy Operations and Technology Management (OTM) concentration, which will be recognized on students' transcripts, quickly attracted more than a dozen applicants, including Jusufi.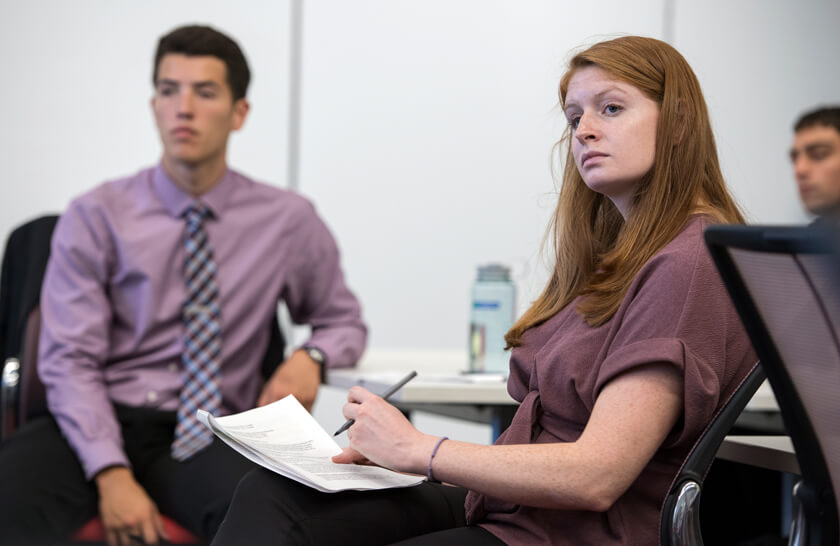 "For me, this program is about building my skills so I can be a valued asset wherever my career takes me and bringing ideas to the table to increase efficiency in the workplace," Jusufi says. "An efficient business keeps the cash flow moving in the right direction, which gives pharmacists more opportunities to provide patient-oriented services, which leads to better health outcomes."
Students enrolled in the OTM concentration will devote 12 credits to a packaged sequence of electives, taking classroom-based business courses alongside MBA students on topics such as organizational change, team management, and service operations management. The curriculum also includes hands-on learning in a project management course. As the capstone, students will complete an Advanced Pharmacy Practice Experience (APPE) rotation in an environment focused on business, leadership, and management, such as with a regional pharmacy manager at Walgreens.  
For the in-classroom coursework, the Wisconsin School of Business (WSB), including Enno Siemsen, professor and executive director of the WSB's Erdman Center for Operations and Technology Management, are the content experts.
"What's exciting is that we will have the chance to educate future leaders in pharmacy through this program," says Siemsen. "With a health care management track already well established in the WSB curriculum, the new Pharmacy OTM concentration for the School of Pharmacy is a great fit."
PharmD students can learn logistics management, managerial accounting, negotiation skills to help discuss pricing with providers and insurance carriers, and other project and team management frameworks.
The business-focused APPE rotations, which are typically accompanied by a longitudinal project, will also come with some additional expectations that can validate students' understanding of terms, concepts and key metrics. By learning the material over a series of years during the PharmD program and through both classroom and hands-on work, student pharmacists will get to absorb the content, and then connect it with their role as pharmacists.
"This business training really applies to any role—these are transferrable skills for any pharmacy career, including clinical environments," says Portillo. With this specialized training, graduates will immediately be able to leverage their PharmD degree and business knowledge to manage their team, develop innovative service ideas, and improve their work environment, ultimately improving patient care.
"We have the best students at the UW–Madison School of Pharmacy, and this will position them in a way that no other pharmacy student in the state can really compete with." –Ed Portillo
"Today's pharmacist works in a fast-paced, rapidly changing health care environment that requires leaders who have management and human resource skills," says de Villiers. "At the School of Pharmacy, we are leveraging the exceptional talent of the Wisconsin School of Business to offer our students these skills, which will make them ideal candidates for residency programs, management jobs, and even MBA programs. Their future is open."
A large part of the Pharmacy OTM concentration includes technology management, because technology continues to expand its utility in the delivery of health care and the workflow of practitioners. "This program is unique in that it's heavily health care centered, incorporating technology and operations, so PharmD students can take that information and use it to improve the systems, technology, and services around them in practice," adds Portillo.
Pharmacists often lead technology implementation projects in their pharmacies, Siemsen notes, which is why it's a key focus of the OTM concentration. PharmD students can complete Six Sigma yellow and green belt training through the WSB Erdman Center to equip them to drive change within their organization.
"Effective health care is a very complicated problem we are facing in this country, and I hope that through this program I can learn how to be part of the solution," says Jusufi, a third-year PharmD student.
The push for pharmacy leaders
The School developed the business concentration based on student interest and an impending need in the field of pharmacy. Student pharmacists are looking to complement their therapeutic training with more leadership and managerial training, and the field is forecasting a looming shortage of pharmacy leaders.
"There is a huge need in pharmacy for students who have really effective leadership training in their PharmD program," says Portillo. "A high percentage, around 70 percent, of pharmacy managers and those in pharmacy leadership roles are going to be retiring in the next 10 years, and we want to make sure that our UW–Madison School of Pharmacy graduates are ready to step into those roles to advance practice and develop services to better help patients."
As a first step, the School also created a Pharmacy Leadership Certificate and Mentorship Program in 2017, which won an award from the UW Center for Leadership and Involvement and earned the Distinguished Innovative Practice Poster award from the Association of Leadership Educators. In that program's first year, it attracted 32 PharmD students, and has since grown to include over 70 student participants. Each student is paired with a practicing pharmacist mentor, who can help guide the students' development, advise on career possibilities, and support their professional growth.
"The UW–Madison School of Pharmacy has been around for 135 years—this School has a legacy," says Portillo. "And because of that, we have the best alumni practitioners in the state of Wisconsin. To introduce our students to current alumni shows our students the impact their training here can have."
By forging a collaboration with the Wisconsin School of Business, the School is further solidifying the commitment to cultivating leaders in pharmacy.
Building the program
PharmD students are benefitting from the strength of the university with top-ranked pharmacy and business schools both on the UW–Madison campus. In developing the Pharmacy OTM concentration, Portillo and Siemsen took a market-based approach.
"We connected with local health care systems, insurance companies and other stakeholders to understand which skills are necessary for these PharmD students to succeed, and chose the set of courses accordingly," says Siemsen, who also serves as the associate dean of MBA and Masters programs at WSB.
"Effective health care is a very complicated problem we are facing in this country, and I hope that through this program I can learn how to be part of the solution." –Herolind Jusufi
Since the Pharmacy Operations and Technology Management concentration is new, the program accepted only nine PharmD students in the first cohort, who recently attended WSB orientation at Grainger Hall and began their business coursework in Fall 2018. At the end of the 2018–19 academic year, the program will open up to include PharmD students completing their first and second years of pharmacy school as well.
"This will open up career opportunities for student pharmacists interested in industry, community pharmacy, leadership, health systems management, and even high-level executive positions," says Portillo. "We have the best students at the UW–Madison School of Pharmacy, and this will position them in a way that no other pharmacy student in the state can really compete with."
Learn more about the PharmD program at the UW–Madison School of Pharmacy.
Read about other recent innovations in School's PharmD program, such as enhanced interprofessional education and a "SHARx Tank" event to spur entrepreneurship skills.