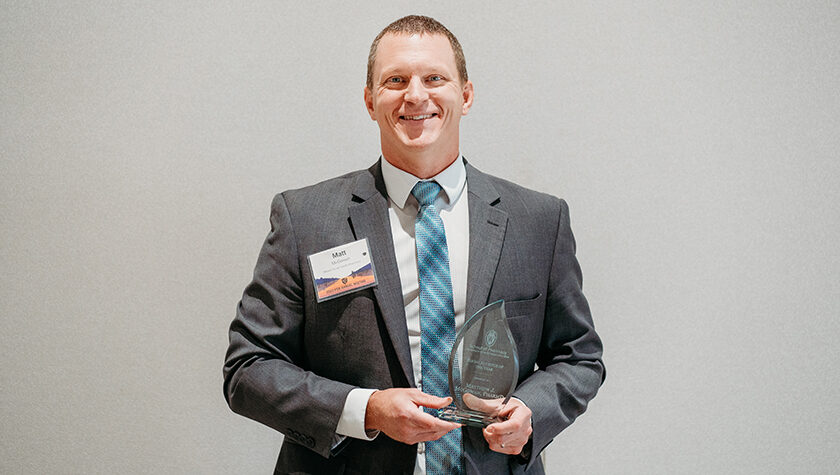 11
September
With a strong connection to patients, McGowan (PharmD '10) advances pharmacy practice and community impact
By Katie Ginder-Vogel
It's not easy to buy a pharmacy during a global pandemic, but that's exactly what Matt McGowan (PharmD '10), co-owner of Mount Horeb Family Pharmacy, did.
He fell in love with pharmacy in his sophomore year of high school, when he job-shadowed at his 2,500-person town's independent pharmacy and observed the pharmacist's connection with patients and how he served as a primary healthcare resource. 
"That stuck with me," McGowan says. His experiences at the University of Wisconsin–Madison School of Pharmacy, and in his pharmacy career that followed, continued to reinforce his passion for independent community pharmacy.
"A year into ownership, it's more and more clear — we have such a strong connection with patients. They come to us with every question, and they know they can come to us anytime. They have my cell phone number and email," he says. "I tell them, 'We will care for your kids like they're our kids; you're not a number; you can come here and get care, and we are always available to you.'"
"A year into ownership, it's more and more clear — we have such a strong connection with patients."
—Matt McGowan
For his commitment to the community and profession, McGowan is being honored as the 2023 Pharmacy Alumni Association (PAA) Young Alumnus of the Year.
"You dream of making an impact in your career, and when you get awards, it means you're doing good things," McGowan says. "There are so many great young alumni from the School of Pharmacy doing amazing things, and I feel like I play a relatively small role, so this means more to me than I can even put into words."
Connections to PAA and the School of Pharmacy
McGowan and his wife, Kayla McGowan (PharmD '12), value their connection to PAA and the School. 
"It's important to us to donate when we're able and stay connected to the School," he says. "The scholarships are incredible, and PAA helps connect students and those of us practicing pharmacy. The further we  get from our coursework, and through involvement with PSW and PAA, we realize how valuable those organizations are and how fortunate we are to have attended UW–Madison." 
McGowan says the School of Pharmacy faculty, administration, and staff were all welcoming and helpful.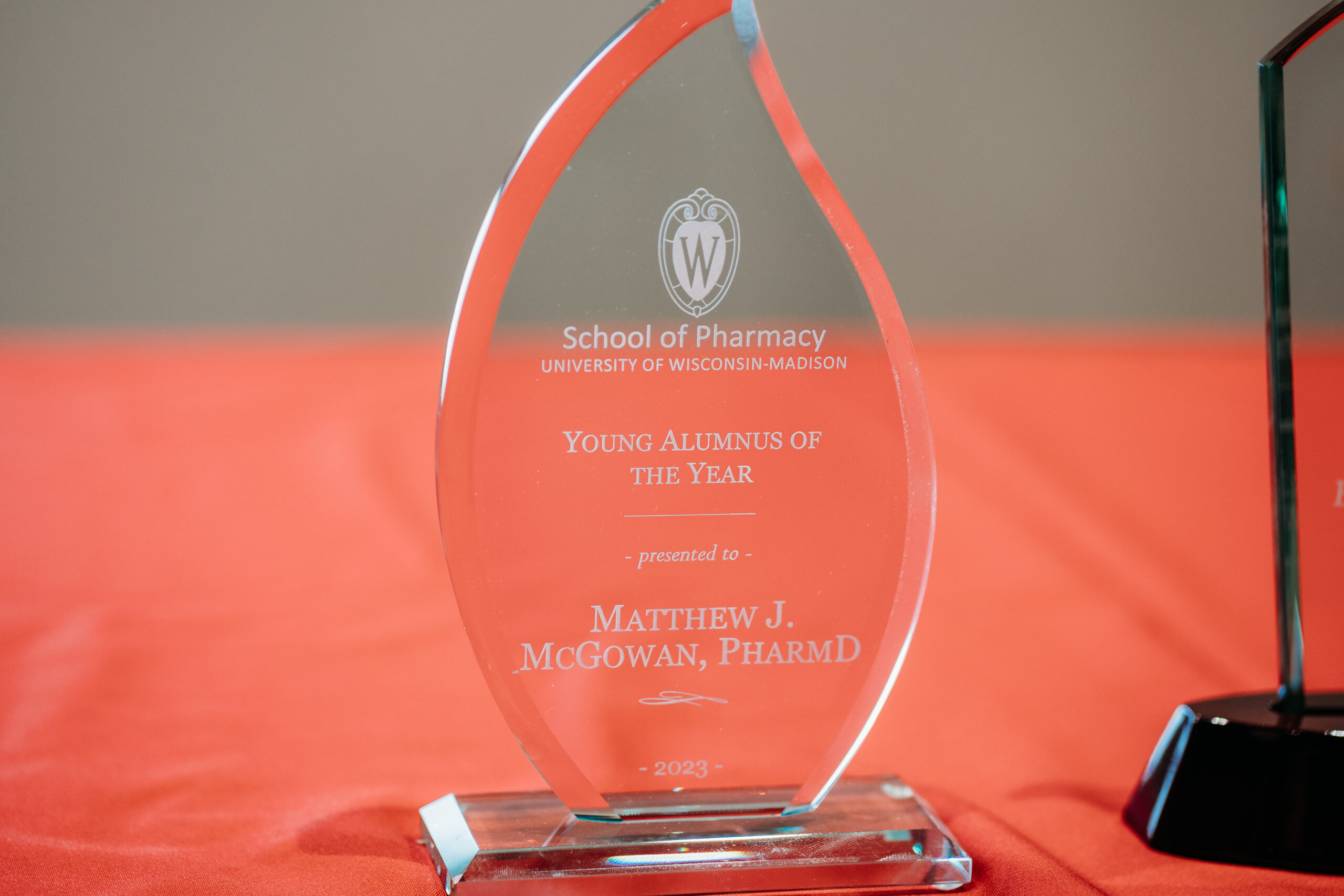 "These prestigious people who have done really cool things were all so welcoming and helpful," he says. "Pharmacology and pharmacotherapy are the true nuts and bolts of pharmacy school — they're the most challenging courses, and you glean the most to use in everyday practice from them. As an elective, I also took a pharmacy services course that was impactful because I always wanted to own my own store."
McGowan's faculty mentors include Karen Kopacek, associate professor in the Pharmacy Practice and Translational Research (PPTR) Division and associate dean of Student and Academic Affairs; Professor Beth Martin (BS '90, MS '03, PhD '06), assistant dean for teaching and learning and chair of the PPTR Division; and Associate Dean for Advancement Dave Mott (BS '88, MS '92, PhD '95), William S. Apple Distinguished Chair and professor in the Social and Administrative Sciences Division.
"Karen Kopacek is an amazing teacher and built such great connections with us as students," he says. "I think about her often — she helped shape who I am as a pharmacist and person in general. She is one of two people in my life I think of that way." 
McGowan always stops by Martin's office when he's on campus. 
"Her endless positive energy is always a pick-me-up," he says.
Mott was the faculty representative to the National Community Pharmacists Association (NCPA) when McGowan was a student member, interested in community pharmacy ownership. Now, McGowan reaches out to Mott anytime he has questions about Mott's area of expertise: the pharmacy profession as a whole in Wisconsin.
"Pharmacy is such a small world — if you're working toward something that means a lot to you, you can make your dreams happen."
—Matt McGowan
"He seemed like a genuine, everyday person, teaching us doctorate-level concepts," McGowan recalls. "It was so easy to talk to him and connect with him. Now that I'm a practicing pharmacist, it's so easy to reach out to him."
McGowan says that precepting students has made him realize how the School of Pharmacy prepares students to succeed in the field of pharmacy as a whole. 
"UW–Madison does such an incredible job of preparing us with the knowledge base to find what we need to find and easily and confidently answer our patients' and our care team's questions," McGowan says. "In 12 years of practice, I've had five or six jobs in five companies — big box retail, small retail, director of pharmacy at a small pharmacy, back to retail, and now ownership — all with the goal of ending up where I am now. UW gave me that well-rounded background," he says.
Community focus
He's grateful that he was able to make his dream of owning his own pharmacy come true. The Badger Pharmacy network served as a valuable resource.
"There were so many times I wasn't sure I'd ever own my own store, but I kept it on my mind and kept networking with people I thought could help," McGowan adds. "Make connections. Pharmacy is such a small world — if you're working toward something that means a lot to you, you can make your dreams happen."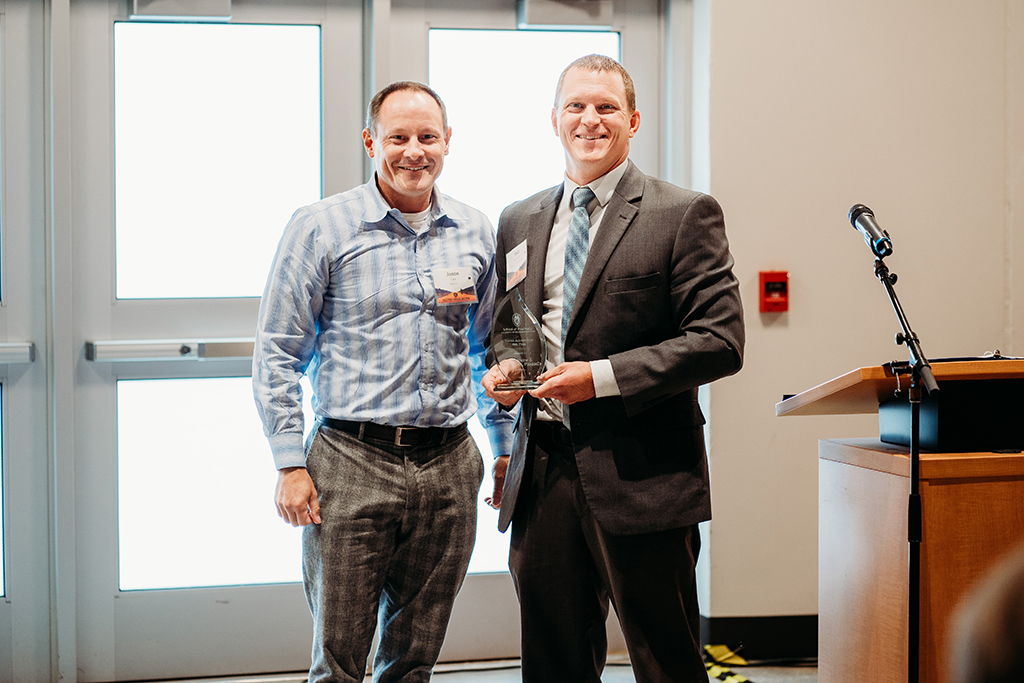 McGowan takes great pride in owning a community pharmacy, and he hopes to keep community pharmacy alive and well long into the future. He leverages his wife's expertise as an ambulatory care pharmacist at UW Health. 
"She is my clinical resource, which gives me a leg up," he says. "She's an expert in value-based services and appointment modeling and works at the pharmacy on some of her days off."
Mount Horeb Family Pharmacy offers numerous services, including a more recently launched immunization program. 
"My goal has always been to be known as one of top pharmacies in the state," McGowan says. "I have big shoes to try to fill." 
As some of his inspirations, McGowan mentions Michelle Farrell (BS '99, PharmD '00) of Boscobel Pharmacy, Thad Schumacher of Fitchburg Family Pharmacy, Jeff Kirchner (BS '88) of Streu's Pharmacy in Green Bay, Matt Mabie (BS '98) of Forward Pharmacies, and John and Sue Sutter (BS '78), retired owners of Marshland Pharmacies. 
"The Sutters helped shape pharmacy in the state and helped shape PSW," McGowan says. "The others are continuing to help shape the future of practice in Wisconsin." 
He encourages current student pharmacists to aim to make a similar impact.
"Work hard," he says first. "It's worth it. Follow your dreams and chase what motivates you. New doors always open, and there are always new opportunities and services, so be part of blazing those trails."