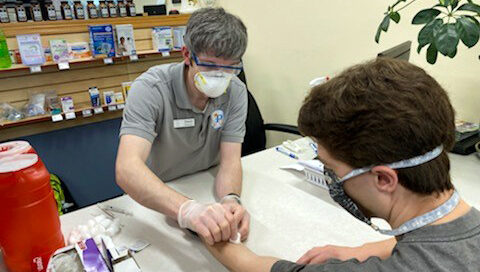 17
June
School of Pharmacy leverages partnerships and taps alumni to keep pharmacy students' experiential learning on track — with every fourth-year PharmD student graduating on time
By Katie Ginder-Vogel
As the COVID-19 pandemic surged across the United States, closing restaurants, stores, schools, and even clinics, another problem was brewing. With hospitals and health systems pausing non-essential procedures and appointments, where would all the health science students go?
Pharmacy, nursing, and medical students all must surpass a required number of hours spent working in clinical rotations, but rotation sites were closing or otherwise unable to accept students. Mara Kieser knew she had to move fast to ensure the PharmD students at the University of Wisconsin–Madison School of Pharmacy wouldn't miss a beat.
"We do about 2,000 rotations altogether, and we need to allow these students to start rotations, so they can contribute to the health care field and take care of patients who need their help," says Kieser, assistant dean of experiential learning at the School of Pharmacy.
She leveraged the creativity of School of Pharmacy faculty, staff, and alumni, as well as strong relationships with the William S. Middleton Memorial Hospital, UW Health, and other community providers to come up with effective solutions, from creating pop-up courses that impart clinical skills to building virtual educational experiences.
"It took a lot of collaboration, cooperation, and brainstorming, but all of our students met their requirements," says Kieser.
Restructuring requirements
With less than two months to graduation, more than 120 fourth-year PharmD students still needed to complete their Advanced Pharmacy Practice Experience (APPE) rotations, and several dozen more third- and second-year PharmD students needed to finish their Introductory Pharmacy Practice Experience (IPPE) rotations to stay on track.
For licensing, the Accreditation Council for Pharmacy Education (ACPE) requires students to complete 300 IPPE hours and 1,440 APPE hours in four environments: acute care, health system pharmacy, ambulatory care, and community pharmacy. Kieser began by looking at the numbers of students in each type of rotation and contacting every APPE student to find out whether they were able to continue their clerkships on-site. She coordinated with the experiential learning team, central campus, and ACPE, to devise a plan to help fourth-year students graduate and other students meet their experiential learning requirements and keep moving forward.
"The story of our experiential education program during COVID-19 is one about creative problem-solving by faculty and staff, resilience of our students, and partnership with our alumni preceptors."
—Mara Kieser
After following up with students, Kieser found new placements for six APPE students. An additional three students in an academic teaching APPE completed their rotations remotely, and the remaining students switched from an elective APPE to a pop-up online course to obtain the required number of credits for graduation and did not finish their APPEs on site. 
The School of Pharmacy was able to change graduation credit requirements from 213 credits to 211 credits, which allowed APPE rotations to be shortened to four weeks, rather than six weeks, and still meet ACPE's required rotation hours. Students who had enough credits could drop their final rotation. 
While first-year students are required to complete roughly 100 IPPE hours, the majority of those hours were completed earlier in the academic year, leaving most students with only eight to 12 required IPPE hours left. Therefore, Kieser is shifting those hours to their second-year IPPEs to give them until the end of the fall 2020 semester.
Second and third-year students with remaining IPPE hours were either transitioned to UW Health or to a simulated IPPE rotation depending on the type of hours that needed to be completed. This was crucial in ensuring that second-year students had all of the requirements to become interns and that third-year students could progress to APPEs by summer.
Testing hurdle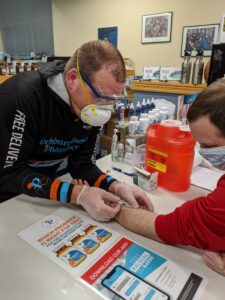 As Kieser worked to orchestrate new experiential education sites and channels, she also had another obstacle to hurdle: As clinics closed their doors, they also restricted access to tuberculosis testing student pharmacists need before they can enter clinical rotations. She had 10 days to get 150 PharmD students tested, and more within a month.
Kieser called Thad Schumacher, pharmacist and owner of Fitchburg Family Pharmacy, who came to the rescue and worked for two days straight with his team to develop a TB testing program, negotiate a collaborative practice agreement to have pharmacists conduct the tests, and train with his staff, which includes School of Pharmacy alumni Matt Huppert (PharmD '19) and current Health Services Research in Pharmacy graduate student Daniel Ricci (MS '18).
"We ran clinics specifically for pharmacy students over a weekend, after the store closed," says Schumacher. "Saturday, we administered 99 tests in three hours, and Sunday we did 40. Now, we are prepared to provide TB tests to students, other health care professionals, and members of the public."
With this crucial testing completed, the next step was to get as many students into clinical settings as possible, which would draw on another important health care partnership.
New placements
Krista McElray, education and development coordinator at UW Health, noticed something amiss the second week of March, when her APPE student Angie Ngo (PharmD '20) was notified she couldn't travel to Africa for her international APPE.
"She's an employee at UW Health and has done six rotations with us, so we shifted her into a team she's already comfortable with, but I reached out to the School of Pharmacy preemptively and asked them to let me know about other displaced APPE students," says McElray. Her supervisor Dave Hager (PharmD '05), director of clinical pharmacy services, encouraged McElray and got her extra time offline to work with the School.
"On Monday, March 23, I heard from Mara Kieser, and we got on the phone to plan," says McElray. "We became what seemed like the only hospital in the state still able to take PharmD students for on-site rotations, which remained necessary for direct patient care rotations."  
McElray's colleague, UW Health ambulatory pharmacy clinic manager Kate Hartkopf (PharmD '08), was instrumental in finding ambulatory pharmacy placements for APPE students, who were able to begin rotations as scheduled, and most finished within four weeks. Students who put in extra hours completed their rotations within three weeks.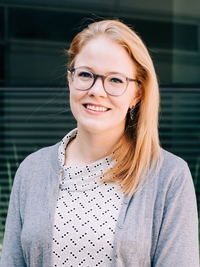 "Day by day, we weren't even sure if students would continue to be allowed on site," says McElray. "My goal was to have students move on and join the workforce. We need these PharmD students to graduate on time, start their planned residency programs, and become our hardest workers all over the country." 
McElray, who splits her time coordinating educational experiences and staffing clinically in inpatient medicine at UW Hospital, coordinated placing APPE students with the pharmacy team in the pediatric hospital, who had never taken a student on a required rotation but had space.
"We got creative with finding students placements," she says. "We have enough places to put people and understand the value of having students around and the importance of them taking this next step in their careers."
McElray helps run the UW Health Summer Internship Program, and 15 of the School's PharmD students, who are paid UW Health employees, are slated to start working soon. Normally, they would take patients' medical histories, but McElray is finding equivalent experiences for them. She also oversaw two PGY1 residents Christine Garmoe (PharmD '19) and Mikala Hillis, who led second-year IPPE student activities.
Limited-contact learning
Alumna Sydney Stiener (PharmD '19), PGY1 resident at UW Health, who has a strong interest in teaching and precepting, learned about the displaced students from McElray and leaped into action, developing engaging learning activities for IPPE students who would not be on-site.
"I took the essential skills for an inpatient pharmacist and incorporated them into tangible activities for students to complete, using WebEx as a platform for small and large group discussions based on those activities," says Stiener. "Students could prepare ahead of time, read about new topics, and learn from peers during group discussions while having a pharmacist there to share real stories from clinical practice."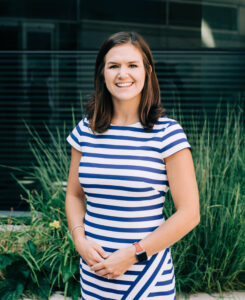 Stiener developed five different cases based on real patients. Each student was responsible for presenting one patient's case and answering specific questions Stiener had prepared. Via WebEx, the students discussed all five patients, including the clinical pearls of each case. 
In another activity, each student led a topic discussion about a specific clinical disease state and how it could be treated. 
"We lead topic discussions often as residents, and I did that as an APPE student on rotations," says Stiener. "I wanted to emulate what they'll do next year and give them an opportunity to practice."
Stiener assigned the students scientific journal articles focused on COVID-19 to present to a small group, making a didactic activity interactive.
"I also had them shadow pharmacy residents in the anticoagulation clinic," says Stiener. "My co-residents and I are all remote right now for clinic, so we had students join us remotely and observe us talking to real patients. They also shadowed interns doing medication histories and discharge counseling in the hospital over the phone."
Stiener says she's glad to have been able to ease students' stress and help them move forward in their curriculum.
"Dr. Stiener did an excellent job adjusting to the circumstances while facilitating our learning, and she challenged us every step of the way," says Austin Lange, now a fourth-year PharmD student. "I'm thankful that we were able to complete our experiential hours and requirements in order to move on to our APPEs, which was all made possible due to the tremendous teamwork and flexibility between the School of Pharmacy and experiential sites like UW Health."
"Sydney and Krista have significantly helped get students through hospital rotations," says Marina Maes, assistant professor in the Pharmacy Practice Division. "We're really thankful preceptors could still take students and accommodate hours, including many community pharmacy sites dispersed throughout the state."
"In the wake of the COVID-19 pandemic, UW Health provided me with one of the most valuable IPPE experiences I have ever had, despite the fact that most activities had to be completed remotely," says Erica Keenan, now a fourth-year PharmD student who completed an IPPE with UW Health.
Virtual rotations
Maes and Assistant Professor Amanda Margolis (PharmD '09, MS '17), experiential learning coordinator, created virtual IPPE and APPE rotations, respectively. They collaborated with preceptors and the School of Pharmacy information technology team — Director Mike Pitterle (BS '78, MS '83), Amy Childs, and Kathy Chylla — who worked over weekends to get virtual rotations up and running, while also transitioning didactic coursework online. They discussed their work in a webinar for the American Society of Health-System Pharmacists (ASHP).
For the virtual health-system APPE rotations, Margolis held daily morning check-ins with her six APPE students and preceptor Nate Menninga (PharmD '17), pharmacy supervisor at the William S. Middleton Memorial Veterans Hospital. Students did virtual tours and leveraged video technology to see the distribution process, review and practice concepts, and talk to practitioners.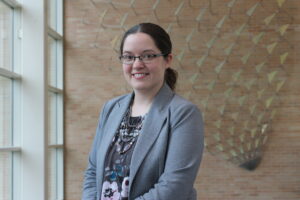 "There were a number of preceptors at the Madison VA who had students contributing to projects from home, such as monitoring COVID literature and analyzing de-identified data sets to help develop protocols," Margolis. "It went well, and the students were understanding and appreciative of the virtual rotation."
Maes helped third-year PharmD students replace 16 hours of elective IPPEs with simulated activities.
"I looked at what they would have done in sites and replaced them with virtual, remote activities they could do on their own time from home," says Maes.
For example, on rotation, students might be asked to find a complex patient and review the patient's medication list to identify drug-related problems, and then work through how to resolve them. She used cases developed by ASHP for a clinical skills competition, which are at an appropriate level for students ending their third year of pharmacy school. This accounted for four of the 16 experiential hours.
Maes' second activity, which covered another four hours, allowed students to simulate the process of dispensing and verifying a prescription at a community pharmacy remotely, using a free software platform. Students review the prescription, enter the information into the system, and determine whether there are any issues with the prescription. Students can even mimic the process of contacting the prescriber to ask questions or change the prescription. Then, they pull the drug product from the virtual shelf, label it, and counsel their patient. 
"Students have provided really positive feedback," says Maes. "They have found it really valuable, so we're looking at incorporating those activities into something all students would do in a lab course in future years."
During rotations, students review the top 20 drugs used at that clinical site, how each drug works, and discuss clinical pearls about those drugs with their preceptors. Maes' third activity echoes this interaction.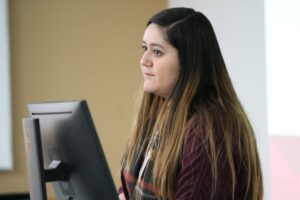 "Instead of doing that live in-person, they're filling out a template I made with 20 drugs that I divided into different disease states that they might commonly encounter," says Maes. "I added clinical pearl questions they have to answer and provided feedback on their submissions to simulate the experience." 
Maes also developed a virtual public health activity. 
"On site, they would normally identify an area in which pharmacists participate in public health and talk with the preceptor about how that's implemented at the practice site," says Maes. "I'm having them think about a population health or public health initiative they could implement at a site and create a one- to two-page document related to it, like an educational handout for patients, or a handout for providers to promote a service."
The experiential learning team used a similar model for the second-year students, modified by Associate Professor Susie Barnett (PharmD '04).
Pop-up courses
Because PharmD students typically complete more rotation hours than are required by ACPE, the School had the flexibility to have some students take pop-up elective courses online, in lieu of one rotation.
Assistant Dean of Assessment, Teaching, and Learning and Professor Beth Martin (BS '90, MS '03, PhD '06), chair of the Pharmacy Practice Division, and Professor Dave Mott (BS '88, MS '92, PhD '95), William S. Apple Distinguished Chair and chair of the Social and Administrative Sciences Division, taught a law review course. In collaboration with Professor Mary Hayney and Associate Professor Warren Rose, Margolis taught a review of statistics and a drug literature evaluation course, with Pharmaceutical Sciences graduate student Adam Kositzke. 
"We need these PharmD students to graduate on time, start their planned residency programs, and become our hardest workers all over the country."
—Krista McElray
Both courses were designed to be flexible for students and provide personalized and peer feedback. Margolis emphasized the importance of being cognizant of students' internet limitations, mentioning one student who could only access WiFi in northern Wisconsin from the local library's parking lot. 
"The courses are designed to include those who couldn't watch the lectures; there are readings available if needed that review the concepts as well," says Margolis.
"I was surprised at how swiftly and seamlessly our professors created online courses for us so that we could graduate on time," says Olivia Kim (PharmD '20). "The drug literature review course was extremely helpful in preparing for my board exams and for refreshing my memory prior to residency."
Mission accomplished
On Friday, May 8, all of the School of Pharmacy's Class of 2020 PharmD students marked the successful completion of their pharmacy education via a virtual graduation and awards celebration. And all of the third-year and second-year PharmD students are on-track to continue advancing their training.
"It's been exciting to create and innovate to keep our future pharmacists on pace and prepared to enter the health care field at a time when pharmacists are increasingly essential inroads to patient care," says Maes.
"The story of our experiential education program during COVID-19 is one about creative problem-solving by faculty and staff, resilience of our students, and partnership with our alumni preceptors," says Kieser. "While this is far from how we planned to end the semester, I am grateful to everyone for pulling together to make the best of this situation."