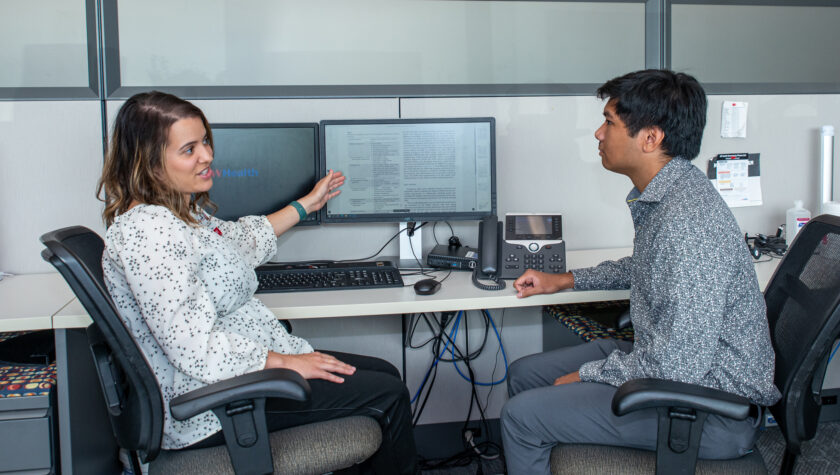 15
September
Comprehensive pharmacy education empowers graduates to pursue evolving roles with clinical services, ambulatory care, and the pharmaceutical industry
By Ben Cadigan
The field of pharmacy is dynamic and constantly evolving to meet changing needs and challenges in healthcare, which has been especially apparent in the wake of the COVID-19 pandemic. From providing point-of-care testing, to administering vaccines, to educating patients about new therapies for COVID-19, pharmacists play a crucial, wide-reaching role in the health of their communities.
"Pharmacists are uniquely trained and positioned to impact many facets of patients' lives," says David Mott, professor in the Social and Administrative Sciences Division at the University of Wisconsin–Madison School of Pharmacy. "Equipped with a thorough understanding of medications and how they work and the soft skills necessary to provide direct patient care and education, PharmD graduates are ready to thrive and make a tangible impact."
"PharmD graduates are applying their expertise in so many new creative and innovative ways across the healthcare spectrum."
—David Mott
The unique skillset of pharmacists, coupled with legislative changes in many states offering provider status to pharmacists, is precipitating a shift in the profession: more pharmacist jobs in direct patient care. A recent national survey of pharmacists, led by Mott and colleagues, revealed that between 2009 and 2019, the proportion of pharmacists with patient care roles increased more than 20 percent, from 43 percent to 52 percent of surveyed pharmacists.  
Opportunities for PharmD graduates are expanding in clinical services, ambulatory care, and even the pharmaceutical industry, acting as medication experts with a strong scientific foundation.
"Pharmacy as a profession is undergoing a renaissance," says Mott. "PharmD graduates are applying their expertise in so many new, creative, and innovative ways across the healthcare spectrum."
Expanding clinical services
Community pharmacies remain one of the most convenient places for Americans to access health care, with nearly 90 percent of residents living within 5 miles of a pharmacy. By expanding clinical services, pharmacies can help these Americans access point-of-care testing for disease diagnosis and monitoring, long-acting medication injections, a range of immunizations, and more.
"The opportunities are ever-growing as our role in the community and in health care continues to expand," says Forward Pharmacy co-founder Matt Mabie (BS '98). "When I graduated from the School of Pharmacy, there was very little talk about giving immunizations, and now it's a major part of our daily lives."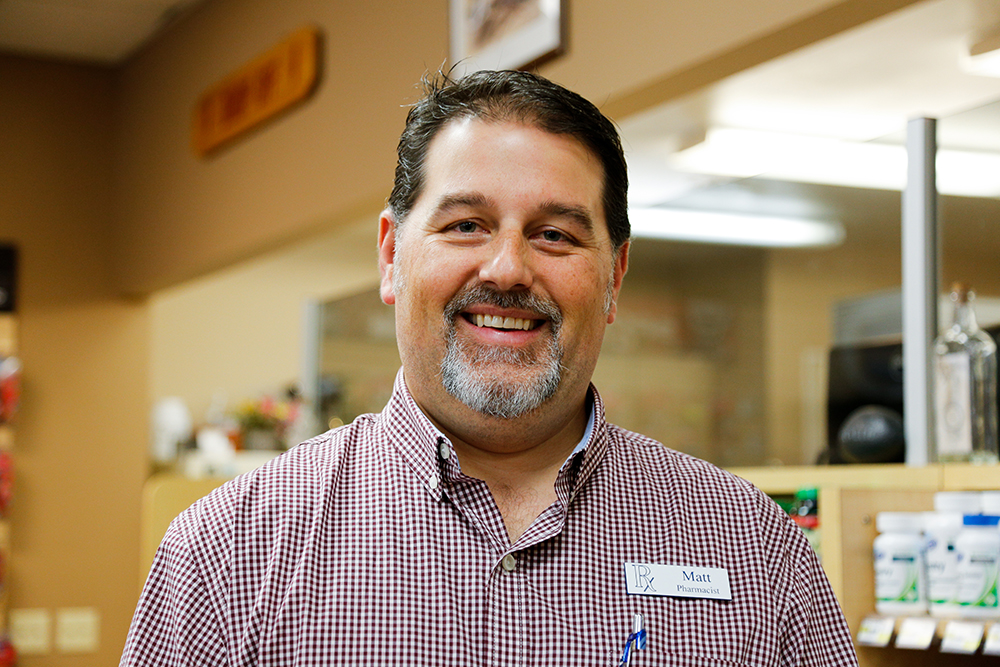 Mabie co-founded Forward Pharmacy, a community pharmacy with five locations in southern Wisconsin, and he works to keep his pharmacies on the leading edge of changes in the clinical pharmacy scene that allow him to be responsive to his community's needs.
"Now that travel has started to come back at this stage of the COVID-19 pandemic, we're trying to fill a need for travel vaccines out there in the community," says Mabie. "Pharmacies are ideal for this because of the convenience and flexibility of when and where we give the service."
Mabie describes community pharmacy as akin to ambulatory care: Patients come in for help treating or managing their diagnoses, or even minor injuries, like the outpatients visiting ambulatory clinics. And as pharmacy technicians take over some responsibilities, such as checking patients in or helping with vaccine delivery, that frees up more pharmacist time for patient care and services like comprehensive medication reviews.
In December 2021, Wisconsin became one of the latest states to grant pharmacists provider status, paving the way for more pharmacist-led services to improve patients' health. With the change in legislation, pharmacists in Wisconsin can now be reimbursed through Medicaid for providing clinical services within their scope of practice. That additional revenue can help pharmacists expand services they already offer, such as smoking cessation support, or introduce new ones, like point-of-care testing or consultations to adjust patients' medications for common chronic diseases like diabetes and hypertension.
"As the medical field recognizes the importance of pharmacists, more jobs open up in the field," says Luiza Brenny (PharmD '15), geriatric pharmacist with UW Health.
Ambulatory patient care
As ambulatory, or outpatient, care continues to evolve — also enhanced by provider status — new roles are expanding for pharmacists in health systems to work directly with patients and to take on increasingly active roles in their care. For example, Olivia Fahey (PharmD '18) works in a new role as a cancer care clinical pharmacist at the University of Kansas Cancer Center.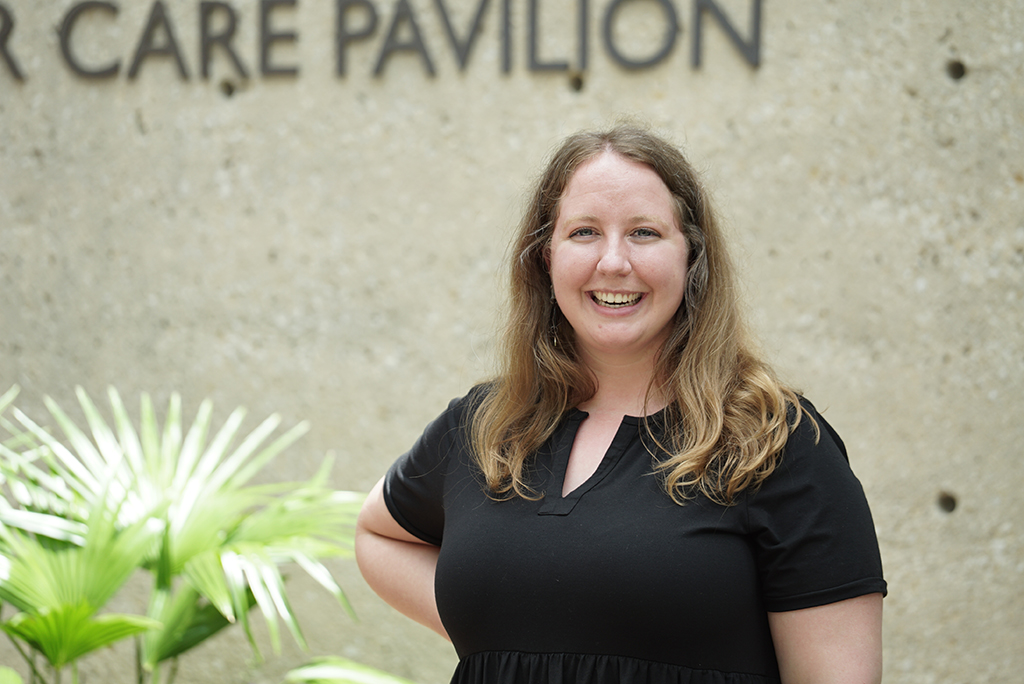 "Part of the reason I was hired was to help expand the pool of pharmacists that we had available to work in clinics, so that all of our providers in every disease state clinic would have a pharmacist working with them," Fahey says. "The big growth area for us is working directly with providers in the clinic setting instead of in the pharmacy."
That growth, Fahey says, is partly due to the increasing number of treatment options available to patients. As providers gain the ability to prescribe niche medications, pharmacists gain opportunities to work with patients in new primary and specialty care positions in anticoagulation, endocrinology, pain management, infectious disease, psychiatry, and even geriatrics, like Brenny.
As a former student of the UW­–Madison School of Pharmacy, Brenny says she learned the skills to independently conduct literature reviews, which she says is important in staying up-to-date as new medications and treatments are approved.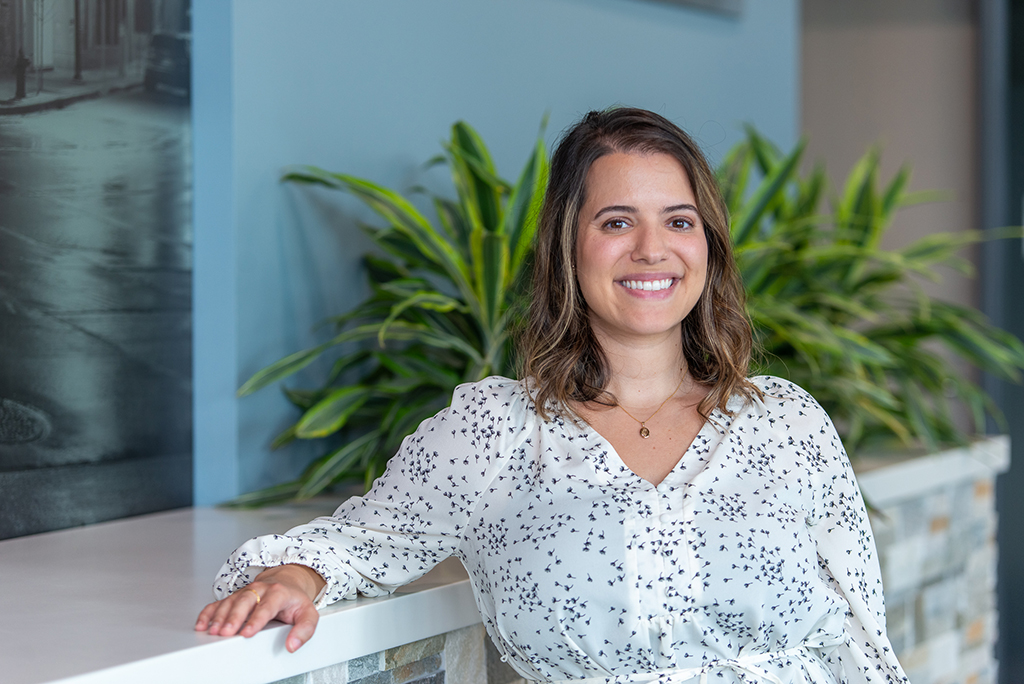 Pharmacists fill a specific niche in ambulatory care, which is to focus on medication use for treatment of chronic diseases such as hypertension, Type 2 diabetes, or chronic obstructive pulmonary disease, Brenny says, which may be complex.
"As the population ages, pharmacists are valuable in helping manage polypharmacy, which is the use of multiple medications to manage various health conditions. Sometimes medications are added to help treat the adverse effects of another — a situation known as the 'prescribing cascade,'" says Brenny. "In older patient populations, pharmacists can help not only to optimize medication therapies, but also to determine when it may be more appropriate to de-prescribe medications to ideally relieve side effects and minimize drug-drug interactions."
Both Brenny and Fahey feel that pharmacists are an essential part of the growing ambulatory care sphere. Fahey sees a bright future for pharmacists outside traditional clinical care and is excited to see what the future holds.
"I think we're always going to have a role in patient education," Fahey says. "It's a really exciting area with a lot of new growth and development."
Pharmaceutical industry roles
A pharmacy education includes a solid scientific foundation, a clinical background, and the soft skills required for direct patient care — all qualifications that help PharmDs to thrive in the pharmaceutical industry. With these skills, PharmDs are increasingly working in regulatory affairs, research and development, clinical development, or in roles that delve into medical information and communication. The Industry Pharmacists Organization reports that industry fellowships and direct-to-industry employment are on the rise among PharmDs, which is one of the reasons the School recently launched a PharmD path focused on industry positions.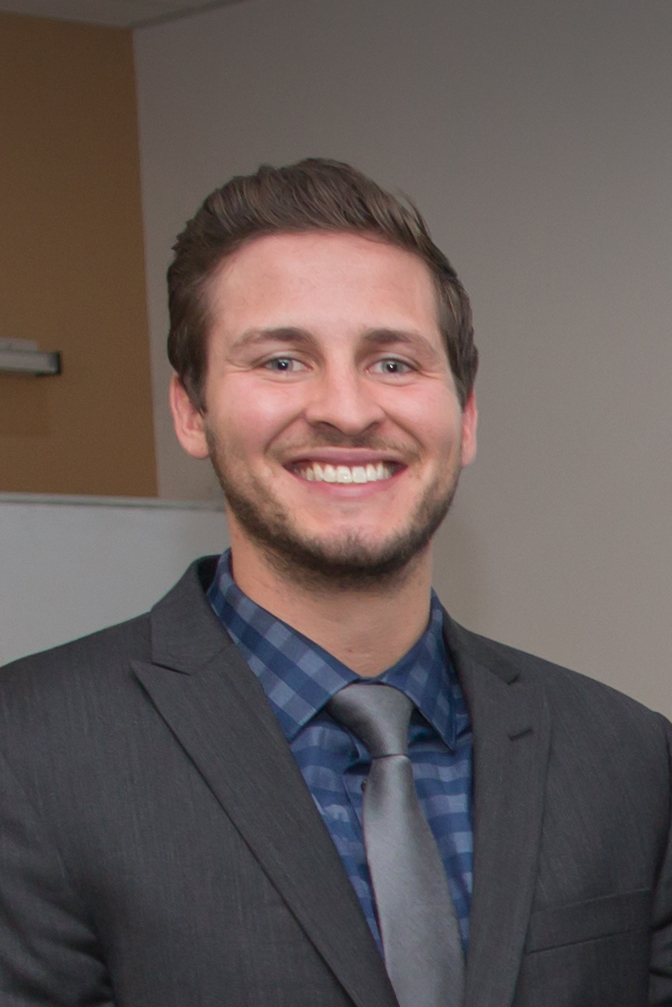 Griffin Budde (PharmD '20) can vouch for that trend. He was first hired as a medical science liaison (MSL) at Natera — a San Carlos, Calif.-based diagnostic company that focuses on using circulating tumor DNA (ctDNA) to help patients with cancer — just after earning his PharmD from the School of Pharmacy.
As a MSL, he educated providers on his company's technology and then would collaborate with those providers to initiate clinical trials implementing ctDNA. The test allows providers and patients to know if there is any tumor present in the patient's body after surgery or treatment. Griffin was recently promoted to manager, where he oversees all of the lung and melanoma MSLs, two of whom are also PharmDs.
"The opportunities for growth and for vertical movement, and even lateral movement, in your career are very broad in the pharmaceutical industry," Budde says.
Budde says the quality of life in the industry is high, as is the potential for PharmDs to guide their own careers. Budde's role as a MSL allowed him to use his pharmacy education to communicate with key opinion leaders and patients in a way he would have not been able to with other training.
"Having a PharmD and having a pharmacist background gets you accustomed to talking about statistics and how they translate for patients," Budde says. "That gives people like myself the unique ability to go out and talk about the information as the conduit for a specific company."
Budde sees a shift to a new era in the pharmaceutical industry, more focused on diagnostics and biosimilars and rife with opportunity for PharmDs. Lee Severson (PharmD '11) sees a similar change as the industry pushes to improve the patient experience. 
Severson is the director of regulatory affairs for Amryt Pharma, a UK-based pharmaceutical company with an office in Boston. He collaborates with clinicians, statisticians, and pharmacologists, as well as organizations like the U.S. Food and Drug Administration, to guide decisions on research studies and manufacturing. Severson says the topics he learned about at the School of Pharmacy have played a major role in his career.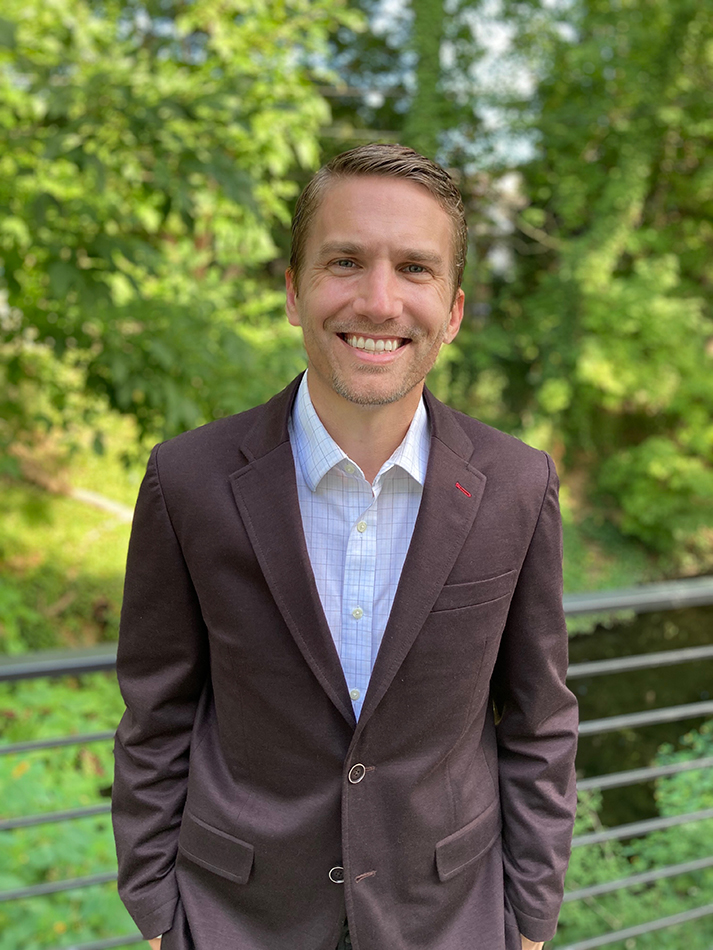 "We gained an insight into the patient experience and how healthcare systems operate, which is really critical," Severson says. "Those two experiential learning topics that you go through as a pharmacist really add to the overall ability of pharmaceutical companies to aim for the right targets as they develop new molecules or new treatment procedures."
Severson says thinking from the patient perspective, informed by his previous experience, has been his favorite part of the role, giving him a thorough understanding of what patients need from their therapeutics.
"After my years working in different settings as a PharmD, I acquired an awareness of how patients feel and what sort of things they care about, which is actually quite rare in industry," Severson says.
To encourage more PharmDs to apply their expertise in industry, Severson virtually returns to the School of Pharmacy every year to share his career path and why he finds it fulfilling.
"I still try to keep a bridge intact for current PharmD students at UW–Madison," Severson said. "This is an area where there's a lot of room for pharmacists to come in and make an impact. It's worth making all the efforts now, as a student or a young pharmacist, to evaluate potential options out there and know what's possible."