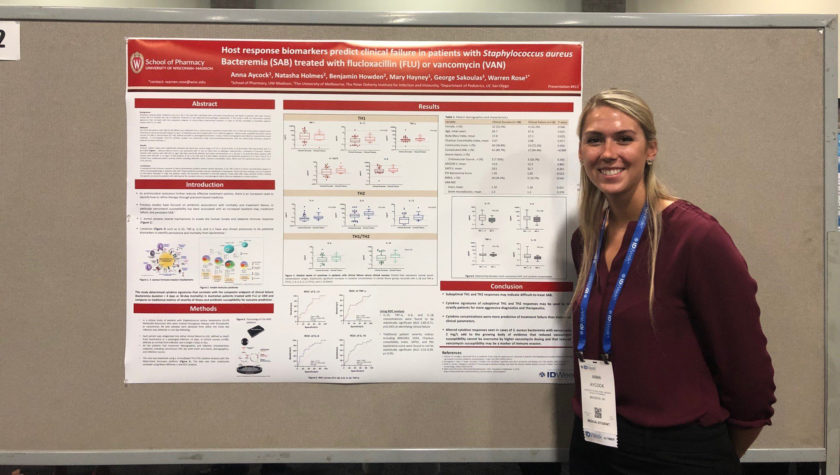 6
December
Anna Aycock, Graham Edwardson, and Chi-Yin Liao earn national recognition for their research
By Hanzhu Tang
Out of the thousands of research abstracts submitted to the organizers of IDWeek 2019 for consideration, three from University of Wisconsin–Madison School of Pharmacy students were deemed among the most significant, interesting, and innovative.
Third-year PharmD student (DPH-3) Anna Aycock, Graham Edwardson (DPH-4), and Chi-Yin Liao, graduate student in the Health Services Research in Pharmacy (HSRP) program, each submitted projects that were selected for presentation at the conference, which is the combined annual meeting of the Infectious Diseases Society of America (IDSA), Society for Healthcare Epidemiology of America, the HIV Medicine Association, and the Pediatric Infectious Diseases Society.
"Having the opportunity to step outside of the pharmacy school and see what it's like in the real world and how research can play a role in clinical practice is incredible," says Aycock. 
IDWeek, which pulls in more than 8,000 attendees from around the globe, is mainly composed of physicians who specialize in infectious diseases, internal medicine, and family practice. Pharmacists and health services researchers, especially students, are a less common feature of the programming.
"IDWeek is the premier infectious diseases meeting that is recognized in the United States and internationally," says Warren Rose, 2019 IDSA fellow and associate professor in the School's Pharmacy Practice Division, who mentored the two PharmD students on their research. "It's pretty rare for pharmacy students to have their research accepted at such a high level."
The students' projects tackled health issues ranging from infection biomarkers to antibiotic stewardship.
Answering real-life questions in infectious diseases
When the body experiences inflammation, trauma, or infection, cell-signaling molecules called cytokines are responsible for communicating that information to provoke an immune response.
Aycock's research explored using these cytokines as biomarkers to identify the severity of an infection more quickly. To see if they made accurate biomarkers, Aycock analyzed samples and data, including demographic and outcome information, from Australian patients who had Staphylococcus aureus bacteremia.
"I am really excited and passionate about the potential research has to actually make a difference and change people's lives."
—Anna Aycock
Her research revealed that the concentrations of specific inflammatory cytokines increased in the first one or two days of infection in patients who either died or had a prolonged infection.
"We want to measure patients' future prognosis on the first day of infection, which would enable physicians and pharmacists to tailor antibiotic therapy more or less aggressively based on the stage of the infection," says Aycock.
"The method Anna is pursuing is something new that we haven't applied before," says Rose.
Edwardson's research in the Rose Lab also focused on patients with complicated Staphylococcus aureus bacteremia and how to use biomarkers as diagnostic or monitoring tools to achieve the best possible outcomes.
Specifically, Edwardson explored using time-to-positivity blood cultures and inflammatory biomarkers as additional diagnostic tools to predict whether patients need to receive a transesophageal echocardiogram (TEE) to rule in or rule out the possibility of endocarditis. A relatively common complication, endocarditis is an infection of the inner lining of the heart's valves and chambers that occurs when bacteria enters the body and attaches to damaged areas of the heart. 
TEE procedures are effective but invasive and require sedation. "The risks of TEE may exceed benefits in patients with a low pre-test probability of endocarditis," says Edwardson. "I believe these new biomarkers have the potential to enhance patient care. With further research, we hope to risk-stratify patients for TEE, select an appropriate antimicrobial therapy, and adjust their treatment duration."
As an HSRP student, Liao approached the issue of infectious diseases from a different angle than a practitioner or clinical researcher would, focusing more on process and protocol. With Jay Ford, assistant professor in the School's Social and Administrative Sciences Division, and Chris Crnich, associate professor of medicine at the School of Medicine and Public Health, Liao looked at the issue of antibiotic overuse and misuse in infectious disease treatments in nursing homes by evaluating the effectiveness of antibiotic reviews 48 to 72 hours after a prescription is filled.
"We need to understand what kinds of interventions might help reduce the inappropriate use of antibiotics through evaluating the effect of antibiotic stewardship," says Liao.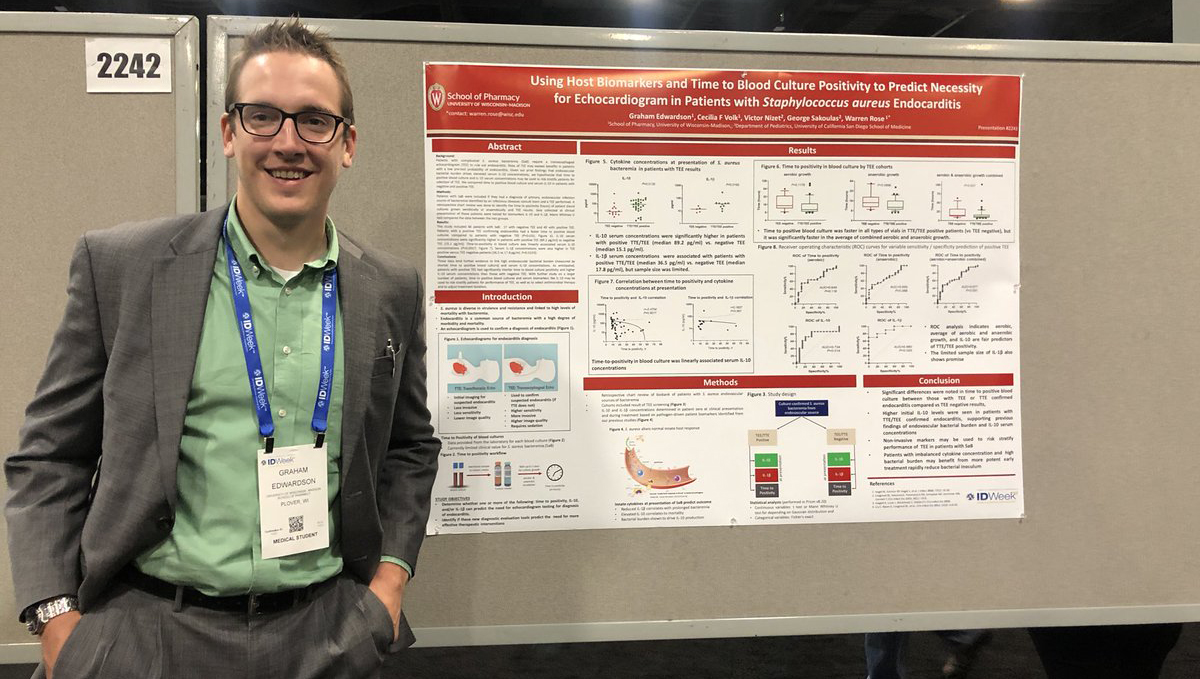 In nursing home settings, antibiotics are frequently prescribed before test results are available. Through the standardized antibiotic reviews Liao evaluates, providers re-assess the patient's needs and the duration and choice of medication when more clinical information is available. When appropriate, physicians can also provide alternative treatment options.
"If the reviews find that the antibiotic use is not appropriate, then the antibiotic would be discontinued or deescalated to one with a narrower spectrum," says Liao. "Antibiotic overuse and misuse are common and severe problems in nursing homes, which can be harmful."
She, Crnich, and Ford found out that, although the reviews didn't lead to significant differences in total antibiotic modifications, they did more frequently lead to canceled antibiotic prescriptions.
Building research expertise
Students in the School's PharmD program are exposed to a breadth of research experiences under the mentorship of the School's nationally and internationally renowned faculty, including topics ranging from the basic sciences to translational applications.
Both Aycock and Edwardson are using the ample research opportunities available at the School to pursue the School's new Pathway of Distinction in Research, which is an academic recognition for student pharmacists who go above and beyond the call of the curriculum to complete independent and in-depth research projects. To earn the recognition, students work with a faculty mentor to complete at least 540 hours of research-related activities, including data collection, analysis, and presentation at local and regional or national conferences, such as IDWeek.
"I am really excited and passionate about the potential research has to actually make a difference and change people's lives," says Aycock. "If I could have an ideal job, I would research alongside teaching and clinical practice so I could continue learning and passing that knowledge along to students and patients."
For Edwardson, who traveled to the conference through a travel grant from the School, IDWeek 2019 gave him a clearer idea of what options his future holds.
"Having a scientific abstract accepted at IDWeek is a great honor and a testament to the quality of Chi-Yin's work."
—Chris Crnich
"I received a lot of great advice from pharmacists who have already gone down the avenue I am interested in pursuing," says Edwardson.
Edwardson, who has published an article he co-authored with Cecilia Volk (DPH-4) in the Clinical Infectious Diseases journal, has spent two years in the Rose Lab, and plans to continue his research there in the coming year through a research-focused Advanced Pharmacy Practice Experience (APPE) rotation.
"Dr. Rose is a mentor and sounding board for what I envision as my future career," says Edwardson, who plans to pursue a post-graduate residency after graduation. "I have many ideas on the path I want to take, such as seeking a research fellowship or diving into the workforce, and he has given me a lot of advice to consider."
Aycock also aims to continue her research in the Rose Lab and carry it into teaching positions in the future.
"Dr. Rose always takes time to explain things to us and cares about all the students he works with," says Aycock. "He really pushes you to be better than you thought you could be."
Liao, whose focus is on health policy and health services research, plans to spend her career in an academic environment, exploring opportunities to improve patient care at multiple levels, such as within the health care system and through the interpersonal connections between medical professionals and patients.
In the HSRP PhD program, she has not only enjoyed the mentorship of Ford, but also a collaborative relationship with Crnich, the principal investigator on Liao's research project.
"Dr. Ford provides me with a great amount of support throughout not only this project but also my masters' thesis. He is very approachable whenever I have questions," says Liao. "And Dr. Crnich gave very constructive feedback on drafting the manuscript and a lot of in-depth insight related to antibiotic stewardship. I must say I've learned a lot from both of them."
At IDWeek, she and Crnich met groups of scholars conducting similar research that deepened her understanding of hot topics in the field and innovative ways to approach them.
"Having a scientific abstract accepted at IDWeek is a great honor and a testament to the quality of Chi-Yin's work," says Crnich. "I was delighted to see her present her work at the meeting and the authority with which she was able to answer questions from a number of well-respected scientists in the field of antibiotic stewardship in long-term care facilities."