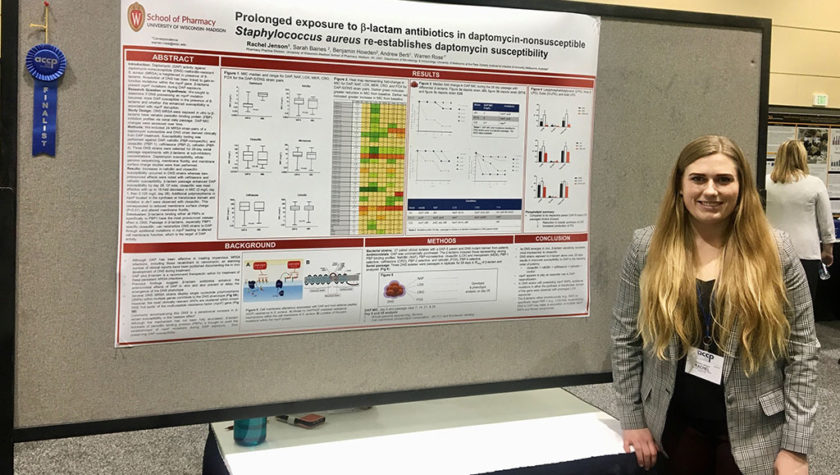 4
December
Record number of School of Pharmacy students present research at ACCP Global Conference
By Katie Ginder-Vogel
This year, the largest number of University of Wisconsin–Madison School of Pharmacy PharmD students to date presented research at the Global Conference on Clinical Pharmacy, hosted by the American College of Clinical Pharmacy (ACCP). ACCP holds an annual nationwide meeting, but the Global Conference only takes place every three to 10 years.
"This is the most students we've ever had present at the ACCP conference," says John Dopp, associate professor in the Pharmacy Practice Division and research mentor to some of the presenting students. "They sought these opportunities out and are some of our most invested and motivated students who took the initiative to be involved in research early on, and it has paid off."
Students applied to present at the conference by submitting abstracts for original research that tells a complete story, even if the results aren't yet finalized. ACCP judges then sifted through hundreds of submissions to select interesting, well-done, and significant student research projects to be presented at the global conference—including eight led by the School's PharmD students: Kate Berlin (who presented two)(DPH-4), Marnie Janson (DPH-4), Rachel Jenson (DPH-4), Dan Mobley (DPH-4), Abigail Sharpe (DPH-4), Cecilia Volk (DPH-3), and Youqi Zhang (DPH-4).

"Our students clearly are researching topics that are important for pharmacy," says Warren Rose, associate professor in the Pharmacy Practice Division, who was inducted as a fellow of the ACCP and honored with Distinguished Investigator Award from the ACCP Infectious Disease Practice and Research Network at the conference.
"These students are really understanding some of the problems that patients encounter and are thinking creatively about how to solve those problems, either in the lab or through clinical applications," he says.
In addition to being selected for presentation, three PharmD students also earned awards for their research:
Zhang, who researches with Professor Mary Hayney, won a travel award from the ACCP GI/Liver/Nutrition Practice and Research Network.
Volk, who researches in the Rose Lab, won a travel award from the ACCP Infectious Disease Practice and Research Network.
Jenson, who also researches in the Rose Lab, won Best Student Research Poster across all disciplines.
"It's pretty competitive to go through the application process, have your abstract accepted, and then be further considered for an award," says Rose. "Only one project is selected from all that are presented, so that's a pretty big accomplishment for all of these students, and even more so for Rachel for her over-arching recognition."
Research experience with real-life patient impact
The UW–Madison School of Pharmacy's PharmD program gives our future pharmacists access to unique hands-on experiences in the labs of faculty members, who themselves are leading researchers. Among U.S. pharmacy schools, this level of research participation is uncommon, and it gives students a leg up on the national stage.
"In conversations with students from other pharmacy schools, I realized that not very many schools offer the resources and opportunities to let student pharmacists get involved with research that we have at the UW–Madison School of Pharmacy," says Youqi Zhang, who researches with Professor Mary Hayney.
Answering immunization questions
The research Zhang presented at ACCP focused on evaluating the immunogenicity of high-dose versus standard-dose influenza vaccines in patients with inflammatory bowel disease (IBD).
"Youqi has been interested in research since she came to UW–Madison and has done independent study research with me for five semesters," says Hayney.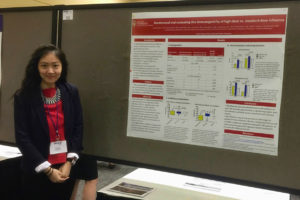 As a second-year PharmD student, Zhang encountered a patient with IBD who was hesitant to receive the influenza vaccine, due to the fact that she was immunosuppressed. "I realized how pharmacists could play a role in educating this particular patient population to encourage immunizations, so when I was presented with the opportunity to work on this project with Professor Hayney and a group of GI physicians from UW Health, I said yes immediately," she says.
Her research results showed antibody concentrations were higher with the high-dose vaccine, indicating, as other studies have shown, that it provides better protection from influenza. Zhang is helping Hayney and a collaborator at the UW–Madison School of Public Health write a manuscript about the research for publication, and she's already an author on another recently published paper, "Immunosuppression does not affect antibody concentrations to measles, mumps, and rubella in patients with inflammatory bowel disease."
"At the conference, I was surprised by the number of pharmacists who stopped by and talked to me about their experience with IBD patients and their immunization status," says Zhang. "It further strengthened my belief that pharmacists could potentially make a huge impact on this public health issue by educating both patients and providers."
A second student of Hayney's, Kate Berlin, presented two posters at ACCP. Her first project addressed a concern that vaccinating patients who are hoping to receive organ transplants would stimulate an immune response in them that might decrease their chances of finding a potential organ donor match.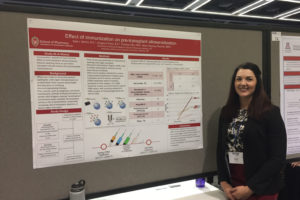 "We tested prospective transplant patients, about half of whom received a vaccine in intervals," explains Hayney. "We found there was zero difference in sensitization."
"Solidifying the question and having data and results to back up recommendations is important," says Berlin. "Pharmacists can make immunization recommendations in a variety of practice sites, and conclusive data helps with decision-making to benefit patients."
Berlin's second project focused on patients with IBD who have an increased risk of shingles. She looked at immune responses to the zoster virus, which remains latent in the body and waits to reactivate in immunosuppressed patients, in two populations: young IBD patients, aged 30-39, and healthy patients aged 50-59 (the group to whom doctors recommend the vaccine). She found similarities between the immune responses to the vaccine in both groups of patients, suggesting that younger IBD patients would benefit from the vaccine.
"Kate took what she learned and applied it to ask clinical questions and systematically gather data to answer them," says Hayney.
Tackling infectious disease
Rachel Jenson began her original research project, which seeks to better understand the mechanisms of resistance that bacteria develop, during her undergraduate capstone project as a bacteriology student, hoping to develop insights to address antimicrobial resistance.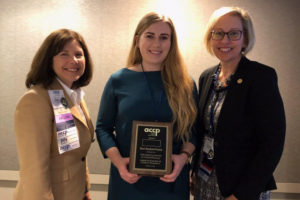 "While more and more patients are dying of multi-drug resistant organisms, very few novel antimicrobials are being developed, so it's important to study ways we can treat these infections with the antimicrobials we already have and preserve the activity of existing antimicrobials," explains Jenson. "Working in the Rose Lab allowed me the opportunity to complete all parts of my project, from bench work to writing the manuscript, which was important to me."
Being one of the four finalists for the Best Student Poster award—and the ultimate winner—also gave Jenson the opportunity to give a platform presentation of her research.
"Having the opportunity to prepare for and formally present my research to an audience of fellow clinicians and researchers helped me gain confidence in my public speaking ability, which will be valuable during my residency next year," says Jenson.
"The experience I've had while doing research at the UW–Madison School of Pharmacy has been excellent. The opportunities and experiences I've had as a student researcher with Dr. Rose are invaluable and have prepared me for my future career as a resident and clinician."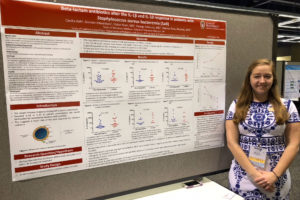 Cecilia Volk, another of Rose's students and the only third-year PharmD student from the School to have her research selected for the conference, presented original research entitled "Beta-lactam antibiotics alter the IL-1β and IL-10 response in patients with Staphylococcus aureus bacteremia (SaB)". Volk worked with a basic science researcher at UW–Madison, as well as in the labs of two scientists off campus, to evaluate her research question, including several weeks studying in a lab at the University of California San Diego.
"Cecilia is very innovative," says Rose. "She thinks outside the box, and she's able to figure out ways to solve problems and work with others in order to find solutions."
Cardiac and blood pressure research
Dan Mobley's project tested whether allopurinol (a xanthine oxidase inhibitor), losartan (an angiotensin receptor blocker), or a placebo improved blood pressure, improved arterial flexibility, and reduced cardiac risk in patients with sleep apnea and hypertension.
"The group that received the blood pressure medication losartan saw blood pressure improvements from about 138 to 125 and eased arterial stiffness, a surrogate marker of cardiac risk, after six weeks," says Dopp, Mobley's research mentor. "The patients were pretty healthy people, so this medication's impact on them indicates that you could add losartan for patients whose blood pressure is in the 'normal' range and who have low cardiac risk, and they could still benefit."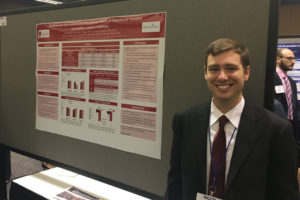 Mobley presented the data for the first time at the ACCP conference and will be a second author on the resulting publication.
Marnie Janson, who was also mentored by Dopp and Associate Professor Karen Kopacek, presented a project that investigated whether patient outcomes following cardiac surgery are different when patients receive either milrinone or dobutamine, which are IV medications that keep blood pressure at a healthy level and get adequate blood to kidneys. "Those two meds are used a lot, but there isn't a lot of data about why one is used over the other," says Dopp.
Dopp's frequent collaborator Ted Berei, a pharmacist at UW Hospital and Clinics, met with 200 of his cardiac patients and shared data with Janson, who found that the risk of rehospitalization at six and 12 months post-surgery was higher in patients who received milrinone, compared with dobutamine.
"We plan to go back in and collect data from a year after patients were discharged, to find out why they were hospitalized," says Dopp. "We'll publish our findings and take them to the cardiac surgery and care teams at UW Hospital. They may want to consider modifying their practice."
In another collaboration with Berei, Abigail Sharpe investigated how frequently mineralocorticoid receptor antagonists (eplerenone and spironolactone) are appropriately prescribed for patients who are post-myocardial infarction.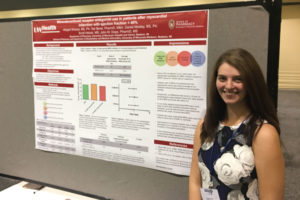 Sharpe tracked patients who'd had heart attacks and reduced heart function, whose guideline-determined medication therapy includes an angiotensin-converting enzyme (ACE) inhibitor or angiotensin receptor blocker, a beta blocker, and a mineralocorticoid receptor antagonist. She wanted to see how commonly they were prescribed because data indicated that they were being underprescribed—only about 30 percent of patients who should take them were having them prescribed.
"If we did a pharmacist-based intervention to improve the rate at which these meds are prescribed, would that improve outcomes?" asks Dopp. He and Berei plan to build on Sharpe's project with another pharmacy student or resident next year.
"I'm very fortunate to be able to work with such motivated, talented students, who make this easy for me," says Dopp. "We have a great collaboration with UW Hospital and Clinics. Research that improves patient care and outcomes means patients are the biggest winners." 
Creating powerful opportunities
Within the School of Pharmacy's PharmD program, there's a strong emphasis on building a strong scientific foundation.
"The curriculum starts with clinical classes like drug therapy, in which we emphasize evidence-based decision making and following guidelines based on research," says Dopp. "Our students are familiar with research and review studies in their classes, so when they have the opportunity to participate, they are interested, prepared, and capable."
Since many pharmacy students will go on to be practicing pharmacists, rather than academic researchers, the goal is for research to be a productive experience for students, tailored to their needs.
"We want them to understand how to identify and ask clinical questions in practice and have the skills to answer those questions, which can change pharmacy practice, save money, and improve outcomes, workflow, and patient well-being," says Dopp. "If you interview a pharmacy student for residency who can do that, they're steps ahead of everyone else—they're a valuable resident for the institution, and that's the kind of pharmacist they want."
Hayney echoes Dopp's sentiments about the in-depth experiences research opportunities available to the School of Pharmacy's student pharmacists. "Students with these research skills are great pharmacists because they're able to formulate the right question and develop the strategy to answer it," she says.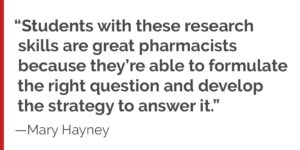 In addition to research support and guidance from School of Pharmacy faculty, two students also received travel support that helped them reach the ACCP 2018 Global Conference. Janson and Berlin each got a travel grant through the School's Student Support and Success fund, which is fueled by donations from alumni and friends of the School, such as Julia Ihlenfeldt (BS '80).
"I know how expensive those trips and professional conferences can be, but I also know much you can learn, especially if you're presenting," says Ihlenfeldt. "Every year, I'm impressed at the quality of the students I see coming from the UW–Madison School of Pharmacy, and it's nice to know that I might have had a little bit to do with that."
"The ACCP Global Conference gave me the invaluable opportunity to present my research and get feedback from pharmacists around the country," says Janson. "It is inspiring that alumni continue to give back to students to help us build our careers, and it makes me want to give back to students in the future."
The experience helped Berlin prepare for her future career and gave her the opportunity to network with pharmacists in residency programs in which she's interested. "The travel grants are an extremely generous way of supporting student research and encouraging students to prepare for post-graduate residency programs," she says.
Andrew and Hilary Ince (PharmD '09) also support the fund, and Andrew says he gained similar residency preparation from attending professional conferences as a student, so he's happy to pass that benefit along to current pharmacy students, especially those who are pursuing research.
"I've been a preceptor for the School's student pharmacists for a number of years, and so many of them are doing great things. Students doing research are really going above and beyond what's expected of them, and they deserve recognition for that," he says. "It's an honor to be able to give back to the School that gave so much to me."