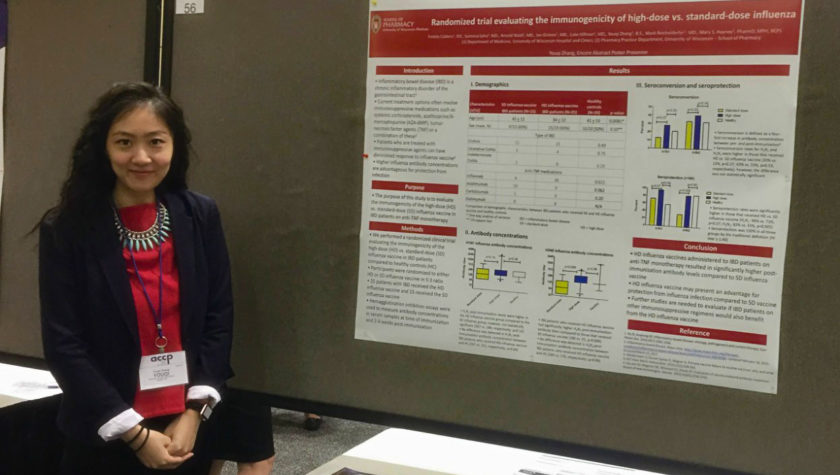 9
March
New program recognizes high PharmD student achievement in research scholarship
As a second-year PharmD student at the University of Wisconsin–Madison School of Pharmacy, Youqi Zhang started to become more curious about the role of pharmacists, and the more she learned, the more the wanted to know.
"I wanted to understand why we do what we do in real-life practice," says Zhang, now in her fourth year. "Little by little, I started wondering to myself, 'Can I possibly become involved with projects, or even design my own, that will actually shape pharmacy practice?'"
Zhang started seeking her answers in the lab of Mary Hayney, a professor in the School of Pharmacy's Pharmacy Practice Division, and spent her next three years of pharmacy school conducting clinical research to improve the immunization strategies for patients with inflammatory bowel disease. All told, Zhang spent 450 hours forming research questions, collecting and analyzing data, and writing a manuscript to share her findings.
Her high-quality and significant research, along with that of six other PharmD students from the School, was chosen for presentation at the 2018 Global Conference on Clinical Pharmacy, hosted by the American College of Clinical Pharmacy (ACCP), and also earned her a travel award from the ACCP GI/Liver/Nutrition Practice and Research Network to attend the conference.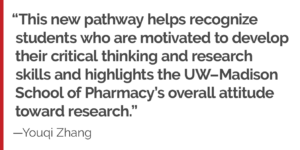 Through the School of Pharmacy's new Pathway of Distinction in Research, Zhang's research accomplishments will also be officially recognized at her graduation and through documentation she can carry forward to future opportunities. 
"This Pathway of Distinction is a way for students to work longitudinally throughout the PharmD curriculum to gain in-depth experience with the successes and failures that accompany research," says Hayney, who has been instrumental in developing the program. "Recognizing the commitment and work this research requires with a distinction at graduation gives our PharmD students an advantage when interviewing for jobs or applying for residencies."
Zhang is one of five students in the PharmD Class of 2019 who will be receiving the new distinction. The other students are Kate Berlin, Meredith Frey, Rachel Jenson, and Abigail Sharpe. 
Quality research experience
Research-minded future pharmacists can apply to the Path of Distinction in Research beginning in their second year of the PharmD program and then will complete 12 research credits, which equates to 540 hours, under the direction of a faculty research mentor through independent study credits, a research-focused Advanced Pharmacy Practice Experience, or a summer research fellowship.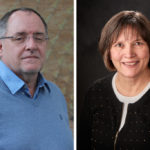 Students' projects can focus on the basic sciences, clinical applications, or the outcomes or implications of pharmacy services, but they must be cohesive and culminate in a manuscript for submission to a peer-reviewed, indexed journal. To earn the distinction, the students will also have to complete a number of other activities, such as presenting their research at a local and a regional or national meeting.
Because the Pathway of Distinction is new, PharmD students graduating in 2019 and 2020 who have demonstrated a commitment to research and have submitted a publication — like Zhang — will be grandfathered into the program after a faculty review of their work.
"This new pathway helps recognize students who are motivated to develop their critical thinking and research skills and highlights the UW–Madison School of Pharmacy's overall attitude toward research," says Zhang. "Having this in my record will help highlight my research interest and overall work ethic and, more importantly, help me connect with other professionals with similar passion and interests."
Meeting student needs
In addition to student recognition, the Pathway of Distinction in Research was also created in response to the number of PharmD students interested in pursuing substantial research, says Mel de Villiers, professor and associate dean for Academic Affairs.
"Over the years, research has always been one of the top reasons that future pharmacists choose the School of Pharmacy," says de Villiers. By creating this pathway, the School is developing infrastructure to make research opportunities easier for students and lays the groundwork for more future developments.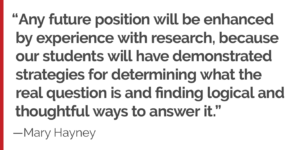 "Having the path in place is a first step," says de Villiers. "Now we can build it up and make it more robust."
The introduction of the Pathway of Distinction in research is part of a larger effort — including the new Pharmacy Operations and Technology Management PharmD concentration — to allow PharmD students to tailor their experience and education to help them reach their professional goals faster.
"Any future position will be enhanced by experience with research, because our students will have demonstrated strategies for determining what the real question is and finding logical and thoughtful ways to answer it," says Hayney.
"Many people don't realize that pharmacists are a crucial part of every clinical research project," says Zhang. "I hope that as a pharmacist, I will be able to use this experience to collaborate with other professionals to not only conduct research projects that are meaningful to our patients, but also to become part of the force that helps change how pharmacists are perceived in the field of research."
Read about the six PharmD students' research chosen for presentation at ACCP's 2018 Global Conference.