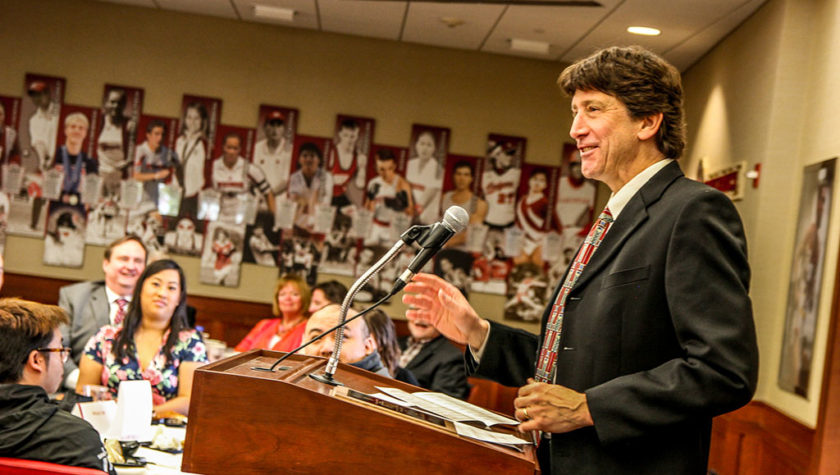 31
May
Vanden Heuvel became the Pharm-Tox program's first graduate in 1986
By Katie Ginder-Vogel
Photos by Joshua Mallett
Jack Vanden Heuvel has worked with his fair share of lab rats, but he's also comfortable being one. As the University of Wisconsin–Madison School of Pharmacy's very first Pharmacology-Toxicology program graduate, Vanden Heuvel (BS '86) says he got comfortable paving the way for others. Now, Vanden Heuvel, fittingly, is also the program's inaugural Alumnus of the Year.
"Jack is a great representative of the Pharm-Tox program and how the degree can be the foundation of a very successful career in science," says Jeff Johnson, faculty director of UW–Madison's undergraduate Pharm-Tox program and professor in the Pharmaceutical Sciences Division. "We're proud to honor his accomplishments and have him share his experience with current Pharm-Tox students."
Vanden Heuvel accepted his award and at the 2018 Pharmacology & Toxicology Graduation Breakfast.
"I was impressed by the dedication of the UW–Madison School of Pharmacy and the faculty to the program," he says. "As I joked during my speech, the quality of students has improved dramatically since the first graduation class, and I am sure that the same will be true of subsequent recipients of the Pharm-Tox alumni award." 
As founder and chief scientific officer of INDIGO Biosciences and professor at Penn State University researching molecular toxicology and nutrigenomics, Vanden Heuvel is a highly accomplished scholar with more than 8,000 citations and an innovative entrepreneur.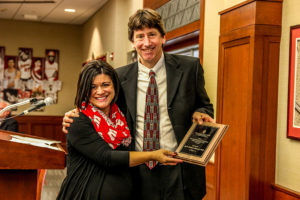 Vanden Heuvel, who grew up in Appleton, Wis., has a deep attachment to UW–Madison—in fact, he doesn't remember applying anywhere else for college. He started at UW–Madison intending to be a chemical engineer but quickly realized that he preferred biology and biochemistry to chemistry.
"I thought back to my high school interest in ecology, human health, and biology—my dad was a high school biology teacher—and I started to look for a new major," Vanden Heuvel says.
Then, he bumped into a kiosk with a flier for a new major in the School of Pharmacy: Pharmacology-Toxicology. The description mentioned environmental and human health, and Vanden Heuvel immediately scheduled an appointment with an advisor.
When the Pharmacology-Toxicology program launched in 1985, it pulled together existing biochemistry, pharmaceutical sciences, and botany courses, where Vanden Heuvel met pharmacy and pre-med undergraduate students, as well as graduate students in pharmacology and environmental toxicology.
"I had no peers then since the Pharm-Tox program was so new," says Vanden Heuvel. "I enjoy being on my own and having independence, so that didn't scare me away, but certainly now, when I go back and visit the program, I see how close-knit the group is."
Blazing the trail 
As the first student to enter and graduate from the Pharm-Tox program, Vanden Heuvel says he felt like a lab rat at times, but then the tables turned as the "research subject" became a researcher. When he realized he could compete with pre-med and graduate students, his confidence rose. He was interested in research, so his advisor sent him to the fifth floor of the pharmacy school building to knock on doors and see which faculty members had openings.
"I talked with Professor Dick Peterson (BS '67), who had a research opening for an undergrad, and I loved it, says Vanden Heuvel. "Doing lab work and being part of a research team fit my personality. I realized I wanted to go to grad school."
Vanden Heuvel went on to earn his PhD in environmental toxicology at UW–Madison, an interdepartmental program within the Environmental Toxicology Center, which is now the UW Molecular & Environmental Technology Center.
Continuing at UW–Madison for graduate school made it easy for Vanden Heuvel to wrap up his required graduate classes quickly and gain expertise in new areas, like genetics and biochemistry, so he could develop a cancer research focus. He then went on to work as a postdoctoral scholar at the National Institutes of Environmental Health Sciences (NIEHS) where he took on a new project in molecular biology.
"Jack is a great representative of the Pharm-Tox program and how the degree can be the foundation of a very successful career in science."
–Jeff Johnson
"Having an interdisciplinary background has allowed me to shift my research focus as needed," Vanden Heuvel says. "What gives you that flexibility is knowing cell and molecular biology, which the Pharm-Tox program at the School of Pharmacy taught me well."
In graduate school, Vanden Heuvel worked with a group of compounds and their mechanism of causing toxicity through a protein called PPAR, which is a member of the nuclear receptor protein family. Knowing the biology of that type of receptor allowed him to take his research in different directions. At NIEHS, he gained experience in cancer biology and other nuclear receptors, before Purdue University hired him as an assistant professor in its Pharm-Tox program.
"When I started my own lab at Purdue, I went back to PPARs and started to do research on understanding human liver cancer caused by chemicals that interact with this receptor," he says. "I started looking at detailed molecular biology and what happens after these chemicals interact with a receptor, trying to dissect the pathways and understand species comparison. The only way to do a species comparison that effectively is at the cellular/molecular level."
A colleague who had left Purdue to start Penn State's toxicology program invited Vanden Heuvel to come give a talk. Vanden Heuvel, tempted by the possibilities of building a new program, then landed at Penn State in 1997, where he is currently a molecular toxicology professor and advisor. At Penn State, Vanden Heuvel continued studying toxicology and nutrition, before shifting to another area of human health.
"I was able to move into molecular nutrition using many of the same tools I was using in molecular toxicology research," Vanden Heuvel explains. "Instead of looking at the chemicals that cause cancer, I'm now studying the chemicals that treat cancer. I had the tools to look at one receptor, and that gave me the flexibility to move into receptors that work in the same manner, including several nuclear receptors similar to PPAR."
Launching a company
Moving into other areas of research led Vanden Heuvel to become an entrepreneur and form his own company, INDIGO Biosciences, in 2005. His startup develops products and services focused on nuclear receptors.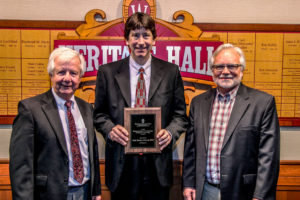 "I'd never considered a startup," says Vanden Heuvel. "I was developing intellectual property in the lab, and companies were buying antibodies and probes from me. I was developing simple test systems to determine if a chemical was interacting with receptors and publishing the results, thinking this was straightforward cell biology work. I never thought it had a commercial application, but I started getting inquiries from drug companies to test their compounds for them."
Vanden Heuvel talked with Penn State about entrepreneurship resources and met with local companies doing similar work to learn how to structure his new business venture. After earning tenure, he worked with a local company that did contract research and used their office and lab to bring in clients.
A year later, he launched INDIGO Biosciences with two employees, which has since grown to 15, with plans to expand soon.
"Some of it is being in the right place at the right time, but also recognizing an opportunity and having the freedom to pursue it," Vanden Heuvel says. "It felt like being in the UW–Madison Pharm-Tox program."
When he talks with Pharm-Tox students at Penn State and at UW–Madison, he urges them to find something that interests them enough to be a lifelong pursuit, if possible. He describes the courses in biochemistry, chemistry, biology, and toxicology that he took in the Pharm-Tox program at the School of Pharmacy as the foundation of his career path.
"As soon as I found a major I liked, it was a thrill to go to class and learn new things, because I knew I was going to use it," he says. "I'm proud to be a graduate of the Pharm-Tox program at the UW–Madison School of Pharmacy. What they have done and continue to do is amazing."
Flexible foundations of the Pharm-Tox degree
Vanden Heuvel, who now serves on the Pharm-Tox program's advisory board, has been able to track the program over the years. He says while the core of the current Pharm-Tox curriculum is consistent to when he was an undergraduate student, the program now places more emphasis on molecular biology and cutting-edge science.
"During my visits and in my interactions with students, I'm constantly impressed with the quality of students," says Vanden Heuvel. "The program is impressive and I'm proud of how well the students do, throughout and after the program."
"It's what's kept me interested in the [pharmacology-toxicology] field—using cutting-edge science and molecular and cell biology in genetics and applying it to human health, which is also an area with lots of flexibility." 
–Jack Vanden Heuvel
In the past 10 years, UW–Madison School of Pharmacy has matriculated 151 students who have earned a bachelor of science degree in pharmacology-toxicology. Pharm-Tox graduates often go on to medical school and PharmD programs, as well as other graduate programs, and many enter the pharmaceutical industry.
The program has a strong research focus that applies to a variety of fields and career paths, and for the past five years, Pharm-Tox students have been selected as Hilldale Undergraduate Research Fellows, a prestigious campus-wide award that recognizes the students' significant research contributions.
Vanden Heuvel describes Pharm-Tox as a "discovery major" that students find after they've been in school for a while.
"It's an applied science that I've always found fascinating because it has practical outcomes," he says. "It's what's kept me interested in the field—using cutting-edge science and molecular and cell biology in genetics and applying it to human health, which is also an area with lots of flexibility."
Learn more about the UW–Madison School of Pharmacy's undergraduate Pharm-Tox program and its breadth of research opportunities.