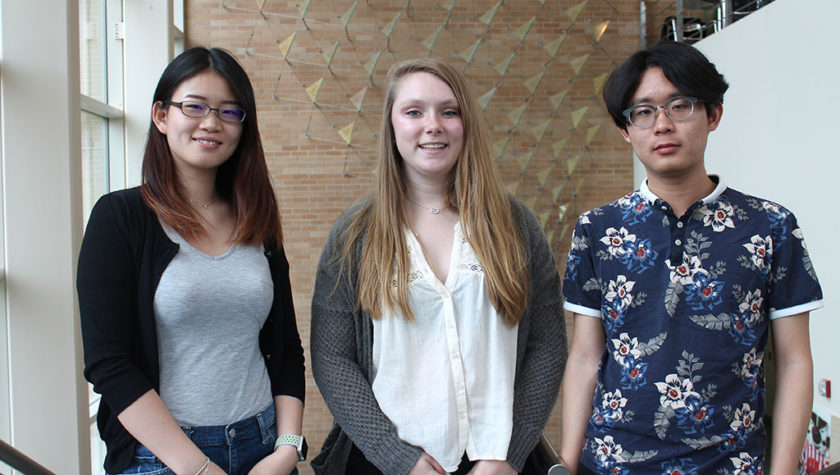 8
May
Campus-wide award recognizes students' significant research contributions, collaborations
Every year since 2013, multiple students in the University of Wisconsin–Madison School of Pharmacy's Pharmacology-Toxicology program have been selected for the competitive, campus-wide Hilldale Undergraduate/Faculty Research Fellowship. And thanks to the hard work and inquisitive minds of pharmacy undergraduate students and their research mentors, 2018 is no different.
This year, Yusen Men, Charlotte Urban, and TongZhen Xie have been selected as Hilldale Fellowship awardees, which recognizes their significant intellectual contributions to their research, the potential impact of their research, and the degree of meaningful collaboration with a faculty research mentor.
The design of the Pharm-Tox program encourages students to pursue their research interests in other divisions of the School of Pharmacy or in collaboration with other departments on campus.
Men, for example, is conducting research with Associate Professor Hiroshi Maeda, an associate professor in the Department of Botany. With Maeda, Men is studying the biochemical characterization of microbial enzymes of tyrosine biosynthesis to trace the origin of plants' ADH enzyme. For his research, Men is already a co-author on studies published in Frontiers in Molecular Biosciences and Nature Chemical Biology.
Urban is pursuing her research with Professor Laura Knoll in the Department of Medical Microbiology and Immunology. She and Knoll are designing a gene editing system to create mutants of the parasite Toxoplasma gondii, which can cause a disease that can damage the central nervous system.
Xie is also collaborating with the Department of Medical Microbiology and Immunology, with Assistant Professor Caitlin Pepperell, to investigate the relationship between Mycobacterium tuberculosis biofilm phenotype and genetic variation. Through this research, Xie and Pepperell seek to better understand the pathogenesis of tuberculosis and uncover novel drug targets for new treatments.
The fellowship—previously awarded to Pharm-Tox students Sam Boroumand, Julia Chini, and Aaron Rottier in 2017—provides student researchers and their research mentors a stipend to offset research costs, and culminates in a presentation of findings at the 2019 Undergraduate Symposium.
Learn about the Pharmacology-Toxicology program at the School of Pharmacy.
Read more about the breadth of research opportunities in the Pharmacology-Toxicology program.