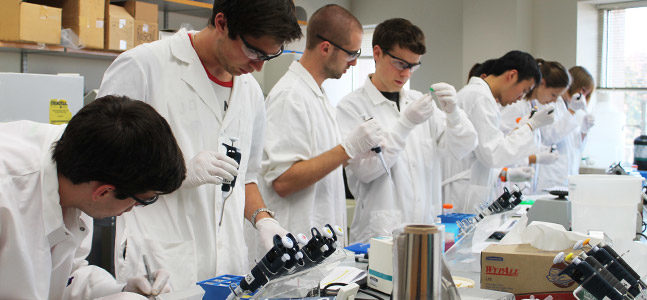 7
July
The Pharmacy Alumni Association announces the creation of the "Pharmacology & Toxicology Alumni of the Year Award." The award will recognize an alumnus from the program who is at least 10 years beyond their graduation year and have excelled in their profession in any career field. The award will honor those alumni whose exceptional professional achievements have brought distinction to themselves, credit to the University of Wisconsin-Madison, and benefit to their vocational community, city, or state.
Since the creation of the B.S. Pharmacology & Toxicology (PharmTox) program in the mid-1980's, Wisconsin's unique program has produced approximately 365 graduates. PharmTox alumni are leaders in a variety of healthcare professions, academia—research and teaching, industry, entrepreneurial activities, government, and law. 
The awardee will be formally recognized at the Pharmacology & Toxicology Graduation Breakfast held the Saturday of Commencement Weekend in May 2018.  The awardee will have a central speaking role at that event, which celebrates the accomplishments of new PharmTox graduates with their families and friends. A perpetual plaque denoting all winners of this award will be established and on permanent display at the School of Pharmacy.
To place an alumnus/alumna forward for consideration for this award, submit a one-page nomination letter addressing the following criteria:
What are the unique achievements that have brought distinction to the candidate and impacted his or her profession? In what ways have the candidate's achievements truly been extraordinary? Please describe and interpret the nominee's accomplishments in terms that a lay reader can understand.
What are the recognized contributions made by the candidate that demonstrate a benefit to the larger community and/or service to society? (i.e., explain how the nominee has exemplified the "Wisconsin Idea")
Submit nominations to Ken Niemeyer at Kenneth.Niemeyer@wisc.edu by Sunday, October 1, 2017.