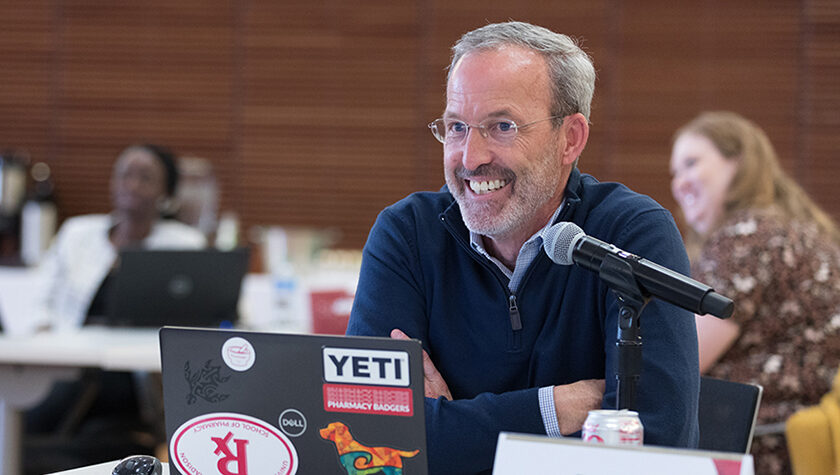 14
September
Another new school year is upon us, and I find myself reflecting on the past year and the many interactions I've had with alumni in our Pharmacy Badger community. Catching up with and learning from our alumni at the Alumni and Friends Tailgate, the Citations of Merit dinner, receptions at professional meetings, an alumni engagement event in Madison, and the 60th Reunion of the Hospital Pharmacy Administration Master's Degree and Residency Program at UW has been terrific. I am always inspired by the network of University of Wisconsin–Madison School of Pharmacy alumni and their generous contributions of time, talent, and treasure to our students and the School to improve the experience of current students in all of our programs. The impact of all forms of giving by our alumni is remarkable.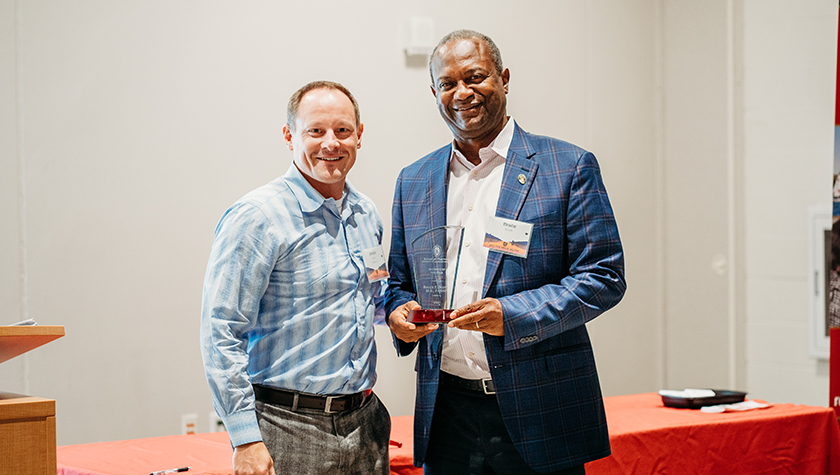 I attended the Pharmacy Alumni Association (PAA) Luncheon at the Pharmacy Society of Wisconsin (PSW) Annual Meeting in August. I enjoyed seeing a large group of PharmD students from the School of Pharmacy as well as a significant group of alumni. Three School of Pharmacy alumni were recognized at the event: Bruce Scott (BS '79), PAA Alumnus of the Year; Matt McGowan (PharmD '10), PAA Young Alumnus of the Year; and Amy Kulig (PharmD '03), Introductory Pharmacy Practice Experience (IPPE) Preceptor of the Year.
In their remarks, both Bruce and Matt mentioned the importance to them of the UW–Madison School of Pharmacy alumni network and the knowledge, motivation, support, and help that is available from this vast and powerful network. Bruce told the students to consider the alumni network as a resource for them and that the answer to their requests will always be "yes" from our alumni. The messages about the impact of our alumni network reinforce the value of the time and talent that our alumni provide to each other and to our students. In 2020, the Advancement Team started a mentor program for young School of Pharmacy alumni called "Alumni Link." The program is ongoing and has been impactful for young alumni who have participated. Thank you to our alumni that have and do provide time and talent to mentor and support other alumni and our students. The impact of your giving is lifelong.
Student Success and Support Fund
Every spring we hold our spring campaign, including the Day of the Badger, to raise funds for our Student Success and Support Fund (SS&SF). Thank you to alumni and friends who have contributed to the SS&SF, because this support impacts our students in many ways. One of the most impactful ways is how our student organizations use funds from the SS&SF to facilitate engagement in community building and professional development activities at the School of Pharmacy.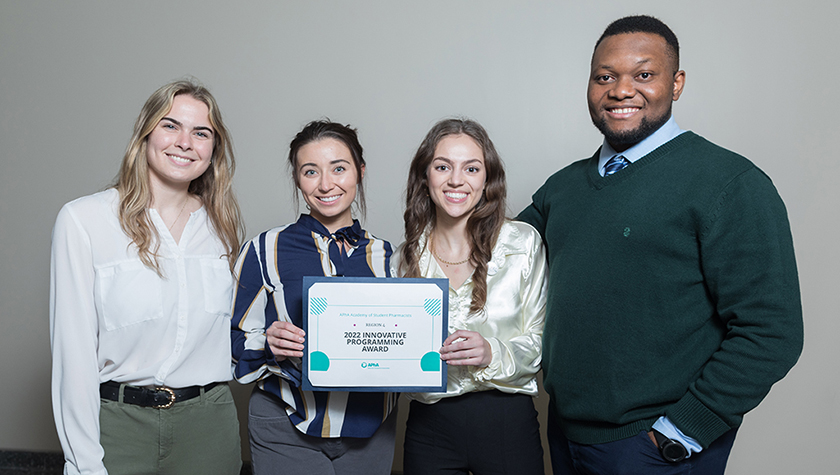 This past year, the Wisconsin Society of Pharmacy Students (WSPS) used SS&SF dollars to create and host a Conference on Conferences for WSPS members, which is designed to inform students about how to create effective professional meetings as well as prepare them for activities and networking at local and national pharmacy professional meetings. The impact of the conference was recognized nationally, as WSPS won the National Innovative Programming Award for their Conference on Conferences at the Annual Meeting of the American Pharmacists Association in Phoenix last March. Congratulations to fourth-year PharmD student Michael Nome, WSPS President in 2022-23, and Associate Professor Andrea Porter (PharmD '06), WSPS faculty advisor, for creating a significant and impactful program for our students.
In April, SS&SF dollars were used to help our Global Health Program, led by Laurel Legenza (PharmD '13), bring Renier Coetzee to Madison for a series of events for students, alumni, and faculty. Dr. Coetzee is one of our international Advanced Practice Pharmacy Experience (APPE) preceptors from South Africa and a long-time UW–Madison research collaborator. Bringing together School of Pharmacy alumni who completed APPE rotations in South Africa with Dr. Coetzee while they were students was significant. I particularly enjoyed listening to our alumni talk about how their experience in South Africa continues to impact their professional lives.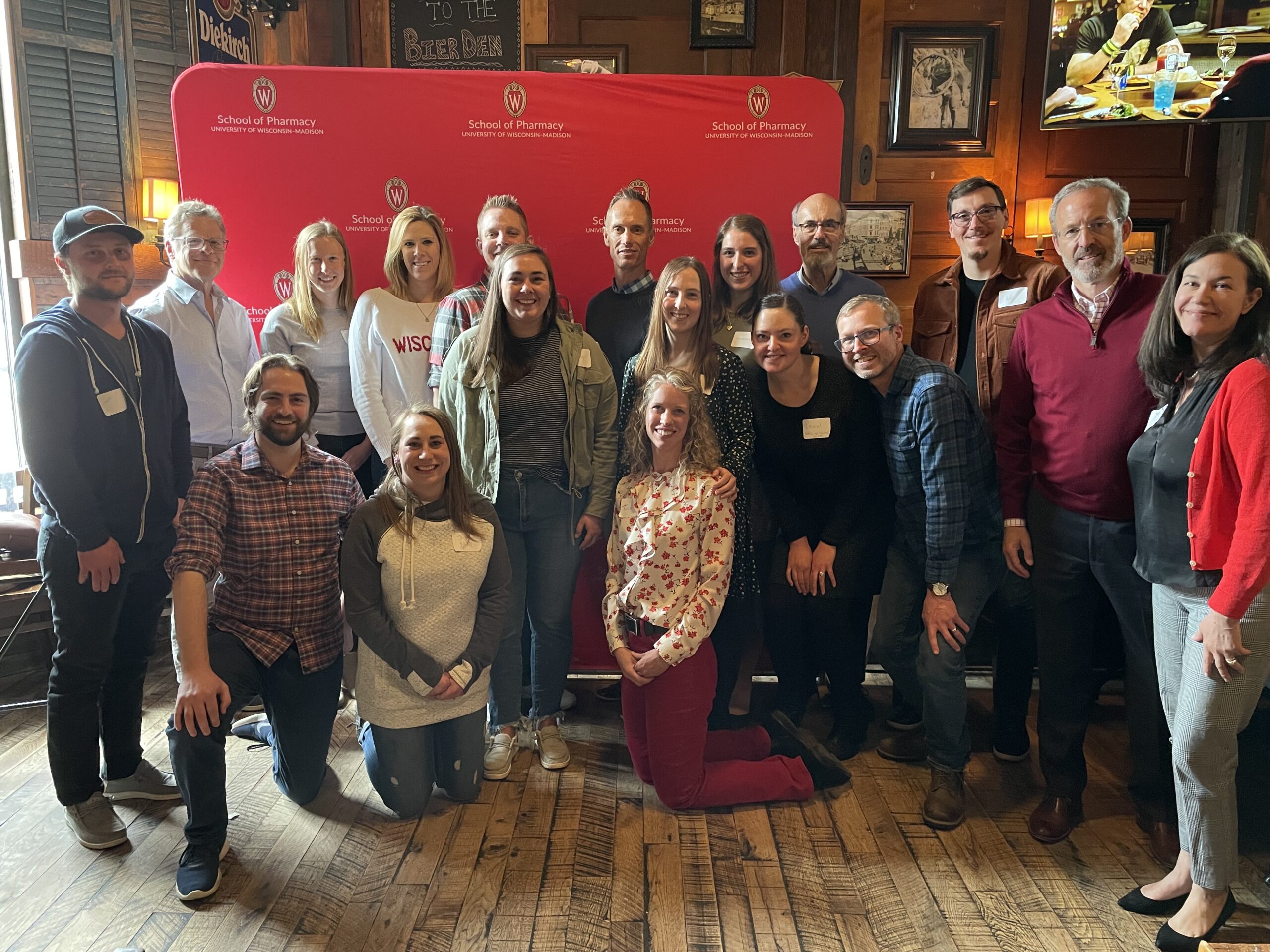 Dr. Coetzee provided a lecture to School of Pharmacy students titled "Ubuntu. I am because you are. Social accountability in health care." The lecture was a huge success and our students benefitted greatly from interacting with Dr. Coetzee. Comments from the students suggested they learned about the impact they can have as student pharmacists due to the knowledge they possess, how important it is to keep their community healthy, and the critical role of being a team player. Taylor Rough, a second year PharmD student, commented on her professional identity after the lecture.
"I want to focus more on recognizing and celebrating the contributions of others. Dr. Coetzee did, and I saw the benefits of doing so and the strength of our collaboration. Students have brand new information others may not have and can make a real difference. I need to own that. I love what the students got to do. I would love to give back to my community in that way."
It is evident from the student comments that they gained confidence in who they are as future professionals and the impact they can have in their communities.
Scholarships
This past June, the Scholarship Committee awarded nearly $400,000 from more than 100 donor-funded scholarship accounts to support currently enrolled PharmD students, and $10,000 from donor-funded scholarship accounts to support enrolled Pharmacology and Toxicology students. Additionally, nearly $160,000 in donor-funded scholarships was awarded as admission scholarships to students who were newly admitted to the School of Pharmacy in 2023.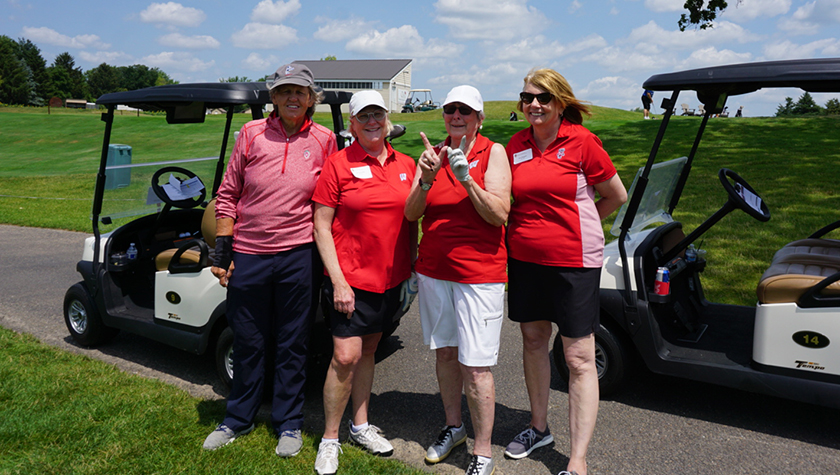 The PAA also raised scholarships funds at their golf outing in July, and our collaboration with the PAA board to engage with our alumni and raise awareness about the need for scholarship funds has been outstanding.
In the highly competitive marketplace for potential pharmacy students, scholarship dollars that can be used for admission scholarships are very important. The funds help ensure that the very best and brightest students from Wisconsin and across the U.S. enroll at UW–Madison and have an opportunity to experience a pharmacy education at one of the best pharmacy schools in the nation.
Graduate Student Fellowships
For the Pharmaceutical Sciences PhD Program, donor funded accounts annually generate about $400,000 to support PharmSci PhD students and this academic year the funds are supporting tuition and stipends for 18 newly enrolled students. There was a significant increase in new PharmSci PhD students this year following a slowdown due to the COVID pandemic. Fellowship funds allow enrollment of the most promising and talented students to pursue research in the pharmaceutical sciences. After their first year, students primarily are extramurally funded by a Pharmaceutical Sciences Division faculty member, but also by teaching assistantships and competitive external fellowships. The legacy of fellowship funding is important and impactful in maintaining the significant pipeline of future pharmaceutical scientists that receive their training at the UW–Madison School of Pharmacy.    
Again, thank you to our alumni and friends who give their time, talent, and treasure to the School of Pharmacy. The impact of giving, in all forms, by our alumni and friends, to fellow alumni and our students is significant and meaningful.
Thank you and On, Wisconsin!
Dave Mott (BS '88, MS '92, PhD '95)
Associate Dean for Advancement