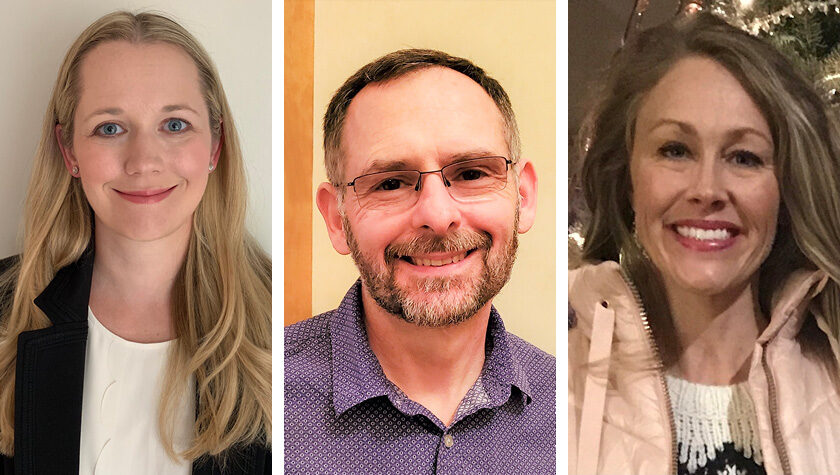 6
December
New program links alumni, 2020 graduates for mentoring and support amid pandemic  
By Mary Magnuson
Whether you're a student, a professional, or a parent, the COVID-19 pandemic has upended normalcy, often meaning the office or classroom has been replaced with virtual experiences. For recent graduates, greeted by an unsure job market and a dearth of networking opportunities, this year has been even more difficult to navigate.
It's this set of unique uncertainties that sparked the University of Wisconsin–Madison School of Pharmacy Advancement Office to develop the Alumni Link program, designed to match established School of Pharmacy alumni with Class of 2020 graduates to create connections that will smooth the transition into professional life.
"The UW–Madison School of Pharmacy has an incredible network of alumni in all facets of pharmacy and research," says Professor David Mott (BS '88, MS '92, PhD '95), associate dean for Advancement. "That network is invaluable to each graduating class as they embark on their new careers, and the COVID-19 pandemic shouldn't stand in the way of those connections."
Building a network
In May, shortly after graduating, Paige Shapiro (PharmD '20) received an email from the Advancement Office, detailing the Alumni Link program. All she had to do to gain a valuable connection was fill out a quick survey asking about her career goals, geographic location, what she was looking for in a mentor, and other career factors.
"I was excited to learn about the Alumni Link program because I was very interested to expand my network to pharmacists in other states to learn more about pharmacy practice outside of Wisconsin," says Shapiro.
"[Our alumni] network is invaluable to each graduating class as they embark on their new careers, and the COVID-19 pandemic shouldn't stand in the way of those connections."
—David Mott
About a week later, Shapiro got an email confirming her match: Heather Hestekin (PharmD '13). In total, about 40 connections have been made between the School's Class of 2020 and alumni with more established careers.
"What we're seeing is that a lot of these connections could end up being career-long mentorship relationships," says Mott.
For Shapiro, now a pharmacist with Walgreens, who planned to move back to her home state of California after graduation, this program meant the opportunity to connect with pharmacists outside of Wisconsin. She and Hestekin, who practices in Long Beach, California, have so far had one call, where they discussed the often-difficult licensing processes in California. Shapiro says Hestekin also introduced her to several of her colleagues in the state, which helped build out her network as she starts her career in the state.
"Heather's been a great resource, a great advocate for me, and she's following up with me," Shapiro says. "That's something I didn't expect. Sometimes, if you don't keep up with your connections yourself, they can kind of fall by the wayside."
Hestekin says matching with Shapiro allowed her to give back to the School and stay involved even while living across the country. In their phone conversation, Hestekin shared her career journey and insights she had about finding a pharmacy job in California. She's hopeful that she and Shapiro will stay connected and even meet, COVID-19 permitting.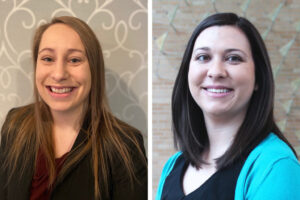 Like Shapiro, Jenna Nehls (PharmD '20) was facing a long-distance move after graduation, to Alabama, and hoped the Alumni Link program could connect her with someone to help her build more out-of-state connections. Nehls says she also hoped her match could be a resource if she had major questions, concerns, or successes to share moving into the early days of her career.
Nehls' Alumni Link match, Justine McClelland (PharmD '11) works in psychiatric pharmacy in Texas. The two spoke on the phone for about 45 minutes about their career journeys and aspirations, and they hope to speak again soon.
"We talked about where I see myself going, what my plans are for the future, regardless of practicing. I also talked about personal goals and how I was handling the transition out of school," says Nehls, who is now a PGY-1 resident at Auburn University. "It was a rounded conversation, not just focused on pharmacy."
Alumni mentors
As a PharmD student, Hestekin says she had influential mentors and an impactful experience at the School of Pharmacy, which motivated her to sign up as a mentor to give back.
"I don't think I have all the answers, or even any answers, but if I can I'd love to be a source of advice or just someone to talk to or to help expand a network," Hestekin says. "I think it's important to do that and try to give back as much as I can to support the new grads who are starting careers."
McClelland says since she lives in Texas and can't typically attend the Wisconsin-area alumni events, she sometimes feels distanced from the School's alumni community, but this opportunity gave her the chance to reconnect. In the future, she hopes to take part in more virtual alumni opportunities.
McClelland vividly remembers being in the position of recent graduates — and now, during a pandemic, it's harder than ever to make new connections that can jumpstart a career.
"One of the things that's rewarding for me is always helping residents and students. I know I was in that position at one point, and it's a particularly tough year and a tough time," McClelland says.
"I think it's important to try to give back as much as I can to support the new grads who are starting careers."
—Heather Hestekin
John Davis (BS '90), vice president and head of preclinical development at biopharmaceutical company Dyne Therapeutics, also enjoyed the opportunity to virtually reach out to the School's students.
"Even though it's been quite a while since I've been on campus, I have a growing relationship with the program," says Davis, who matched with two graduates of the School's Pharmacology and Toxicology program. "I jumped at this opportunity."
He says watching students learn and grow can prove inspiring and rewarding, and he looks forward to seeing how his mentees seize new opportunities and make names for themselves.
"Getting to meet the students and hear what they've gotten out of the PharmTox program and how they've used it to leverage what they're interested in doing is neat," he says. "I think of what my experiences were and what I've done, but what I've done wasn't necessarily the roadmap."
All three mentors say they intend to meet with their mentees again and maintain the connection, and Nehls and Shapiro both say that the experience has been helpful and they look forward to having another connection. 
"I'm really encouraged to know that the School wanted to support their students after graduation," Shapiro says. "It makes me want to get more involved in the future and see how I can help students as well."