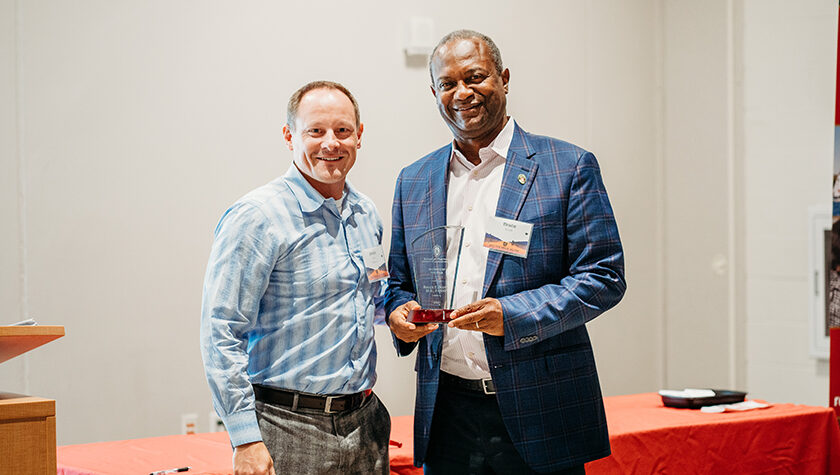 7
September
Scott (BS '79) is honored by the Pharmacy Alumni Association for his career in leadership across multiple realms of pharmacy
By Katie Ginder-Vogel
Throughout his 40-year career, Bruce Scott (BS '79) has made an impression on nearly every level of pharmacy practice, from national leadership to local service at the University of Wisconsin–Madison School of Pharmacy.
Because of what he's done to shape health-system and specialty pharmacy, he's racked up numerous awards, including a 2001 Citation of Merit from the School of Pharmacy and the 2019 Harvey A.K. Whitney Lecture Award from the American Society of Health-System Pharmacists (ASHP) — regarded as health-system pharmacy's highest honor.
And now, he has one more feather in his cap. He's being named the UW–Madison School of Pharmacy's 2023 Alumnus of the Year by the Pharmacy Alumni Association.
"When I look at the award and the people before me, they're all my heroes," says Scott. "It is really a source of great pride to be recognized. It's something I don't take lightly, and I'm very appreciative of that."
Layers of influence
Scott regards his career as having an early, middle, and late phase — and now he's in his retirement phase. He began his career working in hospitals and health systems for 25 years, including serving in a national leadership role as president of ASHP from 1999 to 2000. He eventually moved into the pharmacy benefit management industry and led specialty pharmacy organizations.
"Early in my career, a major practice advancement was implementing clinical pharmacy services, which expanded pharmacists' roles to impact how meds were used and optimize patients' therapies," Scott says. "I really enjoyed that work."
Toward the middle of Scott's career, when he was ASHP president, medication safety was a major topic in pharmacy. As an organization, ASHP promoted systematic improvements to medication safety, including chemotherapy prescriptions and dosing, as well as new protocols for checking and verifying medication doses. Under Scott's leadership, ASHP also promoted health system pharmacists' roles in safety policymaking.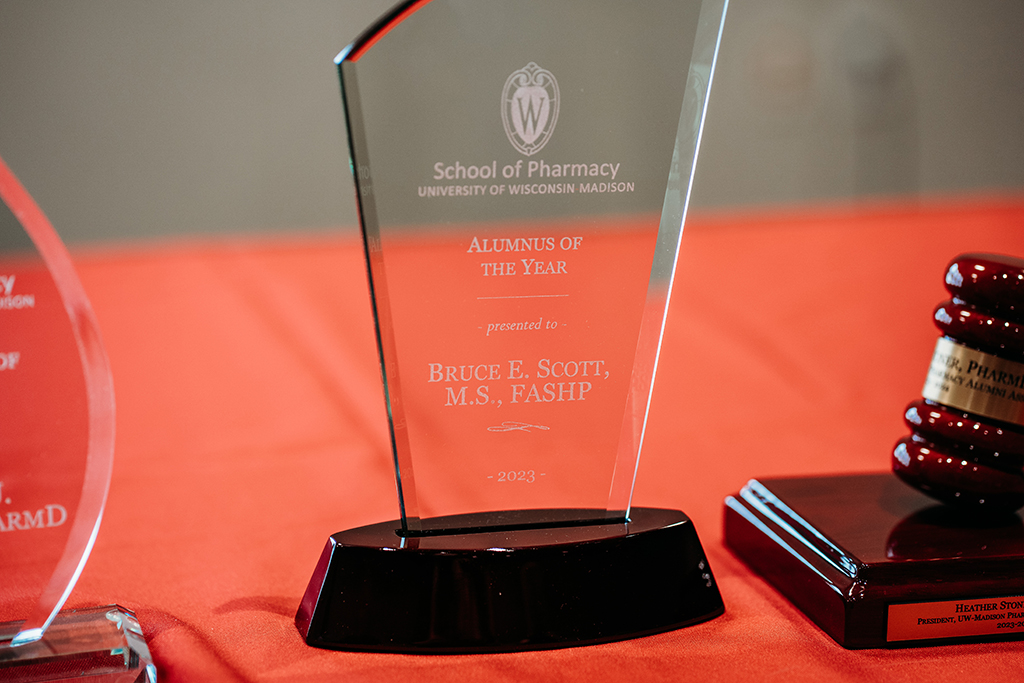 "As medication safety got the spotlight, being able to develop policies and procedures to decrease medication errors was exciting," Scott says. "We made significant advancements in medication safety during that time."
Later in Scott's career took him to the pharmacy benefit management and specialty pharmacy industries. As president of Accredo Infusion Services and later president of EnvisionPharmacies, he focused on the practice of specialty pharmacy, prior to retirement in 2018. 
"My satisfaction came from developing services that positioned pharmacists to take care of patients and help them achieve the desired therapeutic outcomes," Scott says.
Scott has always believed that technology and automation are important to the continued advancement of pharmacy services. Today, he continues to work with the healthcare technology industry to improve drug dispensing and safety. 
Scott's dedication to making things better for other people is what drives him. 
"If I can do things that improve the practice of pharmacy for our pharmacists and improve care delivery for our patients, I'm overjoyed by that," he says. 
Pharmacy Badgers give back
"The School of Pharmacy did a great job of preparing me for a career, and professors such as Ron Sorkness were professional heroes to me. On reflection, I expected to get a great education, but I didn't expect the support I received throughout my career," says Scott.
Faculty and alumni like David Zilz (BS '62, MS '64), Tom Thielke (BS '67, MS '69), and Pamela Ploetz (BS '68) were in the same field of pharmacy in which Scott practiced.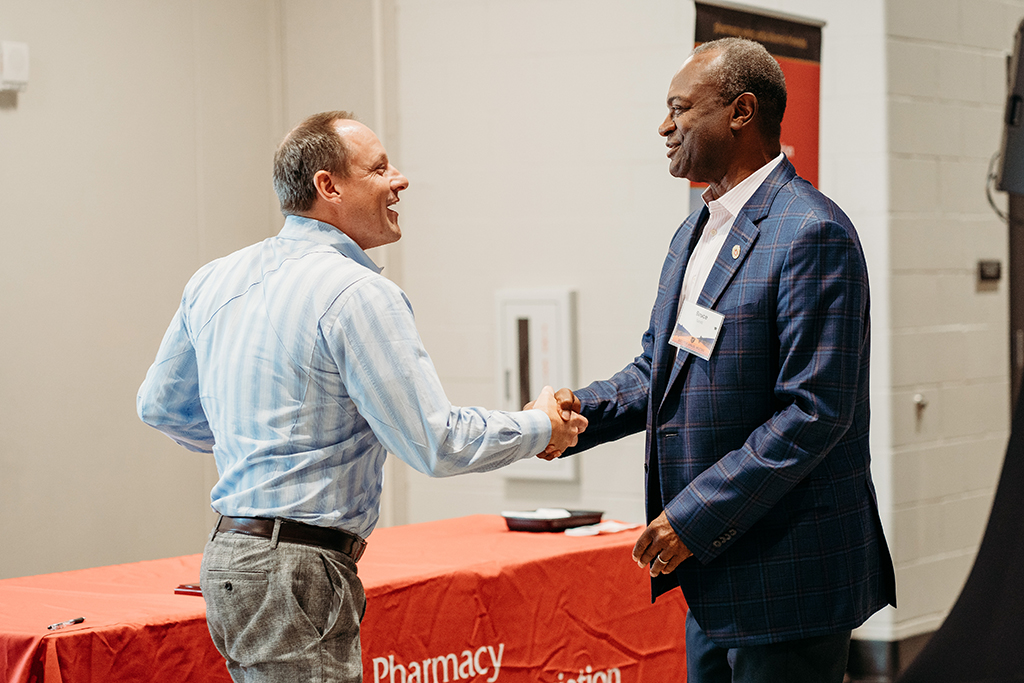 "I went to them frequently over the 40 years of my career for input, and they've always been there, as they are today," says Scott. "They are such great role models in how to continually serve others that it was very clear to me that one way I could repay them was to serve others through helping the School."
One of the ways that Scott has decided to benefit the School is as a member of the School's Board of Visitors, which serves as an advisory council for Dean Steve Swanson, since 2007.
"I enjoy the faculty and staying in contact and knowing what's going on; that's always invigorating," says Scott. "There is no other place where you can sit at a table with 15 to 20 people who are experts in their specific fields of pharmacy, and the common thread is that we're all Badgers wanting to give back to the School. I learn something from every single meeting."
This spring, he just completed a four-year run as chair of the board, where he was responsible for identifying the most crucial topics to discuss and ensuring board members' voices could be heard effectively on specific issues. 
"Dean Swanson, Professor Dave Mott, and other School leaders are fantastic and have the same interest in getting a lot done — I really enjoy that," Scott says. "We identified effective ways to collect board members' thoughts around major areas, like the pharmaceutical industry, and give helpful feedback to the School."
For example, given how the pharmaceutical industry has changed over time, the several industry experts on the board helped to identify opportunities in industry for the School's graduates.
"We need to continually build relationships with the pharmaceutical industry and prepare graduates to fill currently unfilled needs in the industry," says Scott. 
They also addressed the evolving role of community pharmacists and how to best prepare students for future practice.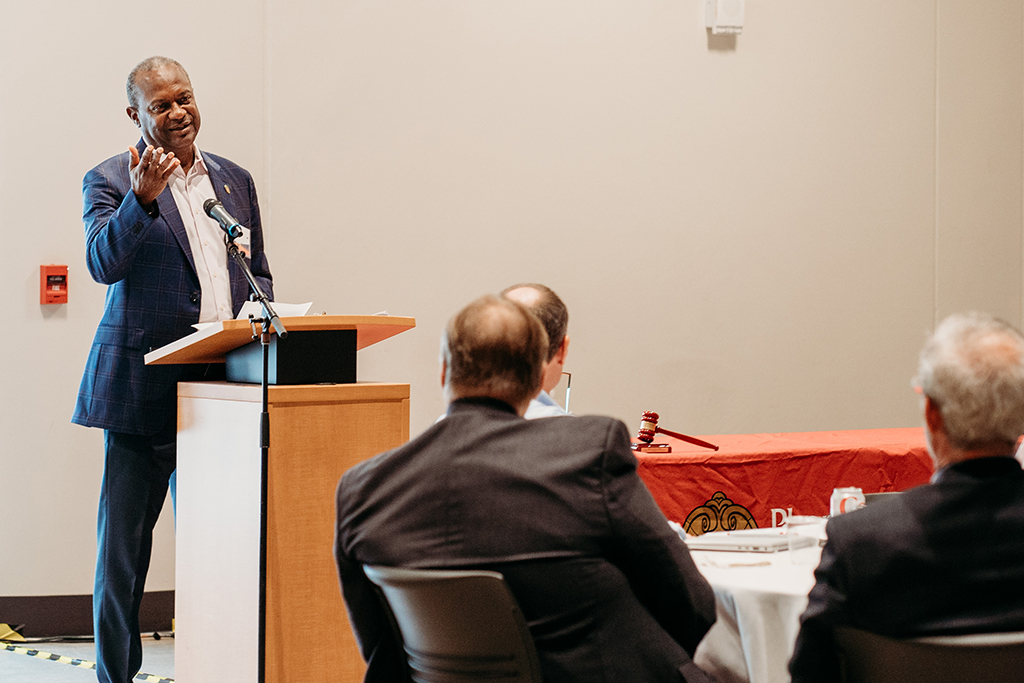 "Community pharmacies, especially in rural communities, expanded during the COVID-19 pandemic from a traditional dispensing role to one of public health officer and community leader, which requires different skill sets and training from the School," Scott adds. "We discussed those topics and gave the School good feedback, and I was particularly proud of that."
In another link to the School, Scott is a dedicated, longtime member of the Pharmacy Alumni Association (PAA).
"PAA is an important information source for me and a networking information link to the School and other alumni," he says. "It gives me a sense of pride in what's being accomplished at UW, and I appreciate being connected."
Shaping future practice
Scott has continued to stay involved with ASHP, most recently as a member of ASHP's Task Force on Racial Diversity, Equity and Inclusion, which worked from 2020-2021 to develop actionable, sustainable recommendations for ASHP's DEI efforts. 
"I hope that the team's work will further advance ASHP and not only help individuals, but the communities they serve," Scott says. "And throughout our profession and society, I hope that it elevates the need for diversity, equity, and inclusion among other organizations and facilitates the creation of care teams that are more DEI sensitive to help provide well-rounded care for the communities they serve."
"If I can do things that improve the practice of pharmacy for our pharmacists and improve care delivery for our patients, I'm overjoyed by that."
—Bruce Scott
Scott still attends annual pharmacy meetings to network with old friends and stay current on the field. He shares the wisdom earned across his decades of pharmacy work as a mentor for young pharmacists and promising leaders in the field.
"I get a lot of enjoyment out of pharmacy practice and healthcare and feel fortunate to stay connected to it, whether it's through serving on the board of a company engaged in healthcare and healthcare delivery or mentoring young pharmacists," he says. "I love to have an opportunity to help a young leader and provide the kind of mentoring that was meaningful to me in my career. If I can repay that in any way, that's wonderful and I feel fulfilled."