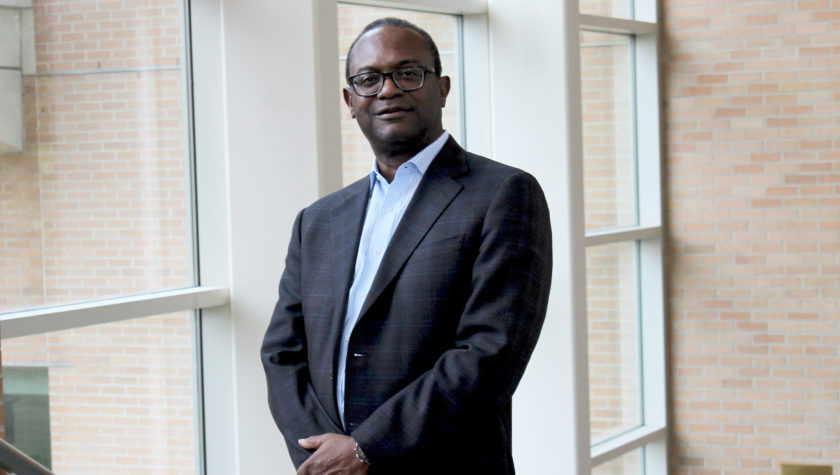 8
March
Scott is the 2019 recipient of ASHP's Harvey A.K. Whitney Lecture Award
Bruce Scott (BS '79) was driving home from an appointment when he received an unexpected phone call. The voice on the other side of the line was the CEO of the American Society of Health-System Pharmacists (ASHP), Paul Abramowitz, calling to say that the ballots had been counted, and Scott would be honored as the 2019 recipient of the Harvey A.K. Whitney Lecture Award — widely recognized as health-system pharmacy's highest honor.
"Receiving this award is a bit surreal," says Scott. "It's the type of award that I've seen my mentors and professional heroes achieve, but I never imagined it would be me. I am very humbled."
Scott will officially accept the award and, as part of the honor, will deliver an accompanying lecture, at ASHP's summer meeting. Scott's lecture is titled "What are you doing for others?" because he believes that helping patients and their families, health care professionals, policy makers, payers, and employers make the best use of medications is pharmacy's purpose.
"Bruce Scott has greatly influenced the profession through his many sustained contributions to the advancement of pharmacy practice in hospitals and health systems, and as ASHP past president," says Abramowitz. "His visionary leadership, unwavering commitment to expanding the direct patient care roles of pharmacists on the interprofessional care team, engagement with many other stakeholders, and tremendous passion for optimizing the use of medications are just a few of the reasons that make him the perfect candidate for the Harvey A.K. Whitney Award."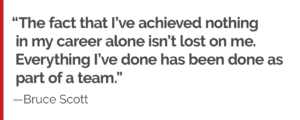 Scott has been deeply involved with ASHP and other professional organizations for the duration of his impactful career. He was first inducted as a fellow of ASHP in 1994 and, in addition to serving as president, spent six years on the board, from 1995 until 2001, and spent another four years on the ASHP Foundation board.
A member of the School of Pharmacy's Board of visitors since 2007, Scott has also earned the John Webb Lecture Award from Northeastern University, the Hallie Bruce Memorial Lecture Award from the Minnesota Society of Health System Pharmacists, and the Harold Godwin Leadership Legacy Award from the University of Kansas College of Pharmacy, where he completed his master's degree. In 2001, he was honored with the UW–Madison School of Pharmacy's Citation of Merit for his contributions to the profession.
"The fact that I've achieved nothing in my career alone isn't lost on me. Everything I've done has been done as part of a team," he says. "I've been very fortunate to work with wonderful people throughout my career, and I've never had a role that I didn't find extremely satisfying."
Becoming a leader
Much like his professional heroes — including David Zilz (BS '62, MS '64) and Tom Thielke (BS '67, MS '69), who have also been honored with the Harvey Whitney award, as well as Pamela Ploetz (BS '68) — Scott's career exemplifies pharmacy leadership.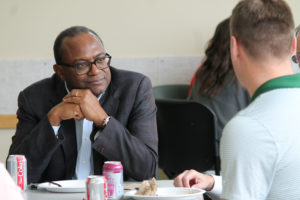 After graduating from the School of Pharmacy, spending a year working as a pharmacist at UW Health, and earning his master's degree in pharmacy administration, Scott became the assistant director of clinical services at the University of Kansas Medical Center, where he helped implement new clinically focused programs and systems influenced by what he had seen at UW Health.
"The pharmacy program at UW Health is still one of the best in the country, so the opportunity to develop a foundational knowledge of pharmacy practice there was a tremendous gift," says Scott. "Using that experience to help change what pharmacists were doing on a day-to-day basis throughout my career and seeing their growth was absolutely rewarding."
Scott spent the majority of his career with United Hospital and Allina Medical Clinics in Minnesota, where he joined as pharmacy director in 1987 and worked his way up to corporate vice president of resource management by 2001. While in Minnesota, he joined the board of Ronald McDonald House Charities, spending one year as president, and became an active member of the Minnesota Society of Hospital Pharmacists, where he also served as president.
"I try to tell young pharmacists that they can make the choice of which professional organization best meets their needs, but that it's so important to be involved," he says. "You have to participate and have a voice as the profession addresses important issues."
ASHP, he says, takes that mission even further. "The leadership of ASHP provides an inordinate amount of resources and opportunities to help their members advance," he says, and the members themselves contribute to those resources by readily sharing their work and research to help others improve their programs.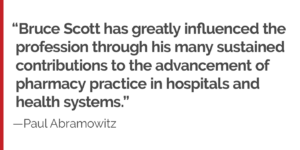 "If you have a pharmacy practice issue within your hospital or health system, you can ask how others handle the issue, and people will actually share their policy, their documentation, the work that they've done and welcome you to take that work, adapt it, and improve it for your own organization," he says.
After more than two decades in hospital pharmacy and administration, he was interested in a different leadership experience. He joined McKesson Medication Management in 2004 as chief operating officer, which was his first exposure to working outside the hospital and health-system environment. He eventually became senior vice president and chief pharmacist of Medco Health Solutions before retiring in November as president of EnvisionPharmacies.
Continuing commitment
Although he retired, Scott continues to serve on the board of directors for URAC, formerly known as the Utilization Review Accreditation Commission, which accredits organizations involved in providing medical care, as well as the School of Pharmacy's Board of Visitors.
In addition to traveling with his wife and drafting his Harvey A.K. Whitney lecture, he plans to spend his retirement the same way he spent his long and prominent career.
"I don't know exactly what it will look like, but I certainly want to continue to contribute to the profession in a meaningful way that is helpful to young practitioners continuing to develop their leadership skills," he says.