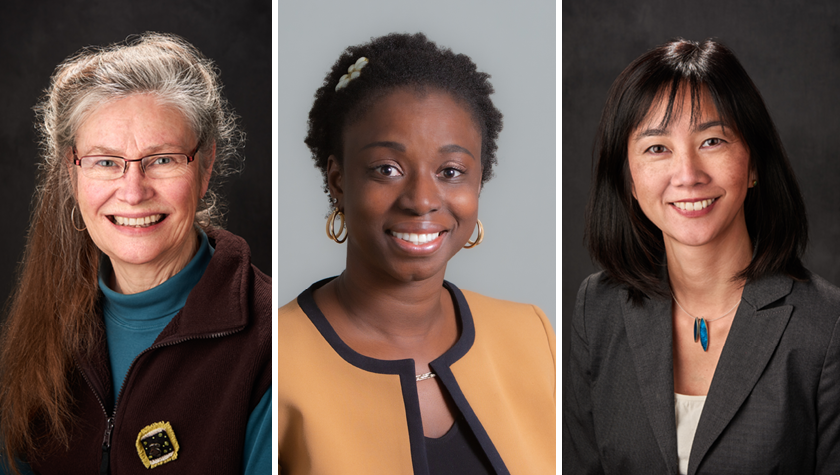 15
September
Funded projects will address fall risk in communities of color, safer at-home medications for kids, and e-cigarette use among teens
By Jessica Steinhoff
The Wisconsin Idea isn't just a cherished ideal at the University of Wisconsin–Madison. Sharing the university's knowledge across the Badger State — and learning from others in the process — is a way of life. This is especially true in the UW–Madison School of Pharmacy, where three Social and Administrative Sciences faculty and two Health Services Research in Pharmacy (HSRP) graduate students are receiving grants funded by the Baldwin Wisconsin Idea Endowment.
Eight project grants and 10 seed grants totaling more than $800,000 were awarded in 2022 — of which three went to members of the School of Pharmacy. These competitive grants foster partnerships between UW–Madison researchers and community members to solve challenging problems.
"The goal of these grants is to support the Wisconsin Idea, which is about using the university's knowledge and resources to benefit people throughout the state."
—Ashley Morris
Improving the health of Wisconsin communities is the focus of each School of Pharmacy project funded by a Baldwin grant this year. Professor Betty Chewning and a collaborator received a two-year grant to adapt their Tai Chi Prime program to the needs of elders in Milwaukee's African American and Hispanic communities, while two student-and-faculty teams received seed grants: HSRP graduate student Ashley Morris and her advisor, Professor Michelle Chui, for a project designed to help Wisconsin parents make safer choices about over-the-counter medications for their children, and HSRP graduate student Jenny Li and her advisor, Associate Professor Olufunmilola Abraham (MS '11, PhD '13), for a project that aims to decrease e-cigarette use among Wisconsin teens.
"The goal of these grants is to support the Wisconsin Idea, which is about using the university's knowledge and resources to benefit people throughout the state," says Morris. "I'm grateful for this funding because it can get us closer to solving a problem that's affecting Wisconsin families."
Tailoring tai chi to elders of color
Falls are a pressing health issue in Wisconsin's elderly population, especially among people of color. More elders die from falls in Wisconsin than any other state — one in four older Wisconsinites experiences a fall in any given year. These risks are compounded in underserved communities, according to Betty Chewning, a professor in the Social and Administrative Sciences Division and member of the School's Sonderegger Research Center for Improved Medication Outcomes.
Chewning and Kristi Hallisy of the School of Medicine and Public Health's Family Medicine Department have investigated how tai chi — an ancient Chinese practice featuring gentle movements that build strength, balance and mobility, as well as mental focus and body awareness — can be used to address falls risks in older adults. Their Baldwin grant project, "Inclusive Tai Chi: Promoting Leaders of Color to Adapt Tai Chi for Latinx & African American Elders," aims to identify the most effective ways to share the Wisconsin Institute for Healthy Aging's Tai Chi Prime program with communities of color in Milwaukee, where some of Wisconsin's largest health disparities can be found.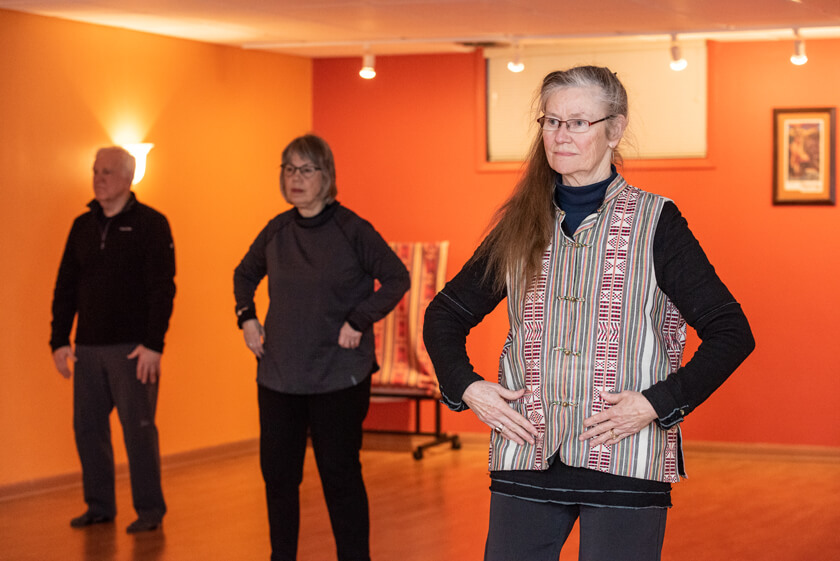 "Without the Baldwin grant, we wouldn't be able to pursue this kind of inclusivity work," Chewning says. "We set out to apply knowledge from our previous studies where it's needed most right now and also add to that knowledge. That's really what the Wisconsin Idea is about."
A six-week program that includes twice-weekly classes, educational DVDs, and home-practice coaching, Tai Chi Prime is rooted in evidence from multiple UW research studies. Though the evidence base is strong, it has some gaps that need filling, Chewning says.
"Like most studies of tai chi in the United States, we attracted a set of mostly white participants for our earlier research," she explains. "We know there's a great need for falls prevention in communities of color, so we're trying to make Tai Chi Prime accessible, appealing, and sustainable for elders in these communities. To do that, we need to tap into the knowledge of the community leaders and elders who try Tai Chi Prime, then adapt the program using this information."
Mobilizing leaders from Milwaukee's African American and Hispanic communities involves identifying and recruiting influential individuals, cultivating buy-in, and helping them become skilled not only at teaching tai chi but also helping community elders integrate it into their day-to-day lives. To tackle these tasks, the researchers partnered with the Community-Academic Aging Research Network (CAARN), which connects UW–Madison researchers with community and health system partners to improve elders' well-being and shrink disparities.
"In Milwaukee, CAARN's network of partners includes UniteWI, which works in the African American community, and Core El Centro, which works in the Latinx community," Chewning explains. "These organizations have already built relationships and trust among the people they serve, and they help CAARN identify community leaders who want to take part in our project."
"We know there's a great need for falls prevention in communities of color, so we're trying to make Tai Chi Prime accessible, appealing, and sustainable for elders in these communities."
—Betty Chewning
She's especially interested in sharing information about how to incorporate shorter bits of tai chi practice into daily tasks, such as when brewing coffee.
"We would like to help community leaders make tai chi a part of their everyday lives and help them teach that skill to others," she says.
Chewning says pharmacies are an ideal place to share referrals to programs like Tai Chi Prime, in part because they're so accessible. Pharmacies can often be found in underserved communities where other types of health care providers are scarce, and pharmacists can recommend interventions at just the right moment: when the patient is seeking information on managing a health condition.
"There are certain kinds of drugs that are more likely to put a person at risk of falls and especially if someone is fearful about their balance, tai chi can be an excellent resource often offered through community centers and YMCAs," Chewning explains. "Pharmacists already help people quit smoking, measure their blood pressure, and more, so it makes sense that they could share information about other actions people can take to improve their health."
Helping families use medications safely
Community pharmacies are also integral to helping Wisconsin parents make safe over-the-counter medication choices for their children, which is the focus of a one-year Baldwin seed-grant project led by PhD candidate Ashley Morris and Michelle Chui, professor and chair of the Social and Administrative Sciences Division, Hammel-Sanders Distinguished Chair in Pharmacy Administration, and director of the Sonderegger Research Center.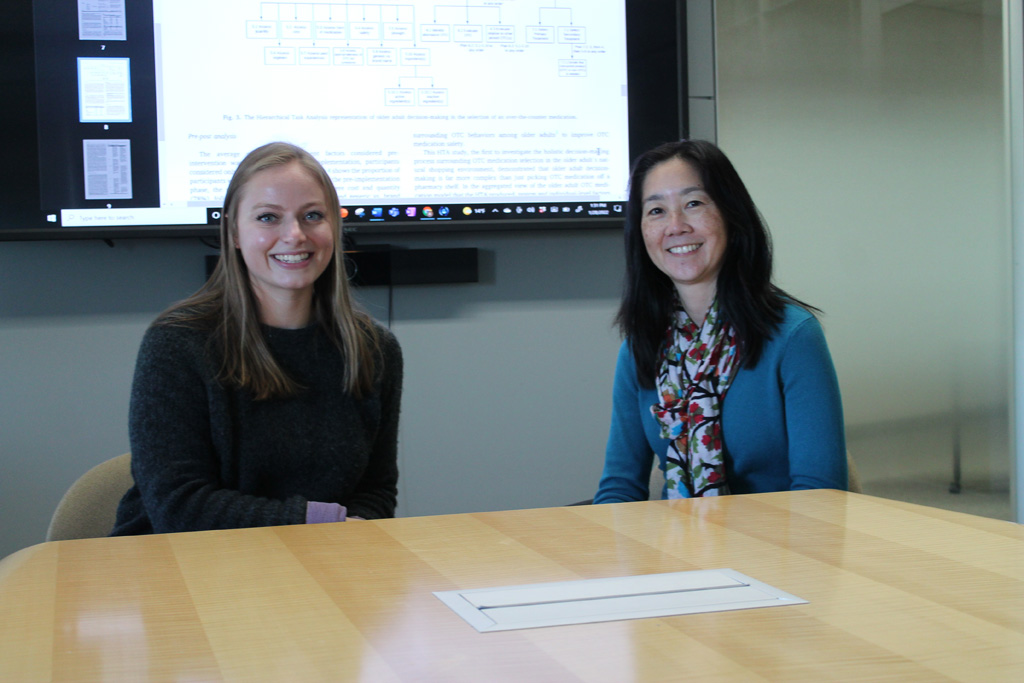 Morris observes parents as they scour the aisles for over-the-counter medications to ease their children's symptoms, analyzing how they decide what to purchase, which formulation to choose, and other variables.
Afterward, she interviews them about their decision-making process while shopping, and asks them to prepare a dose of the medication they selected and describe how they would use it to help their child get better.
These decisions and related tasks — preparing a toddler's dose of ibuprofen, for example — are more difficult than they appear at first glance, and with that difficulty comes risk. Morris points to recent studies showing that cases of pediatric medication errors at home are still as high as 80 percent.
"One type of error is where parents misread the label and give their child too much or too little medication based on their weight or age," Morris explains. "There's also the issue of duplicative dosing. An example of this is when Mom gives the child a dose of cough syrup, leaves the bottle on the nightstand, and then Dad comes in, thinks the first dose hasn't been given, and delivers a second dose to the child."
Pouring a precise dose of liquid medication can even be challenging, especially when a parent is distracted by a crying child or their own exhaustion. Parents may also face language barriers and limited health literacy while reading the medication label to prepare a dose. No matter the cause, errors like these lead to adverse health events that require medical attention for thousands of children in the U.S. each year.
Delving into her industrial engineering background, in which she holds a bachelor's degree, Morris uses cognitive task analysis to examine how parents process information and make decisions about over-the-counter medications for their children.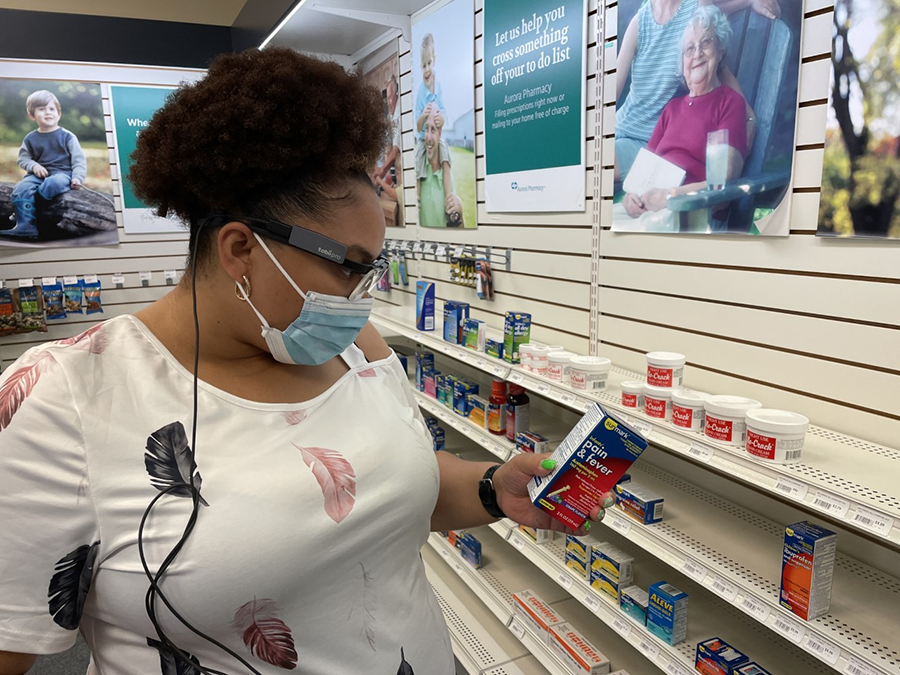 "I give the parents a scenario and ask them to take me around the drugstore with them. I prompt them to explain what they're looking at and the information they are considering while they shop," she says. "This lets me elicit the cognitive steps they go through when they make decisions about over-the-counter medications for their kids. Then I develop a decision-making model that I will use eye-tracking glasses to help me validate."
Parents who participate in the project wear eye-tracking glasses as they select medications for their children, allowing Morris to see exactly what they're looking at in real time, from a tablet in a different room, to learn about their uninterrupted decision-making process as they navigate the community pharmacy environment.
Baldwin seed-grant funding is helping Morris recruit 34 Dane County parents to study and identify the best tools for conducting her cognitive task analysis. Morris and Chui hope to gain knowledge that can be used to retool the health care system so it better serves all parents and kids, for example, by sharing dosing tips for parents, explaining information on product labels or redesigning parts of a store's layout.
"The system is capable of guiding parents to appropriate over-the-counter medications for their children," Morris says. "By addressing issues in the system, we can reduce parents' confusion, as well as their anxiety and fear."
Chui says the pediatric project is particularly important because it identifies and explores a patient-safety gap that stems from faulty assumptions.
"It may be the first project that has explored this decision-making process with parents," she says. "The FDA assumes that people can understand and apply what they read on medication labels, without any education, counseling, or monitoring by a health care professional. No one has considered whether this is an appropriate assumption, and this project changes that."
Finding ways to decrease teen vaping
Faulty assumptions also complicate efforts to decrease teen tobacco use. According to HSRP PhD student Jenny Li, misconceptions about the health risks and social consequences of e-cigarette use, or vaping, are rampant among U.S. teens. This knowledge gap has helped vaping become the most common form of tobacco use among this age group from 2014 onward, despite school-based prevention efforts, public health campaigns, and anti-tobacco legislation.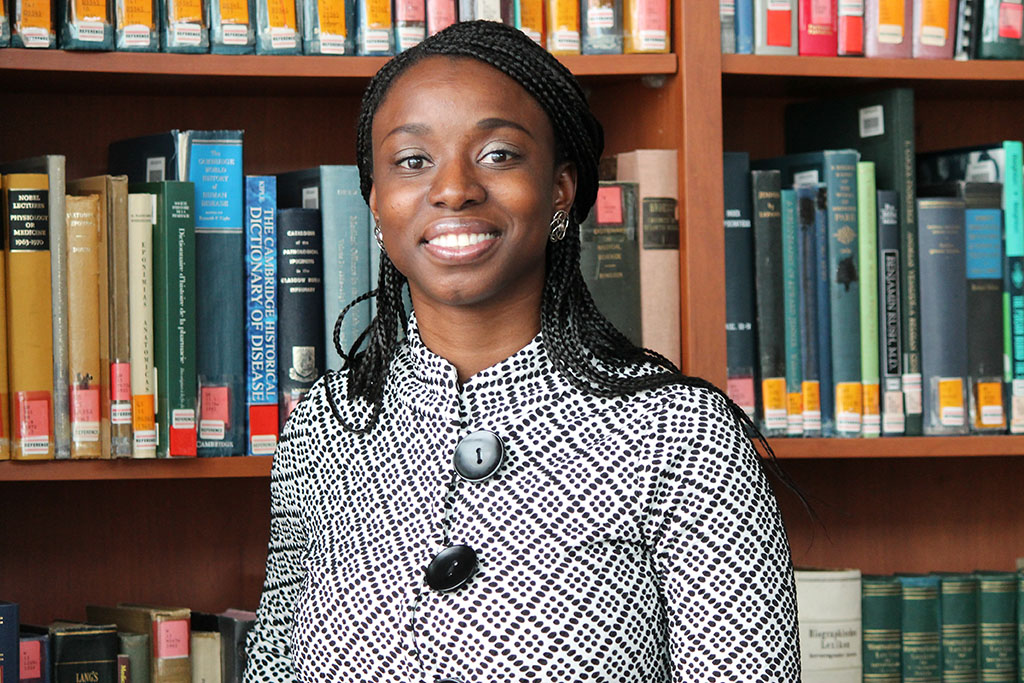 Li and Olufunmilola Abraham, associate professor in the School's Social and Administrative Sciences Division and a fellow of the UW Collaborative Center for Health Equity and the Morgridge Center for Public Service, are finding new ways to address this problem in their one-year Baldwin seed-grant project, "Partnering with Youth, Parents, and Community Pharmacists to Curb Adolescent E-Cigarette Use."
The project seeks to mobilize two underused stakeholders — parents and community pharmacists — to help teens get the facts about vaping and its health effects.
In addition to pursuing a PhD at the School of Pharmacy, Li works at several community pharmacies. She has seen how pharmacists' relationships with families could be leveraged to help prevent vaping.
"Community pharmacies tend to be tight-knit places," she says. "I know which of my patients are parents of teens, and there seems to be a space for pharmacists to engage and influence both them and their teenage children."
Through partnerships with Wisconsin Providers and Teens Communicating for Health (PATCH) and Forward Pharmacy, the researchers have recruited stakeholders to identify roles that parents and pharmacists might play to better end and prevent teen vaping. Li plans to interview at least 45 stakeholders before the project concludes next summer: 15 pharmacists, 15 teens, and one parent of each of these teens.
The stakeholders' primary task is to evaluate existing educational materials about vaping, sharing their feedback on what they find effective and what they find counterproductive. But before diving headlong into this task, Li is asking them to envision different ways a pharmacist might help steer teens away from e-cigarettes.
"Pharmacists have been helping people with nicotine replacement therapy for a long time, and some provide counseling to help people give up tobacco, but there hasn't been much of a focus on e-cigarettes or youth."
—Jenny Li
"Right now, I'm exploring what teens and parents think the pharmacist's role might be," Li says. "Pharmacists have been helping people with nicotine replacement therapy for a long time, and some provide counseling to help people give up tobacco, but there hasn't been much of a focus on e-cigarettes or youth."
Though the project is still in its early stages, Li has noticed some patterns in participants' responses.
"Teenagers, for the most part, want to know more about vaping's health risks," she says. "Many parents want to know about helpful strategies for talking about vaping with their children, and some want to know about rules and regulations associated with e-cigarettes."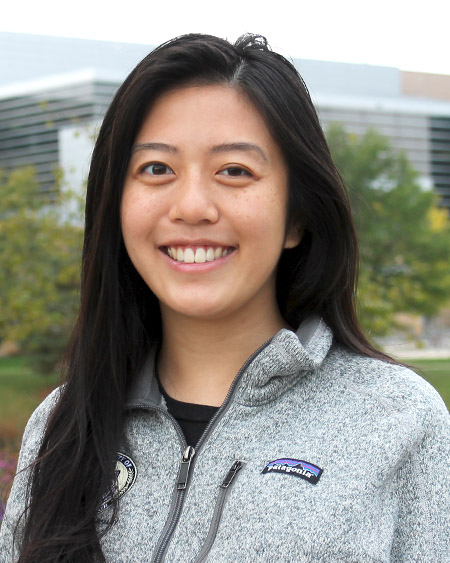 This work dovetails with a larger project Abraham is doing with support from a Community Pharmacy Foundation grant.
"The goal of that project is to gain a deeper understanding of the role pharmacists can play in educating parents, especially to help them facilitate early conversations about vaping and its health risks when they talk to their children at home," Abraham says.
Community pharmacies contain many building blocks for creating a sustainable structure that supports vaping cessation and prevention, she adds.
"Pharmacists are free to talk to, they're already known as people who can help with smoking cessation, and they tend to be viewed as a trusted source of health knowledge," Abraham says. "Prior studies I've done have shown that teens are with their parents at the pharmacy about 20 percent to 33 percent of the time. These are opportunities to talk with them and provide accurate health information."
Li also sees opportunities for pharmacists to discuss how tobacco companies target children.
"A lot of teens don't know how insidious these companies are, or how they develop strategies designed to get children hooked on nicotine and find ways to exploit loopholes in the legislation," she says.