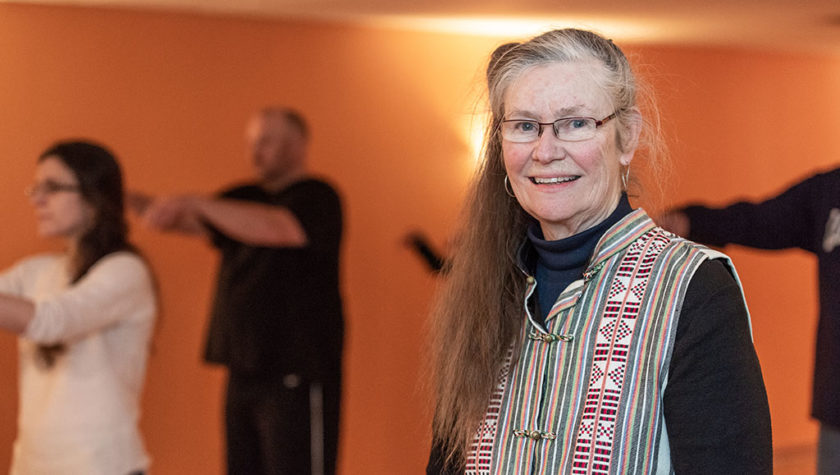 9
March
Professor Betty Chewning's program reduces falls and increases exercise self-management in older adults
By Kristin Baird Rattini
Photos by Ingrid Laas
The Fab Four, snacks and tea time.
That combination sounds like a prescription for binge-watching Beatles movies on Netflix. Instead, it's shorthand for how Professor Betty Chewning and her collaborators on the Tai Chi Prime program condensed hundreds of years of tai chi practice into a short, simplified and successful six-week course to help older adults in Wisconsin reduce their risk of falling.
Falls are the leading cause of injury among older adults in Wisconsin, which has the country's highest rate of deadly falls. Chewning, a professor in the University of Wisconsin–Madison School of Pharmacy's Social and Administrative Sciences Division, and other colleagues have been studying how to reduce fall risks. "Some medications taken by older adults tend to raise falls risks," she says. "Therefore, over the years we have sought ways to educate patients and pharmacists about reducing use and/or changing the timing of these medications to reduce falls. However, given the extent of the problem in Wisconsin, I had been thinking we need to do more.  In the School of Pharmacy we train our students to view the patient holistically. Preventing falls is a perfect example where pharmacists may need to think more holistically about how best to assess and refer patients to resources outside the pharmacy since there isn't a magic falls prevention pill." 
Physical fitness programs that incorporate balance exercises, such as tai chi, can have a significant impact on fall rates. Chewning has long been familiar both personally and professionally with the benefits of tai chi, which originated in China in the 1300s as an offshoot of martial arts. Chewning has been practicing tai chi since the 1970s.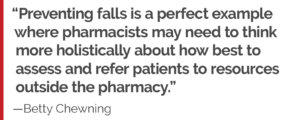 "Tai chi has been documented as having a broad range of health outcomes, from immunology and cognitive function to blood pressure, anxiety and balance," she says. In fact, the Centers for Disease Control (CDC) recognizes tai chi as an evidence-based program to reduce falls among older adults. However, few community sites in Wisconsin offer tai chi programs for older adults.
Chewning's previous research focused on medication adherence — identifying and removing barriers to enable patients to self-manage their medications regularly at home as prescribed. "I thought, 'What if I transferred these principles from medication management directly to exercise, to tai chi?'" she says. "How could we get the practice of tai chi embedded into the daily life of older adults?"
Putting the Wisconsin Idea into practice
To answer that question, Chewning collaborated with two fellow UW–Madison faculty members on "Improving Balance for Older Adults," a grant funded by the UW Institute for Clinical and Translational Research (ICTR). As director of the Community-Academic Aging Resource Network (CAARN) at the School of Medicine and Public Health, collaborator Jane Mahoney solicited input from the beginning directly from the very community agencies that were eager to offer tai chi instruction.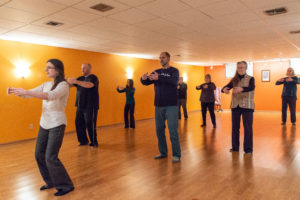 "CAARN is all about the Wisconsin Idea," Mahoney says, "That is why we get the Aging and Disability Resource Centers (ADRC) involved as front-end designers, so that we can say with certainty that a study will be feasible and will work for our clientele." The resounding initial feedback to the tai chi proposal was that existing programs for seniors were too long and difficult to work for the community agencies.
"We needed something that would be feasible for them to integrate into their program schedules, which typically run eight weeks," Mahoney says. "However, if we shortened the class too much, we were concerned whether the class would still be effective. So we began to think how we can make sure that participants actually practiced tai chi at home between classes. If they get more practice, they should improve more quickly, and they would get far more benefit."
The end result funded by the grant was Tai Chi Prime, a six-week class with a strong home practice component to be offered in three Wisconsin cities: Madison, Milwaukee and La Crosse. Chewning's team turned for source material to a program called the Tai Chi Fundamentals Adapted Program. Created by tai chi expert (and former Madison resident) Tricia Yu, the course incorporates physical therapy guidelines for balance and fall prevention into a streamlined set of tai chi forms, or movements.
Grant collaborator Kristi Hallisy already knew those forms well. An assistant professor in the Department of Physical Therapy of the School of Medicine and Public Health, Hallisy worked with Yu to develop the adapted program's workbook. She had a good idea of where to start paring down the material even further while retaining its core strengths and benefits. "We came up with what we call The Fab Four," Hallisy explains. "We looked at all the exercise patterns and determined the four forms we can give people to do anytime, anywhere, that would help them with their balance and lower extremity strength, follow the exercise guidelines for falls prevention, and give them something to center themselves to become mindful and aware."
Improving physical, mental and social health
It was the mindfulness component that attracted Marion Hanson to sign up for the Tai Chi Prime study in La Crosse. She'd already tried a stretch yoga class to help her with balance issues, but she felt she needed something else, something that might also have a meditative element. "My husband had passed away eight months before the class, and I was still in the grieving process," Hanson says. "The class seemed like a perfect opportunity to center my mind and grow stronger in the process."
Hanson was one of 197 participants across three class sites who completed the free Tai Chi Prime study. Dozens of other people had been waitlisted for the La Crosse sessions. The participants learned not only how to correctly perform the Fab Four but also how to work them into their daily routine outside of class. "We taught them the concept of 'snacking' on their exercises," Mahoney says, "how they could practice forms in snack-sized portions while washing dishes, working at the counter, waiting in line, etc."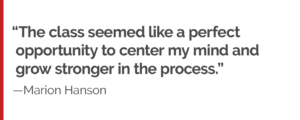 To help participants not only keep track of their "snacking" but also intentionally schedule it, Chewning adapted a tool from her medication adherence study to create the Tai Chi Prime exercise card. "It asks every participant to identify when would be the most realistic times, during every day of the week, for them to practice for four to five minutes or to use the course book or DVD at home," Chewning explains. "That gives them the flexibility to tailor their own plan."
The team also structured the class time flexibly so that it could include what they call "tea time." This break midway through each class gives participants a chance to sit in a circle to not only rest their legs but also to open up, share their strategies and successes and get to know their classmates. "If you look at the World Health Organization model for what is wellness, there are three components: physical, mental and social," Hallisy says. "There is plenty of research into the physical and mental benefits of tai chi, but not much on its social capital. By adding tea time, we could help people make social connections, which is especially important among older adults."  
Building on Tai Chi Prime's success
The Tai Chi Prime study was a tremendous success by several measures. Participants reported practicing an average of more than 25 minutes a day, six days a week. "That was way more than I expected," Chewning says. The experimental group had significantly better leg strength, balance, mobility and gait, balance confidence and executive function than did the randomized wait-list control group.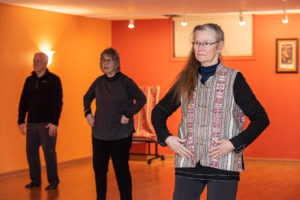 Diane Brose, the physical therapist who taught the La Crosse sessions, measured the study's success by her students' desire to continue their tai chi regimen. "I kept hearing over and over, 'Where do we go for our tai chi class now?'" she says. Her local ADRC secured a grant that has enabled Brose to teach two weekly classes at a discount rate. Demand, however, was so great that Brose teaches two additional weekly classes as well. "There has been so much interest," she says. "Tai Chi Prime is so accessible. All of the elements are there along with the benefits. It can be an entryway for people who haven't been active in years to get up and get started." 
The program's success was also validated by a subsequent ICTR Evidence to Implementation (E2I) Pilot Award for Chewning. "We're using the grant to train and certify 10 people in the Appleton/Kaukana area to teach the Tai Chi Prime program," Chewning explains. "They'll finish their training in April and be able to offer their own programs in May or June. We will have a critical mass of teachers to offer Tai Chi Prime not only in La Crosse, Milwaukee and Madison but Appleton and the Fox Valley area as well. By doing this, we are creating an infrastructure and the capacity to grow the Tai Chi Prime program within the state."
Chewning and Hallisy hope to secure a grant to extend tai chi's reach into the Hispanic community through a collaboration with Core El Centro. The Milwaukee-area nonprofit offers affordable natural health and wellness services in Spanish and English. "We're building on the advice that Core El Centro has given us about how to adapt the delivery of the program to the needs of the community," she says.
She is also looking beyond Wisconsin's borders. She is applying for a grant from the National Institutes of Health for a prospective partnership with the Mayo Clinic. "We want to develop a strong referral network in Wisconsin and Minnesota between pharmacy and clinic practitioners — who are key identifiers of people at risk for falls — and local community centers offering tai chi programs who can assist that at-risk population," she says.   
Chewning is hopeful that, one day, the Tai Chi Prime program might spread nationwide. "The program provides building blocks," she says. "Those blocks can help people across a broad range of behaviors — be it exercise, medication, diet, etc. — identify their own barriers and support them in developing their own tailored plans to reach their goals."
Learn about Peers Empowering Peers, a Milwaukee program led by School of Pharmacy Professor Eva Vivian to help community members avoid and manage diabetes.