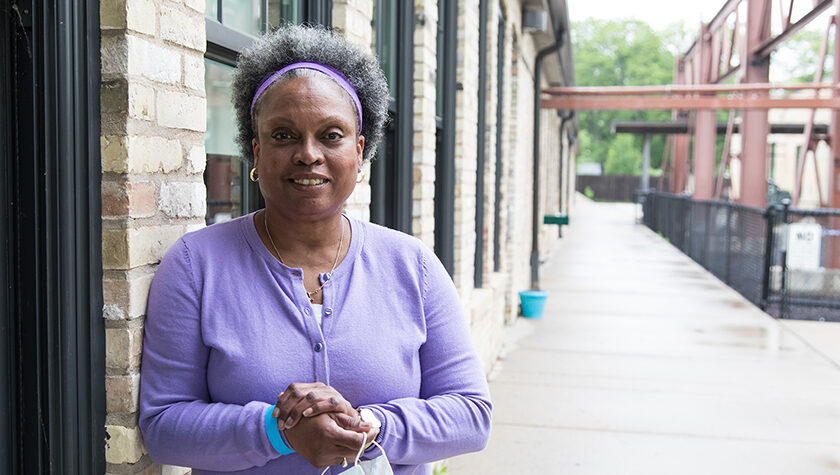 12
September
Professor Eva Vivian is being honored by the Wisconsin Institute for Healthy Aging for boosting health equity in communities across Wisconsin
By Emma Gran
Every few years, Eva Vivian places her glucose monitor, dutifully checking her numbers throughout the day and adjusting her diet, cutting carbs and limiting sugars. But Vivian doesn't have diabetes. A certified diabetes care and education specialist, Vivian puts herself in her patients' shoes to learn how she can better serve them. 
"You have to meet patients where they're at, but first you have to know where they're at," says Vivian, a professor in the University of Wisconsin–Madison School of Pharmacy's Pharmacy Practice Division.
She has spent her career getting to know her patients within the community — understanding their daily routines, their sources of social support, their access to health foods, and other factors that add up to their health and well-being.
Vivian, who is also a fellow of the Association of Diabetes Care and Education Specialists, works to better health outcomes in marginalized communities affected by structural racism, under-resourced schools, and limited health literacy and education.
"You have to meet patients where they're at, but first you have to know where they're at."
—Eva Vivian
She has developed several programs, such as Peers Empowering Peers and Healthier Outcomes through Peer Educators, to help African American communities in Madison and Milwaukee come together to support one another toward wellness. For her work and broad patient impact, Vivian, who is also the president of the African American Health Network of Dane County, won a 2014-2015 Outstanding Women of Color award from UW–Madison and a 2015 Wiederholt Prize from the American Pharmacists Association for research into improving refill adherence among Black patients with hypertension.
Her lifelong commitment to pursuing health equity in Wisconsin is also now being recognized by the Wisconsin Institute for Healthy Aging (WIHA) with the 2021 Health Aging STAR Award for Health Equity for improving health, wellness, and access to care in communities throughout Wisconsin.
The award specifically recognizes Vivian's significant work in providing resources and information on hypertension, diabetes, and COVID-19 in African American communities, who experience the highest prevalence of hypertension of any racial group and have been disproportionately impacted by the pandemic. 
"The Wisconsin Institute for Healthy Aging is so pleased to honor Dr. Eva Vivian with the Healthy Aging Star Award for Health Equity," said Dave Nelson, WIHA executive director. "She demonstrates that individuals can make a real impact on the lives and health of older adults."
Vivian says it felt surreal when she heard the news.
"There is no greater honor than to be acknowledged by those you serve," she says.
Helping communities find their voice
Vivian is as devoted to learning as she is to teaching her students and her patients. She earned her PharmD from the University of Illinois Chicago, and after joining the UW–Madison School of Pharmacy's faculty in 2006, she decided to pursue a master's degree in population health and a PhD in human ecology.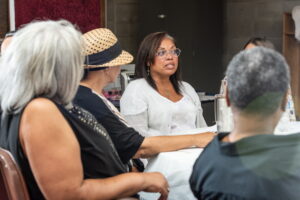 She maintained a practice at the St. Vincent de Paul Charitable Pharmacy and worked as a certified diabetes educator at Access Community Health, all while serving as a professor at the School of Pharmacy and managing a robust community-based participatory research program to learn more about the health needs of underserved Madison communities and assist in providing resources and activities to address the communities' most pressing issues.
Over time, Vivian says she learned how to design interventions that would benefit and strengthen an individual community, with regard to its unique needs, and society at large.
In one of her earliest projects at the School, Vivian launched the Utilizing Novel Interventions to Prevent Diabetes In Youth (UNITY) study to assess possible interventions for combating high rates of type 2 diabetes in African American and Latinx youth.
Vivian engaged with African American and Latinx communities around Madison, interviewing individuals to learn about their habits, routines and preferences surrounding exercise and nutrition. The study aimed to identify if a community-based diabetes prevention program might increase the success rate of identifying youth with or at risk of developing type 2 diabetes.
During this process, Vivian learned that many Black children are cared for by grandparents — at a rate much higher than the 15 percent reported by most data.
With this key insight, Vivian began designing an intervention program to be implemented in African American communities within Madison and Milwaukee, concentrating on training grandmothers to serve as peer educators as part of a community-wide diabetes prevention effort.
"African American grandmothers are the most revered members of the African American community, and a large number of African American children are raised by their grandparents," says Vivian. "If we can help African American grandmothers to modify their lifestyle and serve as a role model for their grandchildren, that would influence the grandchild's behavior going forward and work toward lowering rates of diabetes in these areas."
Out of UNITY, grew Peers Empowering Peers (PEP). Launched in Madison and Milwaukee with funding from the Baldwin Wisconsin Idea Endowment, PEP brought together African American community members for a series of sessions based on the Centers for Disease Control's Prevent T2 curriculum to teach community members how to live healthier lives through everything from balanced meals to stress management.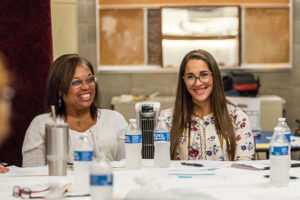 PEP, now called Healthy Outcomes through Peer Education (HOPE), provides 16 weeks of education, training, and peer support for caregivers who in turn can educate their children and others in the community about healthy living practices that help to prevent and manage diabetes.
When Vivian was engaging with a group of mothers and grandmothers as a part of the project, they shared their concerns about unhealthy vending machines in their local community center and requested Vivian help them in having them removed.
Vivian encouraged the group to approach the community center management on their own. The mothers collected over 50 signatures, approached the manager of the community center and insisted that the vending machine be removed. According to Vivian, the vending machines were removed and replaced with vending machines with healthy snacks, water, and sports drinks.
"While this was a simple project, it really empowered those mothers who felt they didn't have a voice or a say in what their environment looks like," says Vivian.
Recently, they started a garden for the entire community and plan to identify other things in their community that they can lobby for.
"This really empowers the community to do things to change their built environment," says Vivian. "Giving community members the tools to promote their own wellness is an irreplaceable strategy to improve the health of the community as a whole."
Stepping in her patients' shoes
In her clinical practice, Vivian is constantly trying to gain a better understanding of her patients and their potential barriers to achieving better health. In decades of practice, Vivian found her patients' overall health and well-being to be impacted mainly by factors outside of the healthcare system. This motivated Vivian to learn more about social determinants of health — such as patients' socioeconomic status, occupation, and even the availability of grocery stores in their neighborhood — instead of focusing narrowly on outcomes.  
"Pharmacists can identify appropriate drugs to lower blood pressure and may recommend non-pharmacological treatments such as physical activity and nutrition, but if I really want to help my patient, it's important for me to know more than just a blood pressure number. I need to know what factors in this person's life could be contributing to their condition," says Vivian. "For me to give this person medication or tell them to go eat more fruits or vegetables, when this person may not have the resources to purchase the foods necessary to feel healthy, I have already disadvantaged that patient."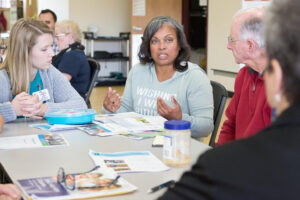 Vivian believes understanding social determinants of health and epigenetics, which is how your experiences can alter how your genes work, made her a better clinician and more prepared to understand and combat health inequities.
To immerse herself in the perspective and lifestyle of her patients dealing with diabetes, every year Vivian wears an insulin pump for a week and follows diabetic dietary restrictions, documenting all of her meals and adjusting her insulin dose (or saline, in Vivian's case).  
Recently, Vivian also restricted her grocery shopping to stores on the southern side of Madison, and she noticed that it was difficult to find grocery stores with fresh produce. Fast food, on the other hand, was readily available and affordable.
"It helped me to realize that the way I counsel patients who live in my community might be different than the way I would counsel someone living in an under-resourced community because they wouldn't have the same resources readily available to them," she says. "The uneven distribution of the 'social determinants of health' have resulted in poor health outcomes for those living in poverty, thus widening the health disparity gap."
These exercises help Vivian work against unconscious or implicit bias about certain groups of people, which might affect how pharmacists perceive their patients' health status and resources.
"We must reflect upon our beliefs to discover blind spots and then actively work toward dismissing stereotypes and attitudes that may negatively impact patient-provider relationships," she says.
Looking ahead
Since the start of the COVID-19 pandemic, Vivian has dedicated extensive time to providing education and vaccinations to people in underserved communities.
Vivian says she has been spending more time talking with individuals about vaccine safety, addressing misinformation, and helping people find reliable sources for medical information, since numbers at vaccination clinics have been declining since May. Through community partnerships, Vivian and the African American Health Network of Dane County held a series of COVID-19 vaccine and information events.
"COVID-19 has exposed the disparities in our country and how structural racism has caused an uneven distribution of social determinants of health," says Vivian.
"I will spend the rest of my life striving to achieve health equity, eliminate disparities, and improve the health of all people in our society."
—Eva Vivian
Vivian is also currently working on developing a survey, "Facing Adversity Through Community Support," that will assess factors within a community that promote resilience in marginalized communities, such as support systems like church groups and other organizations. If research finds that those supports help, resources can be directed to increase the availability of those programs within high-risk communities.
"We know that racism is a very negative emotional experience that can have a dramatic effect on a person's health," Vivian says. "For those African Americans who are able to remain healthy in spite of experiencing racism, I want to know what helps them to be resilient."
For the next two months, Vivian will be collecting data from communities in Madison and Milwaukee, with plans to later distribute the survey nationally.
"I will spend the rest of my life striving to achieve health equity, eliminate disparities, and improve the health of all people in our society," says Vivian.