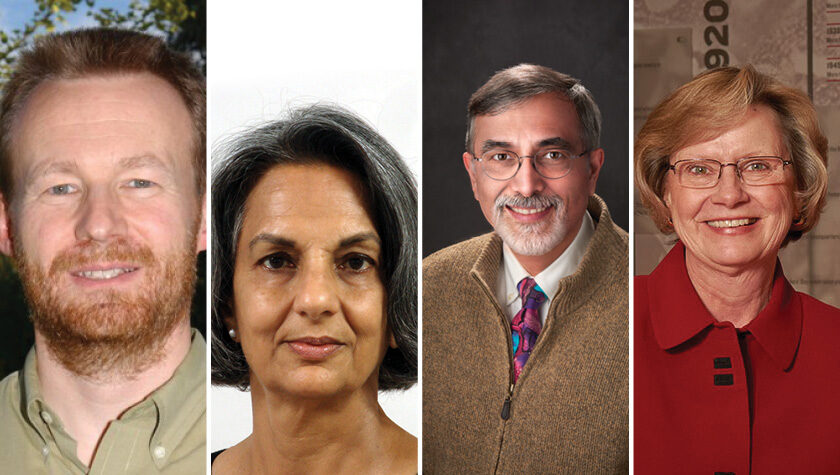 8
September
Awards celebrate alumni and friends who have advanced education, research, and practice
By Katie Ginder-Vogel
In a tradition that's nearly 70 years old, the University of Wisconsin–Madison School of Pharmacy honors four distinguished pharmacists, educators, and pharmaceutical scientists with Citations of Merit each fall. The recipients of the award — which is the highest annual honor bestowed by the School — are luminaries who have contributed mightily to pharmacy, research, and society, as well as to the School of Pharmacy.
"The recipients of the School of Pharmacy's Citation of Merit are credited with shaping their respective fields and the education of practitioners and researchers," says Dean Steve Swanson. "The four esteemed individuals we're honoring in 2020 not only have long histories of contributing to the success of the School, but also to national and international efforts to push pharmacy and health care forward."
The four 2020 honorees, who will be celebrated in a fall 2021 dinner and awards reception due to COVID-19 concerns, are:
Media Gallery: 2021 & 2020 Citations of Merit
---
Bruno Hancock
Industry leader in drug formulation and technology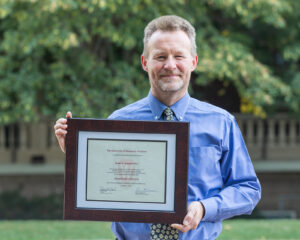 Bruno Hancock was bitten by the research bug during an internship he took as a student pharmacist in the UK. After graduating, he decided to go to graduate school to study pharmaceutical materials and how their properties control how they perform.
When it came time to apply for postdoctoral research positions, Hancock wrote letters to the 10 scientists he admired most — one of whom was the School of Pharmacy's Professor George Zografi, now emeritus. At the time, Zografi's research group was turning its focus to the cutting-edge area of amorphous drugs.
"Amorphous drugs were something of a novelty back in the early 1990s, and there were not very many of them," says Hancock. "Consequently, there were very few good techniques for characterizing them or understanding their performance."
Building on the work of food scientists at UW–Madison, Zografi's research team developed new approaches for studying amorphous drugs and adapting them for medicines and pharmaceutical materials.
"We also helped to figure out how to stabilize them, so they could be made into viable commercial medicines," says Hancock.
Hancock met his wife, Sheri Shamblin (PhD '97), in Zografi's research group. Shamblin, a graduate student, continued with her PhD research at the School after Hancock completed his postdoc and went to work as a formulation scientist for Merck in Montreal, where he continued to collaborate with Zografi and developed new pharmaceutical products.
"Receiving this recognition is a great honor, and I am very proud of my association with the School of Pharmacy over the past 30 years."
—Bruno Hancock
In his six years at Merck, he established several academic research collaborations, mentored students from a local university in the laboratory, and accomplished a rare feat.
"It's usually a once-in-a-lifetime thing to work on a compound that becomes a real product, and the first project I was assigned turned out to go all the way through, so I was quite fortunate," he says. "I learned all the aspects of the business and saw almost everything in my six years at Merck."
After six years apart, Hancock and Shamblin decided to find jobs at the same company and applied to Pfizer. They were both hired to the same department at Pfizer.
At Pfizer, Hancock was able to cultivate his interest in measuring mechanical properties developing computational predictive tools, like models and simulations, for use in drug development. Hancock's supervisor supported his research collaborations and invited him to help teach a short course on the development of solid dosage forms for the UW–Madison School of Pharmacy's Division of Pharmacy Professional Development — a relationship that's lasted two decades.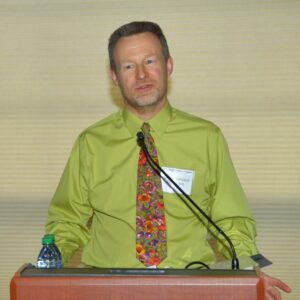 Hancock has held multiple roles at Pfizer within the area of pharmaceutics and formulation, from early-stage basic research to later-stage product development and commercialization. He moved into his current role as global head of materials science within Pfizer R&D about five years ago.
"My job is to help Pfizer's scientists discover new molecules that have never been synthesized before and might have therapeutic potential," Hancock says. "We characterize them from the physical and chemical perspective to know how they behave, if they'll be soluble, if they'll be easy to manufacture, if they compress into tablets, if they taste bad or good — we need to understand all those properties before we give them to patients."
Hancock says his postdoctoral research at the School is one of the highlights of his career and resulted in a large number of high impact publications. His productive research earned him the Royal Pharmaceutical Society of Great Britain's Science Medal in 2000, and he was elected a fellow of the American Association of Pharmaceutical Scientists in 2004. He is currently an editor for the American Pharmacists Association's Journal of Pharmaceutical Sciences and has advised the United States Pharmacopoeia on the use and testing of pharmaceutical materials since 1995.
Among many lauded achievements, the School's Citation of Merit is one of Hancock's most cherished.
"Receiving this recognition is a great honor, and I am very proud of my association with the School of Pharmacy over the past 30 years," Hancock says.
---
Susan Sutter (BS '78)
A Wisconsin pharmacy leader and innovator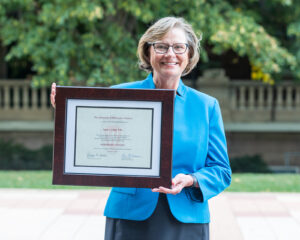 The first in her family to get a four-year college degree, Susan Sutter took her pre-pharmacy courses at UW–Platteville, near her small hometown of Cobb, before enrolling at the UW–Madison School of Pharmacy.
Sutter lived in the all-female Chadbourne Hall near the School of Pharmacy building, when it was located in South Hall, and her entire floor was populated by transfer students, many with two years of pre-pharmacy curriculum under their belts.
"That was an easy way to transition to a big campus," Sutter says, and the close-knit School of Pharmacy also helped. Sutter's class of 160 students meant small class sizes, productive discussion groups, and the opportunity to get to know each of her classmates, who have turned into old friends and colleagues.
"I always appreciated that," says Sutter. "To this day, I think it's a valuable thing a school can do to make students feel comfortable."
One of Sutter's favorite courses was in jurisprudence, the required law course taught by former Naval officer and Professor Robert Hammel (BS '48, PhD '59), whom Sutter says ran his classroom like a Navy ship. He talked so fast in his lectures that students recorded them and compared their notes and the recordings in small groups afterward, to make sure they'd captured everything.
"I loved it," says Sutter. "I loved the precision of law, and it led into my work on the Wisconsin Pharmacy Examining Board."
"I'm incredibly proud of the education I received at the School of Pharmacy and humbled and honored to receive the Citation of Merit."
—Susan Sutter
Sutter served on the state's Pharmacy Examining Board for eight years, including two years as chair, in addition to a term as president of the Pharmacy Society of Wisconsin (PSW) and years of service on the School's Board of Visitors and the board of the Pharmacy Alumni Association (PAA).
For 34 years, Sutter co-owned Marshland Pharmacies — which included two pharmacies and a clinic pharmacy in Horicon, Mayville, and Beaver Dam — with her husband, John Sutter (BS '78), who she met at the School.
"I had the chance to leave my rural hometown and experience a world-class university one hour away and choose to return to a rural area to serve my community," says Sutter. "I am so thankful I had the chance to do that."
Sutter served as a clinical instructor for the School and precepted dozens of the School of Pharmacy's PharmD students, and Marshland Pharmacy became one of the first Wisconsin sites to offer an American Society of Health-System Pharmacists-accredited community pharmacy practice residency in 2000.
"John and I feel good about what we were able to provide," Sutter says. "The career matched up with my skill set."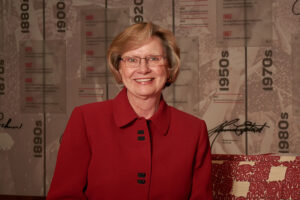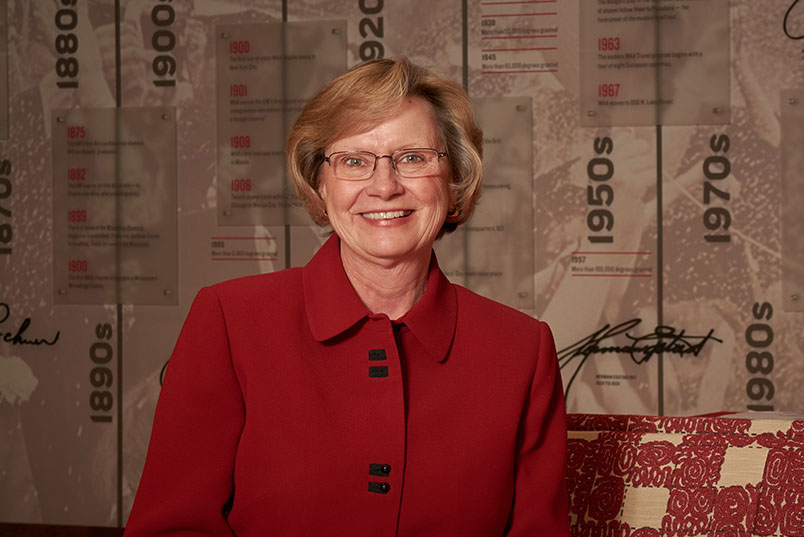 The two retired in 2017, after leaving an indelible mark on the practice of pharmacy, for which they were named the PAA's 2017 Alumni of the Year. The Sutters have also each earned the PSW Distinguished Service Award and the Bowl of Hygeia Community Service Award. In 2005, Sutter earned the American Pharmacists Association's Good Government Pharmacist of the Year Award for working with legislators to update immunization statutes to allow student pharmacists with the required education to be able to immunize.
"We advanced legislation that I feel really made a difference to the citizens of Wisconsin," she says. "When we found an issue beyond routine care, we looked for ways to advance the profession for citizens."
The COVID-19 crisis is creating an opportunity for pharmacists to advance in new ways, she says. Because pharmacists are the most accessible healthcare professionals, "we can be a hub for public health."
Her time as a preceptor and mentor adds a new layer of appreciation for the Citation of Merit, she says.
"I'm incredibly proud of the education I received at the School of Pharmacy and humbled and honored to receive the Citation of Merit," she says. "When you work with students as a preceptor, you learn that people enjoy feedback, and I think of this as my profession, school, peers, and mentors saying 'good job,' and that means a lot to me."
---
Gregory Higby (MS '80, PhD '84)
International expertise in the history of pharmacy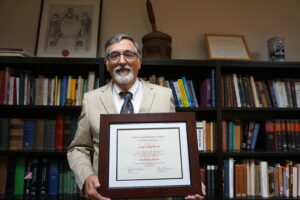 Pharmaceutical historian Gregory Higby retired from his role as executive director of the American Institute of the History of Pharmacy (AIHP) after 30 years in 2018, but he hasn't slowed down. As a senior lecturer, he still teaches at the School of Pharmacy, which houses AIHP, and is currently the Fischelis Scholar at AIHP, a senior academic curator position.
In the year following his retirement, he received two awards celebrating his career: the A. A. Parmentier Medal from the Société D'Histoire de la Pharmacie and the George Urdang Medal from AIHP. Shortly after, he was elected Honorary President of the American Pharmacists Association (APhA) for the 2021–2022 term.
Higby is no stranger to accolades, having also received both AIHP's Edward Kremers Award for pharmaco-historical writing and the Schelenz Medal from the German Society for the History of Pharmacy, as well as being an elected member of the International Academy of the History of Pharmacy. But this newest honor, a 2020 Citation of Merit, stands out.
"This is a great honor coming from the School of Pharmacy — my home for 40 years," Higby says. "The history of pharmacy is a bit outside the main flow of research, teaching, and service at the School, so it is especially satisfying to be recognized for my contributions to the profession of pharmacy."
Higby has been with UW–Madison since 1977, when he joined the UW–Madison History of Science graduate program, after earning a bachelor's degree in pharmacy from the University of Michigan practicing for almost a year.
"This is a great honor coming from the School of Pharmacy — my home for 40 years."
—Greg Higby
"At the time, I did not know the School's History of Pharmacy program existed," says Higby.
Soon after Higby was accepted into UW–Madison, School of Pharmacy Professor John Parascandola — one of the School's two professors in the History of Pharmacy, with a joint appointment in History of Science — called Higby. Parascandola told Higby he could arrange for a half-time teaching assistant position in the School of Pharmacy's dispensing lab.
"I jumped at the chance, and that sealed the deal for me to come to Madison," says Higby. "Once I came to Madison, I was warmly welcomed by John and by Glenn Sonnedecker. I felt at home at the School as a pharmacist and soon transferred from History of Science to the History of Pharmacy."
Glenn Sonnedecker (MS '50, PhD '53), former professor, was Higby's research mentor, under whom he earned in master's degree in 1980 and PhD in 1984.
"The history of pharmacy combined my interest in science and history," says Higby. "I never thought I could get an academic position but instead was mainly postponing my career as a community pharmacist. I still wanted to learn."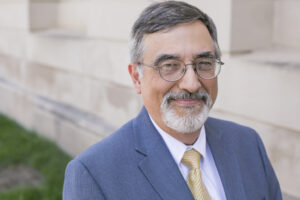 Higby says his best memories of graduate school are connected with the time he spent with his graduate school friends in the School, including John Swann (MS '82, PhD '85), Jeff Van Fleet (BS '77, MS '81), Paul Ranelli (PhD '87), and others.
"John Swann and I took a research trip to archival collections on the east coast for our dissertation projects," says Higby. "A few adventures occurred!"
Higby and Swann are still in touch, after working together when Swann was president of AIHP.
After earning his PhD, Higby spent two years as a research associate at the School of Pharmacy. He taught a required course in the history of pharmacy and served as the assistant director of AIHP.
"After graduating, I had to choose between a postdoc in Philadelphia and a temporary position with AIHP," says Higby.
Within four years of graduating from the School, Higby rose to director of AIHP and served as editor of their quarterly journal, Pharmacy in History, for over 100 editions. Over the course of his career, Higby has published and edited more than 70 books, articles, essays, and other works on pharmaceutical history.
"I knew that with my training, expertise, and pharmacy background that I could help the Institute move forward after Professor Sonnedecker's retirement. I was correct, and I'm grateful for the opportunity to have a career in an area I find infinitely interesting."
---
Nivedita (Nita) Pandit (MS '78, PhD '80)
Combining industry and education for innovation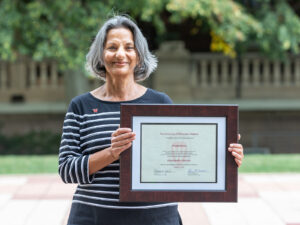 While earning a bachelor's degree in pharmacy from Bombay University, Nita Pandit developed a taste for pharmaceutical research. Instead of continuing her studies in India, she decided to take a risk and apply to graduate school in the U.S.
"I wanted to learn more, broaden my horizons, and live somewhere new," says Pandit. "In 1975, we had no internet, no cell phones, and we knew very little about the West, other than from movies, so I went to the library to get reference books about graduate programs and take notes about each school."
Pandit's application process took the form of letters mailed back and forth between universities in the U.S. and her home in India. She says the UW–Madison School of Pharmacy made her feel the most welcome and the most wanted.
"It ended up being the best program in the country, so I got really lucky with limited information," Pandit says. "It's amazing how much that choice affected my career — when you say you got your PhD at UW–Madison, people know your skills are at a higher level."
Pandit says the program encouraged graduate students to take courses outside of their thesis area to get a comprehensive education. "The School of Pharmacy valued both breadth and depth, and that has helped my career," she says.
Pandit's major advisor, Professor Ken Connors (MS '57, PhD '59), taught her to be precise, rigorous, and a strong writer.
"Wonderfully accomplished people have gotten this award and being one of them is really humbling and amazing."
—Nita Pandit
"He helped me grow from being a sheltered young girl, who had never been outside India or on an airplane, into a scientist," Pandit says.
Professor Emeritus George Zografi was another important mentor, who she says continued to support her throughout her career, even to this day.
"Those two professors really shaped my graduate and professional life and me as a person," she says.
"After my PhD, I wanted to practice what I had learned by going to industry and learning how to develop the drug products I'd studied," says Pandit. She learned a lot from the corporate environment, including teamwork, making good decisions with limited knowledge, and delivering results.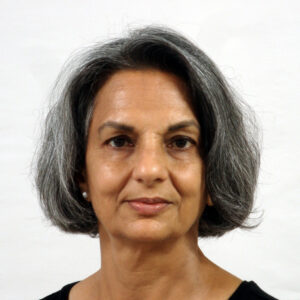 "All the project teams had someone from marketing, medical, and manufacturing, and you have to understand how each of them fits into the role of getting a drug from the lab to the shelf of a pharmacy," she says.
When Pandit's husband got a job at Iowa State University, the nearby Drake University College of Pharmacy created a faculty position for Pandit. She taught pharmaceutics and pharmacokinetics and wrote her own textbook to complement her interdisciplinary approach to teaching pharmaceutical sciences. Pandit also set up an undergraduate research program.
"It ended up being a perfect fit," she says. "I really love teaching, and at Drake, I could focus on teaching and doing research with undergraduates."
Pandit — who retired in 2015 and recently moved to Albuquerque, New Mexico — has taught summer courses offered through the School of Pharmacy's Zeeh Pharmaceutical Experiment Station and served on the School's Board of Visitors from 2004 until 2014. She has celebrated many previous Citation of Merit winners.
"Wonderfully accomplished people have gotten this award and being one of them is really humbling and amazing," says Pandit. "UW has a very special place in my heart. It made my career just to say I got my PhD at the School of Pharmacy. It's really the best."