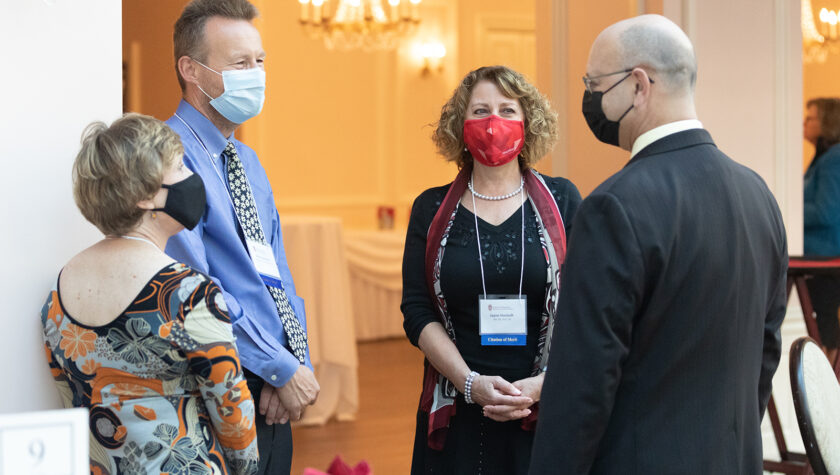 20
October
Photos by Todd Brown / Media Solutions
Video by Pathum Karunaratne / Media Solutions, with editing by Sally Griffith-Oh
After a year of social distancing and virtual events, the University of Wisconsin–Madison School of Pharmacy gathered once more the celebrate the recipients of the School's highest annual honor: the Citation of Merit. 
Unlike in years passed, we held a dinner and awards ceremony for two cohorts of honorees, from 2020 and 2021, and captured it all to share with alumni peers, colleagues, family, and friends. Below, find a photo gallery of School of Pharmacy alumni and friends reconnecting and networking, as well as the acceptance speeches from each of our accomplished winners. 
For 2021, we honor
Dan Luce
, president and co-founder of CLM Pharmacy Advisors;
Bill Doucette
, professor and head of the Health Services Research Division at the University of Iowa College of Pharmacy;
Mehran Yazdanian
, vice president of specialty R&D operations and site head of R&D West Chester, Teva Pharmaceuticals; and
Jayne Hastedt
, managing director of JDP Pharma Consulting with Citations of Merit.
"We are proud to celebrate the achievements of our 2021 awardees, who are a stellar group with proven and continued national influence," says School of Pharmacy Dean Steve Swanson. From increasing the impact of community pharmacies, to innovating in drug delivery, to serving patients in the aftermath of Hurricane Katrina, these four have left their mark on patient care and research nationwide.
Learn more about the 2021 honorees
The School of Pharmacy's four 2020 honorees are
Bruno C. Hancock
, global head of Materials Science, Pfizer Inc.;
Susan L. Sutter
, former co-owner of Marshland Pharmacies, Inc.;
Greg Higby
, Fischelis Scholar/senior curator, American Institute of the History of Pharmacy; and
Nivedita (Nita) Pandit
, emerita professor, Drake University College of Pharmacy.
"The four esteemed individuals we're honoring for 2020 not only have long histories of contributing to the success of the School, but also to national and international efforts to push pharmacy and health care forward," says Dean Steve Swanson. These honorees have made strides in community pharmacy practice, the history of pharmacy, drug formulation, and education.
Learn more about the 2020 honorees