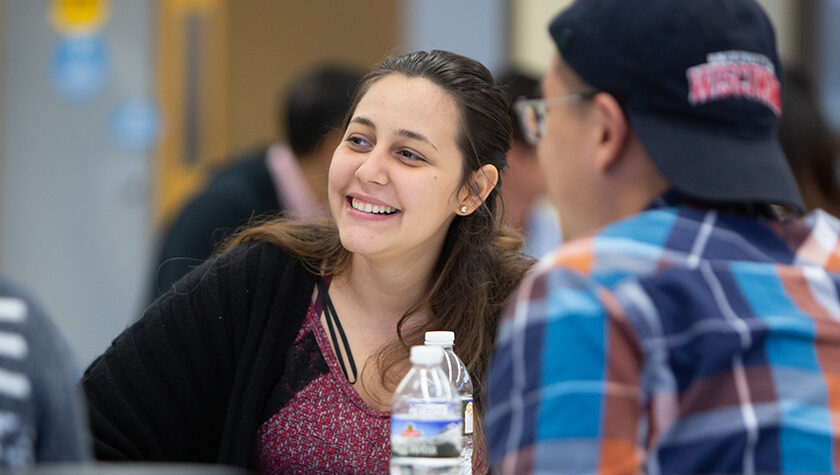 11
June
By Iseult Gillespie
"I have always been interested in the science of how I can improve people's health," says Chelsi Almodóvar-Rivera.
As a first-year Pharmaceutical Sciences PhD student in the lab of Professor Weiping Tang at the University of Wisconsin–Madison School of Pharmacy, Almodóvar-Rivera is involved in the development of heterobifunctional small molecules that can degrade disease-causing proteins.
This work made her a stand-out candidate for the National Institutes of Health (NIH) Chemistry-Biology Interface (CBI) Training Program. Out of 34 competitive applications across the UW–Madison campus, Almodóvar-Rivera was one of three students selected for the newest CBI program cohort. It offers two years of funding, in addition to professional development and interdisciplinary training. By facilitating and promoting work that crosses the disciplinary boundaries of chemistry and biology, the CBI Training Program aims to address pertinent problems in emerging fields. 
Almodóvar-Rivera is the fifth Pharmaceutical Sciences graduate student to earn the traineeship since 2003, and the second student from the Tang Lab. Past recipients of the traineeship include Tang's student Stephanie Blaszczyk, who was accepted into the program in 2018, and Arielis Estevez, who researches in the lab of Associate Professor Jiaoyang Jiang. Since the establishment of the traineeship, 17 recipients have been selected from the labs of the School of Pharmacy's Pharmaceutical Sciences faculty.
The CBI Training Program is one of the largest and longest-running in the country — and it has strong ties to the School of Pharmacy. It was initiated at UW–Madison in 1992 by Daniel Rich (now a School of Pharmacy professor emeritus), with the aim of supporting outstanding graduate students working at the intersection of chemistry and biology. Today, the program takes a dual approach: supporting pathbreaking student research, and training participants to communicate their work across disciplinary lines.
"Chelsi is very interested in developing chemical tools to address challenging biological problems and potential therapeutics for the treatment of human diseases," says Tang, who is a professor both in the Pharmaceutical Sciences Division of the School of Pharmacy and the UW Department of Chemistry. The Tang Lab focuses primarily on drug discovery and chemical biology.
Before joining the School of Pharmacy, Almodóvar-Rivera earned her bachelor's degree in chemistry from the University of Puerto Rico.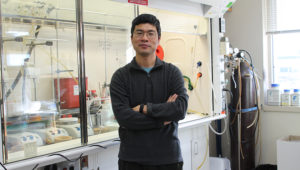 "Although she did not have much synthesis experience before coming to UW–Madison, she learned all of the basic techniques quickly and successfully completed a multi-step synthesis in a short period of time," says Tang. "This improved synthesis will be beneficial to many other researchers in the group."
Almodóvar-Rivera, who is also a Daniel H. Rich Fellowship recipient, applied to the program in the hope of conducting and learning more about interdisciplinary research. Over the next two years, she will continue to work on the synthesis of small molecules, which can be used in the development of new therapies for diseases including cancer and neurodegenerative conditions. Specifically, Almodóvar-Rivera works on synthesizing new cereblon (CRBN) E3 Ub ligase ligands. Her synthesis develops analogs of the drug thalidomide, which has been proven to aid in the degradation of disease-causing proteins. Since joining the Tang Lab, Almodóvar-Rivera has developed different analogs of the drug with some improved reaction conditions.
She is also looking forward to giving more research talks and sharing her work with broader audiences. The traineeship, she says, offers the chance to "communicate what excites me, and to translate my work to other outlets." As part of the program, CBI trainees partake in a 12-week internship at an organization of their choice. Past trainees have completed this work at national laboratories as well as biotechnology and pharmaceutical companies. "It will give me the opportunity to meet people inside and outside of academia," says Almodóvar-Rivera. Currently, her priority is to intern at a pharmaceutical company.
"We are delighted to have Chelsi as a new trainee," says the UW–Madison CBI program director, Helen Blackwell. "She was selected due to her obvious interest in research at the chemistry-biology interface, an outstanding track record of research and scholarship at this interface, and her clear potential. We have had many strong students from Pharmacy faculty labs."
Almodóvar-Rivera cites the strong reputation of faculty at the School of Pharmacy as part of her choice to pursue her research here, as well as the School's emphasis on inclusion: "I come from a diverse background; I'm Puerto Rican. The UW was very open about looking for more diverse students like me," she says. She is a Science-Medicine Graduate Research Scholar (SciMed GRS), as part of a UW–Madison program designed to enhance the educational experiences of underrepresented graduate students working in the biological sciences.
"Scientific research should not be limited to a selected group of people, because it affects everyone," says Almodóvar-Rivera. "Programs such as the Daniel Rich Scholarship or SciMed GRS greatly increase the opportunity for underrepresented students with diverse backgrounds, like me, to access scientific careers. Moreover, it provides the opportunity to meet people with similar interests, exchange ideas that can improve our ways of overcoming a scientific problem and, ultimately, change science for the better."