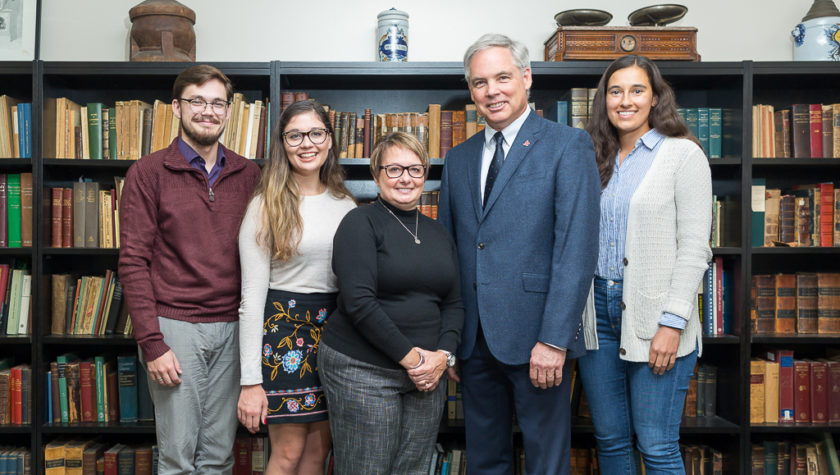 9
December
Alumni and friends expand opportunities for the School of Pharmacy's exceptional graduate students 
By Hanzhu Tang 
The University of Wisconsin–Madison School of Pharmacy has a long history of graduating leaders in research and practice. In addition to our strong curriculum and renowned faculty, our strong alumni network and the generosity of alumni and friends fuel the progressive development and continual successes of our students and ensure that the School remains a prominent leader in not only the United States but also internationally.  
 
Among donations of time and talent, our alumni and friends have also created numerous fellowships, scholarships, and awards to support students in the School's Pharmaceutical Sciences or Health Services Research in Pharmacy PhD programs.  
 
This year, the School's graduate students benefitted from two newly created opportunities: the Marvel Family Fellowship, created by the estate of John (PhD '59) and Mary Marvel, and the Bolton Fellowship, created in honor of Sanford Bolton (MS '56, PhD '58). 
 
"He loved his experience at UW–Madison and spoke highly of his student and alumni experience," says Eric Goldman, a representative of Bolton's estate who accepted Bolton's 2019 Citation of Merit award on his behalf. "His thoughtful giving philosophy impacted so many people and continues to give." 
 
Ke Wang, as a first-year graduate student in Pharmaceutical Sciences PhD program, received the inaugural Bolton Fellowship and is just one among the total 44 graduate student award recipients.  
 
"With the fellowship, I can spend more time studying and learning, which can lead to better retention of knowledge," says Wang, who is currently rotating through faculty labs in the Pharmaceutical Sciences Division to find the best fit for his research in biochemistry and enzyme kinetics. "Also, since I won't have to balance a work schedule, I will have a more flexible schedule for experiments, lectures, and research papers." 
 
Wang was inspired by Bolton's career, which includes multiple inventions, faculty positions, and consultation work in the pharmaceutical industry.  
 
"Dr. Bolton was a great businessman, scientist, and statistician. He loved researching and UW–Madison very much, and I am grateful for his support," says Wang. 
 
Despite the Pharmaceutical Sciences PhD program welcoming its largest-ever incoming class in Fall 2019 semester, each student will receive at least one semester of fellowship support.  
 
"Without this generosity from our alumni and friends, we wouldn't be able to support nearly as many graduate students," says Associate Professor Charles Lauhon, assistant dean for graduate studies. 
Here is the full list of the 2019 graduate student award-winners: 
Fellowships
Kenneth A. Connors Wisconsin Distinguished Graduate Fellowship, supported by Jordan (BS '65, MS '67, PhD '69) and Jana Cohen  
Zicong Wang, Siddharth Uppal (PharmSci) 
Dohmen Company Foundation Fellowship  
Zhaomeng Feng, Mabel Jung (PharmSci) 
Higuchi Family Fellowship 
Chih-Chun (Roger) Chang (PharmSci) 
Higuchi Scholarship 
Sookyung Hwang (PharmSci) 
Leon & Joan Lachman Fellowship, supported by Leon (PhD '56) and Joan Lachman 
Michael Cunningham, Caroline Hopkins, Sookyung Hwang, Kaila Javius Jones, Hannah Miles (PharmSci) 
John Ray & Mary Jane Marvel Fellowship, supported by the estate of John (PhD '59) and Mary Marvel 
Avan Colah, Christopher Stevens (PharmSci) 
Daniel H. Rich Graduate Scholarship, supported by Roger Tung (PhD '87) and other donors 
Chelsi Almodovar Rivera, Caroline Hopkins, and Kaila Javius-Jones (PharmSci) 
Joseph B. Wiederholt Fellowship, supported by Peggy Wiederholt and donors 
Tanvee Thakur (HSRP) 
Robert Wills Distinguished Graduate Scholarship 
Michael Cunningham and Hannah Miles (PharmSci) 
Sanford & Phyllis Bolton Fellowship, created in honor of Sanford Bolton (MS '56, PhD '58) 
Dylan Sebo, Ke Wang (PharmSci) 
Mern Keir Fellowship, supported by the late Mern Keir 
Peijing Jia (PharmSci) 
John & Jane Roudebush Fellowship, supported by the late John and Jane Roudebush 
Cynthia Choi (PharmSci) 
Science-Medicine Graduate Research Scholarship  
Chelsi Almodovar Rivera (PharmSci) 
Clarence W. Sondern Fellowship 
Maeleigh Tidd (HSRP) 
Travel Awards 
Donald Witiak Graduate Travel Award in Drug Discovery, supported by Deanne Witiak and other donors 
Shaurya Chanana, Dacheng Fan, Xiaolei Li (PharmSci) 
Joseph Robinson Graduate Travel Award in Drug Delivery, supported by Bonna and the late Joe Robinson and other donors
Montira Tangsangasaksri and Zachary Rosenkrans (PharmSci) 
Drug Action Graduate Travel Award ("Lost Boys of Pharmacology") 
Mark Cadena, Ting-Jia Gu, Bin Wang (PharmSci) 
Other Awards
George Zografi Educational Advancement Fund, supported by George and Dorothy Zografi and other donors 
Yuhui Li, Lauren Repp (PharmSci) 
Dr. Razia Zaman-Dr. Shahanara Zaman Saroya Graduate Award for Excellence in Research & Scholarship  
Anne Turco (Molecular & Environmental Toxicology Graduate Student) 
William J. Tillman Teaching Assistant Award  
Connor Blankenship (PharmSci)  
Teaching Assistant Awards  
Niying Li (HSRP), Lauren Repp (PharmSci), Tanvee Thakur (HSRP), Xin Yao (PharmSci)