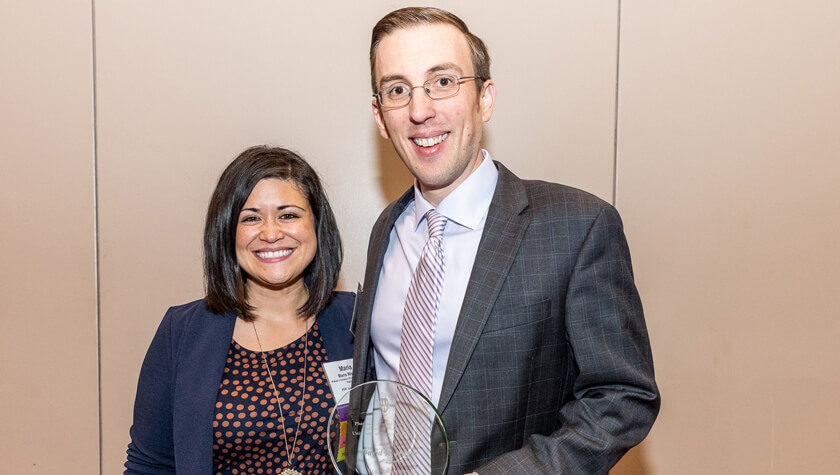 16
September
The drive to help pharmacists develop their skills is at the core of Hager's career
By Katie Ginder-Vogel
Photos by Ingrid Laas
David Hager (PharmD '05) first tested the waters of pharmacy by spending a day shadowing a pharmacist at Morton Pharmacy in Appleton, Wis.
"They were doing cool things: health assessments, nutritional counseling, weight management, and blood pressure control," he recalls. "The pharmacist knew everyone, and it had this great community feel. They were really caring for patients." 
He was hooked. He'd initially been introduced to pharmacy by a friend in high school, who emphasized pharmacists' role in caring for patients and communities, so he decided to see it for himself.
What Hager experienced that day in Morton Pharmacy set the wheels in motion for him to become one of the state's leaders in health-system and clinical pharmacy. Today, he's the director of Clinical Pharmacy Services at UW Health, providing guidance on transitions of care, inpatient clinical pharmacy services, and staff development and credentialing across the health system.
"My job is to give pharmacists the tools and position them correctly to make a positive impact on patients and for providers," says Hager.
He has devoted much of his career to helping young pharmacists develop their skillsets by helping to orchestrate trainings, residency programs, and residency-track Advanced Pharmacy Practice Experience rotations with the University of Wisconsin–Madison School of Pharmacy.
For all he's done to push pharmacy forward, the School of Pharmacy's Pharmacy Alumni Association (PAA) is honoring Hager as the 2019 Young Alumnus of the Year.
"In the 14 short years since his graduation from the School of Pharmacy, Dave has accomplished more professionally than most pharmacists could hope to accomplish in their entire career," says Tyler Liebenstein (PharmD '11), PAA board member.
"In the 14 short years since his graduation from the School of Pharmacy, Dave has accomplished more professionally than most pharmacists could hope to accomplish in their entire career." –Tyler Liebenstein
Hager represents Wisconsin to the American Society of Health-System Pharmacists (ASHP) House of Delegates and is the co-chair on the ASHP Section Advisory Group on Value, Quality and Compliance. On a more local scale, he contributes to the School by serving on the Interprofessional Education Committee and coordinating PharmD lectures about pharmacy practice and health-system pharmacy. In 2016, the Pharmacy Society of Wisconsin named him Pharmacist of the Year.
"He works tirelessly to advance the pharmacy profession and is the very definition of a leader," Liebenstein says.
Inspiring mentors
Hager credits multiple experiences and mentors as influential to his career, the first being his Introductory Pharmacy Practice Experience (IPPE) rotation with Tim Wolf at UW Health. 
"Watching him on rounds, seeing physicians turn to him after every patient to ask which drugs and doses they should prescribe to improve each patient's care and get them home, made me realize this what I want to do for the rest of my life," says Hager. "Tim had a pretty big impact on opening a new set of doors for me about what pharmacists could achieve."
After his IPPE rotation, Hager received an email from UW Health looking for student help and promising professional development. Hager applied and discovered a new set of opportunities.
"The School of Pharmacy's connection to UW Health allowed me to experience working within health systems and to grow and practice pharmacy as a student," Hager says. "I started at UW Health within the sterile product compounding area, made drug products, and worked in the Central Unit Dose area, where we picked barcoded drugs and sent them up to the floor."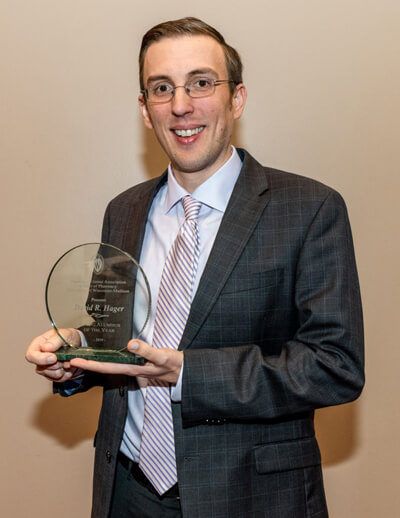 After Hager's second year of pharmacy school, he landed a summer internship in neurology and transplantation.
"My mentor Sheila Aton taught me the importance of developing great relationships with providers," says Hager. "Another mentor, Michael Collins, a neurology clinical pharmacist, taught me how being an expert in one area can impact patients. He used to get calls from providers around the country about difficult epilepsy patients, and it was cool to see the impact specialized knowledge in pharmacy could have on patients." 
Yet another connection he made as a student pharmacist, Bill Simmons (BS '81), who worked in transplantation, taught him the importance of scholarship and the positive impact it can have on pharmacist-provider relationships.
Hager's experience in transplantation stuck with him, and after graduation he began his career as a PGY1 resident at UW Health.
"I fell in love with transplant and did my residency at UW Health, with because I knew it could train me to become the type of clinical pharmacist I wanted to become," he says. 
After residency, Hager stayed at UW Health as a clinical pharmacist in abdominal transplantation. In addition to practicing as a pharmacist on the transplant wards, he practiced in the transplant clinic. There Hager was responsible for guiding the optimal delivery of immunosuppressant medications, educating patients about their medication, and developing clinical guidelines. 
"Then, I was asked to move into leadership roles, and my career changed after that," Hager says.
Growing as a leader
In 2012, Hager became the pharmacist coordinator of Patient Care Services and Practice Advancement at UW Health. He coordinated all pharmacy student and PGY1 resident rotations and created and directed the APPE residency-track program in coordination with the School of Pharmacy. 
"I've been honored to be the program director for our PGY1 pharmacy residency program," Hager says. "Being involved in the lives of people who are training to be part of my profession is fulfilling, and watching these interns, residency track students, and first-year residents achieve their goals makes me really proud."
In 2017, he became pharmacy manager of Patient Care Services and Professional Development, where he oversaw transplant service line pharmacists and pharmacy services, transitions of care, and professional development and education for pharmacy students and experienced pharmacists alike. 
"Find positions that maximize your ability to use your strengths and find areas where you can really shine and knock it out of the park." 
–Dave Hager
Today, as director of Clinical Pharmacy Services at UW Health, he provides leadership on transitions of care, oversees staff development and credentialing, and supervises inpatient clinical pharmacy services. But he still makes time to stay involved with direct patient care.
"Those are often the most rewarding times, helping patients one-on-one," he says. "I also appreciate being able to help form the structure and vision of where we're going as a department, so all our pharmacists have the opportunity to make a difference every day."
Expanding pharmacists' reach
As a director of clinical pharmacy services, Hager aims to advance the role of clinical pharmacists and advance his vision of where transplant pharmacy can be. 
"Increasingly, within health care, there's financial pressure," he adds. "I devote time to exploring how our clinical pharmacy services support the financial components of patient care and how we make sure our services improve outcomes in a measurable way, generate new revenue, and save medication costs."
Hager has implemented three initiatives to help pharmacists provide value to providers and achieve positive patient health outcomes: aligning pharmacists with medical teams, co-locating pharmacists with providers, and emphasizing scholarship.
He places pharmacists who are uniquely trained in specific clinical areas with the medical teams, so both pharmacists and physicians follow their patients.
"This better aligns expertise, credentialing, and residency training with medical teams," explains Hager. "If our vision is for them to have more success, they need to care for the patients they're best trained to care for and build relationships with providers, so they're a team."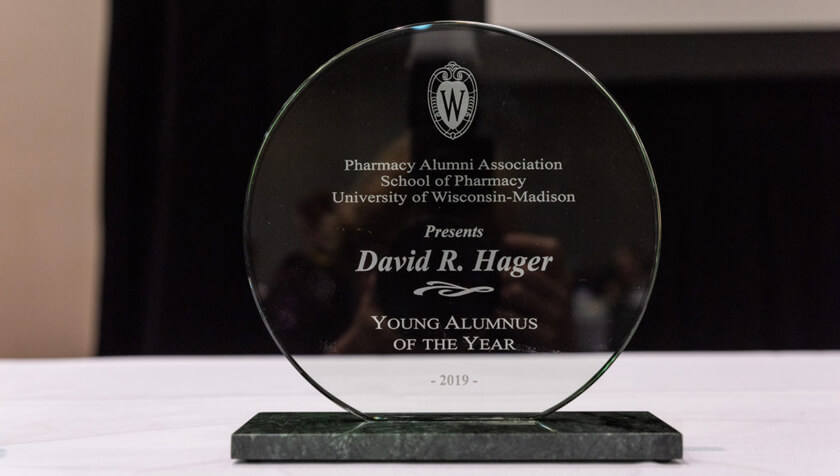 To reinforce that same team approach, Hager has also co-located pharmacists in provider offices, shaking up a legacy model in which pharmacists were located near drug products, rather than near physicians. 
"As clinical pharmacy has moved away from drug products, clinical pharmacists don't need to be located near medication; they need to practice alongside providers," says Hager. "Face-to-face communication allows for thinking out loud, touching base about quick questions, and having proactive conversations that allow pharmacists to make decisions with physicians about treatment plans and drug therapy."
Hager also prioritizes scholarship and has formed committees to help pharmacists engage in research, which helps pharmacists develop their own expertise as it benefits the profession.
"Our pharmacists can be clinicians and experts in their field, working alongside academic researchers," he says. "As our appetite for scholarship increases here, our UW–Madison School of Pharmacy faculty resources can be part of that."
Encouraging the next generation
Hager offers a glimpse into how he has achieved his measurable success when he shares his philosophy on building a career.
"As students, we get really good at knowing what we're not good at, and we often don't reflect enough on what gives us energy, what comes easiest to us, and where our strengths really lie," he says. "I think it's important for student pharmacists, as they reflect on big career changes, what their strengths are. Find positions that maximize your ability to use your strengths and find areas where you can really shine and knock it out of the park."
Hager emphasizes the ongoing nature of the learning process and the importance of maintaining a growth mindset.
"Even when you graduate or complete a residency, you aren't fully baked; you still have work to do," he says. "Keep an attitude of growth and development."