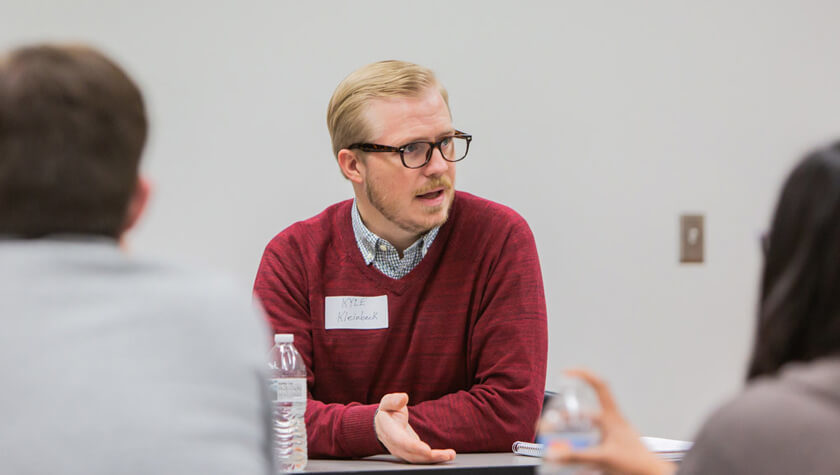 7
June
Alumnus Kyle Kleinbeck finds his calling in HIV prevention
"We could talk about the communities in rural Sub-Saharan Africa where women are nearing an HIV incidence of almost 50 percent. We could talk about how, although we've managed to stabilize the growth rate of HIV, we're still picking up millions of new infections a year," says Kyle Kleinbeck (BS '07, PhD '11).
"Those things matter to me. But it also matters to me that there are enormous unmet needs in sexual and reproductive health."
Kleinbeck has spent the majority of his career so far in nonprofit organizations developing HIV prevention and contraceptive devices for underserved populations and is now the senior scientist for formulation technology at the International Partnership for Microbicides (IPM).
"I didn't know there were jobs in nonprofit pharma," he says. "I'm surprised and happy that I've made a career out of something I can feel really passionate about."
But before he landed in the nonprofit world, Kleinbeck earned a bachelor's degree from the Pharmacology and Toxicology program at the University of Wisconsin–Madison School of Pharmacy and decided to stay with the School through the Pharmaceutical Sciences PhD program. That decision would end up setting the rest of his career in rapid motion.
A nonprofit niche
During his six years at the School — two as a PharmTox student and four as a graduate student — Kleinbeck conducted his research in the lab of John Kao, then a professor in the Pharmaceutical Sciences Division. There, he worked to develop wound healing materials, such as a moist gel bandage that would introduce growth factors into a wound care environment.
"There's an attraction to not knowing anything about this problem and attempting to figure it out anyway. That's what PhDs are for." 
–Kyle Kleinbeck
In his final year at the School of Pharmacy, Kleinbeck volunteered to chair the Pharmaceutical Graduate Student Research Meeting (PGSRM), which was being held in Madison (and is again planned for Madison in 2019).
"That meeting is a bigger deal than many PharmSci graduate students realize," he says. "It was very valuable in building a network of colleagues I'm still in touch with."
Not long after meeting representatives from Patheon, a Thermo Fisher Scientific company, at PGSRM, Kleinbeck got a call from the company that turned into a position with their pharmaceutical development services department.
"That job seems to have come out of my professionalism and communication throughout organizing the PGSRM," he says. "The work I was hired to do at Patheon was pretty irrelevant to the inflammation cascades I was studying with Dr. Kao."
He went from working with biology as a student to exclusively dealing with industrial manufacturing chemistry, which suited him well — until he noticed a scientist position with the Population Council.
"Their background is fascinating," he says. "They developed the majority of contraceptive technologies that are used today, but you wouldn't know it because their name isn't on any packaging anywhere."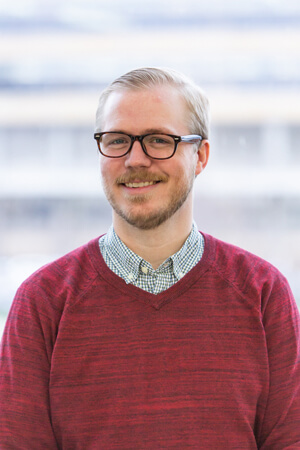 The Population Council — funded mainly through grants from the National Institutes of Health, the United States Agency for International Development, and private donors — created two of the most popular and most effective birth control methods: the implant and the intrauterine device. The organization's manufacturing quality standards are liable to audits, which made Kleinbeck's experience with Good Manufacturing Practices a valuable addition to the team.
When he was brought on board, he was charged with setting up a manufacturing suite on the Rockefeller University Campus in New York City.
"All of a sudden, I'm wearing a lot of hats in the company because it's a small nonprofit," he says. "At that point, my career shifted from being focused on a very specific type of product technology to being focused on HIV as a pathology and all of the different product types that we decided to pursue would be under my purview."
Even today, now at IPM, he is still living in the HIV prevention world, working to create a three-month vaginal ring that provides contraception as well as or better than other contraceptive rings, with the added benefit of stopping the transmission of HIV.
The clinical studies on such products can get expensive because — fortunately — the level of safe sex counseling required for study participants knocks their HIV acquisition rate well below the average, which means the studies have to expand in order to include enough participants to find a clinically significant result.
"Our baseline of HIV incidence is already far lower than the general population, and then we have to see the difference our products can make in a small subset of that population," he says.
When IPM successfully patents a new drug or device, they deliberately retain control over the manufacturing and sales in order to control the price for patients. Typically, pharmaceutical companies see costs go up as products pass through additional hands on their way to the consumer.
"The whole point is to make it accessible, so we have to keep the price down," he says. "It's still a model in progress in a new landscape of drug development."
At IPM, Kleinbeck works from home, supervising a team of off-site researchers. He often uses his pharmaceutical expertise, but he doesn't get hands-on with the benchwork.
"The itch sticks with you, and you have to figure out how to scratch it if you're going to be at a computer instead of a bench," he says, referencing his breadth of colorful hobbies. "I've taken up a very hands-on interest in green energy, battery banking, and making my own solar panels."
"If there are six students who enhance their interest in PharmSci because of my talk, then it's worth it." –Kyle Kleinbeck
He filed a grant for a home-scale anaerobic biodigestion generator and makes South African-style jerky, which doesn't require nitrates in the curing process, hanging in his basement.
"There's an attraction to not knowing anything about this problem and attempting to figure it out anyway," he says. "That's what PhDs are for — you learn quickly what you don't know, you learn quickly what you need to know, and you're going to learn quickly how to figure it out."
Solid scientific foundation
It's the creative problem-solving aspect of research that drew Kleinbeck in as an undergraduate. In their quest to answer a research question, scientists might have to fix a piece of equipment on the fly, or improvise a method to replace a piece of equipment that's unattainable.
When he was a PharmTox student, he remembers honing that improvisational agility in one project in particular, assigned by Vilas Distinguished Achievement Professor Jeff Johnson: Writing a peer-reviewed research manuscript.
"It forced you to realize what you didn't know and what you needed to know," he says. "To encourage us to use the tools we had to figure out this new challenge, he took a step back and gave us room to find the answers ourselves. It was the first time I encountered some aspects of technical scientific writing."
In his current role with IPM, he relies on that type of communication frequently. In the nonprofit pharmaceutical industry, submitting manuscripts for publication is fairly common.
Kleinbeck believed in the effectiveness of Johnson's do-it-yourself problem-solving approach to the assignment, so when he became a teaching assistant as a graduate student at the School of Pharmacy, he followed in Johnson's footsteps and resisted the urge to help too much. "Sometimes you have to learn the hard way, because in the real world, you're on your own," he says.
Continued connections
Even during Johnson's difficult assignment, Kleinbeck was confident that his training at the School had taught him enough about research methods and processes to prepare him for the challenge and had set him up well for building his career.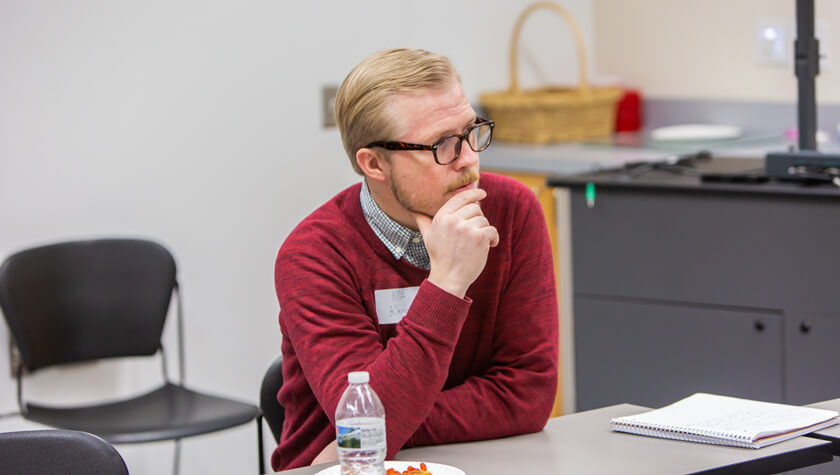 "In the workplace, I feel like my training set me up to be able to excel pretty quickly," he says. "And UW–Madison's reputation is incredible everywhere. People always seem to recognize the name of the PharmSci program."
As an alumnus of the School, he is helping to maintain and strengthen that widely known reputation by returning to speak with current students in the PharmTox and PharmSci graduate programs about his unique and varied career path.
"I can remember alumni coming back and talking to us about their job search, and those alumni connections and insights were really valuable," he says, which is what motivated him to do the same. "If there are six students who enhance their interest in PharmSci because of my talk, then it's worth it."
He remembers having enormous anxiety as a graduate student, trying to imagine how his research and coursework would apply to the future he was trying to build. He tries to assuage those fears among current students by reminding them not only of the quality of the School's PharmSci degree, but also its flexibility.
"You don't have to accept this binary choice of becoming a postdoctoral scholar or going into industry. There are a lot of ways to use your PhD and some of them aren't even necessarily in science," he says. "The way you learn to think is more important than the thing you do with it."
Kleinbeck is also giving back in another way, as the first PharmTox and PharmSci representative on the School's Pharmacy Alumni Association Board (PAA), to facilitate helpful relationships among School of Pharmacy alumni in both research and practice.
"When we leave the School, there's virtually no connection among graduates from the different programs, and I think that's a shame," he says. "My goal is to try to connect those alumni groups a little more to amplify the effect of our work."
Learn more about the how the School's Pharmacy Alumni Association is working to build connections.

Read about another Pharmaceutical Sciences alumnus with an unusual career path: Kwadwo Owusu-Ofori.