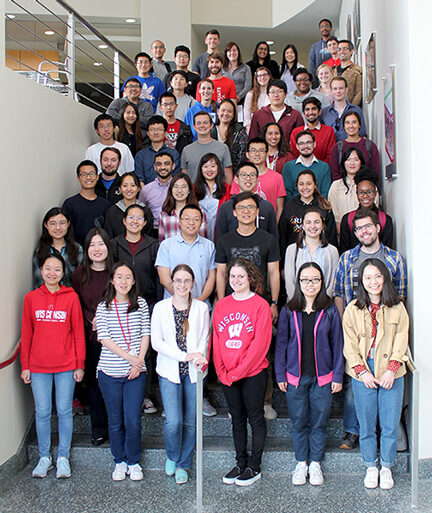 The University of Wisconsin–Madison's Pharmaceutical Sciences PhD Program provides a rigorous background in a range of scientific disciplines that are critical to the success of modern pharmaceutical scientists in industry, government, and academia. With 30 faculty graduate trainers, the interdisciplinary program combines pharmaceutically relevant aspects of disciplines such as chemistry, biology, and engineering. You can earn a PhD in Pharmaceutical Sciences with a concentration in one of three research cores:  Drug Discovery, Drug Action, or Drug Delivery. Individuals from a wide variety of undergraduate academic fields have found a graduate research "fit" within Pharmaceutical Sciences.
Research in Drug Discovery focuses on areas related to medicinal chemistry, such as small molecule development, natural products isolation and characterization, organic synthesis, chemical biology, and rational drug design.
Drug Action focuses on areas related to pharmacology, toxicology, cellular differentiation, development, and disease. Interests include the impact of drugs and toxins on biological systems, mechanisms of normal biology, and mechanisms of disease. These are studied at the cellular, genetic, molecular, and biochemical levels using diverse model systems.
Drug Delivery emphasizes principles in physical chemistry and drug transport, aiming for advances in formulation, drug targeting, and multi-modal therapy. Delivery research includes the solid state chemistry of drugs, nano-pharmacy, biocompatibility, molecular recognition, computational chemistry, pharmacokinetics, and molecular imaging.

Download Pharmaceutical Sciences PhD Program Brochure (PDF)

---
Questions about our program?
Check our FAQ page for detailed answers to common questions
We're here to help – send us your questions at any time!