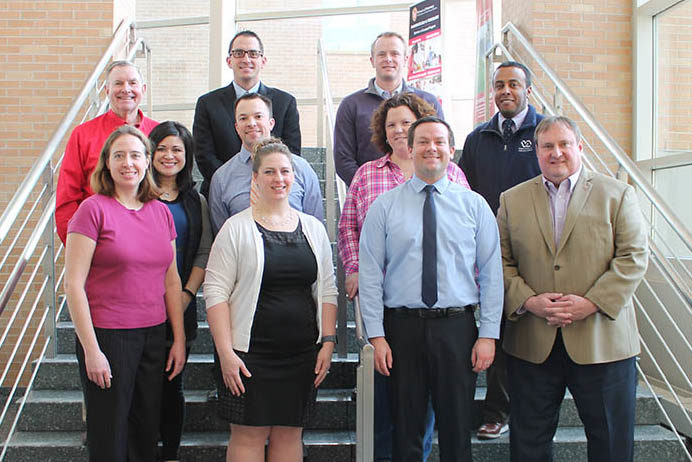 8
March
The Pharmacy Alumni Association's engagement efforts aim to advance the profession
All it takes is one connection — one person — to help advance your career, introduce you to potential mentors or collaborators, or share ideas with. The Pharmacy Alumni Association (PAA) of the University of Wisconsin–Madison School of Pharmacy exists to help graduates and current students of the School forge and maintain those connections.
"There's a lot of goodwill that comes out of graduating from the UW–Madison School of Pharmacy, and people really appreciate the time they spent there," says Josie Kristiansen (PharmD '10), president-elect of the PAA. "Through my involvement with the PAA, I get to tap into that shared feeling and contribute back to an experience that made so much possible for me."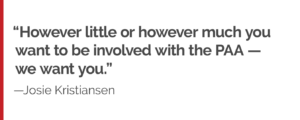 The PAA of today looks quite a bit different than when the organization was first founded, and the 14 current members of the PAA Board of Directors are working to keep the changes rolling.
Originally, participating in the PAA was contingent on paying fees for annual or lifetime membership, and it was only open to trained pharmacists. Now, everyone who graduates from the UW–Madison School of Pharmacy is automatically a PAA member — including graduates of the School's PharmD, Pharmacology-Toxicology, Social and Administrative Sciences in Pharmacy, and Pharmaceutical Sciences programs.
The PAA's evolution to be a broadly inclusive organization began about eight years ago, and more changes are still in the works. The board members recently voted to add a new director position to represent Pharm-Tox graduates, and they plan to add more openings to include a broader set of alumni in making decisions about PAA priorities.
"The people on the board have a strong drive to give back," says Nate Smith (PharmD '14), current PAA president. "We all enjoyed our time and education at the School, and continuing to be involved is a way for me to express that desire to give back, whether it's my time, talent, or treasure."
Creating alumni opportunities
The PAA's main objectives are to connect School of Pharmacy alumni with one another and to provide moral and financial support to the School's current students. Both of these goals are interlaced in two main annual events, open to all alumni: the PAA Golf Outing (August 16), and the Pharmacy Alumni Tailgate (November 9). Both events act like a hybrid of a class reunion and a networking event, plus the golf event also provides opportunity to meet current students.
The PAA is also participating in a new series of alumni engagement events taking place around the state of Wisconsin, hosted by School of Pharmacy Associate Dean for Advancement Dave Mott (BS '88, MS '92, PhD '95). The first such event was held in Milwaukee in January 2019, and the second is planned for March 28 in the Green Bay area (more details to come).
"I think there is a misconception that to be involved with the PAA means you need to commit to five or 10 hours a week, but in reality, a little bit is enough," says Ryan Miller (PharmD '07), PAA board member. "However much time you have to give is enough for us."
That time can go toward event attendance, participating on the board, contributing to the PAA's newsletter, selling raffle tickets at events, providing website updates, or nearly any other level of engagement. Even purchasing a commemorative legacy brick, which pave the west entrance to the School with memories, helps support the PAA's mission while leaving a permanent mark at Rennebohm Hall.
"However little or however much you want to be involved with the PAA — we want you," says Kristiansen.
Supporting the next generation of pharmacists
After the PAA repealed paid memberships, the previously collected lifetime fees were rolled into an annual student scholarship: the PAA Lifetime Membership scholarship. Funds raised during the PAA's events also support a second need-based award, the PAA Great People scholarship.
"We take as much as we can from our fundraising events to fund student scholarships and to fund small gestures throughout the school year, such as study breaks or ice cream socials, to let them know that they have our support," says Kristiansen. "We understand what they're going through and we want to make ourselves known as a resource."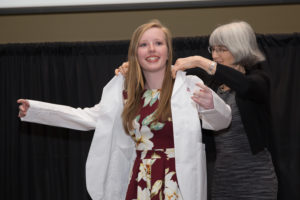 For the second year in a row, the PAA is also matching donations made for the second-year PharmD students' white coats, which they receive as a ceremonial "welcome" to the profession at the White Coat Ceremony. For donations sponsoring a white coat and travel grant ($250), the PAA is giving an additional $100 to a fund to support PharmD students' travel to professional conferences.
"The board feels very strongly that going to those events is very important for student development, and we're excited to be able to enable that," says Smith.
"Knowing they were once in my shoes and seeing how much they want to stay connected with the School and current students because they appreciate their education so much is just fantastic and inspiring to me," says third-year PharmD student Tony Knutson, who is the PAA student board liaison.
As the pharmacy student representative, Knutson attends all of the PAA's meetings and helps them identify ways they can connect with current students.
"We all want the next generation of pharmacists to be just as successful as we feel we've been. We know it was well worth our time to be at the School, and it is also worth our time to be here after we've graduated," says Kristiansen.