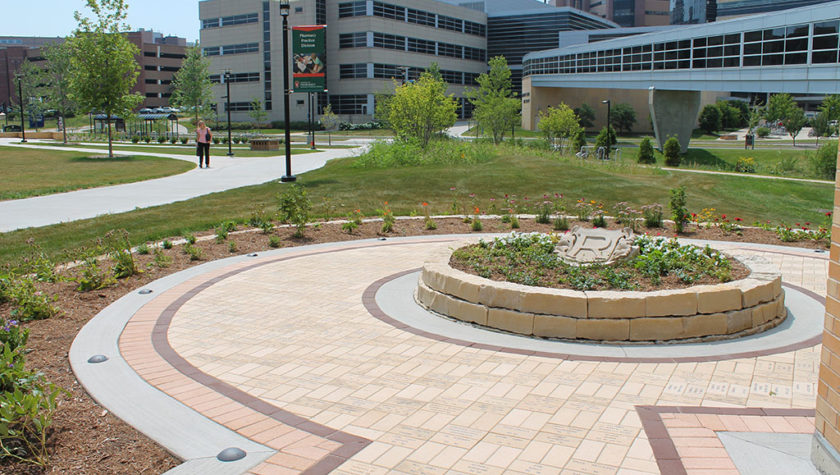 2
March
Commemorative bricks preserve memories, provide scholarships
Among the engraved bricks outside Rennebohm Hall at the University of Wisconsin–Madison School of Pharmacy, Sarah Sorum (PharmD '05) has her name forever preserved.
Sorum, vice president of professional services for the Pharmacy Society of Wisconsin, says her parents bought her a legacy brick in commemoration of her PharmD graduation. "It's a way to give back to the School of Pharmacy for the opportunities it's given me," she says. "I like knowing that it's there to commemorate my accomplishment."
"It's a way to give back to the School of Pharmacy for the opportunities it's given me." –Sarah Sorum
The Pharmacy Alumni Association (PAA) through the UW–Madison School of Pharmacy has a beautiful, enduring way to celebrate or remember special members of our School of Pharmacy community: legacy bricks. For a donation toward the PAA's scholarship fund, alumni and friends can add a customized brick to the front walkway of Rennebohm Hall in memory of a loved one, your graduating class, your achievement, or to leave an inspirational message for students to come.
"The quality of education at the UW–School of Pharmacy is outstanding," says Tyler Liebenstein (PharmD '11), PAA treasurer and pharmacy coordinator for infectious diseases at UW Health. "Pharmacy students receive a great deal of support during their time at the School, and legacy bricks are a great way to give back for the sake of future generations of students."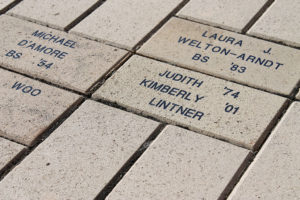 The PAA has been offering legacy bricks since 2001, which are installed twice a year: Bricks purchased before March 1 are installed in May, and bricks purchased by September 1 are installed by November. So far, proceeds from the bricks have raised more than $90,000, which largely funds student scholarships.
Kimberly Lintner (PharmD '01) was following in her mother's footsteps when she graduated with her doctor of pharmacy degree in 2001. Her mother, Judith, also graduated from the School in 1974 with her bachelor's of science in pharmacy.
"Her career was the foundation of my development," says Lintner, now a clinical pharmacist with the Monroe Clinic. "When she purchased the brick for my graduation, it was a great way to recognize both of our contributions to pharmacy and portray the permanence of what we've accomplished."
The legacy brick area was remodeled in 2014 and now also includes a healing garden, creating a calming place to reflect on the decades of pharmaceutical professionals the School has supported.
"My legacy brick is an exciting, tangible mark of our efforts," Lintner says. "It's our small piece of the big puzzle."
Learn more about the Pharmacy Alumni Association's legacy bricks to add your piece to the puzzle.