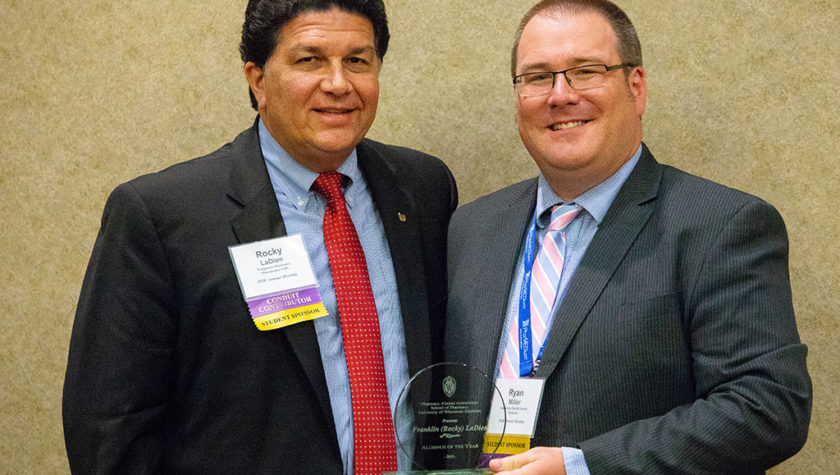 7
September
'Rocky' start inspired a pharmacy career based on giving back
While walking to his last class of the semester, Franklin "Rocky" LaDien (BS '77) looked forward to finishing his last year at the University of Wisconsin–Madison School of Pharmacy. Until a bicyclist smashed right into him. That collision knocked LaDien onto a new trajectory.
"I was the student in my class known as the 'bike accident student,'" says LaDien. 
"My jaw and nose were broken, it fractured my skull and chipped my teeth. I was unconscious for 20 minutes, was in the hospital for a week, intensive care for two days, and had my mouth wired shut for six weeks," remembers LaDien. "I missed all of my finals."
"But what ensued was an outpouring of affection and support from the faculty and students at the UW–Madison School of Pharmacy that was just unbelievable," he adds. "I knew that as soon as I got on my feet, I wanted to give back to the School."
After graduating, LaDien more than lived up to that wish, providing decades of mentorship to students at the School of Pharmacy, serving on numerous committees at the School, and collaborating with faculty members on research and education.
"There are at least 650 job descriptions for pharmacists—find one that excites you. I'm still as excited as I was 40 years ago, and I see no end in sight." –Rocky LaDien
Now a member of the Wisconsin Pharmacy Examining Board and area healthcare supervisor with Walgreens, his years of service to the profession and deep commitment to the development of student pharmacists have earned him the 2018 Alumnus of the Year award from the Pharmacy Alumni Association (PAA).
LaDien's dedication to the profession, service on the Pharmacy Examining Board, and support of fellow alumni that put him in a league of his own, says PAA board member Ryan Miller (PharmD '07). "He's served as a leader in retail pharmacy practice for many years and has worked to promote pharmacists' involvement in health care promotion and philanthropic causes to that end," he says.
"I see this award as a thank-you to me for working with the students, being there for them, mentoring them, and I hope they give back like I try to give back," he says.
Nurturing the future of pharmacy through student development
Since graduating 41 years ago, LaDien has served multiple terms on the School's Diversity Committee and Reaccreditation Committee, and spent years collaborating with Bonnie Svarstad, professor emeritus in the Social and Administrative Sciences Division, and Eva Vivian, professor in the Pharmacy Practice Division, on a National Institutes of Health-funded project to more effectively treat hypertension in African-American patients in Madison and Milwaukee, Wis.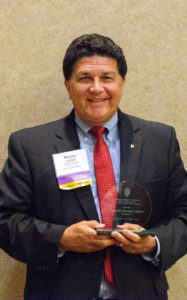 More recently, LaDien worked with the Pharmacy Society of Wisconsin (PSW) and Eric Buxton, associate professor in the School's Division of Pharmacy Professional Development, to create trainings for pharmacists to administer non-vaccine injections.
"The School has been a big part of my life in a lot of ways," says LaDien, who also won a Citation of Merit award in 2017 from the School of Pharmacy for his significant contributions to the field of pharmacy as well as the School.
Among his favorite accomplishments in his distinguished career are the relationships he's built with young pharmacists and pharmacy students. He estimates that over the years, he's precepted for at least 100 School of Pharmacy PharmD students.
"It's amazing to see so many of them maturing and blossoming into leaders," he says. "I enjoy putting people in positions to succeed and become leaders themselves."
His Advanced Pharmacy Practice Experience clerkship rotation, which covers aspects of pharmacy management, is a part of the School's new Pharmacy Operations and Technology Management concentration available to PharmD students, and he's returned to the School to deliver guest lectures on pharmacy management.
"Students have to know the ins and outs of the business," LaDien says. "It doesn't matter if students plan to go into long-term care, hospital pharmacy, or community pharmacy—they will still be part of a team that requires organizing, delegating, coaching, and training. I have a unique role that can help prepare them for that."
Influencing pharmacy to change lives
Two years ago, LaDien was approached by the Children's Hospital of Wisconsin to help them tackle a pressing challenge—getting children copay-free prescriptions for 30 days of medication to protect against HIV infection, within an hour's time. These children, between the ages of 3 and 19, are victims of sex abuse and have only 72 hours after possible exposure to HIV to begin the potentially life-saving treatment.
"Unfortunately the world of child trafficking is upon us, whether we like it or not, and there's an unbelievable need for victims to get this treatment rapidly," he says. "That was the challenge presented to me two years ago, and we created a solution a year ago and have been doing it ever since."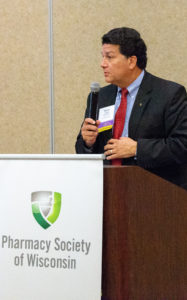 When a child sex abuse case comes in, the hospital sends an electronic prescription to the Mayfair Walgreens in Wauwatosa, Wis., and he fills the prescription and sends it to the patient via courier. With the quick delivery, a nurse can give the patient their first dose, explain the treatment, and release them with a month-supply of medicine and no financial burden.
The nurses, who call every three days to check on the patient, asking about symptoms and adherence and offering support, are the "real heroes," he says. Through their persistence, adherence rates in the program have doubled, now sitting at nearly 95 percent.
"Now that we've perfected that process at the Children's Hospital, I want to spread that program around the state to all emergency rooms," says LaDien, and he will rely on student pharmacists to help him get there. "Once students see how pharmacists can deeply help others, it's very easy to get them involved and get a team together."
He's also effecting statewide change as a member of the Pharmacy Examining Board, where he is in his second four-year term. While on the board, he's helped with legislation to endow pharmacists with the ability to provide non-vaccine injections, such as long-acting anti-psychotic drugs.
Next, he's working on legislation for pharmacy technician registration or licensing, as well as regulations around inspections for sterile compounding pharmacies.
Secrets to success
LaDien grew up in Jefferson, Wis., and always planned on going to the University of Wisconsin–Madison. "I couldn't wait to go to Madison," he says. "The best thing about my undergraduate career there was meeting my wife. I'm not nearly as successful without her help."
As a UW undergraduate, LaDien didn't even plan to become a pharmacist, much less have an inkling that he would be an influential figure on the pharmacy landscape. Instead, he was a premed student, who was invited by a friend—Rob Wills (MS '79), who now sits on the School's Board of Visitors—to work in his dad's pharmacy. He was immediately hooked, drawn in by the patient interaction.
He completed his degree in pharmacy, and after graduation he worked in a series of environments, including long-term care and hospital pharmacy. But he always felt most at home in a community pharmacy setting, and joined Walgreens in 1986.
"[LaDien has] served as a leader in retail pharmacy practice for many years and has worked to promote pharmacists' involvement in health care promotion and philanthropic causes to that end." –Ryan Miller
"My early years with Walgreens were spent with patients, but now, as area healthcare supervisor, I still enjoy that I get to work with people every day," he says. LaDien currently oversees 80 Walgreens pharmacies, spanning from Brookfield, Wis., to Marquette, Mich., and his years of experience has taught him exactly what it takes to be a successful pharmacist.
"You really have to care, be empathetic, be organized, and be willing to step out of your shell. You also have to be a good communicator and a problem solver," he says. But most importantly, be happy with what you do.
"You have to get up in the morning and really be motivated to make a difference," LaDien says. "There are at least 650 job descriptions for pharmacists—find one that excites you. I'm still as excited as I was 40 years ago, and I see no end in sight."
Read more about LaDien's life, career, and Citation of Merit award.
Learn about the Pharmacy Alumni Association's 2018 Young Alumnus of the Year, Melissa Forbes.