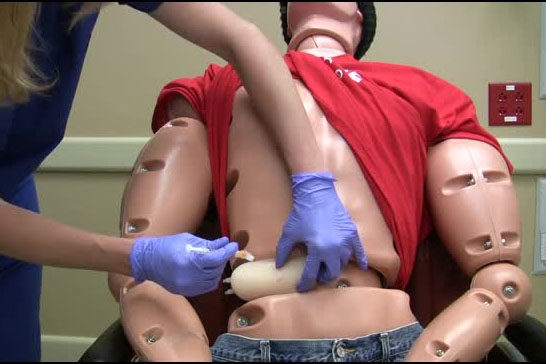 24
February
DPPD provides first training in the state after new law expands pharmacists' role
For the first time beginning last spring, patients can look to Wisconsin pharmacists to administer injectable medications such as antibiotics, allergy, anxiety and anti-psychotics, and treatment of opioids.
A recent law endowed Wisconsin pharmacists with the ability to administer non-vaccine medication injections, as long as they have already been trained in vaccine injections and complete additional trainings in the areas and administration methods of the non-vaccine medications. Before the new law, pharmacists in Wisconsin were only authorized to perform injections while instructing patients to self-administer medications.
The Pharmacy Society of Wisconsin (PSW), considering feedback from its members, initiated and helped write the bill to allow pharmacists to perform these injections, and then worked with state legislators to move it through the legislative process.
"Our ability to administer injectables helps patients who can't find anyone else to provide them." –Training Participant
"Members identified the need for it and helped PSW to craft what the bill would look like," says Sarah Sorum (PharmD '05), PSW senior vice president of professional services. "We gave birth to this law, bringing the issue of the need to better serve our patients to the offices at the capitol, and legislators gave us their support."
Training Wisconsin pharmacists
Following the new law, the UW–Madison School of Pharmacy's Division of Pharmacy Professional Development (DPPD) approached PSW about a potential collaboration, and with the role of pharmacists set to expand, decided to partner on a training program to provide pharmacists the additional required training needed to administer non-vaccine medication injections.
"These trainings were a good opportunity to bring together two strong, well-respected brands," says Erik Burns, assistant dean of Outreach and Professional Development at the UW–Madison School of Pharmacy. "Given the scale and capacity of DPPD, and Sorum's leadership at PSW, we felt that it was important to serve the state's pharmacists through collaboration." DPPD is also jointly accredited, meaning that they're qualified to provide trainings for pharmacists, doctors, and nurses through one process.
PSW held a presentation at their annual conference in April 2017 to walk pharmacists through the new legal requirements, the five "rights" of non-vaccine injections, best practices, and organizational or clinical obstacles they might encounter.
To reach more pharmacists across the state, that training was recorded and made available online through DPPD where, paired with an online assessment, pharmacists with injections training will become properly qualified to administer intramuscular and subcutaneous non-vaccine injections in Wisconsin.
"It's an opportunity for pharmacists to expand their ability to serve as a member of a health care team," says Sorum.  
Accredited online injections trainings
The initial training, "Injectable Medications (IM and SubQ Non-Vaccine)," has since been supplemented with two more specific online modules.
To address the needs of pharmacists who work in inpatient settings and in emergency and critical care situations, "Non-Vaccine Injection Medication Administration in an Inpatient Setting" provides relevant anatomy training for intramuscular, subcutaneous, intravenous, intraosseous, and intranasal drug delivery.
For specialized training on specific injectable drugs, "Long-Acting Naltrexone and Anti-Psychotic Drugs Administration" focuses on intramuscular injection techniques to deliver long-acting medications for opioid treatments, such as naltrexone, and anti-psychotics.
"We heard from our pharmacists that these are the most common injectables that they want to be able to provide," says Sorum.
The results are in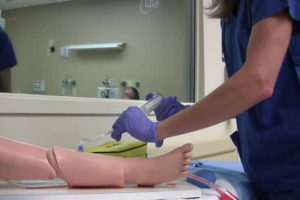 Wisconsin is only the second state in the Midwest to empower pharmacists to administer non-vaccine injections, and if enrollments are any indication, pharmacists are welcoming the expanded role with open arms. Program coordinator Eric Buxton, associate professor in DPPD at the School of Pharmacy, says more than 150 pharmacists have participated in the DPPD online trainings so far.
"I think the full impact of pharmacist-administered medication injections is still to be felt," says Sorum. "But there are certainly opportunities around the opioid epidemic, psychiatric care, convenience for patients, and in emergency situations in hospitals."
And a recent follow-up survey Buxton conducted found that 75 percent of pharmacists who have been through the courses find their new skills useful, with the majority saying they've proven extremely useful to their practice.
One respondent spoke to how pharmacists can sometimes be the only health care professional that patients have access to and the true need the trainings address: "Our ability to administer injectables helps patients who can't find anyone else to provide them."
Moving pharmacy forward
Buxton and Sorum anticipate creating more continuing education modules for specific injections and medications, as well as some administrative tasks, such as how pharmacists should bill their new services.
Current PharmD students at the UW–Madison School of Pharmacy are being brought up to speed, too. To reflect the law change, non-vaccine medication administration is now covered in the PharmD program, before students begin their clerkships.
"As pharmacy continues to evolve, DPPD—as the only jointly accredited continuing education institution in the state—will ensure professional development opportunities for every pharmacist to remain at the forefront of the field," says Buxton.
Learn more about Pharmacist Learning Opportunities by the School's Division of Pharmacy Professional Development.