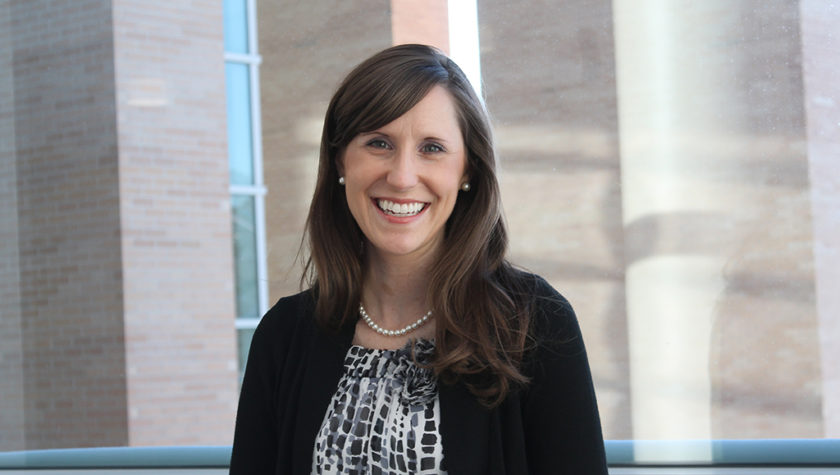 26
February
Hartkopf hopes to move pharmacy toward population health management
Embracing change and working to push the boundaries of the pharmacy field are hallmarks of Kate Hartkopf's career.
Her enterprising spirit and efforts to move pharmacy forward through leadership, community service, professional practice, and her work with student pharmacists are what earned Hartkopf (PharmD '08) the honor of being the Pharmacy Alumni Association's 2017 Young Alumnus of the Year.
"This award is extremely humbling and meaningful because I have a lot of young alumni that are close team members of mine, so to be recognized as someone that's really helping to support the pharmacy profession and that allows those team members to practice in the care roles that they've trained for is really exciting to me," says Hartkopf, pharmacy manager for ambulatory care services at UW Health.
"Being able to work with UW–Madison PharmD students drives me forward with a fresh passion." –Kate Hartkopf
Her continued commitment to the University of Wisconsin–Madison School of Pharmacy and the success of its PharmD students is tangible through her work as a preceptor, member of the Assessment Committee, and volunteering as a speaker in various lectures and presentations to student organizations. Previously, Hartkopf also served as a volunteer for patient counseling competitions and as coordinator of the UW–Madison Teaching Certificate Program.
Even beyond alumni activities, Hartkopf is advancing the practice of pharmacy by expanding the role of pharmacists in ambulatory care at UW Health.
From student to mentor
This spring will mark 10 years since Hartkopf graduated from the UW–Madison School of Pharmacy, and for that decade she has focused on closing the gaps between inpatient and outpatient care and worked to champion the impact pharmacists have even beyond medication management.
"Pharmacy is taking a continued foray into a population health management role, really looking at patient care from an equitable standpoint and also thinking about the patient's life as a whole, considering social determinants of health and what impacts we might have outside of health care," she says. "It's not only related to medication management, but also to some of the social, emotional, and community support activities that can help patients be successful regardless of condition, creed, or color."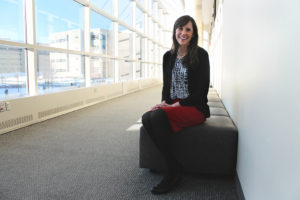 Following graduation, she completed a Postgraduate Year 1 (PGY-1) community residency with UW Health, where she stayed on as a clinical pharmacist in a community pharmacy until the fall of 2010. At that point, Hartkopf took on a supervisory role for outpatient ambulatory clinical programs and education activities. That role continued to morph into pharmacy manager for ambulatory care services.
During her career, Hartkopf has overseen team members and new program development and expansions in UW Health's primary and some specialty care clinics, such as immunization services and medication therapy management programs throughout the health system. Currently, she's implementing specific pharmacist workflows, expanding delegation protocols to perform medication management activities, and enhancing patient tracking and reporting.
"The developments are all components of continuing to embed our work into discrete and reportable items to make sure we're able to share the positive impact of our pharmacists in those care areas," says Hartkopf.
As a preceptor, the opportunity to guide student pharmacists also fuels Hartkopf's dedication to the field. "I'm often reminded of how unique and exciting my role is when I work with students," she says. "Being able to work with UW–Madison PharmD students in Introductory or Advanced Pharmacy Practice Experience clerkships drives me forward with a fresh passion."
Hartkopf also serves as the director of the clinic's PGY-2 ambulatory care residency program, which welcomes one resident each year.
"It's exciting to see the way that young pharmacist residents are coming through training and being really prepared for this role as a medication manager," she says. "And it's also very exciting for me to be recognized as someone who has been able to support our pharmacist role and expansion in that aspect."
Meeting the future
Pharmacy isn't what is used to be. The boundaries of the field are expanding beyond reactive medication management and toward preventive health care, and that's exciting to Hartkopf, especially in her ambulatory care setting where transitions of care are key.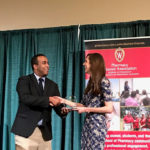 "We have a great opportunity to collaborate with inpatient colleagues to evaluate our processes during transitions of care to streamline that aspect of patient care," she says. "That's been a huge drive for me to continue to develop those aspects within this care setting."
The education and training through the UW–Madison School of Pharmacy, which builds in exposure to a variety of areas in pharmacy, helped Hartkopf find her professional path and secure trusted mentors. "It's been really helpful to have the encouragement of my mentors and to feel validated in where my passions are pulling me."
So what's next for the Young Alumnus of the Year? In a phrase, the sky is the limit.
"I'm in a role here today that I couldn't have crafted for myself 10 years ago," she says. "Health care is continuing to change, and pharmacists are getting pulled into really innovative and unique roles in management of health for populations, so I can't predict where my pathway may take me next."
See past Young Alumnus of the Year winners.