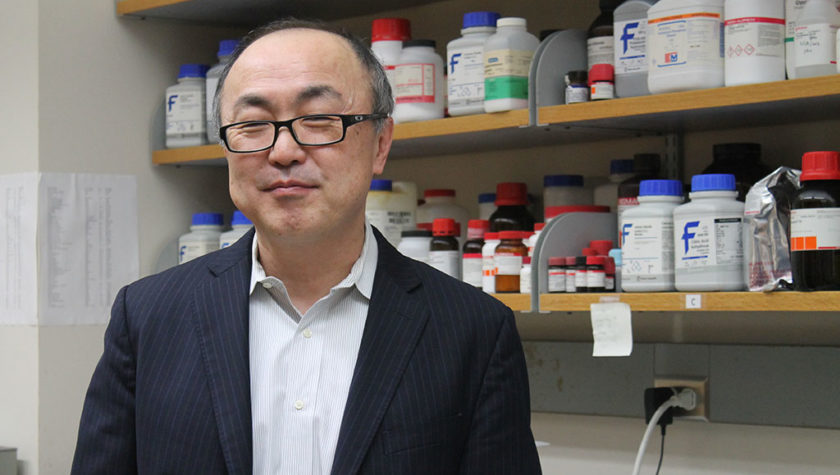 23
February
School of Pharmacy faculty entrepreneurs bring technology from the lab to the marketplace
By Katie Ginder-Vogel
It's not easy starting a new company, and it's even more demanding to be an entrepreneur while also working full time as a professor at one of the top pharmacy schools in the country. Running a startup and a research program is like running two companies at the same time.
Two professors at the UW–Madison School of Pharmacy's Pharmaceutical Sciences Division are up for the challenge of being both entrepreneurs and academic researchers:
Both companies evolved out of cancer research—Capio Biosciences focuses on cancer detection, and Co-D Therapeutics is dedicated to cancer treatment. Hong and Kwon have both had the experience of being scientific researchers who founded companies to translate their discoveries into viable products and now have experience building leadership teams and fundraising to grow their companies. They shared their insights about the challenges and benefits of being both a professor and an entrepreneur, as well as what they've learned.
"We thought this cancer detection technology had the potential to have a direct impact on human lives." –Seungpyo Hong
Bringing research from the bench to the business world
Seungpyo Hong and his co-founder Andrew Wang, an associate professor in the department of radiation oncology at the University of North Carolina-Chapel Hill, were postdocs together in Professor Robert Langer's research group at MIT. Langer has more than 1,300 issued or pending patents and has started over 30 companies. He encouraged his postdocs to start companies if they believed their research findings could make a direct impact.
"Our experience in that environment sowed entrepreneurship in our DNA," says Hong. "As an academic researcher, I think the fundamental science is really important, but at the same time, I really want to translate what I find in the lab, so we can make a difference and help people."
In 2008, Hong started his own lab at the University of Illinois at Chicago and continued to collaborate with Wang. After spending a few years working on a device to detect cancer tumor cells, Hong took his technology through preclinical studies. With good initial results, Hong and Wang decided to start a company and begin clinical studies, which also went well.
"We thought this cancer detection technology had the potential to have a direct impact on human lives and clinical significance," says Hong. "My postdoctoral experience made me think promising tech should be translated, so when I found tech with potential, it was natural to start a company right away."
From lab research to helping people
While Hong and Wang were working on promising cancer diagnostic technology, Glen Kwon and his Co-D Therapeutics co-founder, Kevin Kozak, who was an assistant professor of radiation oncology at UW–Madison until 2013, were collaborating on cancer treatment research projects funded by the Wisconsin Alumni Research Foundation (WARF), the Wisconsin Partnership Program, the Susan G. Komen organization, the National Institutes of Health, and the Mary Kay Foundation. Kozak is now director of radiation oncology at Mercy Hospital in Janesville and chief medical officer of Co-D Therapeutics.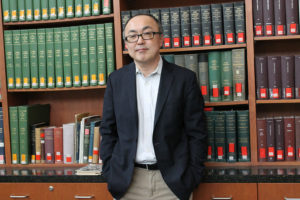 Kwon and Kozak received support from WARF's Accelerator Program for preclinical development of their three-in-one anti-cancer nanomedicine, Triolimus. WARF has issued six patents on Triolimus. In 2013, Kwon, Kozak, and Abdalla Saad, the company's president and CEO, founded Co-D Therapeutics.
Triolimus consists of the well-known anti-cancer agent paclitaxel, which is frequently used in chemotherapy, and two other drugs that enhance paclitaxel's effectiveness and make it less drug-resistant, without adding to its toxicity.
"We can deliver all three anti-cancer agents together as a single drug, and we have preclinical data indicating that it's a synergistic combination," says Kwon.
In 2015, the company received orphan drug designation for Triolimus, to develop their treatment for angiosarcoma, a rare cancer that arises in blood vessels. In addition to protecting their intellectual property, the orphan designation may accelerate the FDA approval process, potentially allowing Co-D to gain approval following their Phase 2 clinical trials, as well as seven years of market exclusivity, following approval. Initially self-funded, the company is now pursuing venture capital funding and collaboration, partnership, and co-development opportunities with pharmaceutical companies.
"There's a lot of emphasis in Madison on startup activity, so there are people to talk to, and WARF has been very helpful," says Kwon. "However, raising money in Madison, particularly for therapeutics, is difficult."
"There's a lot of emphasis in Madison on startup activity, so there are people to talk to, and WARF has been very helpful." –Glen Kwon
Fundraising and developing collaborations to grow a company
Capio Biosciences is slightly further along in its fundraising: The company raised $2.9 million as part of its $4.5 million Series A round of funding in 2016, expanded its leadership team, entered the clinical studies phase, and began working with a bioengineering company in the San Francisco Bay Area to develop a commercial-level prototype. The company hopes to raise a Series B round in the middle of this year and is hosting a booth to show their prototype at this year's AACR (American Association for Cancer Research) meeting in Chicago.
"Liquid biopsy is a big field now, and market research shows the market could go up to about $10 billion in a couple of years," says Hong. "If our product works, it will help patients and will minimize the need to get direct tissues or cells in biopsy and PET/CT scans, which are more expensive and painful."
Hong describes CTCs as highly promising biomarkers that give information about disease progress. By collecting and analyzing CTCs, researchers can see if they have characteristics from individual patients and apply treatments to specific patients, resulting in more personalized medicine.
"Our overall goal as a company right now is developing a solid technology that can detect CTCs and use CTCs as a biomarker from blood," says Hong.
Hong and Wang just moved Capio Biosciences from Chicago to Madison. The company's tech headquarters and lab are based at University Research Park, the UW–Madison affiliate startup hub, and the company's business headquarters are in North Carolina, where Wang, the chief business officer, and the finance manager are based, as well as a joint venture located in Huangzhou, China.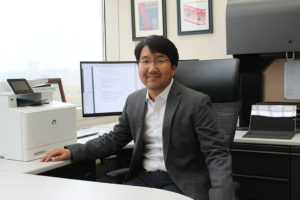 UW–Madison as an engine of growth
Hong says his company values its collaboration with UW–Madison. Capio Biosciences has a research service agreement (RSA) that will help further the development and commercialization of CTC detection devices. Half of Hong's research group still works on very fundamental science—how nano-sized materials and biological substances work.
"That work will move the field forward and contribute to eventual translation of those technologies, as well, just not anytime soon," says Hong. "The other half of my lab is working on translational science—engineering-focused, trying to make technology better, for better results. We try to balance fundamental science and translational science and research."
Universities typically support faculty entrepreneurs, since part of a university's role is to develop and translate technology, in order to improve lives directly and support economic development in the state. UW–Madison's Discovery to Product initiative seeks to do that even more efficiently.
"The university is very generous about protecting time for faculty to do entrepreneurial activities, as long as we report them," explains Hong. "I try to carve out a half-day each week for company-related matters."
Learning about business
Faculty members have to get grants to fund their research. The government or a foundation will decide whether to fund certain types of research, and faculty peers decide whether the research is qualified for publication. Fundraising for a company is different; it requires convincing potential investors of a potential return on their investment.
"As a researcher, I'm learning a lot about business," says Hong. "For the company to survive, we have to not only develop technology—the most important thing—but we also have to raise funds. Having firsthand experience starting a company, developing technology at the commercial level, and raising funds is really different than what you imagine as an academic."
Hong used to assume that good science and good tech would translate itself, but he says he's learned that can only happen with a strong, capable team.
"You have to have a group of people help you move the tech into the clinic, and that's not as simple as I thought," Hong says. "In that aspect, I've learned a lot and realized how important the team is. At the end of the day, it's most important that we recruit very good people and form a team capable of achieving things and moving things forward, and then we can actually make it happen."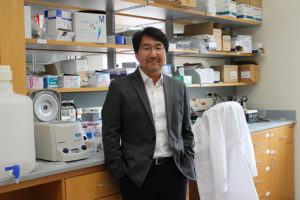 Capio Biosciences has carefully built out their leadership team. Chief Business Officer Steven Miller has extensive experience in the CTC field and a long history of commercializing products, including CellSearch, the first and only FDA-cleared CTC detection system. One of Hong's postdocs, Michael Poellman, is the senior scientist, spending 50 percent of his time at the company and 50 percent in Hong's research lab. The interim CEO is a radiation oncologist, familiar with what doctors need to help patients.
The company plans to begin Series B fundraising soon, at which point, they plan to hire a full-time CEO and possibly a full-time chief technology officer. They are putting together their Scientific Advisory Board, which will include Robert Langer, Daniel George of Duke University, and Pasi Janne of Harvard University.
"We're still early-stage, saving resources on HR and focusing on technical development," says Hong. "I can't wait until we reach the next level, so I can scale back my efforts a bit. If we successfully raise Series B funding, the company will be on a stable orbital and can move forward from that."
Kwon agrees that the key is to believe in your product and to make sure you have a strong leadership team and board. Co-D Therapeutics' board of directors includes Paul Radspinner, the CEO of FluGen; Alex Kim of LSK BioPharma, which has an anti-cancer agent in Phase 3; and J. Patrick Glenn, the CEO of Archeus Technologies.  
"If you're passionate about what you're doing, you just go for it," Kwon says. "When you start moving into fundraising and term sheets, it's a different language."
"I can see my technology being translated to ultimately help people, and that makes me excited. It's the reason I exist." –Seungpyo Hong
Becoming a better researcher
Kwon says running a scientific company has helped him be a better researcher in his lab in terms of increasing his awareness of drug development obstacles.
"That was eye opening, being a bench scientist," he says. "It's changed me, in that I do want to see our stuff in clinical trials and tested in human beings now, as opposed to doing endless mouse trials."
Being a faculty entrepreneur is challenging and time-consuming, but in the fields of cancer diagnostics and treatment, inventions that get translated into marketable products can save lives, and that's what drives both Hong and Kwon.
"I can see my technology being translated to ultimately help people, and that makes me excited," Hong says. "It's the reason I exist. If we can help even one patient with the technology we develop in the lab, that one patient helps many more in the future, and helping patients is the most rewarding experience I can possibly have. That keeps me going."
Kwon says he reminds himself to stay focused on his ultimate goal, testing Triolimus in patients whose lives it might truly change. That makes it easier to put the energy into his company.
"You just have to have an open mind, go with it, and make the best decisions you can along the way," he says. "It's worth it."
Learn more about their research in the Kwon Lab and the Hong Research Group at the School of Pharmacy.