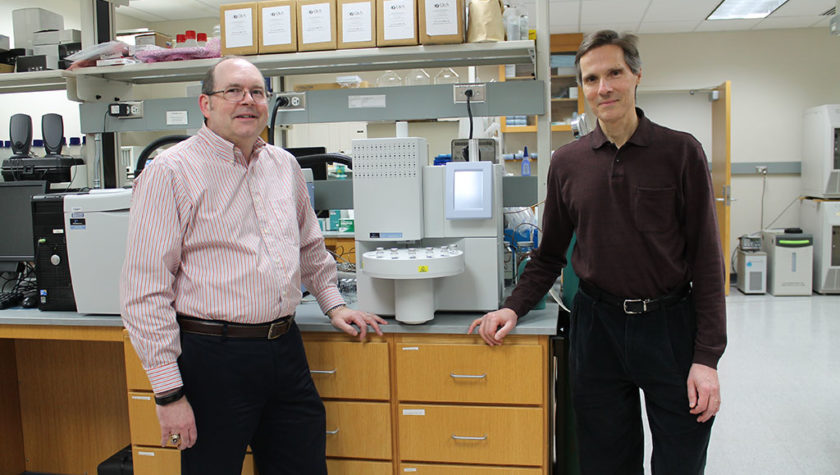 27
March
By Kara Rogers
When scientists at the Zeeh Pharmaceutical Experiment Station at the University of Wisconsin–Madison School of Pharmacy were asked by a local pharmacist if they could help formulate a remedy for the treatment of nosebleeds, they knew they could help. Working with a blend of natural ingredients, they came up with a formulation for a fast-acting topical gel that could be easily applied to the nose. The gel, sold as DRXNoze, can stop nosebleeds in one minute and is the signature product of ByzMed LLC, a pharmacy business based in Cottage Grove, Wisconsin.
The DRXNoze project embodies the mission of the Zeeh Pharmaceutical Experiment Station: to support drug development. "We want to help researchers advance to their next milestone, no matter how small or large that next step is," explains Ed Elder, director of the Zeeh Station.
"We want to help researchers advance to their next milestone, no matter how small or large that next step is." –Ed Elder
Projects big and small
At UW–Madison—and in the city of Madison at large—the Zeeh Station is the only laboratory flexible enough to take on drug development projects of any size, including small-scale projects that other businesses typically turn down because of unfavorable cost margins. "Researchers on- and off-campus request support from us for a range of projects, some involving just single tests that take a day or two and others that are long-term drug development projects, lasting a year or more," Elder explains. An endowment and fee-based service allows the Zeeh Station to absorb costs for all projects.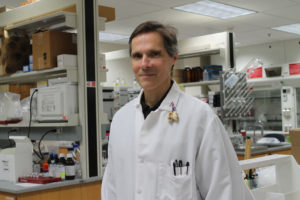 The Zeeh Station offers a variety of services, including pre-formulation physical and chemical drug characterization, analysis and stability assessment, and formulation development for biologic agents, lipid-based compounds, and nanoparticle materials.
Scientists at the Zeeh Station can measure physicochemical properties, such as drug solubility and chemical stability, and they can measure solid crystal form and solid-state properties, such as melting point, that are critical in assessing the formulation strategy for a drug.
"Based on physicochemical properties, we develop formulations that provide the best route of delivery and provide the best pharmacokinetic profile of a drug," says Mark Sacchetti, scientific director of the Zeeh Station. "We develop standard oral dosage form formulations, such as tablets and capsules, liquid formulations for parenteral delivery, and semi-solid formulations for topical delivery."
A unique skill set
The Zeeh Station is operated by a distinguished group of personnel. Elder and Sacchetti provide shared leadership, while Karen Jones serves as lab manager, and the Station's research specialists are John Walton and Nay Win. Prior to joining the Zeeh Station team, most of the scientists had spent more than a decade working in industry. Both Elder and Sacchetti had worked for the pharmaceutical giant GlaxoSmithKline. Sacchetti had also worked at the biotech company Genentech, while Elder gained additional experience with Dow Chemical, developing methods of drug delivery. Jones likewise had worked at Eli Lilly, and Walton had worked for a pharmaceutical contract research organization.
"The skill set that our scientists have and that we are able to pass along is very difficult to find nowadays." –Mark Sacchetti
The team's industrial experience is important for two reasons. First, the experience is needed to work with clients to progress their compounds as effectively as possible. "Second, we transmit this experience to students in our teaching responsibilities, which enhances their knowledge of drug development," Sacchetti says. "In particular, graduate students who get to work in the Station lab gain practical industrial experience that makes them more competitive when applying for jobs. The skill set that our scientists have and that we are able to pass along is very difficult to find nowadays."
Teaching the next generation of pharmacists
Elder and Sacchetti are eager to pass their knowledge and expertise to student pharmacists and pharmaceutical researchers and to help students gain industry-type experience. "Thanks to our donors, we can support internships for UW graduate students who are interested in formulation development, and we are able to offer short-courses related to specific areas of drug development," Elder says.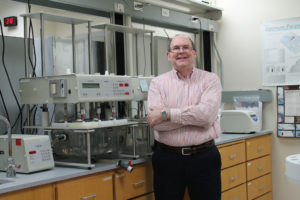 Short courses are available for both students and industry scientists. For scientists working in industry, the Zeeh Station also offers consulting services, with Zeeh scientists serving as an educational resource. Through short courses and consulting, scientists who work at drug companies learn how to accelerate the translational development of new drugs and learn how to solve complex physical and chemical challenges. The Zeeh team also maintains facilities for hands-on research and teaching opportunities and sponsors continuing industrial education programs.
Those efforts are part of a long history of pharmacy education at UW–Madison that began with the opening of the School of Pharmacy in 1883. It was not long after then that the idea for a pharmaceutical experiment station emerged. In 1913 that idea became reality when a Wisconsin state statute was put in place to allow the development of an official Pharmaceutical Experiment Station on the UW–Madison campus. The state statute remained despite the closure of the original station during the Great Depression.
At the start of the 21st century, the School of Pharmacy took advantage of the statute and had a new pharmaceutical experiment station created at the initiative of pharmacy professors emeritus and former deans Kenneth A. Connors, Melvin H. Weinswig, and George D. Zografi. The Station was named for one of its generous donors, Lenor Blahna Zeeh, a UW–Madison School of Pharmacy graduate ('36) and former vice president of Rennebohm Drug Stores in Madison.
"The Zeeh Pharmaceutical Experiment Station has been a most valuable resource." –Joe D'Silva, CEO of P&C Pharma
Successful collaborations
Since the Zeeh Station's opening in 2003, the dedication of its scientists to projects large and small has helped take drug development at UW–Madison to new heights. Zeeh Station scientists have completed more than 550 projects, of which more than 60 were collaborations with on-campus researchers from the School of Pharmacy, the School of Medicine and Public Health, Chemistry, Veterinary Medicine, Behavioral Psychology, and the UW Hospitals and Clinics.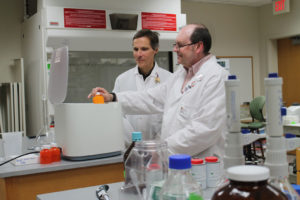 For off-campus collaborations, Zeeh scientists have worked with companies of all sizes and types, including large pharma, biotech, regulatory agencies, and standards-setting organizations. The Zeeh Station's clients have come from Madison, from the Midwest biotech corridor, from the east and west coasts of the United States, and from Europe.
"The Zeeh Pharmaceutical Experiment Station has been a most valuable resource to P&C Pharma," says Joe D'Silva, founder and CEO of Patients' & Consumers' Pharma in Dayton, Ohio. "The team at Zeeh has provided excellent service in the development of our compounding formulary, MaestroRx®. The service has been technically superb, and the Zeeh Station team has been most accommodative in our interactions. As a start-up entrepreneurial company, such service has been invaluable to us."
The Zeeh Station has also contributed to advances in pharmacy education. "We have taught 40 Applied Drug Development short course sessions over 14 years, educating over 640 industrial scientists and managers," Elder says. "We also enhanced the research educational experience for approximately 10 graduate students through project assistantships in the Station."
Those achievements are a testament to the dedication and to the deep skill set of the Zeeh Station team. "We provide a wide range of capabilities and services for our clients," Elder adds. "Not many drug development enterprises, on or off university campuses, can say the same."
Learn more about the School's Zeeh Pharmaceutical Experiment Station and working with them.