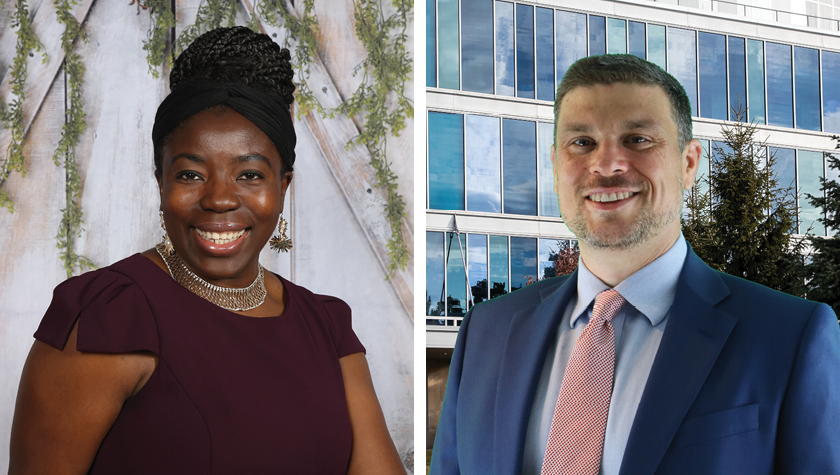 10
December
Adeola Coker (PhD '98) and Fred Doloresco (MS '08) are the latest School of Pharmacy alumni chosen for the AACP's prestigious Academic Leadership Fellowship 
By Katie Ginder-Vogel
Each year, a select group of rising leaders in pharmacy education embark on a yearlong journey to discover their leadership styles, explore historical context, and strengthen their skills as effective team members and leaders in higher education.
This program, the Academic Leadership Fellows Program (ALFP) hosted by the American Association of Colleges of Pharmacy (AACP), is now in its 18th year and has trained hundreds of scholars to light the way forward in pharmacy education, including alumni and faculty of the University of Wisconsin–Madison School of Pharmacy.
The latest Pharmacy Badgers to be selected for the ALFP's 2021 cohort are Adeola Coker (PhD '98), professor at the University of the Incarnate Word Feik School of Pharmacy, and Fred Doloresco (MS '08), clinical associate professor and research assistant professor in the Department of Pharmacy Practice at the University of Buffalo College of Pharmacy. 
Through four in-person sessions, Coker, Doloresco, and 28 other rising leaders will receive mentoring from a local dean and delve into leadership theory; change management; relationship management; diversity, equity, and inclusion in higher education; and well-being.
"I take what I learned in ALFP and give students information and guidance that I hope goes a long way. I hope I'm a role model for students and show them what it means to be a professional and leader in pharmacy."
—Andrea Porter
"We had our first meeting in September, and it was energizing, eye-opening, and interesting," says Coker. "I'm glad I'm in the program and excited to see what I'm going to learn." 
From helping them develop connections to long-lasting mentor relationships, the School's former ALFP participants — three alumni and two faculty — say the prestigious program strengthened the leadership skills they built at the School to elevate their careers and influence the education of thousands of student pharmacists nationwide.
2021 rising leaders
A graduate of the School's Pharmaceutical Sciences PhD program, Coker began her career as a protein formulation scientist at the pharmaceutical company Schering-Plough, then spent six years at Human Genome Sciences, working on monoclonal antibody drug candidates, before deciding to go into academia and teach pharmaceutics.
"I was able to work in industry and see the drug development process first-hand and be part of a team that helped bring a drug to the market," she says. "I share some of those fun stories with my students, and I'm happy about that aspect of my career."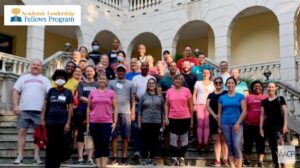 Now, Coker teaches a diverse group of students who will go on to make the pharmacy profession more diverse.
"Incarnate Word is a Hispanic-serving institution, so it's a great opportunity to serve a population you don't necessarily see everywhere in pharmacy," Coker says. "For years, I was in classes, at my job, and at meetings, where I was the only person that looked like me, so there's always a desire to change that. Being an agent of change — helping enhance the diversity of our graduates — feels awesome."
Coker's research utilizes Design of Experiments (DoE) in protein conformational analysis, formulation development, and characterization, and she is also interested in developing high-throughput techniques for protein formulation.
Another alumnus chosen as a 2021 Academic Leadership fellow is Fred Doloresco (MS '08), clinical associate professor and director of Assessment at the University at Buffalo School of Pharmacy and Pharmaceutical Sciences, where he was honored as the 2019 Faculty Preceptor of the Year. He currently serves as chair of the school's Curriculum Committee and Student and Academic Affairs Committee and was the founding advisor for the Buffalo chapter of the Student College of Clinical Pharmacy.
"For years, I was in classes, at my job, and at meetings, where I was the only person that looked like me, so there's always a desire to change that. Being an agent of change — helping enhance the diversity of our graduates — feels awesome."
—Adeola Coker
Doloresco's research includes pharmacoeconomics, outcomes, and health services, particularly on the cost-effectiveness of clinical pharmacy services, and has published multiple research articles in the American Journal of Pharmaceutical Education about improving pharmacy students' interprofessional education, residency preparation, and patient assessment skills.
After attending the first ALFP meeting in September, Coker was energized.
"Now that I've been to a meeting and seen what is in store, I'm really excited," she says. "I left with seven books. There's going to be a lot of reading and learning from other people about how they're dealing with leadership challenges."
Foundation in leadership
Before Coker and Doloresco, three other School of Pharmacy alumni completed the fellowship and have gone on to shape the education of student pharmacists around the country as academic pharmacy leaders: Joel Farley (BS '97), professor and associate head of the Department of Pharmaceutical Care and Health Systems at the University of Minnesota College of Pharmacy; Richard Hansen (BS '97), dean of the Harrison School of Pharmacy at Auburn University; and Bupendra Shah (PhD '06), assistant dean of assessment at the Touro College of Pharmacy.
"AFLP allows you to get a sense of what other leaders do and encourages you to reflect on your own strengths and weaknesses," says Shah, who completed the fellowship in 2019. "It's been very helpful to me."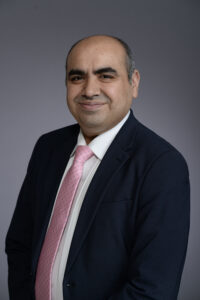 Shah oversees college accreditation and assessment at the Touro College of Pharmacy, a role that relies heavily on data and professional relationships to navigate contentious issues around changes to the curriculum or hurdles to student success. He says he draws from both his School of Pharmacy experience and his AFLP experience in his role. 
"My academic education and background, coming from the School's Social and Administrative Sciences in Pharmacy program, with courses in psychology, sociology and communications, helps me relate to people," he says. "Heartfelt conversations that acknowledge the challenges we face and come up with solutions are important in any administrator's role. You can't fake honesty or collaboration; you have to have them as part of your toolkit."
As a student at the School of Pharmacy, Shah worked closely with Professor Betty Chewning and Professor Emeritus Dave Kreling, who was the chair of the Social and Administrative Sciences Division at the time.
"They are what made my UW–Madison time really memorable, and I've imbibed the values shared in that program," Shah says. "The faculty showed me what leadership means: expertise and humanity. I think back to what these people stood for, how they expressed themselves, and what they showcased on a regular basis — the consistency of their words, actions, and considerations."
Shah adds that as a leader, he relies on the theory-based academic perspective emphasized in the School of Pharmacy and reinforced in the ALFP to develop interventions and needs assessments.
"Every day, I bring up a theory in my conversations about trying to address problems in the work that I do," says Shah. "I owe my conceptual/theoretical background to UW–Madison. I felt we had a really honest and value-based education, and I'm proud to be a Badger."
Value of mentorship
Richard Hansen has been dean of pharmacy at Auburn University for almost five years and went through ALFP in 2010, right after he accepted a department head position at Auburn. 
"ALFP started the first day of my job," he says. "I was moving in and going through the program at the same time. It was really valuable, primarily because everything I was learning, I was putting into practice at the same time: handling problems, troubleshooting, and mentoring faculty." 
Hansen says the most valuable outcome of ALFP was the network of colleagues he developed at varying levels of progression in administration.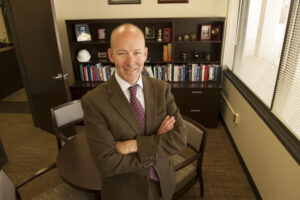 "I reached out to my dean mentor multiple times to get advice and say, 'I'm dealing with this; what would you recommend?' The group was a great sounding board, and we have stayed in touch over the years and continue to help each other," he says.
Now as a dean himself, he's serving ALFP on the other side of the mentor-mentee relationship and has so far mentored three fellows through the program.
"Those I've mentored have provided the same feedback as I did, that you learn a lot, and the most important part is developing a network of colleagues you can troubleshoot with," he says. "Many different disciplines and career trajectories are represented in the program."
Hansen says he learned in ALFP to create a culture of trust, and he's used that with his administrative team to lead organizational change and set a vision.
"I also remember discussing 'leading up,' and part of that is proactively working with upper administration to help drive the agenda, as opposed to being reactive," he says. "That has worked really well in terms of how we bring on new people and set an expectation of empowering your leadership team."
Applying ALFP at the School of Pharmacy
At the School of Pharmacy, two faculty members — Pharmacy Practice Division Professor Mary Hayney and Associate Professor Andrea Porter (PharmD '06) — are also alumni of the ALFP and use their sharpened skills to enhance the student experience.
"I'm always looking for opportunities to learn something new and grow professionally," says Hayney, who was mentored by the School of Pharmacy's former Dean Jeanette Roberts. "Academia needs leaders, and I learned how to think big picture and define my vision for my career."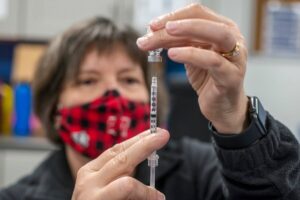 She has leveraged the leadership training not only in the operation of her lab and in her teaching, but also in her work organizing outreach initiatives — such as COVID-19 vaccine clinics — serving on committees, mentoring students, and helping to launch the new PharmD options focused on research and antimicrobial stewardship.
"The School has provided fertile ground for collaboration with some of the brightest minds in the world and teamwork in committees, teaching, and, of course, research," Hayney says. "We're always looking for what's best for students, the School, the university, and society. That's the Wisconsin Idea."
Hayney sits on the School of Pharmacy's Academic Planning Council, alongside Porter, who is also director of the School's pharmacotherapy labs and chair of the scholarships committee. Porter says the fellowship program prepared her for those myriad roles.
"The program has a broad focus on leadership in higher education and allows for thinking about leadership and your leadership style," Porter says. By getting to know yourself as a leader, she says, you can more effectively apply yourself to problem-solving and developing innovative programs.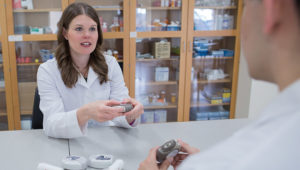 Porter, who was mentored by School of Pharmacy Dean Steve Swanson, appreciates the access the ALFP provided to national and international leaders in pharmacy education, as well as academic resources on campus.
"It was a great way to open some doors to discussions and meetings with others on campus," she says. "The program has different facets, but it's built to provide institutional and campus knowledge and broader leadership, with an education focus." 
As the faculty advisor for the Wisconsin Society of Pharmacy Students and a mentor in the School's PharmD leadership program, Porter aims to prepare students to be future pharmacy leaders. 
"I take what I learned in ALFP and give students information and guidance that I hope goes a long way," she says. "I hope I'm a role model for students and show them what it means to be a professional and leader in pharmacy."