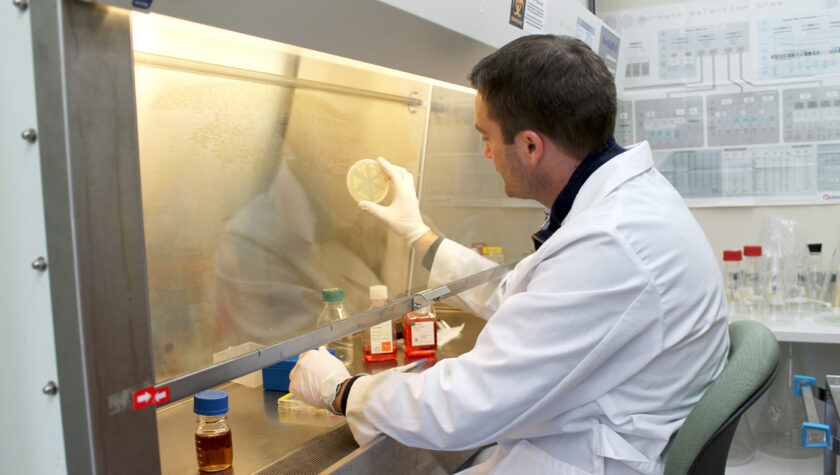 5
December
The new Path of Distinction equips student pharmacists to optimize antibiotic use to reduce resistance
By Mary Magnuson
Alongside issues like climate change, air pollution, and HIV, the World Health Organization named antibiotic resistance one of the top 10 threats to global health in 2019. According to the U.S. Centers for Disease Control and Prevention (CDC), there are nearly 3 million antibiotic-resistant infections in the U.S. each year, claiming more than 35,000 lives.
These numbers predate the ongoing COVID-19 pandemic, which holds the potential to exacerbate the issue of resistance as hospitals reach capacity, patients receive precautionary antibiotics to reduce the chances of infection, and more patients are treated — and potentially prescribed inappropriate antibiotics — via telehealth.
"Antimicrobials are one of the most commonly prescribed drug classes in any setting," says Warren Rose, associate professor in the University of Wisconsin–Madison School of Pharmacy's Pharmacy Practice Division. "The more they are used, the less valuable they become."
As Rose and his colleagues from the School of Pharmacy look toward the future of health care, they see a pressing opportunity for pharmacists to use their expertise: leading antimicrobial stewardship.
"Pharmacists with antimicrobial skills developed during their PharmD education can impact patient care regardless of the setting or specialty."
—Warren Rose
"Pharmacists are very data-driven, and the management of infectious diseases requires the collection and interpretation of data," says Steven Ebert (BS '79), clinical professor at the School of Pharmacy and Meriter Hospital's infectious diseases and clinical pharmacy supervisor. "In many cases, it requires data or information that is not readily interpreted by many providers, which provides a unique role for pharmacists. If you look at the makeup of antibiotic stewardship teams, pharmacists are one of the cornerstones of that team."
Starting in the Fall 2020 semester, the School of Pharmacy is offering a new Antimicrobial Stewardship Path of Distinction (AMS-PoD). The new path joins a growing list of ways for students in the School's Doctor of Pharmacy program to customize their education and accelerate their career through specialized coursework in research, leadership, operations and technology management, rural health, and other areas.
"I'm looking forward to taking what I've learned in the Antimicrobial Stewardship Path of Distinction and apply it to my future practice sites to help patients and slow the progression of antibiotic resistance," says third-year PharmD student Logan Erdmann.
Development of the program
The effort to get the new Path of Distinction off the ground brought together faculty and staff from the across the School, including Rose, Professor Mary Hayney, and Associate Professor Susie Barnett (PharmD '04) of the Pharmacy Practice Division, and Professor Tim Bugni — who recently published the new antifungal turbinmicin — and Professor and Vice Dean Mel de Villiers of the Pharmaceutical Sciences Division. The team also pulled in Ebert, due to his longstanding relationship with the School and decades of experience in the field.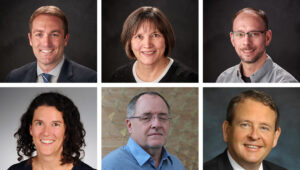 "Antimicrobial stewardship programs, with pharmacist leadership, are recommended by the CDC for all healthcare systems," says Rose, an expert in infectious diseases. The CDC has also identified that nursing home and outpatient settings require stewardship to meet the challenge of preventing further resistance.
"These are areas of tremendous growth for pharmacists to have big and novel impacts," says Rose. "The AMS-PoD provides students with tools to develop AMS initiatives in those settings."  
Additionally, the Joint Commission, which accredits health care organizations, specifically requires antimicrobial stewardship programs, says Ebert.
"What that means is that it is important for some pharmacist(s) working in a hospital to have some type of antibiotic stewardship program in their department," he says. "It's mandatory, and that creates demand for training."
The School's Antimicrobial Stewardship Path of Distinction is designed to meet that demand. PharmD students in the AMS-PoD complete three courses on comprehensive immunization delivery, advanced pharmacology, and advanced pharmacotherapy.
"Pharmacists are needed to make rational decisions regarding the use of antimicrobials by combating mis-information among healthcare providers and patients," says Professor Mary Hayney, who leads the immunization course. "Immunization is an important tool as they prevent some infectious diseases, and their widespread use has decreased the incidence of antimicrobial resistance."
Students also take an antimicrobial stewardship seminar class — newly created for the Path of Distinction, featuring lectures on a breadth of relevant topics from experts throughout Wisconsin— and up to three related elective credits. To apply what they've learned in real practice, students cap the experience by participating in an Advanced Pharmacy Practice Experience (APPE), a six-week rotation in their fourth year, specifically in infectious disease.
"This Path of Distinction was created to provide PharmD students with unique training on the subject of infectious diseases and antimicrobial stewardship," says Nate McClain, Scholars in Pharmacy program administrator. "The AMS-PoD will provide students with core fundamentals to improve antimicrobial use and enhance opportunities for a career in antimicrobial stewardship pharmacy."
The launch of the new path has been met with great interest from students, says McClain. Of those who applied, a dozen — including Erdmann — were accepted and have begun their first courses.
Future health stewards
When Erdmann looks toward his future career, he can picture himself leading an antimicrobial stewardship program at a hospital or clinic one day, perhaps in a rural environment — his second passion is increasing access to health care in rural areas. He's excited for the opportunity to delve into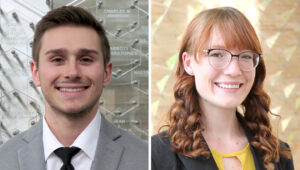 "There is an increasing need for infectious disease pharmacists, and I'm excited about getting involved because of how the field is constantly changing and challenging the healthcare system," says Erdmann. "The School of Pharmacy has some great professors who have done a lot of research in this area, so it's a great place to be if you want to get into this field."
Stacy Soltis, another third-year PharmD student in the AMS-PoD, hopes to use the training in a different environment: community pharmacy practice.
"I work in a community pharmacy right now, so day in and day out we're dispensing antibiotics and not truly knowing what they're for," Soltis says. "I see these drugs being dispensed and I think that, as community pharmacists, we could and should play a bigger role in ensuring prescriptions are appropriate and necessary to reduce the development of antibiotic resistance."
Rose expects that student pharmacists graduating with this skillset will thrive regardless of where they practice.
"Pharmacists and pharmacy students are detail-oriented, drug therapy experts, and healthcare team focused — all of which are important characteristics in antimicrobial stewards," he says. "Pharmacists with antimicrobial skills developed during their PharmD education can impact patient care regardless of the setting or specialty."