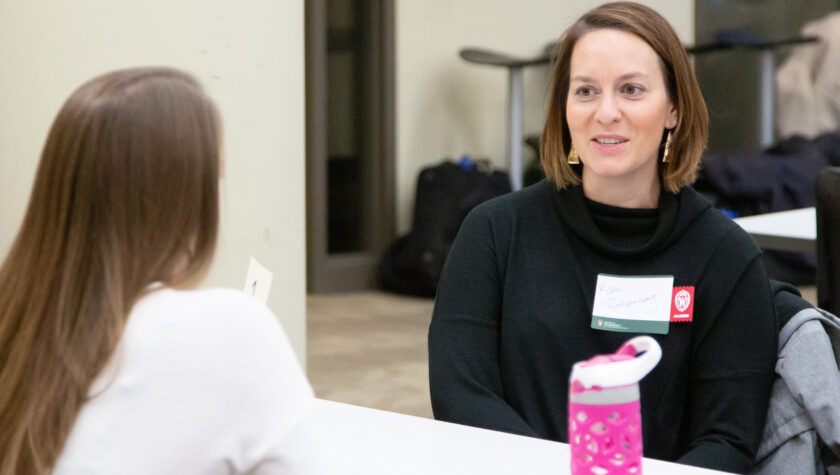 7
February
Rotzenberg becomes the tenth Teaching Academy Fellow at the School of Pharmacy, continuing a tradition of teaching excellence in pharmacy education
By Katie Ginder-Vogel
Kate Rotzenberg (PharmD '07), a faculty associate in the Social and Administrative Sciences Division of the UW–Madison School of Pharmacy, has been honored as a 2020 Fellow of the University of Wisconsin–Madison Teaching Academy, joining nine of her colleagues in the Pharmacy Practice Division:
Founded in 1993, the UW–Madison Teaching Academy is a community of faculty, staff, and graduate students that supports and recognizes teaching and learning excellence. The organization is guided by member volunteers who serve on an Executive Committee, including Associate Professor Casey Gallimore, a 2014 Fellow.
"Kate is an excellent teacher and very deserving of being inducted as a Fellow of the Teaching Academy," says Gallimore. "It signifies recognition of one's teaching excellence by one's peers. These are peers who themselves are passionate about teaching and committed to advancing teaching and learning on campus." 
UW–Madison educators with at least three years of teaching experience may be nominated for consideration to the Teaching Academy, in recognition of demonstrated teaching excellence and service, or leadership in education. Nominees willing to be active participants in Teaching Academy events and governance can submit an application.

Recognition for commitment to teaching excellence
"When an individual is nominated as a Fellow, their nomination is first reviewed by a sub-committee of the Teaching Academy's Executive Committee and then voted on by the entire Executive Committee," explains Gallimore. "Individuals are inducted as Fellows if they have demonstrated teaching excellence and substantial service or leadership in education at UW–Madison."
Rotzenberg's application documented her growth as an educator, her ongoing commitment to teaching excellence, and her dedication to promote learning in the classroom, as well as specific examples detailing how she intends to support the mission of the Teaching Academy as a Fellow. She also included objective data to complement her application narrative. 
"I added my AEFIS [Assessment, Evaluation, Feedback, & Intervention System] course evaluation teaching quality scores from spring semester, at the beginning of the pandemic," Rotzenberg says. "Surprisingly, these were the best scores to date, despite all the additional stressors, and I'm glad that students still felt supported."
Rotzenberg says she hopes the Academy saw her dedication to best practices in teaching and to appreciating students' perspectives in her classes. "I strive to continually educate myself and bring that into the classroom," she says. "Empathy for students' experiences is really important."
Rotzenberg has proactively worked to improve her teaching skills by participating in the Blend@UW course design program, the Discussion Project discussion facilitation program, the Blended Learning Fellowship on Active Learning, the Preparing to Teach Online bootcamp, and the TeachOnline@UW series. She regularly synthesizes and shares material from those programs with other Pharmacy Practice Division (PPD) faculty and graduate students, to more broadly disseminate the best practices she has learned. 
"I've been so honored by all the support, resources, and mentoring I've gotten from so many people within the School of Pharmacy and across campus," she says. "I want to share that back with others and get people excited about the joys and rewards of teaching."
Professor Beth Martin, Assistant Dean for Assessment, Teaching and Learning at the School of Pharmacy and a 2009 Fellow, has served on the Executive Committee and other teaching excellence teams at UW–Madison. 
"Many of the rewards we have in academia are about research, and there are very limited awards for teaching, except the individual, intrinsic motivation we all have," says Martin. "This honor recognizes someone's ongoing commitment to excellence in the classroom."
Sharing knowledge across disciplines
In non-pandemic times, the Teaching Academy holds retreats twice a year that bring instructors from across campus together.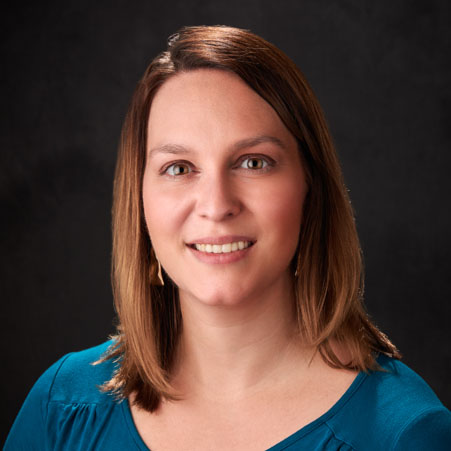 "We can all improve each other's practice by sharing our own ideas," says Rotzenberg. "We learn so much from each other. When it's the right time, those ideas will bubble up, and you can use them for your students' benefit."
The Academy also supports smaller-scale active teaching labs on more focused topics through UW DoIT Academic Technology. Associate Professor Andrea Porter has taught one on rubrics and another on peer-to-peer learning.
"That's an example of the School of Pharmacy leading the way, teaching instructors how to make sure they're consistent and objective in evaluating students, and how to automate that," says Rotzenberg, who has implemented what she learned from Porter's workshop in her classes and taught other instructors how to use rubrics, to pass along the knowledge. "Rubrics provide expectations, assessment, and explanation. They help clarify what you want students to get out of an assignment, and in the act of creating that rubric, the instructor reflects on those goals for students." 
The School of Pharmacy's leadership in teaching excellence 
Current School of Pharmacy faculty who are Teaching Academy Fellows echo Rotzenberg's sentiments about the School's leadership in innovative, high-quality teaching methods. 
"I'm proud of the School of Pharmacy's commitment to quality teaching and learning and educational innovation, as well as the School's approach to continuous quality improvement in instruction," says Gallimore. "As an instructor, the educational resources and teaching expertise we have within the School of Pharmacy are invaluable. That was made even more clear when the way in which we teach had to be so quickly and drastically adapted in response to the COVID-19 pandemic."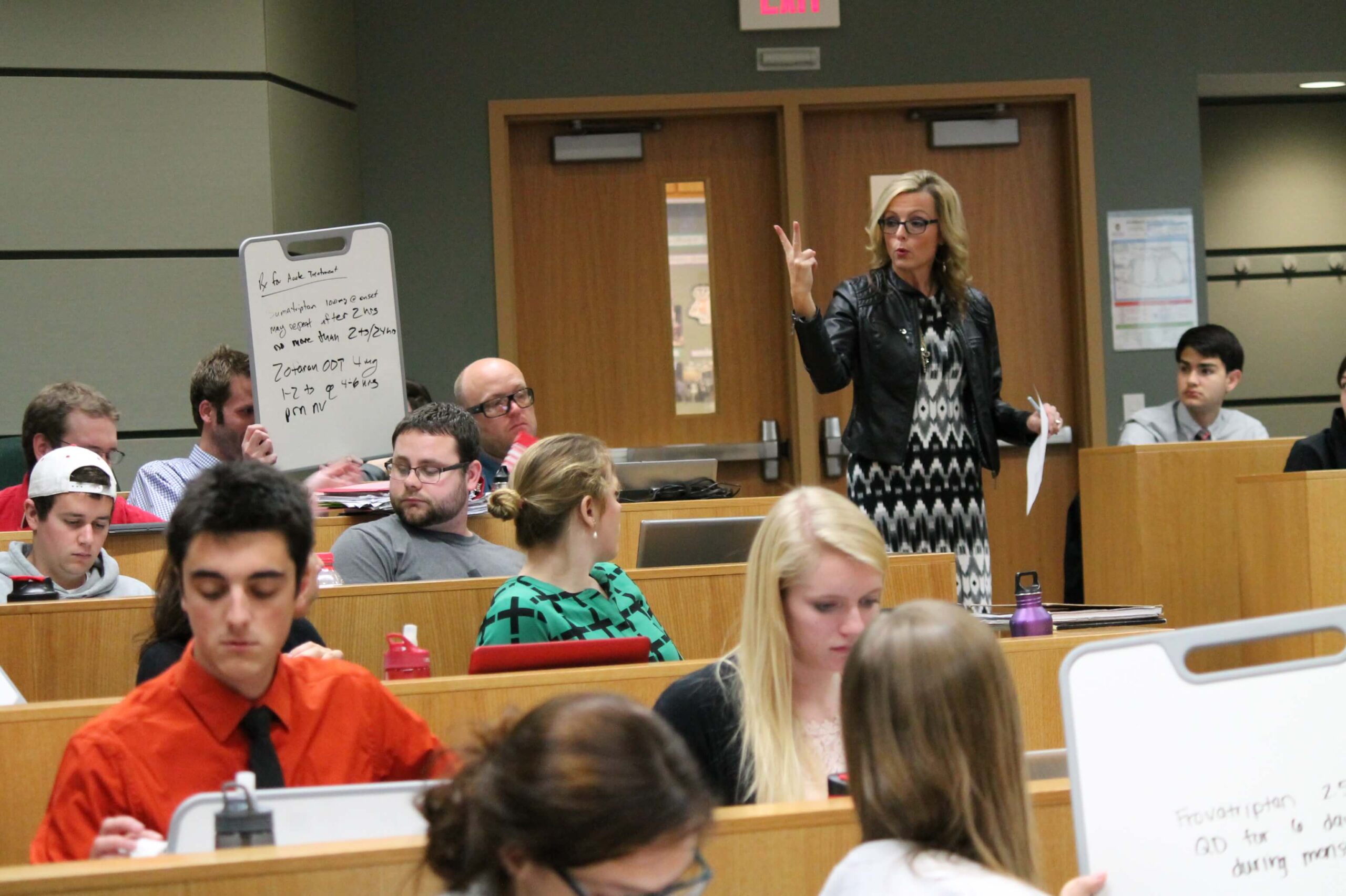 Martin emphasizes how much the School values good teaching.
"Students in our Doctor of Pharmacy program chose to be there, and they chose tough courses," she says. "We've got committed learners, and we want to match their commitment with our teaching, so they can get the best education possible."
Martin taught with Rotzenberg last fall and says Rotzenberg leveraged tools in Canvas to keep students engaged in the course and connected to course material and assignments. 
"Kate optimized what we were able to accomplish, and we got great course evaluations because she contributed her expertise to the team," says Martin. "She used her practitioner background as a pharmacist to explain the relevance of each part of the course to students' future careers." 
Martin hopes that as more School of Pharmacy faculty become Fellows, collaboration opportunities will continue to expand.
"My goal is that, with more and more of us as Fellows, we really welcome each other into our classrooms to demonstrate what we are doing and how we're engaging students," says Martin. "We can use peer feedback and peer sharing to enhance teaching."
Cultivating best teaching practices across campus
Gallimore says being a Fellow in the Teaching Academy has connected her to a community of educators within and outside the School of Pharmacy, who are passionate about teaching. 
"Being part of this community has provided an avenue to learn from others and has helped me continue to grow as an educator," Gallimore says. "Having a connection to individuals who are innovative and passionate about teaching is also recharging and has helped keep me excited about learning and motivated to teach."
In Rotzenberg's view, every instructor on campus has the capacity to become a Teaching Academy Fellow.
"It's a great honor, and it's not for a limited group of people — every instructor could attain this," says Rotzenberg. "The Teaching Academy is a positive, collaborative environment of instructors who want to do best by their students. I think the more people who take advantage of this resource, the better."