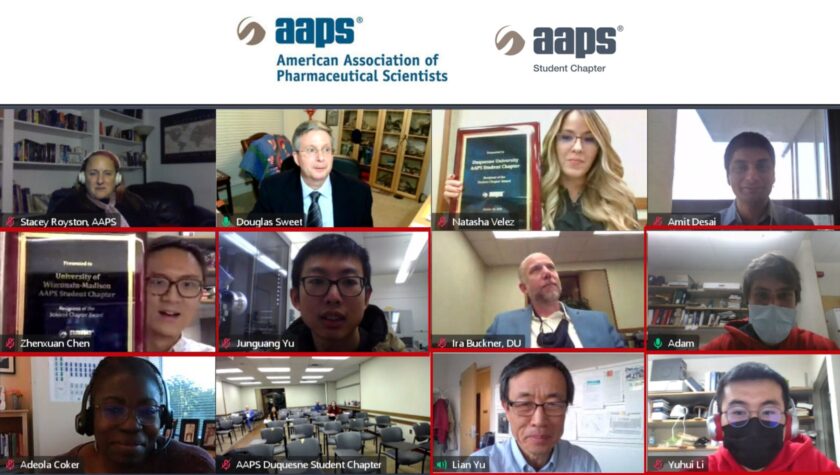 18
November
AAPS recognizes the UW student chapter's outstanding service and outreach
By Tristan Dooley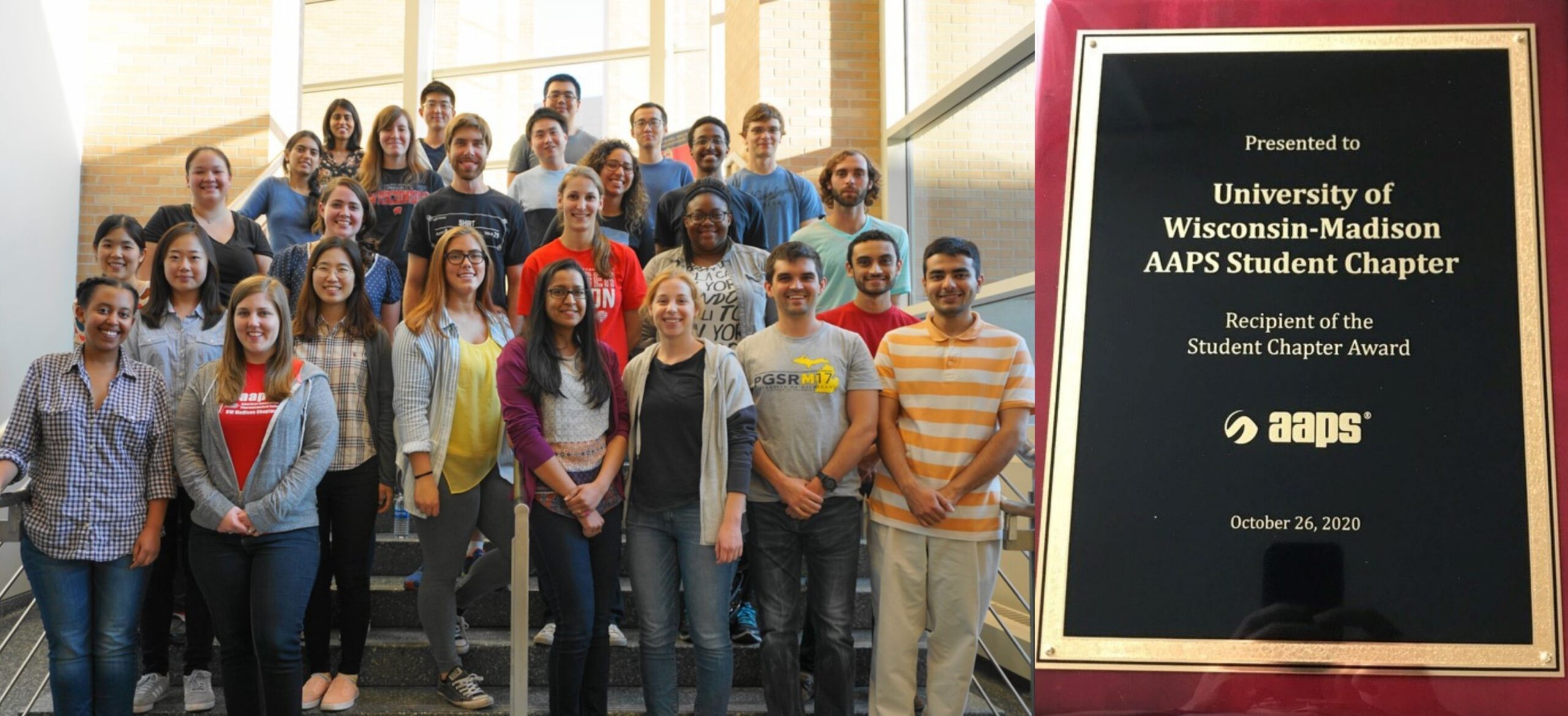 The American Association of Pharmaceutical Scientists (AAPS) selected UW–Madison School of Pharmacy as a 2020 AAPS Student Chapter Award winner. Only two US student chapters — UW and Duquesne University — received this national recognition for exceptional service and outreach. AAPS is one of the premier professional scientific organizations that advances the capacity of pharmaceutical scientists to develop products and therapies that improve global health.
"This is a great accomplishment! So often we only know the students through their research, but this is a part of graduate school that is as important as science. The Chapter has done a great job to provide friendship and to cultivate lifelong connections. It is very gratifying to see how the students grow before your eyes, from timid new members to well-spoken leaders," says Pharmaceutical Sciences Professor Lian Yu who serves as the faculty advisor for the AAPS Student Chapter at the School of Pharmacy.

Watch this video that shares the UW SoP chapter's best practices and highlights their most successful activity.
Led by PharmSci graduate students, the UW–Madison AAPS Student Chapter facilitates education about the pharmaceutical sciences and supports professional development and career exploration in pharmaceutical research by hosting seminar speakers and master classes, organizing industry on-site visits and conferences, and sponsoring workshops, training, and social events.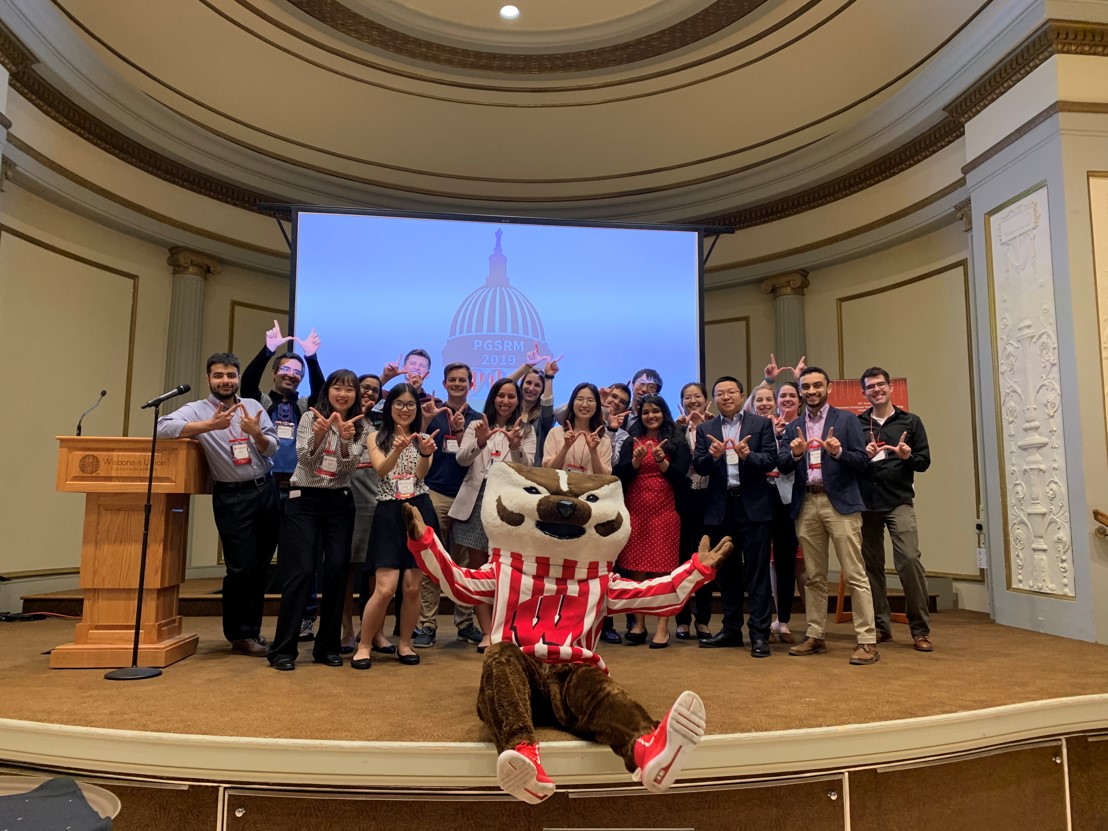 The crowning achievement for the chapter was organizing the 51st Pharmaceutical Graduate Student Research Meeting (PGSRM) in June 2019. Zhenxuan Chen, 2018-2020 AAPS Student Chapter co-chair and PharmSci PhD student in the Yu Lab, says the meeting was successful and "was the biggest event in many years, drawing over 130 graduate students from universities in the Midwest."
The PGSRM meeting took "two years of planning and intensive fundraising efforts," says Ashita Nair, a PharmSci PhD student in the Hong Lab who served as the 2019-2020 AAPS Student Chapter co-chair and fundraising chair for the PGSRM. The meeting featured poster and podia sessions, speakers from academia and industry, as well as a career fair, career session, and networking opportunities. Working with faculty advisor Lian Yu, the chapter raised a total of $58,000 to support student travel and conference activities.
AAPS student members also dedicate themselves to community outreach. Another big event the chapter held was a virtual merit badge camp for a local scout troop. The camp was held over two weekends, with approximately 65 scouts ages 11-17 participating. Members of the AAPS chapter, as well as other graduate students from the School of Pharmacy and the UW Chemistry Department, oversaw various sessions. The scouts were able to earn merit badges in topics such as public health, chemistry, medicine, citizenship in the world, and emergency preparedness.
"Overall, I think it was a great opportunity for the local scouts to get to interact with each other mid-quarantine, and to learn about various topics in the medical and scientific field. All of the leaders did a fantastic job, and many of the parents were grateful for the opportunity for advancement for their scout, and the opportunity for interaction for their child," says Christopher Stevens, Professional Development co-chair for AAPS Student Chapter and PharmSci graduate student in the Tang Lab.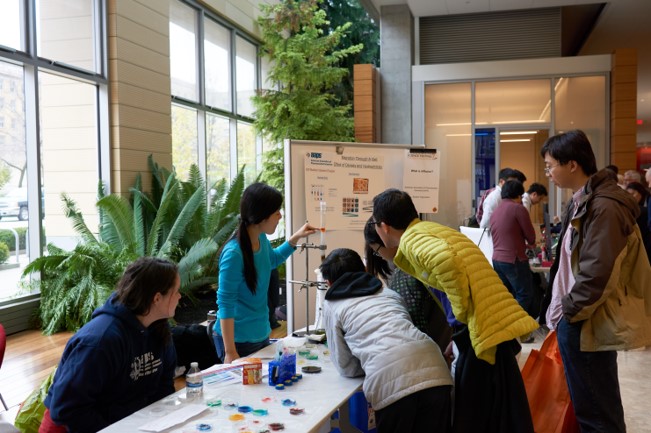 In addition to the PGSRM and merit badge camps, the AAPS chapter participated in a number of other community events, such as the Wisconsin Science Festival and Science Expedition. They also operated concession stands at the Kohl Center and Natatorium for fundraising, and created a recreational soccer team for fellowship.
"I think the AAPS awards committee considered how our student chapter had focused on providing a platform for both social as well as professional activities over the last year. In particular, the AAPS Student Chapter sports teams and PGSRM 2019 conference helped us clinch the award," says Nair.
AAPS membership provides graduate students with numerous opportunities for networking and career development. "The AAPS chapter is a good platform for graduate students to start building their professional network of industry professionals and peers alike," says Nair, highlighting the roundtable networking sessions that the chapter organizes each semester to connect students with alumni and professionals in the pharmaceutical industry.
Chen believes that the AAPS can help launch students' careers. "Joining AAPS can give the students a chance to present work at the national conference, meet the alumni, and network with pharmaceutical scientists both in academia and industry. That is very important for future career development," says Chen, who won the Best Abstract Award at the AAPS PharmSci360 conference in 2019.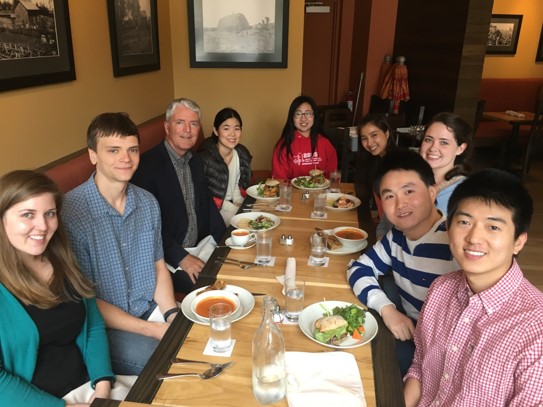 In addition to networking, the AAPS Student Chapter provides a great social opportunity for graduate students to connect with their peers. "With the graduate student community in the School of Pharmacy being spread out on seven floors and roughly 18 labs, the AAPS chapter social events were a good opportunity to get to know their peers," says Nair.
Both Chen and Nair want more graduate students to get involved with AAPS, and hope this award will attract more students to join. "I appreciate that this award recognized our efforts on a national level. I am hoping this award will also help us garner more interest from the non-Pharm Sci graduate student cohort in the School of Pharmacy," says Nair.
As the 2020 AAPS Student Chapter Award winner, they received an award plaque and a cash prize of $1,000 to be used to support programming for the chapter. The award is shared by the leadership board of the UW–Madison AAPS Student Chapter:
Shaurya Chanana, Co-chair
Zhenxuan Chen, Co-chair
Ashita Nair, Co-chair
Jhewelle Fitz-Henley, Secretary
Qinying Yu, Treasurer
Adam Kositzke, Workshop chair and incoming 2020/2021 co-chair
Lauren Repp, Social Chair
Christopher Stevens, Roundtable chair
Yuan Liu, Second-year representative
Yun Hwa Choi, 2019 PGSRM co-chair
Montira Tangsangasaksri, 2019 PGSRM co-chair