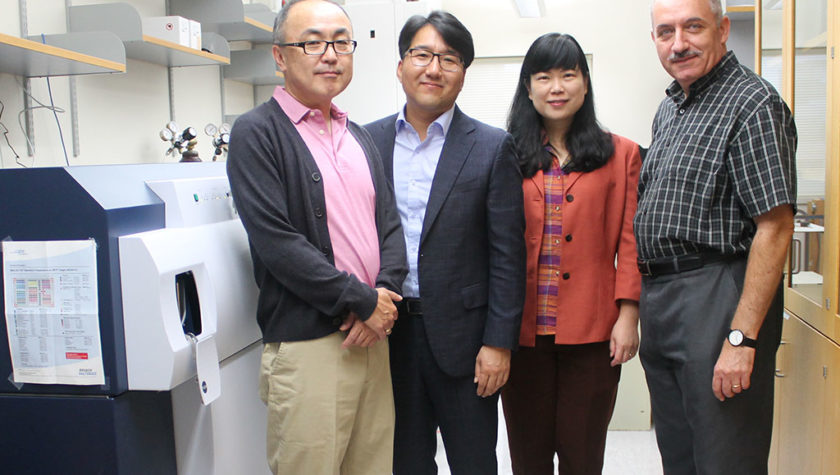 15
September
WisCNano will create new hub for drug delivery research, boost potency of drug discovery at UW–Madison
"In the pharmaceutical industry, about 90 percent of what's discovered as a drug lead will never get developed. This is often due to the difficulty of delivering the drugs effectively, while making them bioavailable," says Professor Sandro Mecozzi.
For Mecozzi and others, that figure is far too high. That's why the University of Wisconsin–Madison School of Pharmacy is starting a new research center that will improve the efficacy of new drug leads.
Mecozzi, Professor Seungpyo Hong, Professor Glen Kwon, and Professor Lingjun Li in the School of Pharmacy's Pharmaceutical Sciences Division are the founding members of the School's new Wisconsin Center for Nanobiosystems (WisCNano) that will enable more drug development, particularly for cancer treatment.
"The UW–Madison School of Pharmacy is in a unique position to launch WisCNano because we have a lot of expertise in many different areas within the school to provide solutions to complete drug development," says Hong, who will serve as the center director. "There are not many schools or colleges that could do this."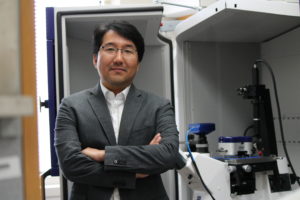 The mission of WisCNano is to provide novel methods, especially based on nanotechnology, that will enable drug molecules to go to specific sites of the body. If a drug that usually kills every cell around it—such as chemotherapy drugs—can be directed to target only diseased cells, that enhances the efficacy while lowering toxicity. It would maximize the drug's therapeutic index and improve the chances of that drug moving on to clinical trials and, eventually, for approval by the U.S. Food and Drug Administration.
School of Pharmacy Dean Steven Swanson sees WisCNano as building on existing strengths at the School. "Drug delivery is another important area where the School of Pharmacy can help drive drug discovery on campus," says Swanson.
"The School's Medicinal Chemistry Center collaborates with UW–Madison faculty to chemically optimize the activities of small molecule lead compounds discovered in laboratories across campus. Chemical and physical analyses by the School's Zeeh Pharmaceutical Experiment Station provides important data needed to characterize key properties of these lead compounds. Now the School's WisCNano will help deliver them to specific tissues within the body to act on their biological targets," explains Swanson.
Targeting cancer with nanotechnology
WisCNano has an emphasis on anticancer agents. The faculty founders naturally gravitated toward making cancer a focus for a variety of reasons, including the challenging nature of the disease, the high toxicity of anticancer agents, and nanoparticles' ability to target tumors.
But cancer isn't their full scope. Nanotechnologies can be applied to formulations for all challenging drugs, such as those with low solubility, and can be used for antifungals, antibiotics, and even diabetes treatments.
"WisCNano, as a hub of drug delivery research, will be a fundamental piece of the whole drug discovery process." –Sandro Mecozzi
"The School of Pharmacy has strong expertise in pharmaceutical nanotechnology, but we realize that interdisciplinary research is required to advance nanomedicine into clinical trials," says Kwon. "Through collaborations, WisCNano has the potential to spur drug development at UW–Madison toward innovative strategies for the treatment and diagnosis of intractable diseases."
A handful of collaborations are already planned, both within the School and across the UW campus, but the horizon is full of potential partnerships.
Harnessing the School's breadth of knowledge
The expertise in the new center is unparalleled. Kwon is an internationally recognized expert in drug delivery, who is ranked in the top 1 percent most-cited in his field. Mecozzi was the first to successfully develop new fluorinated biomaterials for drug delivery, and Hong's research in nano-bio interactions, focused on biomimetic nanotechnology, has been cited more than 10,000 times.
Li is a leading expert on mass spectrometry imaging who recently received a grant from the National Institutes of Health to purchase a MALDI rapiflex imaging mass spectrometry instrument. With Li's help, the researchers will be able to simultaneously examine drug distribution in the tissue by targeting specific molecular weights for imaging to ensure that the drug delivery systems are working effectively.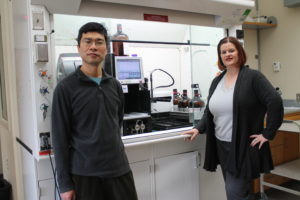 "The cutting-edge MALDI mass-spectrometry imaging technology also enables researchers to localize a drug compound along with its potential target and drug metabolites, enhancing their ability to observe the workings of the delivery system," Li says.
Three of the four founding faculty members are in the Drug Delivery Core of the Pharmaceutical Sciences Division, with Li representing the Drug Action Core. The group will also be pulling in additional experts from the School's Drug Discovery Core, as well as the School's Medicinal Chemistry Center (MCC), a collaborative center for drug discovery.
"As a pharmacy school, having a drug discovery center (MCC) and drug delivery center (WisCNano) in parallel, and then have them work together, is very unique," says Hong. "The School of Pharmacy is the ideal place to make this happen, and we're very excited."
The MCC, co-directed by Professor Weiping Tang and Assistant Professor Jennifer Golden in the Drug Discovery Core, works with more than a dozen partners around the UW–Madison campus to help design and synthesize novel drug molecules for testing.
By collaborating with WisCNano, MCC will be able to further optimize the formulation of drugs for selectivity in the body.
Hong has also developed technology, called CaipoCyte, for monitoring circulating tumor cells, which will provide another way of monitoring the effectiveness of different delivery systems.
"WisCNano, as a hub of drug delivery research, will be a fundamental piece of the whole drug discovery process," says Mecozzi.
Collaborators around campus
"What is most exciting to me is the possibility of actually starting collaborations among people who didn't even know the existence of the others," Mecozzi says.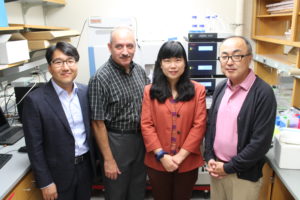 Although many more collaborations are inevitable for this brand-new drug delivery center, one already in the works is with Deric Wheeler, associate professor in the UW–Madison School of Medicine and Public Health's Department of Human Oncology.
"The School of Pharmacy faculty at WisCNano are second to none," Wheeler says. "Their motivation to drive their delivery platforms into the cancer area will revolutionize how we carry out clinical trials at UW Carbone Cancer Center."
Wheeler's lab, which works with the UW Carbone Cancer Center, focuses on understanding how tumors become resistant to cancer drugs and identifying pathways that tumors use to circumvent therapy, with the ultimate goal of translating these findings into applications that benefit patients' lives.
More specifically, Wheeler is looking at a receptor tyrosine kinase called AXL, and its sister molecule, MERTK. His lab has found that dual targeting of both AXL and MERTK more effectively reduces tumor growth in vivo and inhibited tumor cell expansion in culture. This suggests, Wheeler says, that targeting AXL and MERK simultaneously is necessary for impactful tumor response, which is where WisCNano comes in to play.
"Working with WisCNano will drive our research forward by developing delivery and deployment systems that can surgically deliver drugs to the tumor and the local microenvironment, for an immediate impact in the field of resistance," says Wheeler.
"Their motivation to drive their delivery platforms into the cancer area will revolutionize how we carry out clinical trials at UW Carbone Cancer Center." –Deric Wheeler
The School of Pharmacy and UW Institute for Clinical and Translational Research have already provided support for the new center, and Hong, Kwon, Li and Mecozzi are also working to build relationships with the UW Carbone Cancer Center itself and the Wisconsin Alumni Research Foundation.
"A center like WisCNano has always been a dream of mine," says Mecozzi. "Today, we have more understanding of what we can achieve, more of a critical mass of expertise, and people are willing to incorporate our technology in biomedical research, and that's going to make a big difference."
Learn more about the School's Medicinal Chemistry Center, and research in the Hong Lab, Kwon Lab, Mecozzi Lab and Li Lab.
Read about Dr. Hong's latest research in developing a new type of nanocarrier for better cancer therapies.