The Pharmaceutical Sciences PhD Program at the University of Wisconsin–Madison provides a rigorous background in scientific disciplines that are critical to the preparation of the next generation of pharmaceutical scientists. With approximately 30 faculty trainers and approximately 65 graduate students, the program's interdisciplinary training combines pharmaceutically relevant aspects of classical disciplines such as chemistry, biology, and engineering. This training allows our graduates to pursue careers in academia, industry, government, and other sectors.
Students earn a PhD in Pharmaceutical Sciences, concentrating in one of three research cores:  Drug Discovery, Drug Action, or Drug Delivery.
Research in Drug Discovery focuses on areas related to medicinal chemistry such as small molecule development, natural products isolation and characterization, organic synthesis, chemical biology, and rational drug design.
Drug Action  research focuses on areas related to pharmacology, toxicology, cellular differentiation, development, and disease. Interests include the impact of drugs and toxins on biological systems, mechanisms of normal biology, and mechanisms of disease. These are studied at the cellular, genetic, molecular, and biochemical levels using diverse model systems.
Drug Delivery research emphasizes principles in physical chemistry and drug transport, aiming for advances in formulation, drug targeting, and multi-modal therapy. This includes research involving biomaterials, cell engineering, immunotherapy, liquid biopsy, molecular recognition, molecular imaging, nanomedicine, pharmacokinetics, and solid-state chemistry.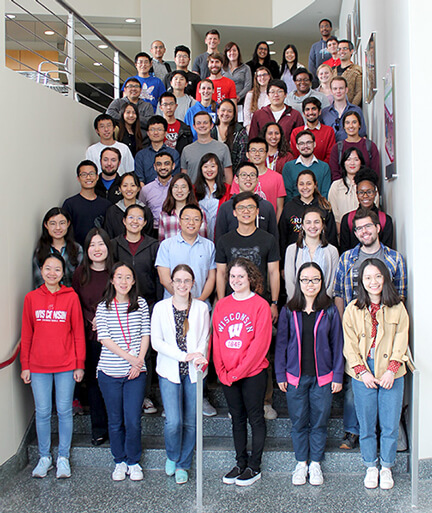 Our students have undergraduate degrees across a wide range of disciplines in the physical (such as chemistry) sciences, biological sciences, engineering sciences, pharmacy, and related fields. Applicants admitted to our program commonly have significant research experience, strong scientific backgrounds, and a passion for scientific discovery. Our program is dedicated to creating inclusive learning and working environments for all students, faculty, and staff. To sustain an innovative research environment, we are committed to admitting students from diverse backgrounds.
We invite you to explore our webpages to learn more about the Pharmaceutical Sciences Division, our PhD program, and life in Madison.
Lara Collier, PhD
Director of Graduate Studies
Pharmaceutical Sciences PhD program
Derek Zimmerman, MS
Graduate Program Manager, School of Pharmacy
Contact us at: gradprograms@pharmacy.wisc.edu
Other Degrees in the School of Pharmacy
An interdisciplinary, research-driven, biomedical health focused undergraduate major
4-year program that trains students to become a Doctor of Pharmacy (PharmD)
An interdisciplinary Master's program focused on the psychoactive pharmaceutical and biopharmaceutical industries (psychedelic, entheogen, and cannabinoid research/application)
An accelerated master's program focused on developing practical and professional skills needed across the lifecycle of drug development, manufacturing, and ongoing safety management
A combined Master's degree and residency that provides a solid background in academics and the administration of exemplary pharmacy services across an integrated health system
Prepares health services researchers to best meet the needs of patients and the communities in which they live, with a focus on improving medication outcomes
Questions about our program?
Check our FAQ page for detailed answers to common questions