With approximately 270,000 residents, Madison is a vibrant college town, state capital, and overall livable city. Madison is home to a variety of restaurants, cultural experiences, leisure activities, and opportunities for outreach and community engagement. UW–Madison, The Isthmus and Destination Madison maintain calendars of local events and provide information about many things to do in Madison. It's no wonder that Madison has won several accolades for livability.
Farmer's Markets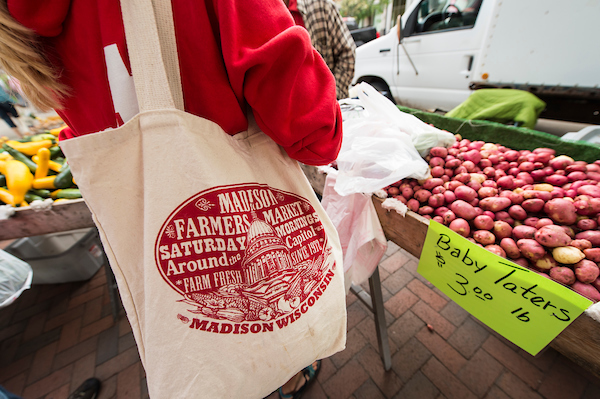 Farmer's Markets including the Dane County Farmer's Market which is America's largest producers-only farmers' market. During the warmer months the markets is held around or adjacent to Capitol Square. In the colder months the market moves indoors to either the Monona Terrace or Garver Feed Mill.
Sporting Events
Student tickets are available for UW-Madison sporting events, and some sports such as men's and women's soccer have free admission for regular season games. The McClimon Soccer Complex is also conveniently located adjacent to Rennebohm Hall.
Free live music and other performances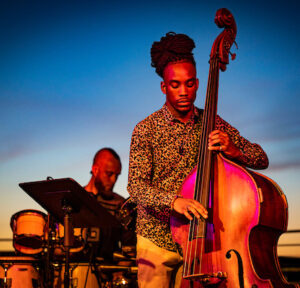 Although Madison is home to several theaters and performance venues such as the Sylvee and the Overture Center that host ticketed events involving nationally known artists and theater productions, free performances are also easy to find. Some examples include Opera in the Park, Concerts on the Square, Live on King Street, Jazz at Five, and open mike and other performances on the Union Terrace. Many bars, restaurants, and clubs also host free or low-cost music events. Prefer to watch a movie instead? If so, check out the free movie screenings that occur at the UW-Madison Unions as well as other venues in the community.
Visit a museum
The Chazen is UW–Madison's free art museum, and the Madison Museum of Contemporary Art is located on State Street and also has free admission. Several times a year the Madison Children's Museum hosts events for those 21 years and older to "offer adults the opportunity to play like a grown-up". For a longer list of museums in Madison, visit the City of Madison's website.
Outdoor Recreation
From sailing and biking to ice fishing and snowshoeing, there are opportunities for outdoor activities across all four seasons. Madison sits on a chain of lakes and the city maintains a plethora of parks, open spaces, biking/walking/running trails, and even golf courses. The Wisconsin Hoofers has events for established outdoor enthusiasts and newbies alike. Fond of flowers? Check out the Olbrich Botanical Gardens, the Allen Centennial Garden, or the UW–Madison Arboretum. Hit the slopes, terrain park or tubbing hill at a local ski area. Bike around Lake Monona and enjoy views of the Capitol and Monona Terrace. Take part in the Crazylegs Classic or the Graduate School Dash and Bash. If you prefer to recreate inside, head over to the Bakke Center for its indoor pool, track, and sports simulators, among other activities.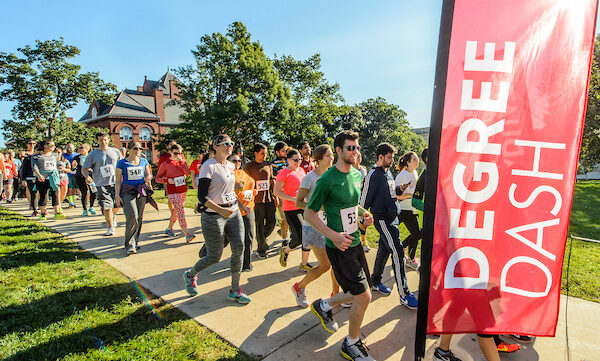 Read a book
Get your free library card and check out a book from one of Madison Public Library's 9 brick and mortar locations or their Dream Bus. DVDs, CDs, Ebooks, and electronic audiobooks are also available to check out for free, and libraries also host events for the community. The Wisconsin Book Festival occurs every fall, or join the UW-Madison community in Go Big Read.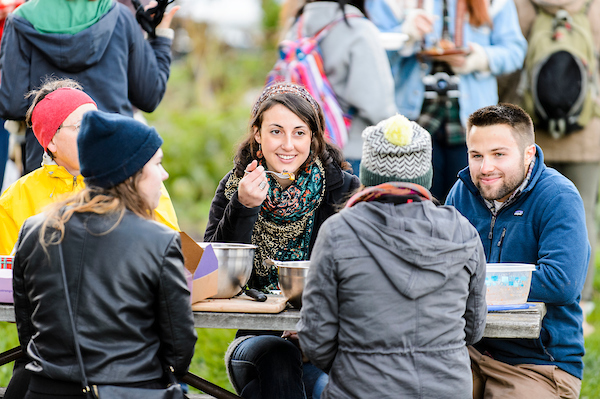 The UW Division of University Housing has apartment options for postdoctoral researchers, staff, faculty, and their families; and off-campus housing is available. For our graduate program, we provide platforms for new students to connect with each other and continuing students to discuss topics like housing, roommate searches, and transportation. We encourage you to visit UW-Madison's Grad Life Housing and Transportation page for tips on a variety of housing topics such as neighborhoods, commuting, roommate boards, tips for avoiding rental scams, tenant rights, and more.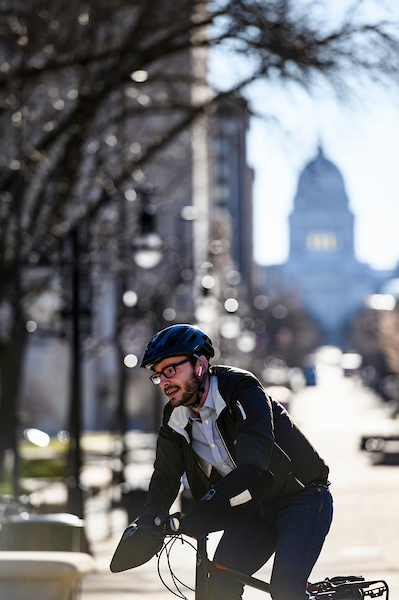 Many who work or study on campus commute by foot, bike, or bus. Parking is available on campus, but demand for permits for certain lots is high, so permits for those lots may not always be available. Please visit the Transportation Services website for more information about on-campus parking, the permit application process, park and ride lot options, and who qualifies for reduced rates for parking. The Commuter Services page has information about options like SAFEwalk and the Emergency Ride Home program. Additionally, Transportation Services is a resource for cycling information (including the B-Cycle bike share program) and the Madison Metro bus system.Campus bus routes 80, 81, 82, and 84 are free for anyone to ride. Students receive bus passes for other Madison Metro buses through ASM. Other employees are eligible to purchase a Madison Metro bus pass at a highly subsidized rate). Madison Metro is also planning to launch a bus rapid transit (BRT) system in late 2024 that should better connect the east and west sides of Madison to campus and downtown. The closest stop to Rennebohm Hall will be at the intersection of University Bay and University Avenue.