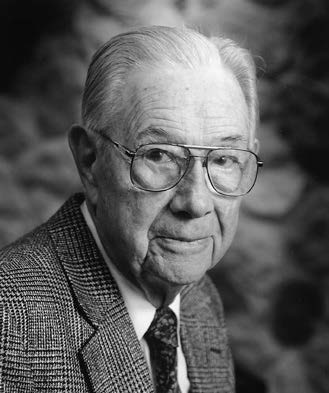 Dr. Louis W. Busse, a native of Wisconsin, received a BA degree from Lawrence College in 1934, a BS in Pharmacy from the University of Wisconsin in 1936, and a PhD in Pharmacy from the same institution in 1940. Except for one year as Drug Analyst with the War Production Board in Washington, D.C., during World War II, his entire career was spent at the University of Wisconsin School of Pharmacy. From 1954 -68 he served as Associate Dean, and from 1956-66 he was coordinator of Extension Services. He retired from the UW Faculty in 1978 as the Edward Kremers Professor of Pharmacy.
During his career, Professor Busse was a leader in the development of pharmaceutical research, continuing education, and pharmacy internship. He was a primary developer of the Land O'Lakes Industrial Research Conferences, patterned after the Gordon Research Conferences. The first Land O'Lakes conference was held in 1959. Dr. Busse's early research interests were in powder technology and its application to pharmaceutical tableting, including the development of the instrumented tablet press.
Professor Busse was recognized with many awards and honors. In 1951 he received the APhA Ebert Prize. In 1967 he received the APhA Foundation Achievement Award for the Advancement of Pharmacy, while in 1974 he served as the president of the Academy of Pharmaceutical Sciences. He served on the Board of Trustees of the U.S.P. from 1975 to 1980.
Through many contributions to his school, his profession, and to pharmaceutical research, Professor Busse had a significant impact on the quality of pharmacy research in the pharmaceutical industry. Upon his retirement the Louis W. Busse Lecture Series was established. The lectureship brings an outstanding industrial pharmaceutical scientist to the School of Pharmacy annually.
View Past Speakers