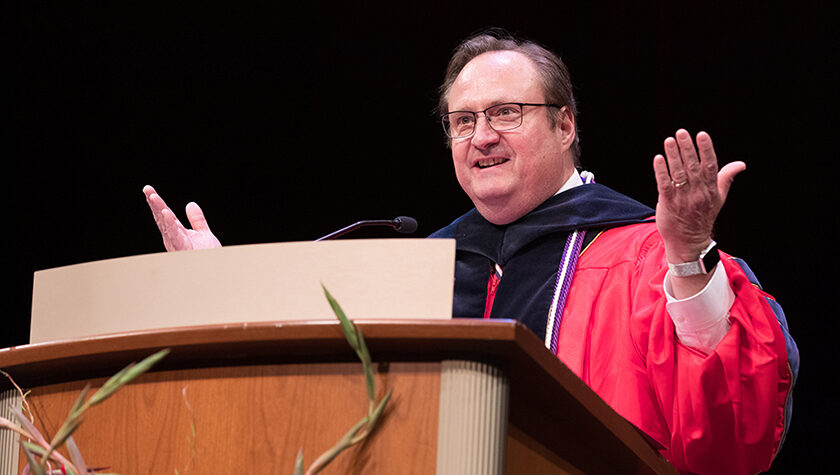 5
June
With many of our students graduating in the spring, summer is a time when we at the School reflect on our accomplishments and what we want to work on in the future to maintain our margin of excellence. We're always thinking of how we can improve, including our curriculum, patient care, research enterprise, and relationships with stakeholders. Only by relentlessly striving for continuous improvement will we remain one of the truly great schools of pharmacy. For today, I would like to focus on the strengths and challenges that we face in our PharmD program.
National recognition
Despite the stresses of an historic pandemic, our students proved how talented, hardworking, and well-prepared they are for modern pharmacy. They did a fantastic job in the American Society of Health Systems Pharmacists Residency Match this year with 82 of our graduates landing residencies – the fourth highest number in the country. Their success rate was equally impressive: 92 percent of our grads who entered the match were successful in securing a first-year residency. This is an impressive figure, especially considering there are many more graduates seeking residencies than there are positions available, and it highlights how the School prepares student pharmacists to be exceptional residency candidates, such as through our APPE RT clerkship program.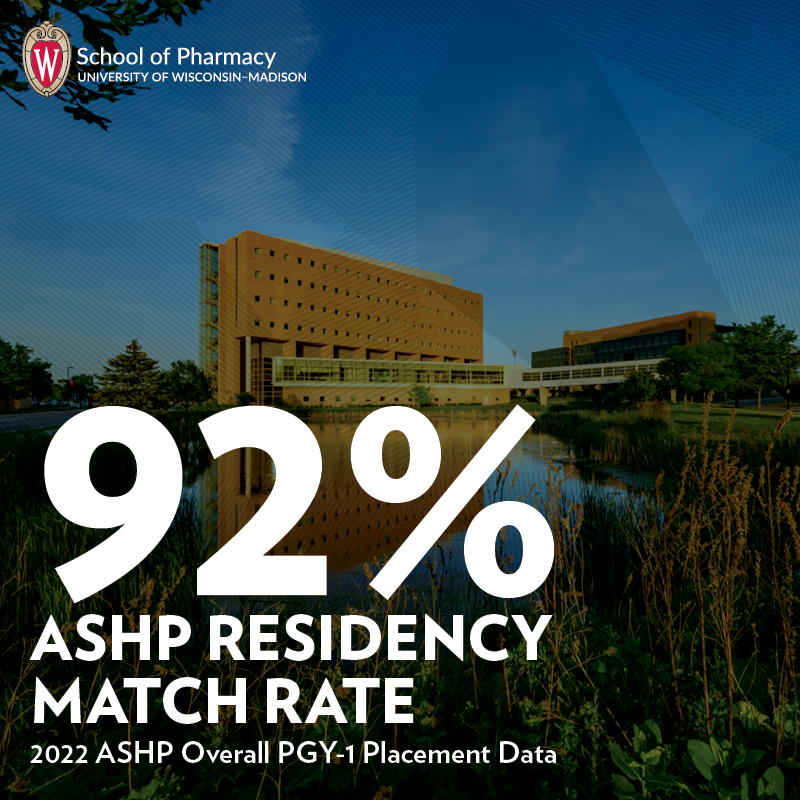 Our student pharmacists also shined at major national meetings this past year. Maddie Wiarek, who graduated in May, won the National Patient Counseling Competition sponsored by the American Pharmacists Association Academy of Student Pharmacists. This national competition focuses on one of the most important roles of a pharmacist: counseling patients on their medications.
Another major national competition won by our students was the American College of Clinical Pharmacy (ACCP) Clinical Pharmacy Challenge. Justin Ferek, Kelsey Brasel, and Thomas Lofy teamed up to win the first-place award in a field of 107 teams last fall. The competition consisted of questions authored and reviewed by an expert panel of ACCP members and tests teams' clinical pharmacy knowledge in a quiz bowl style competition.
At the annual meeting of the Academy of Managed Care Pharmacy in Chicago, third-year PharmD student Trey Jones won the Best Student Poster Award for an evidence-based deprescribing initiative that he conducted with his preceptors at Navitus Health Solutions. These are just some of the highlights from many examples of how our students truly excel at the national level. We at the School are extremely proud of them; I know you are too.
Securing the future
One of the big challenges that all pharmacy schools currently are facing is the drop in the number of applicants nationwide. The Pharmacy College Application Service — or PharmCAS, which manages applications nationally — has reported that the number of pharmacy school applicants has dropped from a high of 17,617 in 2013 to 13,324 last year: a 24 percent decline. There were fewer applicants in 2021, with 141 pharmacy schools in the country, than there were in 2004, when there were 89 pharmacy schools. Needless to say, the competition for applicants is greater now than at any time in our School's long history. Many of the top pharmacy schools, including ours, are having trouble attracting students to the field of pharmacy. This is a growing concern for the future of the profession. The silver lining for our School, however, is that although the number of applicants has declined significantly, we are still receiving applications from highly qualified candidates, which is a testament to the quality of education that we offer.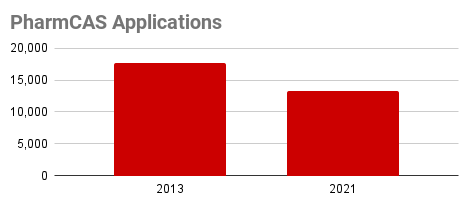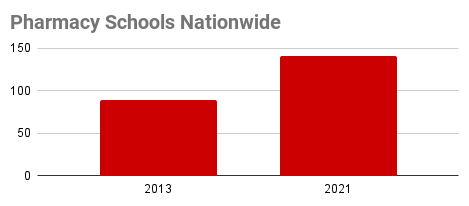 To address this critical issue, we plan to raise support for admissions scholarships, which will help attract the finest minds from Wisconsin and beyond to study with us by lowering the financial barriers and making a high-quality education accessible to students of all backgrounds. These scholarships will also attract students who plan on practicing pharmacy in underserved communities in our state, which is part of our ongoing commitment to the Wisconsin Idea.
Another area we will focus on is recruiting top students from our campus. One of the things working in our favor is that UW–Madison is an outstanding university for preparing students for pharmacy school. UW-Madison ranks 10th out of over 1,500 colleges and universities that graduate students who apply to any pharmacy school. Furthermore, while other universities are experiencing a decline in undergraduate applications, UW–Madison has of late been admitting record numbers of freshmen. Many of these students plan to major in STEM fields (science, technology, engineering, and math), which will prepare them well for pharmacy school. We have a great pool of talented students on campus from which we can recruit to our school.
Despite these challenges at the national level, we are confident that with strategic improvements in our recruitment efforts and competitive scholarship offerings, we will continue to attract the best students in Wisconsin and beyond to study pharmacy here and graduate to positions that provide top-tier care for all Wisconsinites.
On, Wisconsin!
Steve